EVENTS

Science, Technology, and Innovation Governance (STIG) Education Program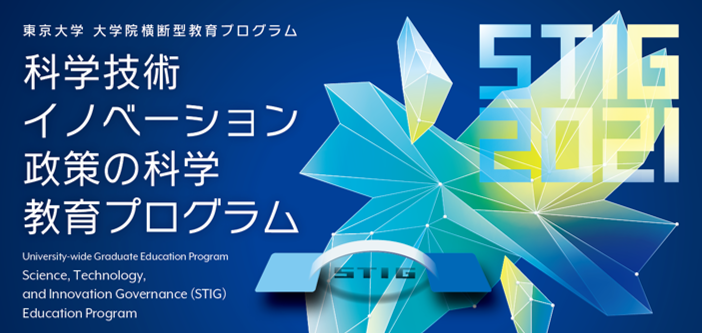 Details
Type
University members only
Intended for
Enrolled students / International students / University students
Date(s)
October 6, 2021 16:50 — 18:35
Location
Hongo Area Campus,In-person and online
Venue
SMBC Academia Hall, 4F International Academic Research Bldg. (IAR), Hongo Campus & Online (Zoom)
Entrance Fee
No charge
Registration Method
Advance registration required
The classroom attendance is limited to 20 students. In case of overcapacity we will contact registrants individually.

Registration Form:
https://forms.gle/2H5GWNBaqSAzCdvU8

URL is the same as the course Zoom URL (TBA to the registrants before the event)
Registration Period
September 30, 2021 — October 6, 2021
Contact
Science, Technology, and Innovation Governance (STIG) Education Program
STIG*pp.u-tokyo.ac.jp (Please change * to @)
This Education Program is interdepartmental and open to all UTokyo Graduate School students.
Anyone who is interested in the fields of INNOVATION, SCIENCE AND TECHNOLOGY POLICY, EVIDENCE BASED POLICY, and SOCIAL IMPLICATIONS OF TECHNOLOGIES is encouraged to join us.
1. 2021 Autumn Orientation Session & 1st Class of Required Course "Case Study (Science, Technology, and Innovation Policy)" will be organized as below.
5th Period 16:50-18:35, 6 October 2021 (Japanese<->English Simultaneous interpretation on the Zoom is available)
Venue: SMBC Academia Hall, 4F IAR. Hongo Campus (First 20 students) & Online (Zoom)
Advanced Registration Form
(URL is the same as the course URL: TBA to the registrants before the event)
Program:
1. Greetings from STIG representative and director of MEXT Science and Technology Policy Bureau
2. Outline of STIG Education Program
3. Introduction to A semester representative courses
– Case Study (Science, Technology, and Innovation Policy)
– Science, Technology, and Public Policy
– Case Study (GraSPP Policy Challenge: Global Innovative Public Policy Solutions)
– Study on Regional Transportation Policy
– Space Development and Public Policy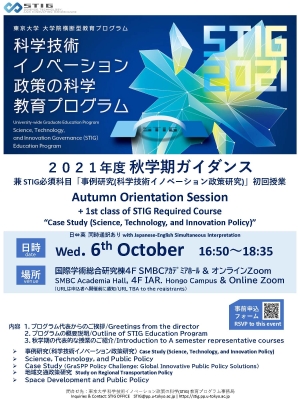 Enlarge the flyer.
2. Enrollment in the STIG Education Program is open as below.
Deadline: Friday, 29 October, 2021
STIG Registration Form