Fintech: Financial Inclusion or Exclusion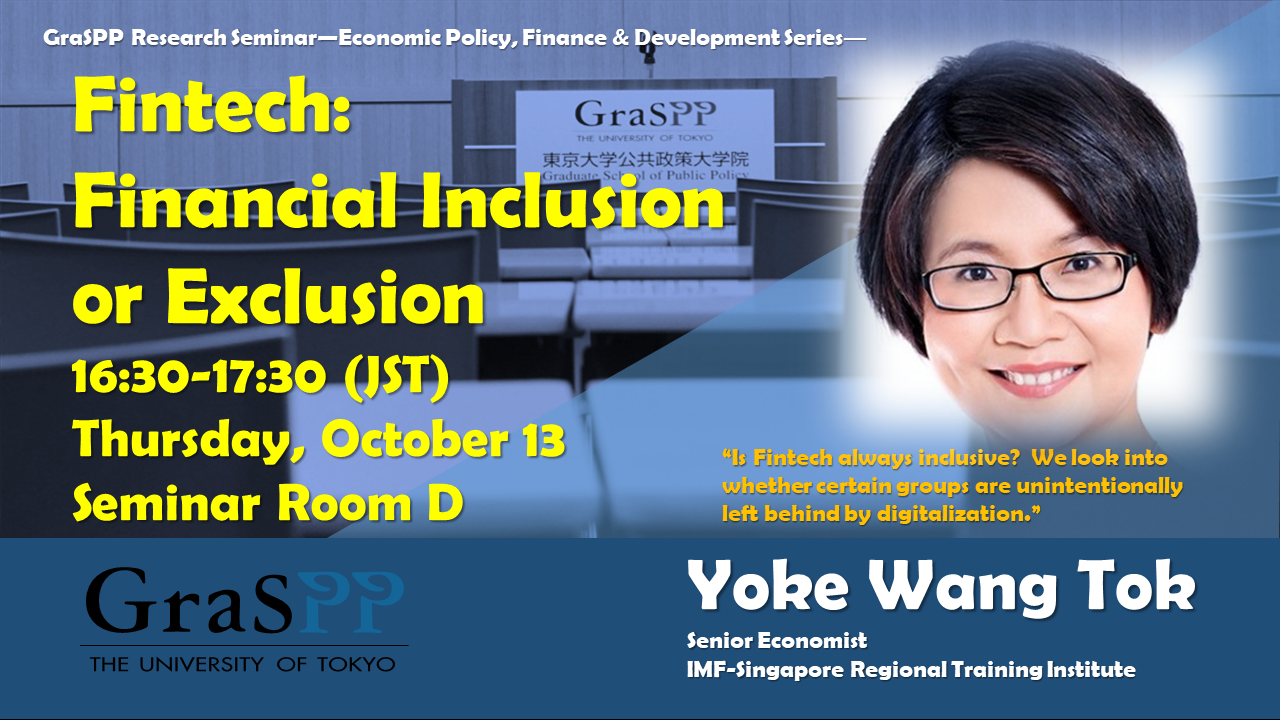 Details
Type
Lecture
Intended for
General public / Enrolled students / Applying students / International students / Alumni / Companies / University students / Academic and Administrative Staff
Date(s)
October 13, 2022 16:30 — 17:30
Location
Hongo Area Campus
Venue
Seminar Room D, International Academic Research Building
Entrance Fee
No charge
Registration Method
Advance registration required
Please register from the below link.
https://forms.gle/KbCTP916QT48oQnR6
Registration Period
October 7, 2022 — October 13, 2022
Contact
graspp_eventinfo@pp.u-tokyo.ac.jp
GraSPP Research Seminar—Economic Policy, Finance & Development Series
Fintech: Financial Inclusion or Exclusion
"Is Fintech always inclusive? We look into whether certain groups are unintentionally left behind by digitalization."
Date and time
: Thursday, October 13, 2022 | 16:30-17:30 (JST)
Venue
: Seminar Room D, International Academic Research Building
Language
: English
Speaker
: Ms. Yoke Wang Tok, Senior Economist, IMF-Singapore Regional Training Institute
Moderator
: Prof. Toshiro Nishizawa
About the speaker
:
Yoke Wang has more than 25 years of experience in the areas of economics, financial stability, international relations, training and curriculum development, and technical assistance. She has a wide network of central banking contacts in the Asia-Pacific region.
Yoke Wang's professional positions include Principal Economist at the Monetary Authority of Singapore (1992-2010), Senior Advisor to the South-East Asian Voting Group Executive Director, IMF Board (2007-09), Program Director at Toronto Centre (2011-14), and Director, Central Bank and Public Policy, World Gold Council (2014-15) before joining IMF-Singapore Regional Training Institute.
Yoke Wang has a Bachelor of Social Science (First Class Honors) from the National University of Singapore and an MPhil in Economics (Distinction) from the University of Cambridge.
For information:
Tok, Yoke Wang, and Heng Dyna, "Fintech: Financial Inclusion or Exclusion,"
https://www.imf.org/en/Publications/WP/Issues/2022/05/06/Fintech-Financial-Inclusion-or-Exclusion-517619