EDGE-NEXT entrepreneur education program Pre-Basic Phase 2nd session: Program briefing, Talks about SDGs by invited professors, and Networking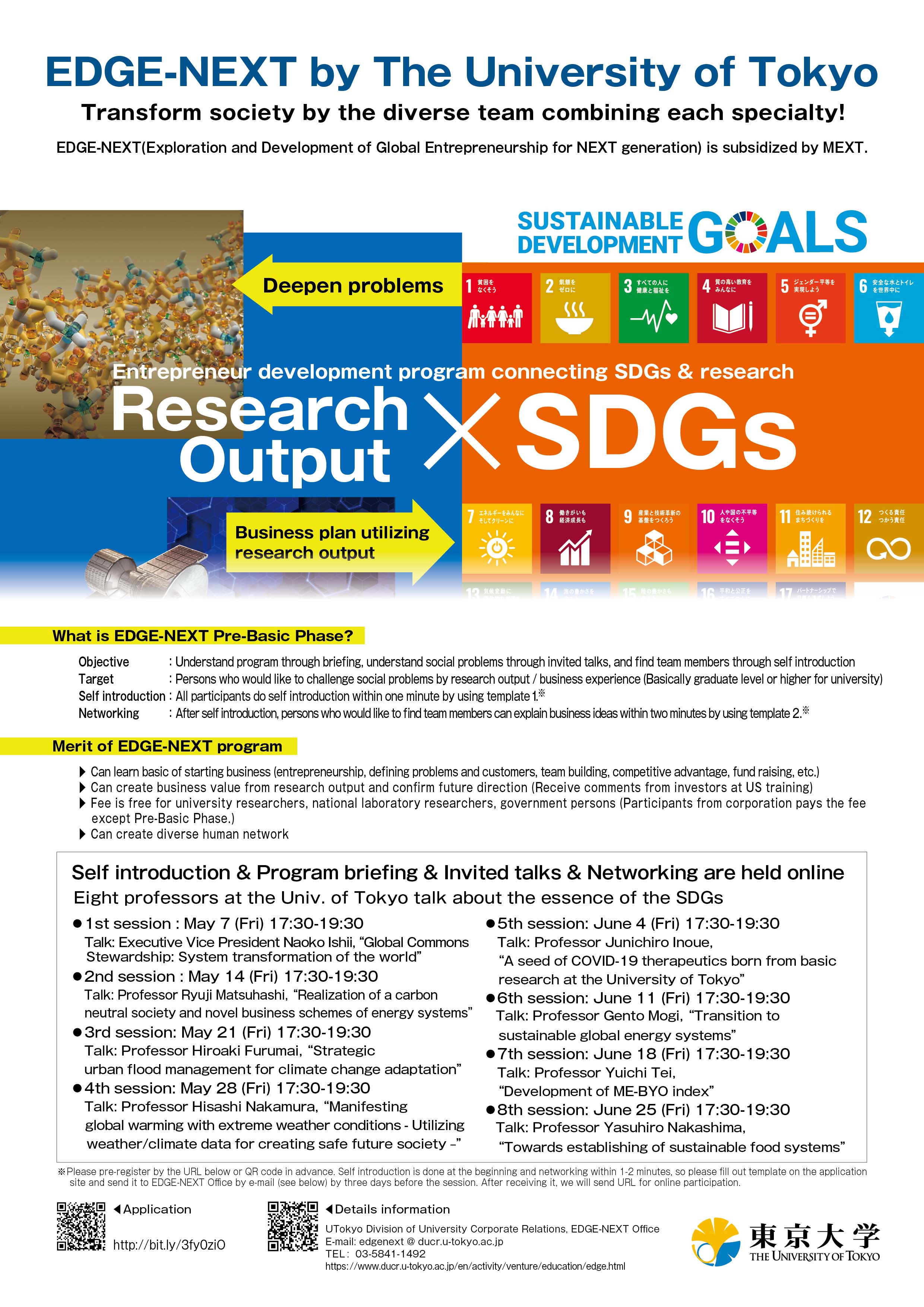 Details
Type
Lecture
Intended for
General public / Enrolled students / Alumni / Companies / Academic and Administrative Staff
Date(s)
May 14, 2021 17:30 — 19:30
Location
Other campuses/off-campus
Venue
Online by Zoom
Entrance Fee
No charge
Registration Method
Advance registration required


Please register at the following site.

Registration Period
— May 11, 2021
Contact

The University of Tokyo, Division of University Corporate Relations, EDGE-NEXT Office

E-mail: edgenext @ ducr.u-tokyo.ac.jp

(When contacting, please remove blanks before and after @.)

https://www.ducr.u-tokyo.ac.jp/en/activity/venture/education/edge.html
Overview:

EDGE-NEXT by UTokyo is an entrepreneurship education program which develops global entrepreneurs and enables participants to create business plans based on research seeds. This year we newly set up a Pre-Basic Phase and will focus on solving SDGs issues. We provide talks about SDGs by invited professors of UTokyo, briefing on the EDGE-NEXT program, and networking through self-introductions for finding team members to solve problems. As a program whole, participants will challenge themselves to make business plans based on their passion for problem solving and their skills and knowledge (research or business experience).

We will prepare eight sessions for the Pre-Basic Phase in May and June, and they will be free of charge.

The eight sessions will be: 1st: overall direction, 2nd: energy 1, 3rd: disaster prevention, 4th: climate change, 5th: medical, 6th: energy 2, 7th: healthcare/aging, 8th: agriculture/food.



The invited speaker and talk for the 2nd session is:

May 14: Speaker: Ryuji Matsuhashi, Professor, UTokyo. Title: Realization of a carbon neutral society and novel business schemes of energy systems



The main features of the program are as follows.

(1) The program consists of four phases (Pre-Basic, Basic, Advanced, and Practical) which are suitable for the respective objectives and stages. In the Basic Phase, participants dig deep to search for problems and form diversified teams. In the Advanced Phase, participants make business plans based on research outcomes through customer feedback and mentor guidance. The Practical Phase is for participants who want to launch a real business as a startup or inside a company.

(2) Participants can brush up on their communication skills and build valuable human networks through discussions with various people from universities, national laboratories and corporations, including investors and business mentors.

(3) Participants can have the chance to present business plans in front of overseas venture investors in Silicon Valley and San Diego.


Agenda for the second session:

(1) Self-introductions by participants

(2) Overall briefing on the EDGE-NEXT program

(3) A talk about SDGs by the invited UTokyo professor

(4) Networking for finding team members to solve problems

Number of participants: No limit for the Pre-basic Phase (About 40 people from the Basic Phase onward)

Registration:
Please register via the form on the following application site.

http://bit.ly/3fy0ziO

We have prepared templates for self-introduction and networking (team member recruiting) on the application site.
Please send the files to the EDGE-NEXT office by email at least three days before the session day. After receiving them, we will send the Zoom URL for participation by email. Please note that doing a self-introduction is a necessary condition for attending the Pre-Basic Phase.