FEATURES

Aging infrastructure's road to recovery | Entrepreneurs 03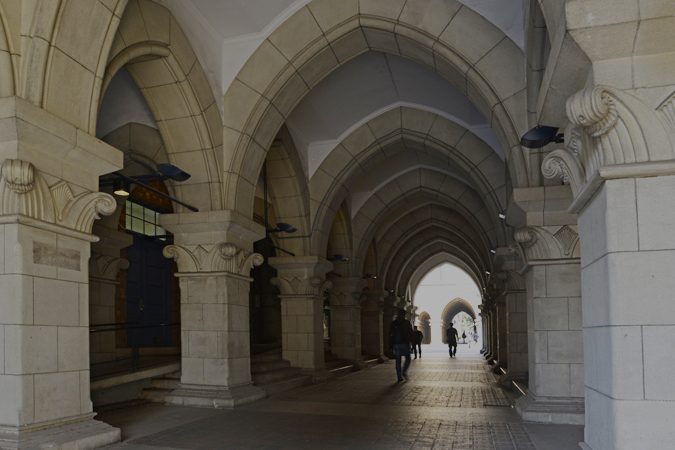 This series introduces entrepreneurs who have received startup support from UTokyo programs or who have utilized university research. UTokyo's support aims to expand Japan's innovation ecosystem.

Hiroya Maeda's fascination with infrastructure started from the time he was a young boy growing up in Tokyo. "When I was an elementary school student, my mother and I flew many times to visit my grandmother in Nagasaki," Maeda said, recalling the trips to his mother's hometown, a port city in southwestern Japan. "Having a bird's-eye view of Tokyo's streets below was amazing. I realized then that such a magnificent cityscape couldn't be made in a day."
This fascination later prompted Maeda to study civil engineering at the University of Tokyo's Faculty of Engineering and then Graduate School of Engineering, where his research focused on gathering images with smartphones and dashcams, and then analyzing them with artificial intelligence (AI). The applications of this research could prove especially useful for maintaining roads, an essential element of Japan's infrastructure but one that is becoming increasingly old and expensive to keep in good condition.
Maeda is now the CEO of UrbanX Technologies, Inc., a Tokyo-based startup launched in April 2020, which has applied the fruits of his research to develop software that detects damage to road surfaces.
The company has started joint experiments with a nonlife insurance company to collect road data using cars belonging to local governments across Japan. UrbanX plans to accelerate its business expansion, starting from the road damage detection system to eventually building a handy digital replica, or digital twin, of cities.
Outside help essential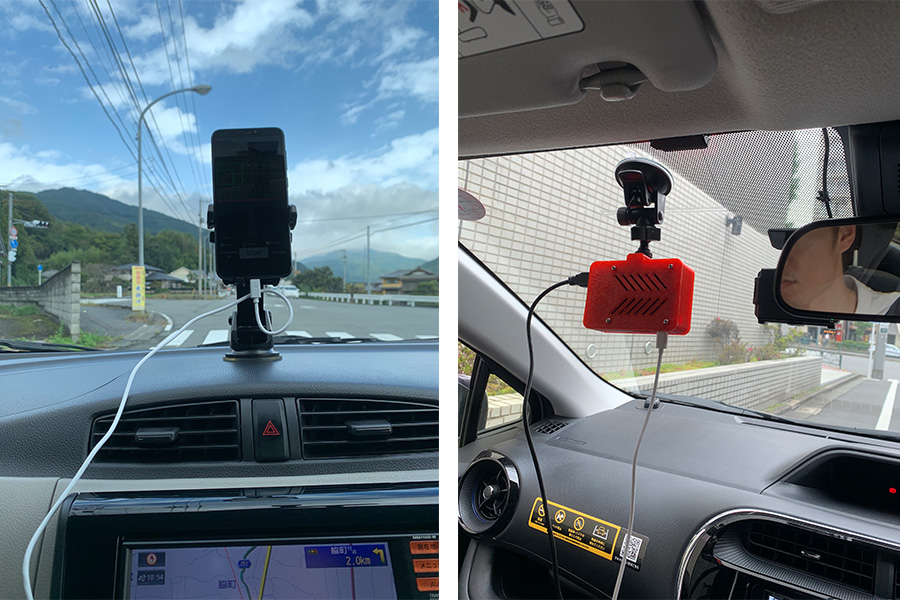 In 2016, Maeda started his primary research under the instruction of then-Associate Professor Yoshihide Sekimoto of UTokyo's Institute of Industrial Science (IIS). Maeda considered getting a doctorate, but was "unable to fathom how his research results could be useful to society." Instead, he joined a consulting firm in 2018 to observe society from different angles while continuing his research on the side.
An opportunity arose a year later. Sekimoto contacted Maeda and asked if he was interested in starting a business based on his research. After six months of careful consideration, Maeda ended a 16-month stint at the firm in September 2019 and resumed his research as a project researcher under Sekimoto, while preparing for the launch of UrbanX. "I wanted to contribute to society by applying what I accomplished at graduate school," Maeda said in explaining his decision to give up a stable job.
But launching a startup was not easy. After all, Maeda did not know anybody who had started a business drawing on their own research. Amid the risk of being all at sea, his savior was the support system that had evolved at UTokyo: The Division of University Corporate Relations (DUCR) welcomed Maeda and provided him with much-needed advice on the nuts and bolts of starting up a business; UTokyo Innovation Platform Co., Ltd. (UTokyo IPC) — a wholly owned subsidiary of UTokyo established in 2016 to strengthen the university's ability to jump-start venture firms — supported him before and after incorporation through its 1st Round hands-on incubation program; TODAI TLO, Ltd., an organization established in 1998 to serve as a bridge between the university's inventions and companies, arranged technology licensing.
DUCR also invited his company to rent one of its "incubation rooms"— designed to offer a comfortable business environment to budding startups—at the Collaborative Research Building on UTokyo's Komaba Research Campus.
"It was hard, but in retrospect, it all went extremely well because I received so much help," Maeda said. "We obtained the exclusive license for the basic patent developed in the university. So every time we make a profit, the university does, too. This is an ideal way for a university researcher to start a business."
Sekimoto, an IIS professor since December 2020, joined UrbanX as a founding member and director.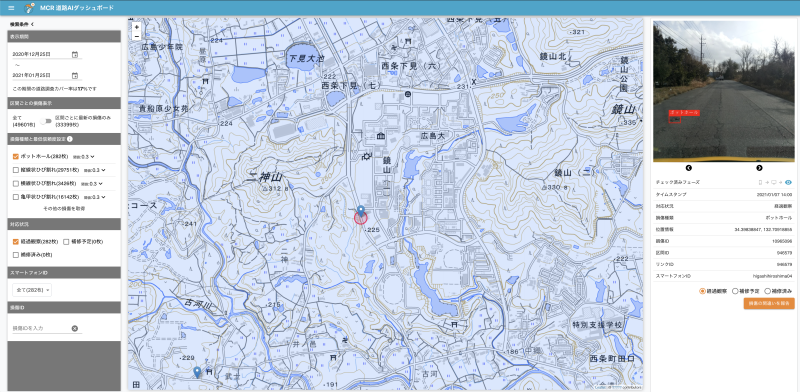 Furthermore, in October 2020, the company received a total of 80 million yen from UTokyo IPC and venture capital firm ANRI through a third-party allocation of shares.
"When I was a student, I didn't know the university had ways to help students and graduates turn their research findings into business," Maeda said. "I want people to know about these pathways. It would be great if more students or graduates opt to establish a business fueled by their research outcomes. Plus, they can get a doctorate while managing a venture firm." Maeda himself is scheduled to obtain a doctorate in March 2021.
One step closer to helping society
UrbanX has developed a road damage detection system jointly with Mitsui Sumitomo Insurance Co., Ltd., a UTokyo IPC partner firm. The two companies have started experiments to analyze data collected by dashcams mounted on official cars of five municipalities to detect road damage. The municipalities are Tokyo's Shinagawa ward and the prefectural cities of Chiba, Chiba Prefecture; Kaga, Ishikawa Prefecture; Otsu, Mie Prefecture; and Amagasaki, Hyogo Prefecture. The system allows municipal governments to easily and cheaply detect road damage so repairs can be made swiftly. It uses AI, including deep learning, to detect deteriorating road surfaces, and aggregates the information, which is sold to clients, such as the local governments.
Many sections of Japan's road network, which covers 1.2 million kilometers, were built during the high economic growth era from the mid-1950s to the mid-1970s. Maintaining roads is a huge task for local governments, and this problem is compounded by the shortage of specialists trained to conduct visual road checks. Many municipalities have been unable to replace these specialists after they retire, and using a vehicle fitted with sophisticated equipment to detect road damage is expensive.
"Vehicles owned by private companies and individuals travel on roads every day," Maeda said. "Local governments could change the way they check roads if they adopted our inspection system that uses dashcams. They wouldn't need to rely on a special vehicle to check roads."
Building a digital replica of cities
Maeda's goal for the next five years is to establish a method for creating a digital twin of cities by collecting data on urban spaces, using technology such as smartphones, dashcams and small robots.
"We aren't trying to create a highly accurate map, but a handy digital twin with data aggregation that meets minimum requirements of data quality for each case study," Maeda said. "If we make a digital replica on the premise that data will be collected by simple sensors, we can make real-time updates. This would offer a broader range of uses than even a highly accurate map." Japan's several hundred thousand construction companies are potential clients, he said. Other targets include overseas markets such as the United States and Southeast Asian countries. UrbanX is currently hiring staff, including software development engineers, to realize these goals.
"We want to correct distortions that exist in society," Maeda said. "Take roads, for example. Municipalities in rural areas tend to have smaller budgets, but they also have more stretches of road, which cost a lot of money to inspect. Our software-based solutions could alleviate this problem."
Maeda's years of hard work look set to give a new lease on life to the infrastructure that impressed him so much as a boy on those flights to visit his grandmother.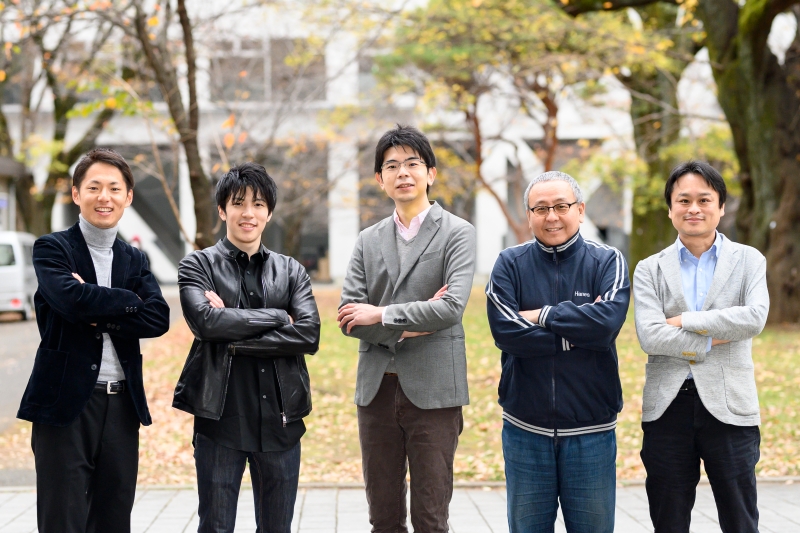 UrbanX Technologies, Inc.
Launched in April 2020 to develop a commercial road inspection system, using a basic patent held by the University of Tokyo. Founded by CEO Hiroya Maeda and Director Yoshihide Sekimoto, then an Institute of Industrial Science associate professor. Developed "My City Report for road managers," a road inspection system featuring AI image processing technology. Conducting experiments involving image data collection and analysis with Mitsui Sumitomo Insurance Co., Ltd. Plans to increase its workforce to about 10 in 2021 to prepare for a full-fledged entry into the market. Has received a total of 80 million yen from venture capital firm ANRI and UTokyo IPC. Its road inspection method was selected for the MITOU Advanced Program sponsored by the Information-technology Promotion Agency, Japan. Is a partner company in Nvidia Corp. program to accelerate AI startups.
Date of interview: November 27, 2020
Interview/Text: Yumiko Mori
Photos/Emiko Hara