FEATURES

Passion for success behind rise of fintech startup
Entrepreneurs 10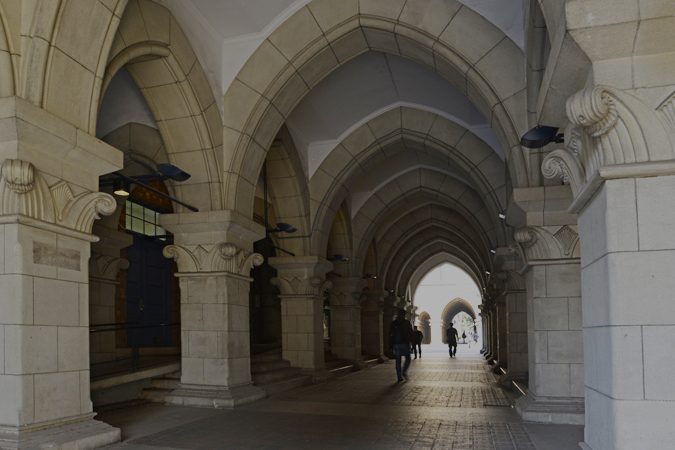 This series introduces entrepreneurs who have received startup support from UTokyo programs or who have utilized university research. UTokyo's support aims to expand Japan's innovation ecosystem.

Influenced by his entrepreneur father, Ryota Hayashi dreamed of starting his own business from an early age. Just before he turned 20, his dream of becoming an entrepreneur began to take shape after he was inspired by a book written by Japanese startup pioneer Susumu Fujita, CEO of internet services company CyberAgent.
The book, "Confessions of a Boss Working in Shibuya" (unofficial English title), was recommended by family of a student Hayashi was tutoring while he was attending the University of Tokyo. "While I was reading the book on the train on my way home, I was seized with passion," Hayashi recalled. "I couldn't even sit still."
Sixteen years later, in December 2021, his dream came true when his startup, Finatext Holdings Ltd. (hereafter Finatext), was listed on the Tokyo Stock Exchange's Mothers index of emerging companies. Finatext is now in the spotlight as one of the very few enterprises in Japan that provide cloud financial infrastructure that can be developed speedily and at low cost.
Since its founding in 2013, Finatext has forged partnerships with various companies under the slogan of "reinventing finance as a service." The company has grown to where it is now a partner of major lender MUFJ Bank.
Hayashi is determined to spearhead a drive to revolutionize Japan's financial infrastructure, regarded by many as outdated and characterized as being slow, costly and prone to glitches. "As momentum gathers for a thorough overhaul of Japan's financial infrastructure, the winds are blowing in our direction to make Finatext one of Japan's best-known companies," he said. Hayashi has now set his sights on making inroads into the global market in the future.
Getting himself prepared for a leap forward
Hayashi didn't waste any time after becoming inspired to be an entrepreneur. While studying at UTokyo's Faculty of Economics, he established a website development company and a student organization that studied investing, as well as organizing mixer events, all of which were steps toward realizing his dream.
While his fellow students were busy looking for jobs, Hayashi decided to study computer science at Britain's University of Bristol because he wanted to excel on the global stage. He then landed a job at the London branch of Deutsche Bank, where he worked for a few years before returning to Japan to work for a hedge fund. In 2013, he established Finatext, just after turning 28.
Hayashi's academic and professional trajectory might seem impressive, but he was often mocked by his peers who were employed by top Japanese companies, the conventional choice for many UTokyo graduates. Before he went to Britain, some of them asked him whether he was just going abroad to have fun. Hayashi felt they did not take him seriously when he told them he wanted to be an entrepreneur.
But this just made him all the more determined to achieve his goals. "Nobody pokes fun at me now," Hayashi said. "I'm the kind of person who uses adversity as a springboard. I want to keep the flame of ambition burning. It's always Day One for me in running my business."
Starting with developing apps for financial literacy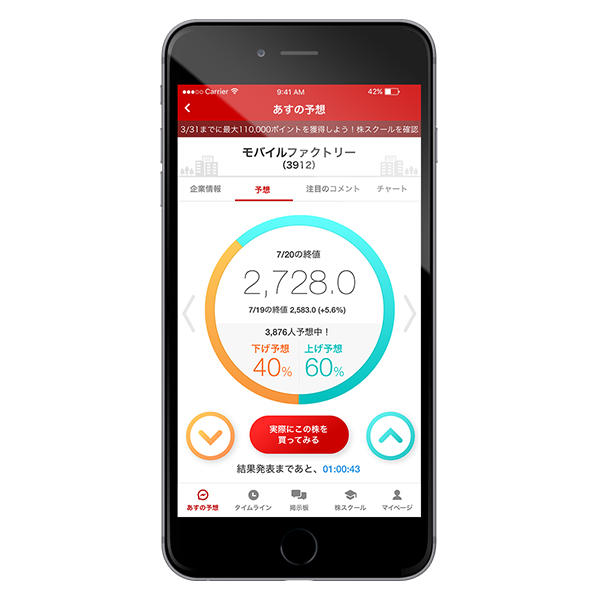 Finatext was at first engaged in app-based businesses, including Asukabu!, a service in which subscribers forecast stock prices.
This was because reportedly Japanese financial literacy is low compared with North America and Europe. According to the Bank of Japan's Research and Statistics Department, stocks accounted for only 10% of financial assets held by Japanese households as of March 2021, which is lower compared with the United States (37.8%) and the Eurozone (18.2%).
"Many people think investing in the stock and foreign exchange markets is difficult or cumbersome. To counteract this, we want to offer a community where people can give advice to each other," Hayashi said. Finatext plans to continue operating this service to help Japanese people better understand financial markets.
In 2016, Finatext started a service to analyze big data for institutional investors after acquiring Nowcast Inc. as a wholly owned subsidiary. Nowcast was founded by Professor Tsutomu Watanabe of UTokyo's Graduate School of Economics, who currently serves as technical adviser to Finatext and Nowcast. With Hayashi at its helm, Nowcast helps institutional investors make investment decisions by analyzing and using alternative data or information gathered from nontraditional information sources, such as point-of-sale and credit card transaction data.
Reviving Japanese financial sector with fintech
Hayashi says Finatext's current priority is building cloud financial infrastructure. The company has built a complete system and relevant infrastructure for Money Canvas, a comprehensive financial service that MUFJ Bank launched in December 2021. With this service, smartphone users can trade stocks, carry out investment trust transactions, participate in crowdfunding (in which individuals can lend money to MUFJ) and buy insurance.
Hayashi decided to enter this field with a strong determination to change Japan's financial infrastructure. During the bubble economy years from the late 1980s to the early 1990s, five Japanese financial institutions were among the top 10 global companies in terms of market capitalization.
Thirty years later, however, the Japanese financial sector has deflated beyond recognition, Hayashi says. "Japan's mission-critical financial system is like a personal computer running on semiconductors from 20 years ago. It is far behind in terms of technology. It is slow and high cost.
"Finance is the lifeblood of economic activities," Hayashi continued. "Unless we change this, the entire economy will suffer. If easy-to-use financial services become available for end users at low cost, it will be a shot in the arm for the sagging Japanese economy. We are taking on this challenge with a sense of mission based on the premise 'If we can't do this, nobody can.'" Hayashi's passion for success seems to be inexhaustible.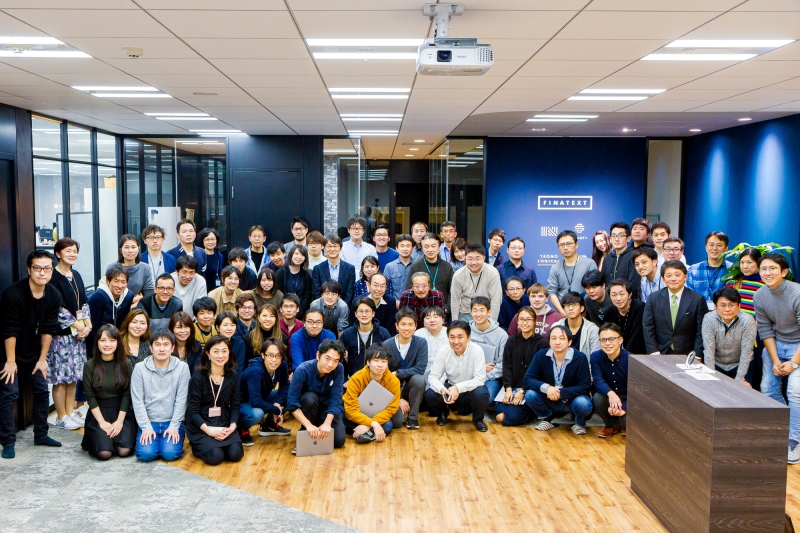 Finatext Holdings Ltd.
Established in 2013 by Ryota Hayashi and other UTokyo alumni. In 2018, the company changed to its current name after becoming a holding company. Currently, there are seven group companies, including Finatext Ltd., Nowcast Inc. and Smartplus Ltd. Its business partners include financial institutions MUFJ Bank, Nomura Securities Co., Ltd., Credit Saison Co., Ltd., and Aioi Nissay Dowa Insurance Co., Ltd., as well as All Nippon Airways Co., Ltd. and other companies. With over 200 employees, the company aims to further reinvent finance as a service.
Date of interview: October 21, 2021
Interview/Text: Yumiko Mori
Top photo: Yusuke Takeda