FEATURES

On a mission to remove language barriers, pirates from manga
Entrepreneurs 12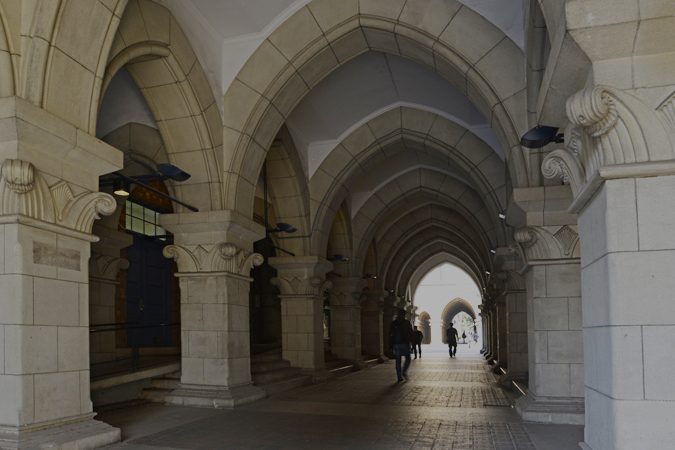 This series introduces entrepreneurs who have received startup support from UTokyo programs or who have utilized university research. UTokyo's support aims to expand Japan's innovation ecosystem.

Manga, anime and other forms of Japanese entertainment are as popular among children in China as they are at home in Japan, irrespective of the state of the two countries' relationship at any given time. That was what Shonosuke Ishiwatari, an artificial intelligence researcher-turned-entrepreneur, discovered during the year he spent in China as a schoolboy.
"Relations between China and Japan are sometimes rocky, but children aren't bothered about political tensions and simply enjoy entertainment imported from Japan," Ishiwatari said.
This notion eventually led him to set up Mantra Inc., a startup that develops machine learning technologies with the mission of taking down the language barrier of manga, a popular genre of Japanese comics and graphic novels. Translating manga quickly is now a pressing priority due to widespread piracy, which costs content creators and publishers billions of dollars in sales annually.
When he was a third-year doctoral student at the University of Tokyo's Graduate School of Information Science and Technology, Ishiwatari became an aspiring entrepreneur after listening to a guest lecturer who told the class that it was viable for a scientist to start up a business. He then received hands-on assistance from UTokyo's incubation ecosystem and established the startup with a friend from graduate school in 2020.
Mantra aims to popularize its multilingual machine translation system, Mantra Engine, as well as provide a foreign-language learning service using manga in partnership with major entertainment publisher Shueisha Inc.
Love of language
Until high school, Ishiwatari, whose mother hails from China and who is bilingual in Chinese and Japanese, dreamed of becoming a language teacher with the hope of getting children interested in foreign languages and cultures. After he entered UTokyo and completed the two-year Junior Division curriculum putting him on track to advance to the faculties of Letters or Education, he changed his mind and decided to pursue artificial intelligence (AI) research instead. Taking advantage of the university's system to switch majors, he shifted course and entered the Faculty of Engineering.
Ishiwatari advanced to graduate school and started research in natural language processing — the study of the interactions between computers and human language, including how computers understand text written by humans.
It naturally followed that Ishiwatari, an avid manga fan, would apply his interest in machine translation system research to the Japanese comics genre following his experiences overseas. During his doctoral course, Ishiwatari went to China for a six-month internship and to the United States for another six months to study. "When I went abroad and talked to people there, Japanese manga, anime (animation) and games always came up as a topic of conversation," Ishiwatari said. "That's when entertainment's true power to make people happy resonated with me."
Translating Japanese manga, however, is challenging and costly, which makes it difficult to quickly translate works into foreign languages. Delays in publishing manga titles in foreign languages, in turn, are helping pirated translations to flourish on the internet, Ishiwatari said.
Websites offering pirated content can be divided into two types: one is designed to make money through advertising, and the other is filled with material translated by manga fans for free. Eradicating these sites in Japan and abroad is a pressing issue for manga publishers. According to ABJ, a Japanese publishers' industry group, in 2021 alone, pirated manga titles that were read for free on the most frequented sites accounted for the equivalent of over 1 trillion yen (about $8.7 billion) in lost sales.
Need for speed
"Improving the productivity of translation work with the help of AI will lead to eradicating manga piracy," Ishiwatari said. "Some fans have no option but to translate the Japanese version by themselves because there is no official version in their local language. So, publishing the official versions in foreign languages at the same time as the Japanese version is pivotal to overcoming the piracy problem we are seeing now."
Ishiwatari, however, addressed the concerns of professional translators. "Machine translation will not replace humans. Text translated by machine will be checked and revised by professional translators to raise the standard to make manga engaging and enjoyable. The point is for machine translation to raise the translators' productivity, which is very important."
Mantra Engine uploads manga images into a cloud system and translates them into foreign languages by using its technologies to recognize Japanese characters and images in each frame. For example, a sentence may be broken up and placed across several speech bubbles in the original Japanese version, but the system automatically recognizes the sentence in the right order. Even if a subject or predicate is lacking, which is not uncommon, the system is able to translate accurately by using its image processing capability to analyze each frame in context.
Using the same interface for the workflow, in which translators check and revise auto-translated text and change font sizes to fit the bubbles, simplifies and reduces cumbersome communication between people involved in production. At present, Mantra Engine can translate Japanese into 14 languages, including English, Chinese and Korean. More than 10 enterprises, including publisher Shogakukan Inc., are currently using the system.
Moreover, Mantra is test-running its Langaku service, which is designed for students of English to learn colloquial expressions through extensive reading of popular manga in English, using titles published by Shueisha.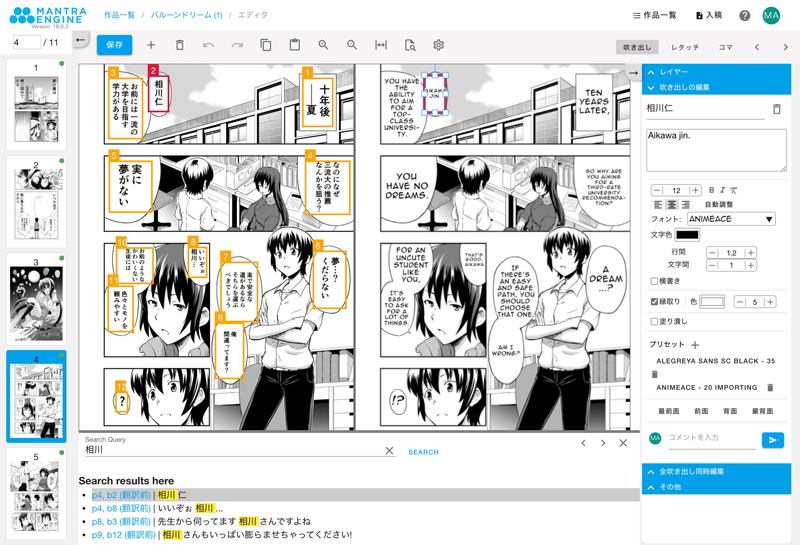 Vital UTokyo support
Ishiwatari said that it would have been difficult for a not-so-business-savvy engineer to set up a business without the support of UTokyo's ecosystem to foster entrepreneurship. He became enthusiastic about entrepreneurship after listening to a lecture by the founder of Elephantech Inc., a printed electronics startup.
After winning a UTokyo students' product ideas contest, Ishiwatari and his friend Ryota Hinami, the co-founders of Mantra, used the prize money to make a prototype machine translator. They learned how to start a technology-based business and received support from the Summer Founders Program, organized by the Division of University Corporate Relations. Right after the co-founders received their doctoral degrees from UTokyo, they joined UTokyo FoundX, a startup acceleration program that provides free office space for prototyping and offers fundraising support. Furthermore, they took part in 1stRound, an entrepreneurship program provided by the UTokyo Innovation Platform Co., Ltd., a venture capital arm of the university. For example, the program provided Mantra with a free ticket that allowed access to a cloud system, essential for AI research, and conducted legal procedures on the startup's behalf to set up the company, also at no cost.
Ishiwatari is determined to realize his dream. "What Mantra wants to do has remained the same from the beginning, which is to remove language barriers in the entertainment business," Ishiwatari said. "One approach is machine translation. I'd like to help distribute as many works as possible to the world, that have not crossed national borders."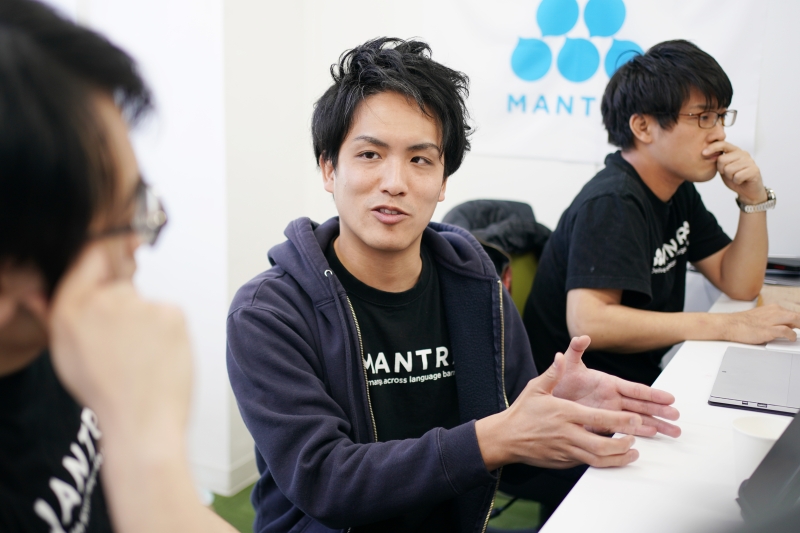 Mantra Inc.
Established by Shonosuke Ishiwatari and Ryota Hinami, the startup develops AI technologies, such as image recognition and natural language processing specifically for manga, based on their research as UTokyo graduate students. It offers Mantra Engine, a machine translation system, and is developing the Langaku service for English study through extensive reading of manga. While at UTokyo, Ishiwatari participated in several support programs for students, such as the Summer Founders Program and Todai to Texas, to advance the technologies. Mantra received 5 million yen from the 1stRound Program to set up a business and 10 million yen from a program sponsored by the government's Information-technology Promotion Agency. In June 2020, it raised nearly 80 million yen through a third-party allotment of shares to venture capital firms Deepcore and Legend Partners, as well as digital service provider DMM.com and angel investors.
Date of interview: October 26, 2021
Interview/Text: Yumiko Mori
Top photo: Emiko Hara