FEATURES

American CTO's intelligent robotics picks up logistics automation
Entrepreneurs 13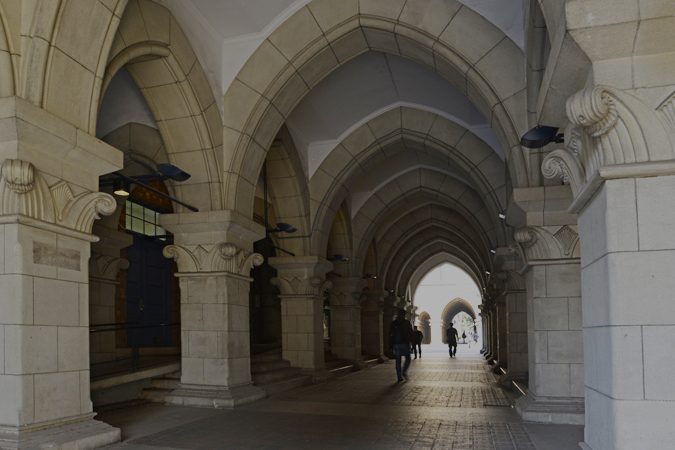 This series introduces entrepreneurs who have received startup support from UTokyo programs or who have utilized university research. UTokyo's support aims to expand Japan's innovation ecosystem.

Robotics specialist Rosen Diankov landed in Japan in 2010, planning to conduct research at the University of Tokyo's Graduate School of Information Science and Technology and share his passion for robotics with Japanese researchers.
"I saw eye to eye with Japanese researchers who are devoted to advancing robotics while I was in a doctoral program at Carnegie Mellon University (in the United States)," Diankov said in fluent Japanese in explaining why he came to Japan. Diankov is a globally renowned expert in motion planning, i.e., finding algorithms that move robots. During a one-year stint as a project researcher in the laboratory of Professor Masayuki Inaba, he learned what he described as a "tremendous" amount about robotics research in Japan, which is considered one of the leading countries in the field.
The following year, Diankov established Mujin, Inc., a startup in Tokyo he co-founded with a Japanese businessperson well versed in technology, where he serves as chief technology officer. Based on the results of Diankov's research, Mujin developed an intelligent robotics controller. It was a revolutionary technology allowing industrial robots to autonomously compute and make optimal movements in accordance with a given situation.
The controller is revolutionary because it does not require reprogramming by humans to teach and train a robot about the angle of each joint in its body, and the direction and speed of its movements, and so forth, each time circumstances change. In fact, this teaching requirement has prevented wider application of industrial robots because of the complexity and high costs involved.
Since its founding, Mujn has expanded its business by selling general-purpose intelligent robotics controllers to companies in the manufacturing and distribution sectors. It also established business partnerships with retail giants such as Fast Retailing Co., Ltd., the operator of the Uniqlo chain of clothing stores. After establishing subsidiaries in the United States and China, Mujin is now looking to go global with its mission of creating "industrial robots for everyone."
Inspired by father
Diankov was born in Bulgaria. When he was 8, his family moved to the U.S. state of California. He grew up watching his engineer father realize the American dream. The family lived in the city of La Cañada Flintridge, home to NASA's Jet Propulsion Laboratory, which provided him with an environment where he was encouraged to study mathematics and science. His father's experience could be said to have inspired him to become an entrepreneur in Japan.
Diankov obtained a doctoral degree from the Robotics Institute at Carnegie Mellon, with his thesis on "Automated Construction of Robotic Manipulation Programs." He chose this subject because of problems associated with conventional methods of teaching robots. "Take an operation to pick up a designated item," Diankov explained. "For example, we have to redo the programming from scratch if the target item and surrounding environment change. I realized that automated systems in factories and warehouses would not be widely used unless we did something about this."
According to Diankov's motion planning theory, software grasps the working environment with sensors, computes the optimal movements for a robot to reach the target position and generates robotic motions. The intelligent robotics controller that Mujin has developed based on this theory is expected to further spread the use of automated systems in the industrial and distribution sectors.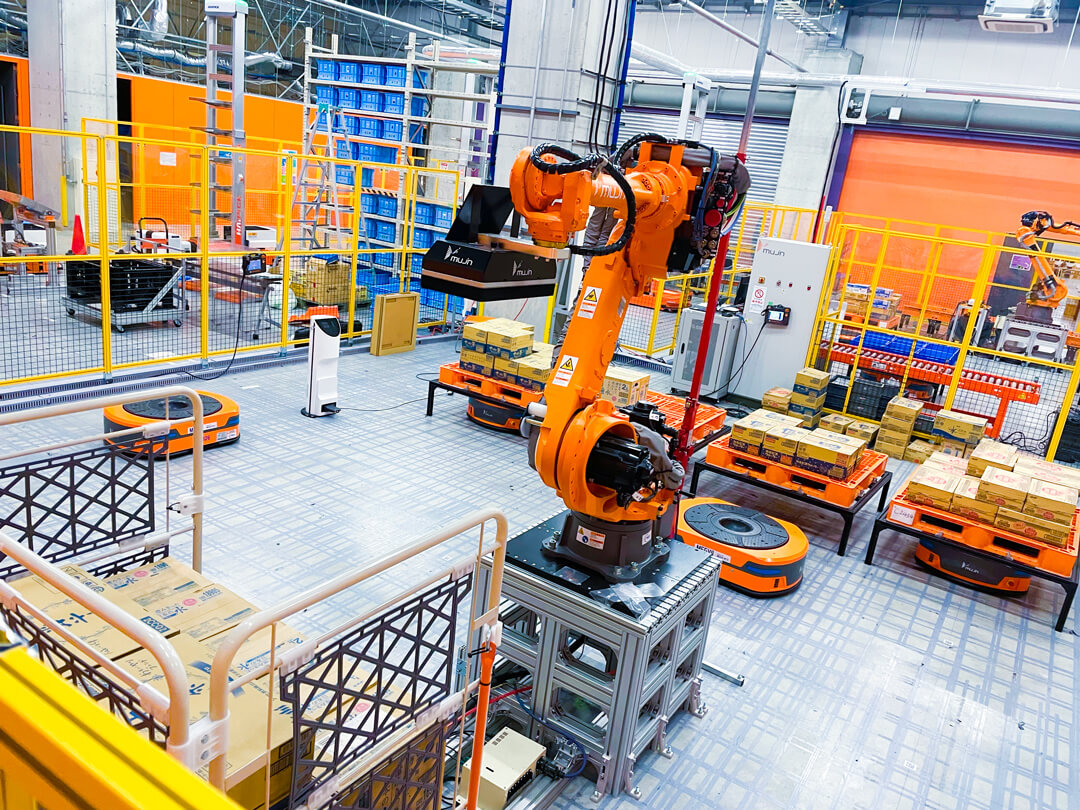 Fateful meeting with future CEO
Diankov said he had set his mind on starting a company in Japan even before he decided to move to the country. Helping him to turn his dream into reality was a meeting with Issei Takino, who later would become Mujin's chief executive officer, during a business trip to Tokyo.
"Takino-san was a sales engineer who suggested various manufacturing methods — he was very knowledgeable about the needs of the manufacturing sector," Diankov said. "I immediately thought I had to partner with him if I wanted to make my technology available in the market." Diankov proposed that the two set up a company, and Takino agreed.
Diankov said he had no problem in becoming an entrepreneur in a foreign country. He said that was due to Takino's ability to connect technology with business and UTokyo's entrepreneurship support programs, including funding. In 2012, Mujin procured 75 million yen from the University of Tokyo Edge Capital Partners Co., Ltd., mediated by UTokyo's Division of University Corporate Relations.
Mujin has been steadily signing up clients. It has sold robotics controllers to manufacturing companies and distribution companies such as Hitachi Transport System, Ltd. Mujin's intelligent robotics controllers and its accompanying three-dimensional sensors are compatible with robots made by major manufacturers.
Diankov's mission is to be a pioneer in the robotics field. "So far, no company in the world has succeeded in the intelligent robotics business," Diankov said. "We are trying to succeed where others failed. It's a daunting challenge, but it's worth it."
Attracting top-notch global talent
Another outstanding feature of Mujin is that it draws talented engineers from around the world. Its multinational team comprises engineers from 27 countries who are graduates of leading universities such as UTokyo in Japan, Peking University and Tsinghua University in China, and Carnegie Mellon University, Massachusetts Institute of Technology and Stanford University in the U.S. The team's technological achievements have earned it many awards, including the Prime Minister's Award (the grand prize) of the second Japan Open Innovation Prize in 2020.
Diankov leads the engineering team under a policy of sharing the direction of research and development with the engineers and encouraging each of them to show leadership. His personal motto is "to achieve results through hard work and perseverance."
Diankov summed up his determination to bring about a robotics revolution. "I'd like to produce something you've never seen before," he said. "For example, I'd like to build a system that anyone can buy like Apple's iPhone, so that ordinary people can easily build a robotics system with it."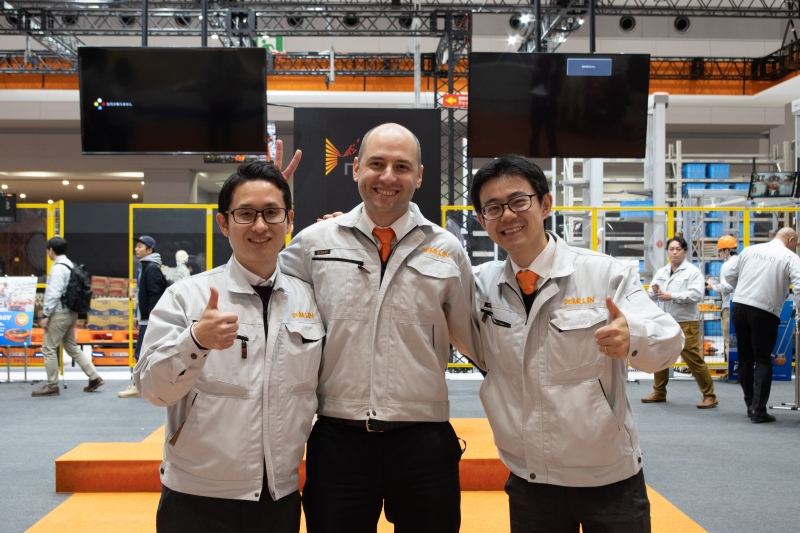 Mujin, Inc.
Established at the UTokyo Entrepreneur Plaza in 2011 by Chief Technology Officer Rosen Diankov and CEO Issei Takino, to develop and sell general-purpose intelligent robotics controllers. The startup provides solutions to automate heavy labor in the distribution and manufacturing sectors by making robots intelligent. Its business partners include Fast Retailing Co., Ltd., Accenture Japan Ltd. and ASKUL Corp. With about 170 employees, it has set itself the challenge of "changing the world with intelligent robotics."
Date of interview: November 18, 2021
Interview/Text: Yumiko Mori
Top photo: Yusuke Takeda