FEATURES

Fifth UTokyo Research, on site
Volcano research at the University of Tokyo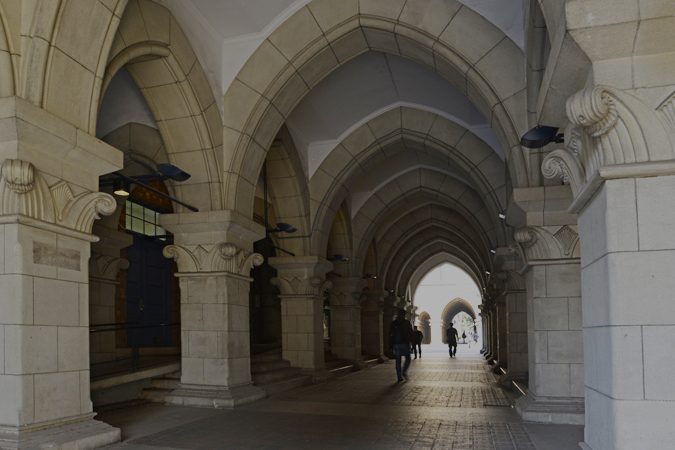 The Ontake eruption has reminded the world yet again of geological volatility of the Japanese volcanic archipelago and its vulnerability to natural disasters. On Friday, 27 February 2015, the 5th "UTokyo Research, on site" media tour introduced the state of volcano research at the University of Tokyo's Earthquake Research Institute (ERI) and Graduate School of Science under the title "Flying into the frying pan: Volcano research at the University of Tokyo." Nineteen participants (14 media, 5 embassy attachés) saw the University's research on site. After a briefing introducing the basics of volcanology and outlining volcano research at ERI and the Graduate School of Science, a question and answer session and coffee break were followed by a tour of three laboratories.
Briefing: Outline of research on volcanic phenomena
First, Professor Takehiro Koyaguchi, ERI Director, introduced research on volcanic phenomena in the ERI and the Graduate School of Science, which covers a wide area of the earth sciences including the generation of magma in the earth's interior and the dynamics of volcanic eruptions. Volcanology as a field applies knowledge from physics and chemistry to understanding volcanic phenomena. In addition, Professor Koyaguchi explained how researchers deepen our understanding of volcanoes by observation and experiments such as the creation and destructive testing of volcanic rock in the laboratory.
Tour: Volcano observations using an unmanned helicopter
After the briefing, question and answer session and coffee break, participants toured three laboratories. ERI Associate Professor Takao Ohminato and Assitant Professor Takayuki Kaneko use unmanned helicopters for monitoring active volcanoes that cannot otherwise be approached safely. The helicopter used in this research and the seismic and magnetic sensors placed on site by helicopter were displayed and explained by Associate Professor Ohminato.
Tour: Challenges for volcanic gas monitoring
Graduate School of Science Associate Professor Toshiya Mori's group focuses on visualization techniques for volcanic gases such as sulfur dioxide that are invisible to the human eye, and have developed methods of quantifying changes in volcanic gases over time. Volcanic gas absorbs ultraviolet rays, a property that the research group is exploiting. Associate Professor Mori explained the group's research during the eruption of Ontakesan, when they flew a four-rotor multicopter equipped with a variety of sensors through the volcanic cloud to examine its composition.
Tour: Three-dimensional numerical simulations of volcanic eruption clouds
ERI Assistant Professor Yujiro Suzuki's research group is developing an original 3D numerical model for the simulation of clouds of mixed volcanic gas and ash ejected into the atmosphere during explosive eruptions. Assistant Professor Suzuki showed simulations of the 1991 large-scale eruption in Pinatubo, Philippines and the 2011 small-scale eruption in Shinmoe-dake, Japan. Participants wore three-dimensional glasses as they watched the transformation of the state of the volcanic plume.
Researchers (alphabetical order)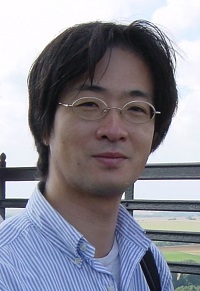 Assistant Professor Takayuki Kaneko
Volcano Research Center, Earthquake Research Institute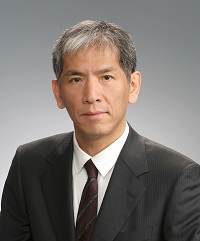 Professor Takehiro Koyaguchi
Division of Theoretical Geoscience, Earthquake Research Institute (Japanese)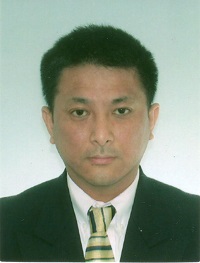 Associate Professor Toshiya Mori
Geochemical Research Center, Graduate School of Science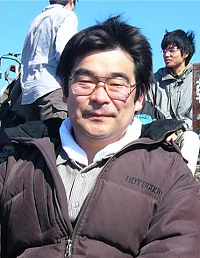 Associate Professor Takao Ohminato
Center for Geophysical Observation and Instrumentation, Earthquake Research Institute (Japanese)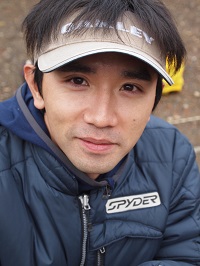 Assistant Professor Yujiro Suzuki
Division of Theoretical Geoscience, Earthquake Research Institute