FEATURES

Weighing in on Japan's employment imbalance
Comparative study sheds light on rationale underlying disparity between regular, non-regular employment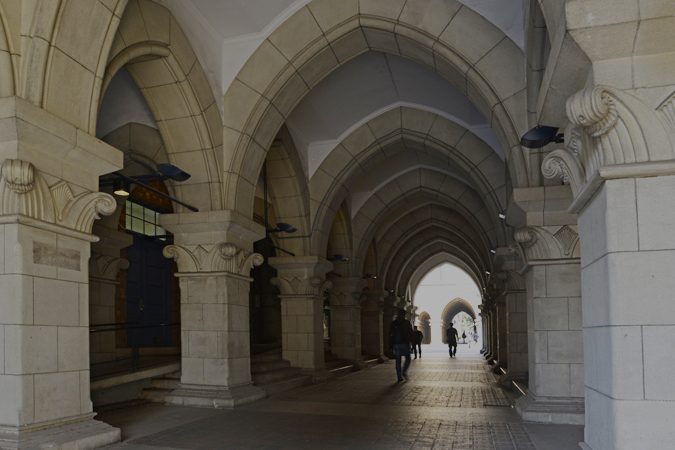 Take your typical Japanese company where, let's say, two people work identical accounting jobs, yet are paid and treated differently depending on whether they are a regular or non-regular employee. Why is this so? In a comparative study with East Asian neighbors South Korea and Taiwan, a University of Tokyo sociologist reveals that non-regular employment in Japan bears distinct traits that foster the tendency to justify this wage gap as a matter of course.
Factors determining worker income
In today's society, a person's job largely determines his or her income and social status. "For instance, in Western countries, workers' salaries, and by extension their socioeconomic status, are defined to a great degree by their occupation—that is, whether or not they are managers or skilled professionals," explains Professor Shin Arita of the University of Tokyo's Institute of Social Science. "In addition, whether they are in a position of employing others, or are themselves the ones hired to work for someone—i.e., their employment status—is an important factor." In Japan, by contrast, the employment type assigned to someone—such as whether he or she is a regular full-time employee or not—and the employer's relative size play a similarly significant role in determining a person's pay and working conditions.
Do other parts of East Asia with a social organization much like Japan's, such as South Korea and Taiwan, share this same quality? Arita revealed, by comparing data from Japan, South Korea, and Taiwan, that in Japan, company size and employment type mattered just as much, or were almost as important, as a person's occupation in determining his or her income. Company size also had a significant impact in South Korea, whereas in Taiwan, a person's occupation was by far the biggest determinant, with business scale and employment type playing relatively minor roles. In this study, Arita analyzed data from large-scale surveys conducted in 2005 in the three East Asian regions, in which several thousand men and women, aged 20 to 69, each from Japan, South Korea, and Taiwan participated (figure 1).
Why the wage gap between regular and non-regular employees exists in Japan
How come, then, does employment type have a greater impact on a person's wages in Japan than it does in its East Asian neighbors South Korea and Taiwan? In the Japanese survey, participants were asked to select just one employment type—from choices such as full-time employee, part-time employee, contract employee, and temporary employee—that best applied to them; this was sufficient enough to classify them as either a regular or non-regular employee. However, a South Korean colleague of Arita's pointed out that in his country, "We do not differentiate in the same way as you would in Japan." He explained, "In South Korea, some people employed as temporary staff might work only part-time—you would not be able to make that distinction with the Japanese classification system" (figure 2).
In South Korean surveys, the respondents would instead answer a set of questions, including ones about the number of hours they work, and whether their contract period is fixed or not, among other factors, aimed at ascertaining non-regular employment. Arita remarks that only when he made the comparison with conditions in South Korea did he realize that there was more to the distinction between regular and non-regular employment than the objective difference in employment conditions, such as the contract period, polled in the Japanese survey. "There are certain expectations and tacit understandings underlying non-regular employment in Japan that give rise to the wage gap that accompanies it," he explains.
For example, non-regular employment was originally cast as work sought by housewives to supplement their household income, and to this day, it is still "understood" tacitly as a form of labor that is not subject to mandatory overtime, job transfers, and other onerous conditions. Consequently, non-regular employment is associated with work that is light on responsibility and duties, which are used as justification for paying lower wages and salaries. Regular employment, on the other hand, is attained by those who undergo a rigorous hiring process that is followed by extensive training; hence it assumes greater skill sets, which merit higher pay than non-regular employment. Arita thinks that this logic and explanation have led to broad acceptance among Japanese of the wage gap between regular and non-regular employees.
"It's odd, if you think about it, though," he muses. "Employment type is not necessarily an accurate reflection of the differences in individual skills, or the differences in job responsibilities and duties. Nonetheless everyone seems to share a common notion of non-regular employment in which the wage gap is taken for granted and tacitly accepted."
The draw of comparative research
When Arita initially embarked on his research path, he focused on studying South Korean society. Then, over a decade ago, he expanded his scope to include Japan and Taiwan, and began examining the characteristics of the inequalities in wages and working conditions among labor markets in East Asia.
In describing what he finds fascinating about comparative research, Arita says, "When you study other East Asian societies, you really begin to see how peculiar many of the values and assumptions, which we Japanese take for granted, are to our society."
Those of us living in a particular society internalize its conventional wisdom unawares. Comparing our society with that of our neighbors, similar yet so different, helps us see that much of what we view as universal really isn't (figure 3).
Interview/text: Ayumi Koso
*Top page photo credit: CC BY-NC-ND 2.0 tokyoform