FEATURES

Changing focus to find a new direction|UTOKYO VOICES 052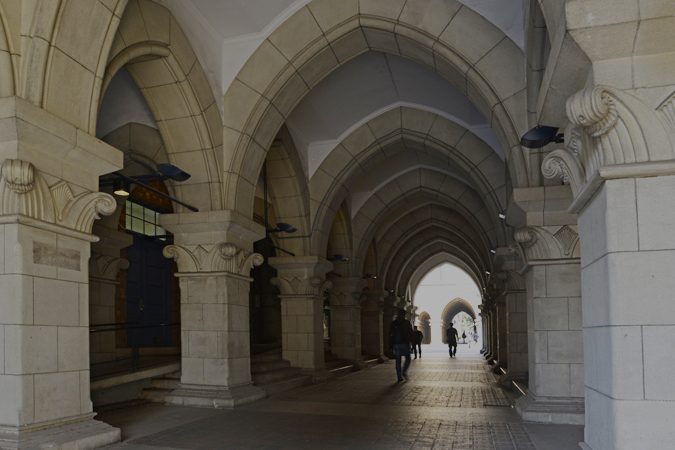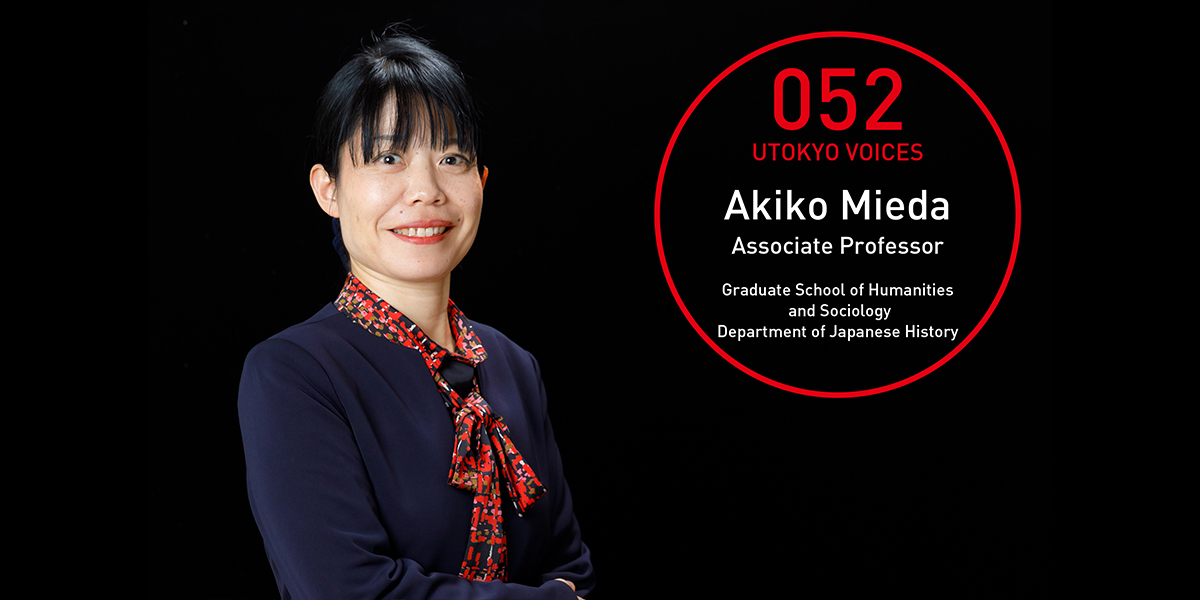 Changing focus to find a new direction
A book lover since childhood, Associate Professor Mieda was a girl with a taste for fantasy, who was especially fond of Anne of Green Gables and A Little Princess. Although she originally intended to become a Japanese teacher like both of her parents, the classes on ethics in political economy that she took in the third grade of senior high school interested her greatly, and the teacher of those classes left a strong impression on her. This was also during the Gulf War and, having developed an interest in connecting what was going on in the world with the content of her studies, she went on to study in the Department of History at Japan Women's University.
While searching for a theme to major in, Mieda took a class in medieval Japanese history by Professor Makoto Nagamura, a teacher whom she came to want to study under. He was strict as a teacher, but had ambition and passion. Mieda was impressed by how he engaged with the students at the university and had solid expectations of them.
She ended up choosing medieval Japanese history as her major, prioritizing who to study under over what to study. She started almost from scratch, but by being thoroughly drilled in how to read historical materials and research papers, she discovered the joy of working with historical materials, and the pleasure of finding, in libraries and archives, the original texts of sources she had read about in research papers and articles. This, she says, "thrilled me to the core."
After a year as a research student at the University of Tokyo's Division of History, Mieda progressed to the Master's program at the Graduate School. There, her confidence was shattered when, in addition to the difficulty of the work, she discovered that, in her area of interest, there was already previous research recognized by everyone in the field. When she asked for advice from Professor Nagamura at her alma mater, he told her, "You can never be the superstar researcher of your dreams, and nor do you need to be. Your strength is in exerting quiet, sober effort, so you should focus on the kind of research that will be recognized in 10 years' time."
Following this, Mieda rediscovered her interest in the social structures surrounding minorities, and when she set to analyzing research focusing on this, she gained a fresh understanding of how minorities sought to ensure their survival while crossing swords with the powers that be. "Changing the focus of my attention helped me find my way," she explains.
After earning the required credits for her doctorate, she left the University of Tokyo for some time and became a fixed-term lecturer at the College of Letters, Ritsumeikan University. There she conducted fieldwork on the urban structure of Kyoto, the former capital of Japan, as a city where people of various occupations made their home. She explored the remnants of the medieval age all over the city — in its shrines and temples, farm houses and merchant houses, and the houses of ordinary people — and she often experienced moments when information about the medieval world that she had traced in books and materials became linked with information about Kyoto that could be traced in the real world today.
In 2014, Mieda published Kyoto Tenjin wo Matsuru Hitobito – Zuikimikoshi to Nishinokyo (Kyoto: The People Who Worship Tenjin – Zuiki Portable Shrines and Nishinokyo). She calls it "a treasure of a book that I could never write again, which was guided by many wonderful twists of fate," including collaboration with everyday people in the field and joint authorship with a photographer. It is her greatest achievement as a researcher, she says, with a gleam of pride.
Kyoto shoulders the weighty mission of determining how to maintain the culture that remains there today, and the people living there spare no effort in doing just that. Mieda achieved her breakthrough by meeting the right people at the right time, and reconciling her own understanding of problems through her interaction with them. "It feels as though I'm reevaluating the medieval age by focusing on clues that remain today, but I too can't help but question what kind of mission I will accomplish through my research in the future," she explains. Those special connections with people may quietly illuminate a path through the darkness of medieval history that Mieda is seeking to explore.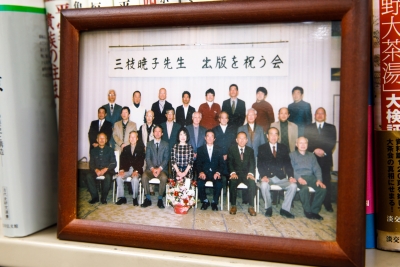 Commemorative photo
The photo was taken at a party to celebrate the publication of her first book Hieizan to Muromachi Bakufu: Jisha to Buke no Kyoto Shihai (Mt. Hiei and the Muromachi Bakufu: The Control of Kyoto by Religious Institutions and the Warrior Class). The people in the photo are members of the Association for the Preservation of the Nishinokyo Zuiki Portable Shrine, who allowed her to visit their association, which is usually inaccessible to women, "for the sake of research." I still remember how deeply moved I was when they came together to celebrate.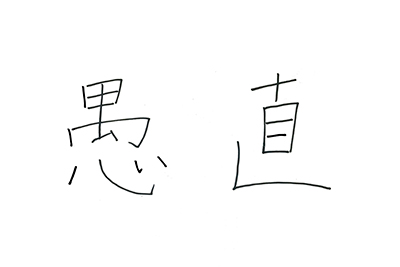 [Text: Guchoku ("simple and honest")]
A former colleague taught Mieda the word "guchoku" (simple and honest), explaining, "We researchers also want to be people who, like craftspeople, are single-mindedly devoted to their work." The phrase describes Mieda — who does not consider herself particularly dexterous — and also serves as a word of warning not to be blinded by one's narrow wants and needs and lose sight of what is important.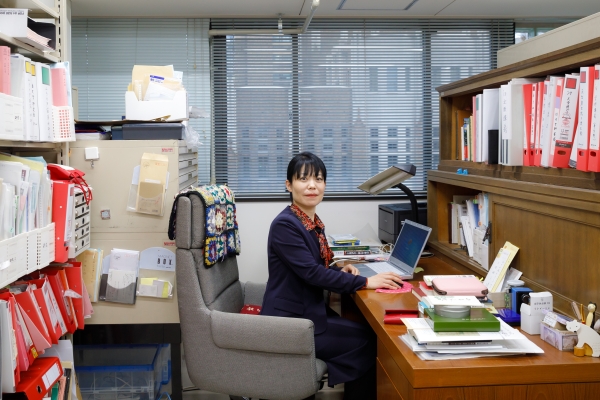 Profile
Akiko Mieda
Graduated from the Department of History, Faculty of Humanities, Japan Women's University in 1995. Studied as a history research student in the Faculty of Letters, University of Tokyo, then enrolled in the Master's Program (Japanese Cultural Research [Japanese History]) at the Graduate School of Humanities and Sociology and earned required credits for doctorate. Worked as a research fellow of the Japan Society for the Promotion of Science (PD) and fixed-term lecturer in the Comprehensive Program, College of Letters, Ritsumeikan University before becoming associate professor in the Department of Japanese History, College of Letters, Ritsumeikan University in 2008 and associate professor in the Graduate School of Humanities and Sociology, University of Tokyo in 2016. Has proposed new ways of interpreting medieval society while conducting in-depth fieldwork focusing on the structure of urban society and the status system in medieval Japan.
Interview date: November 19, 2018
Interview/text: Yukiko Kato. Photos: Takuma Imamura.