FEATURES

Dialogue key to dealing with anxiety caused by science
Global experts gather at Tokyo Forum 2021 under the theme "Science and the Human Mind"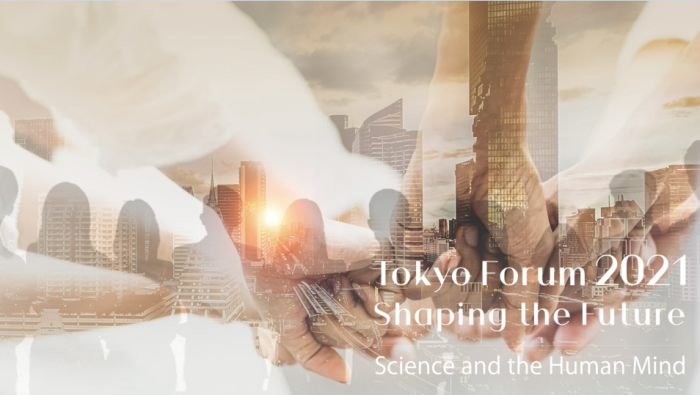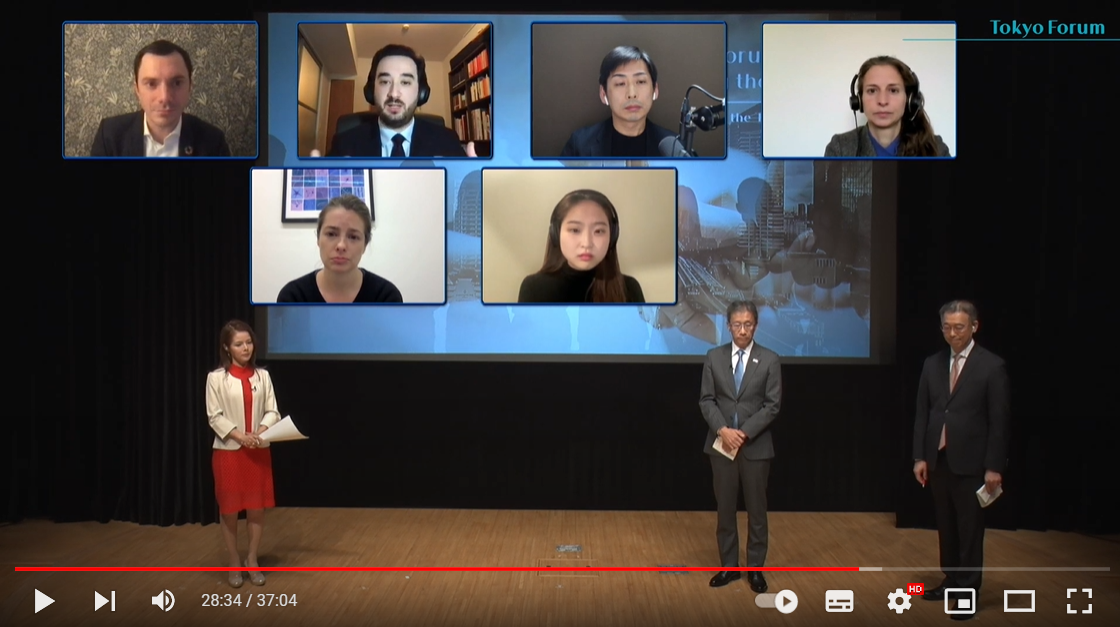 How should we deal with the anxiety many people feel due to the dramatic scientific advances of recent years, which at the same time have brought us tremendous benefits? That was the main theme of Tokyo Forum 2021, held online on Dec. 2-3, 2021. Taking part in the event were over 40 speakers from all over the world and more than 8,000 registered viewers from around 110 countries and regions.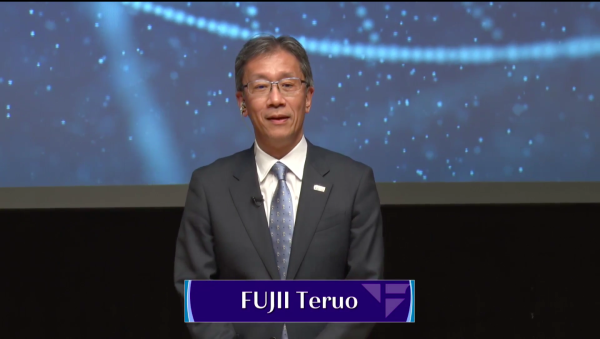 "Science has shown remarkable development in recent years and has made our lives increasingly convenient and efficient," University of Tokyo President Teruo Fujii said in his opening remarks, which set the tone for the symposium, titled "Science and the Human Mind." "Ironically, however, we also feel more anxious in some ways as a result of scientific progress.
"I truly believe that a key to confronting many of the challenges we face today is 'dialogue,'" he said. "In fact, as president of the University of Tokyo, I have recently released 'UTokyo Compass,' a statement of the guiding principles and ideas of our university, where I prioritize the significance of dialogue …. The ability to formulate questions, which universities foster, is essential for the beginning of dialogue.
"By facing problems together and interacting through dialogue, we can foster mutual understanding and trust based on seeing together, feeling together and thinking together," he said. "In order to envision a future created by the people with diverse backgrounds, we must have a keen sensitivity to the unreasonableness of injustice and discrimination, as well as to the existence of socially vulnerable groups, and we must take a proactive stance in confronting these issues."
Under this year's theme, the forum discussed issues such as how we can develop science and at the same time explain and cope with the anxiety it causes. Participants also exchanged views on how we can promote science as a way to encourage and unite people at the global level. Society's deepening digital divide, increasing flows of people and information across national boundaries, rapid advances in artificial intelligence (AI) and the Fukushima nuclear accident were cited as examples of issues that cause people to feel a sense of anxiety, which can lead some to adopt an attitude of defensive nationalism. Science has become once again an area of international contention, instead of a tool to be used for the benefit of all humankind.
It was within this context that Fujii asked Dean Marvin Chun of Yale College in the U.S., who delivered the keynote address at the forum, what his thoughts were on how we can use Chun's mind-reading technology to create an inclusive society.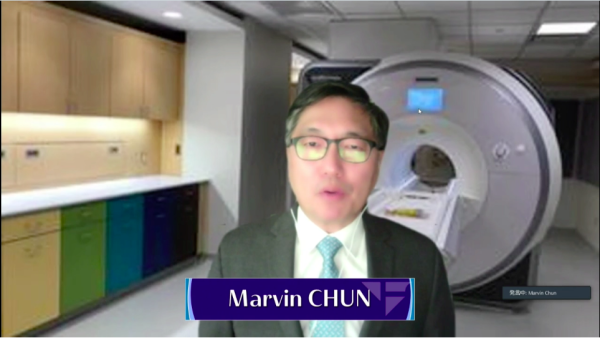 Chun's research results can be used to treat mental and neurological disorders such as depression and Alzheimer's disease, specifically with functional magnetic resonance imaging (fMRI), a noninvasive procedure used to render images of the brain, and AI. But this can cause concern regarding issues like mental privacy, prejudice and bias.
"I think a very important application of brain imaging and AI development is to make the world more inclusive," Chun answered, citing college admission policies as an example. He said they rely on various methods that may give privileged groups an advantage. "One hope is to use these technologies to even the playing field," he said, "and to give opportunities for people who have not had societal benefits … and individuals with disabilities."
Another keynote speaker, architect and UTokyo University Professor Kengo Kuma, talked about his use of natural materials, such as wood, to replace concrete and steel in a sustainable approach to architecture.
Addressing unintended consequences of innovation
There have been attempts to address the negative side of scientific achievements. For example, take the Pugwash Conferences on Science and World Affairs, which bring together scientists seeking a world free of nuclear arms and other weapons of mass destruction. The organization, which was awarded the 1995 Nobel Peace Prize, drew its inspiration from the Russell-Einstein Manifesto of 1955, which urged world leaders to renounce nuclear weapons, saying "remember your humanity, and forget the rest."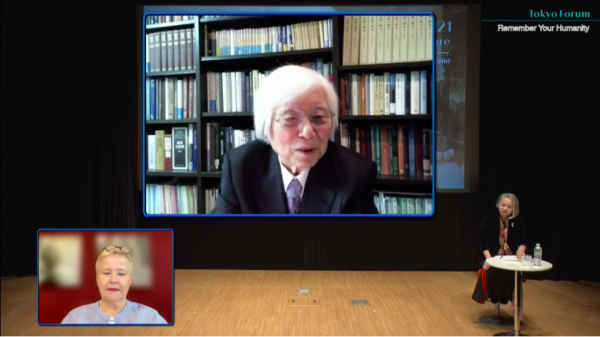 In a high-level talk session titled "Science and Humanities," former UTokyo President Hiroyuki Yoshikawa, who was involved in organizing the 2015 Pugwash Conference in Nagasaki, offered some insights into scientists' humanity and social responsibility.
Yoshikawa said the Russell-Einstein Manifesto showed that physicists were responsible for making atomic energy available. He said the issue of the application of scientific knowledge was brought into focus by the Declaration on Science and the Use of Scientific Knowledge, which was endorsed at the 1999 World Conference on Science in Budapest.
"We have to examine what it means to design something based on scientific knowledge. This is something we have not done adequately," Yoshikawa said. "Design is directly connected to human behaviors and happiness. That's why it's so important for natural scientists to have dialogue with experts in the humanities and social sciences."
Professor Ulrike Felt of the University of Vienna, the other panelist in the session, explained the European Union's responsible research and innovation (RRI) approach, which anticipates and assesses implications and societal expectations with regard to research and innovation.
"RRI was defined as this kind of more transparent interactive process, by which societal actors and innovators would be able to engage with each other," Felt said. "The aim was to come up with ethically acceptable, but also sustainable and societally desirable, innovations." In this framework, societal actors (researchers, citizens, policymakers, and business and third-sector organizations) work together to decide on the value and direction of innovation to minimize the negative social impact that science can have.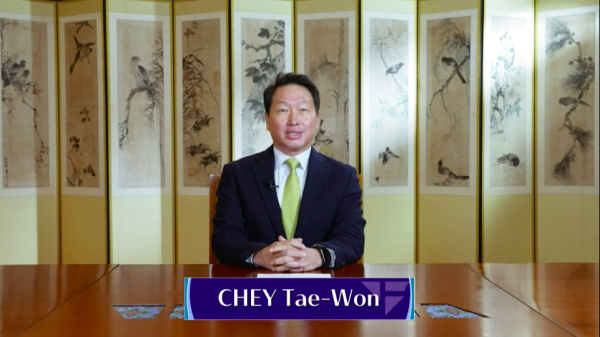 Felt also underscored the importance of public engagement. "It means taking people's concerns, values, visions seriously, and trying to accommodate some of that [in] the process of developing knowledge and innovation."
What is the dominant attitude of the business community about making concerted efforts to mitigate global concerns that accompany scientific advancement? A hint came from Chairman Chey Tae-Won of South Korea's SK Group, a founder of the Chey Institute for Advanced Studies, a co-sponsor of the symposium.
He cited the climate crisis as an example of corporate efforts in this regard. "The private sector has a critical role to play," Chey said in his opening remarks to the symposium. "Given the right set of incentives, corporates have the technological know-how and financial expertise to deploy green technology. Corporations can work across jurisdictions. They can adapt quickly to assist unique transitional pathways."
Living in harmony with nature
A cross-disciplinary discussion on Day 2 under the theme of "Trust Building for Collective Actions" focused on the state of human society today.
Professor Michael Sandel of Harvard University in the U.S. pointed out, "In recent decades, the divide between winners and losers has deepened … [due to] widening inequalities of income and wealth that globalization has produced." He added that the "winners" have come to believe that their success is the result their own effort and that "losers" deserve their fate.
Sandel urged people to be more humble. "Recognizing the role of luck in life, recognizing the sense in which our talents are gifts for which we are indebted, can turn our attitudes in the direction of the kind of humility that can enable our societies to seek the common good," he said, explaining that the "common good" means living in harmony with nature.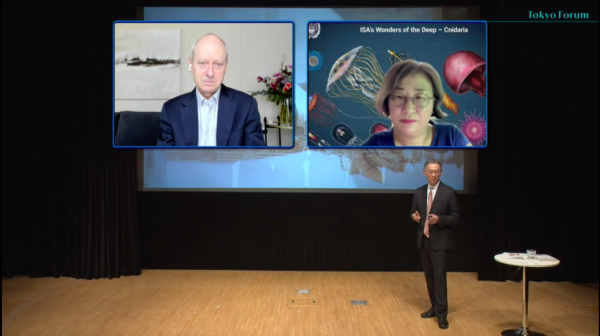 UTokyo Professor Nobuyuki Yagi showed his agreement and discussed that people were able to eat food not just because of their own talent or effort but rather because the natural ecosystem made a contribution to people's food production. Humility is a key to ease a certain tension between living in harmony with nature and technological development. How can we cope with this at a time when we find it difficult to retain love, respect and awe toward the natural world?
Jihyun Lee, the head of the Office of Environmental Management and Mineral Resources at the International Seabed Authority (ISA), said the answer to that question depends on whether humans can work together to make the right choice regarding the global commons.
"Humanity has been making cooperative efforts to develop rules, regulations and procedures to regulate the exploration and the future exploitation of mineral resources and protect the marine environment in the international seabed area for the benefit of humankind," she said. "I believe this deep seabed mining, which has not taken place yet, may be the only human activity that humanity is pondering and making efforts for so long — how to regulate our own activities before they even start." The U.N. Convention on the Law of the Sea defines the international seabed, which covers about 50% of the ocean floor and its resources, as the common heritage of humankind.
A wide range of issues to deal with
The symposium also dealt with a wide range of issues in four parallel discussions held on Day 2. At a session titled "Toward Building Trustworthy AI and Society with Mutual Respect," the panelists shed light on the positive aspects of AI, such as the speedy production of COVID-19 vaccines, and also the negative sides, such as the acceleration of the gap between developed and developing countries. Another session, titled "The Resilient Brain: Mental Health in Balance with Society and Planet," discussed the role of social capital, or connectedness to society, in boosting resilience among people, as well as ways to maintain mental health through training based on scientific understanding of the mind.
These sessions were followed by two parallel discussions. One titled "Technology and Human Nature" centered on the use of personal data and AI, highlighting the potential of personal AI to empower human rights and democracy while containing the risk of centralized AI posing surveillance and autocracy. A session titled "Anxiety Among International Relations Caused by the Progress of Science and Technology" discussed U.S.-China military rivalry and how the two countries are competing in the development of outer space.
To wrap up the symposium, six up-and-coming young scholars from around the world summarized each session and shared their thoughts on key themes. Dylan Gee, an assistant professor at Yale University in the U.S., said the forum reminded her of the importance of sparking synergy across disciplines and bringing knowledge from many fields together. "I'm a psychologist, so I think about this from this perspective, but thinking about the shared values and human cooperation to tackle some of these global challenges that we're facing [is essential]," she said.
In closing the symposium, Fujii highlighted some of the impressive words he heard from those taking part in the event. They included "harmony with nature," "transparency" and "confidence building." "It is through dialogue that we can break through society's divisions and create new connections and interaction where before there was isolation," Fujii said. "And through the confidence cultivated over many years, we can deepen dialogue with diverse stakeholders, foster understanding, and work together to contribute to the global public."
Co-sponsored by UTokyo and the Chey Institute, Tokyo Forum was first held in 2019 under the overall theme of "Shaping the Future." The annual symposium is being held though 2028 with the aim of stimulating discussions beyond the framework of an academic institution on the best ideas for shaping the world and humanity as society continues to face complex challenges. The forum is the embodiment of the university's role in producing academic knowledge and responsible research, as well as enhancing connectedness to the rest of the world. Fujii, who took the helm at the university in April 2021, will oversee the forum during his six-year term.
World urged to do more to prevent environmental calamity
Global experts addressing the climate crisis have once again urged the world to do more to save the Earth from disastrous consequences of creating civilizations and attaining economic prosperity, following the mixed results of the U.N. climate conference in Glasgow in November 2021.
Most of those taking part in a panel discussion on Day 1 of Tokyo Forum on Dec. 2, 2021, agreed that the 26th session of the Conference of the Parties to the United Nations Framework Convention on Climate Change (COP26) made a step forward to reduce carbon emissions, but that it was not enough to prevent the Earth from warming further.
The session, titled "Global Commons Stewardship Based on Science and Empathy," was a follow-up to Tokyo Forum 2020, which sent the somber message that we have only 10 years left to avert an irreversible environmental calamity.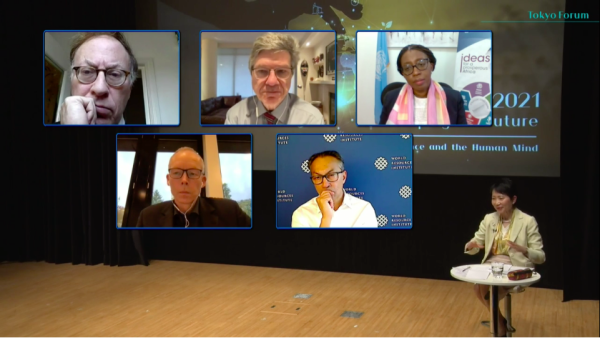 "Although a mixed outcome from Glasgow, where we probably over-exceeded at the political level, but fell well short on the scientific level, there are some promising signs," said Paul Polman, former CEO of global consumer goods company Unilever who co-founded and chairs IMAGINE, an organization that works across the value chain to tackle climate change. He was referring to the conference's commitment to keep the global temperature rise to 1.5 degrees Celsius and recognition that the use of fossil fuels such as coal need to be reduced. Polman added that real action is needed now, saying "It's all about ambitions and moving ambitions higher."
Johan Rockstrom, director of the Potsdam Institute for Climate Impact Research, introduced results of research his organization jointly conducted with several institutes around the world. Based on scenario analysis of system transformations with regard to land, energy, cities and industry, the study found that energy and land transformations will be effective, but not sufficient, to prevent the global commons — the atmosphere, forests, land and oceans — from passing a critical threshold that leads to environmental disaster.
Columbia University Professor Jeffrey Sachs talked about the Global Commons Stewardship (GCS) Index 2021, released on the same day. "It's the rich countries and upper-middle-income countries that are responsible for most of what's happening on the planet," he said. "It is the lower-middle-income countries and low-income countries that are suffering. They are suffering from poverty, and they are suffering from the environmental impacts."
The index, which is jointly implemented by UTokyo's Center for Global Commons (CGC) and other international organizations, is designed to gauge the environmental impact on key components of the global commons, Earth's environmental system, such as climate change and biodiversity.
CGC Director and UTokyo Executive Vice President Naoko Ishii, who moderated the session, also agreed that rich countries like Japan must assume the responsibility of resolving the spillover impacts from developed countries to developing countries.
United Nations Undersecretary-General Vera Songwe called for establishing a new institution to bring new players to the negotiating table to address environmental problems in developed nations that would include businesspeople from around the world. In this context, Sachs proposed that the African Union be included in the Group of 20, comprising industrial and emerging market nations, to better represent the people of Africa.