FEATURES

Earth, ecology, humans at core of center to fix environmental crisis
|GX and UTokyo 03|Taikan Oki, director of the UTokyo Center for Climate Solutions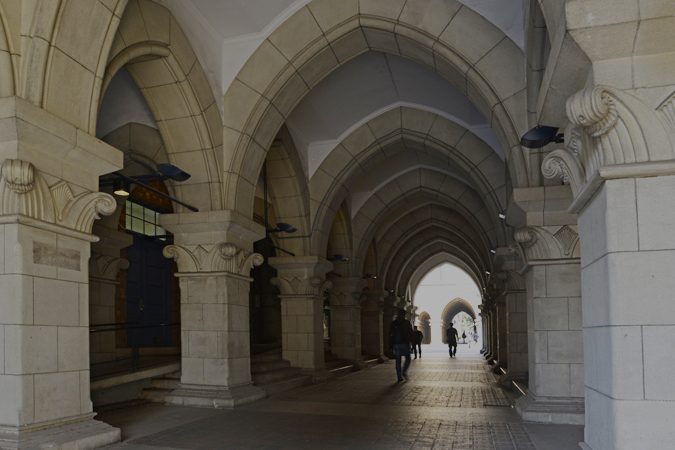 This series looks into green transformation (GX)-related initiatives at UTokyo, through interviews with key faculty members. The university is taking actions to realize a sustainable society within the Earth's capacity.
Heads of the three research divisions at the UTokyo Center for Climate Solutions (UTCCS) presented an overview of the organization and their vision at an inaugural symposium held at the Ito International Research Center on October 7, 2022. Videos from the symposium (in Japanese) can be viewed on the UTCCS website and on YouTube. →https://utccs.u-tokyo.ac.jp/news/utccs-launch-symposium_movie/
Collaborative research organization launched via bottom-up approach
In July 2022, the University of Tokyo launched a new research organization, the UTokyo Center for Climate Solutions (UTCCS), with aims to promote collaborative research on climate and society, and to combat climate change based on scientific evidence. As of November 2022, a total of 59 faculty members from 10 schools and institutions were taking part in the organization headed by Professor Taikan Oki. A specialist in hydrology, Oki has been involved in research and education in multiple departments, including the Institute of Industrial Science, the Integrated Research System for Sustainability Science (now the Institute for Future Initiatives) and the Graduate School of Engineering. He also held key posts in other organizations, such as the Senior Vice-Rector of the United Nations University headquartered in Tokyo and assistant secretary-general of the U.N.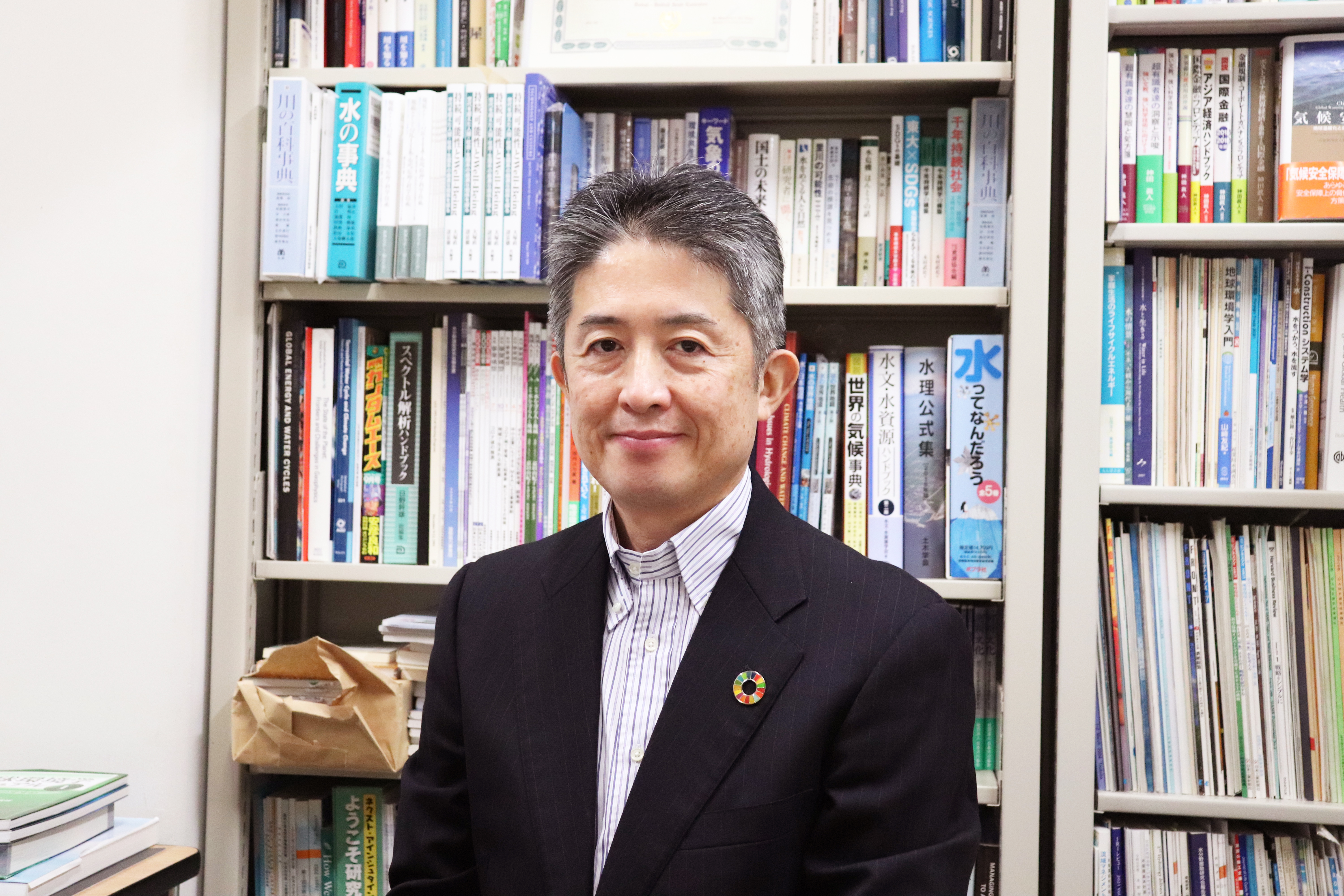 "Around last summer, a group of leading UTokyo researchers in climatology-related fields set their minds to work on this project. They are Professors Masahiro Watanabe, Hiroyasu Hasumi and Kei Yoshimura. They felt this great sense of urgency that, despite the growing momentum in society to address climate change, the university lacked a viable mechanism to respond to that. I've known them since they were students, and hearing them speak passionately about their vision, I agreed wholeheartedly and accepted the role as the director of the new consortium, UTCCS," Oki explained.
Studies over the years have shown that human activities have increased the amount of greenhouse gas concentration in the atmosphere and that human influence has warmed the atmosphere, ocean and land. Solving the problem will require a wide range of academic knowledge that spans the natural sciences, the humanities and the social sciences. In addition to conventional research that links climate models with impact assessment, it is crucial to develop new research for implementing effective measures in society. Such a vision of the director is reflected in the name of UTCCS's three divisions — Earth System Change, Climate Impact on Ecological System, and Human System Response.
"We debated whether we should include the word 'human' in the name of the organization (UTCCS's name in Japanese is Kiko to Shakai Renkei Kenkyu Kiko, which can be translated as "climate and society collaborative research organization"). We also discussed if it's right not to add the word 'change' after 'climate.' But we eventually settled on this name, considering the word 'society' naturally includes humans, and from a long-term perspective, it would be better not to be tied only to the urgent issue of climate change," Oki explained.
Fostering human resources to bridge climate science and society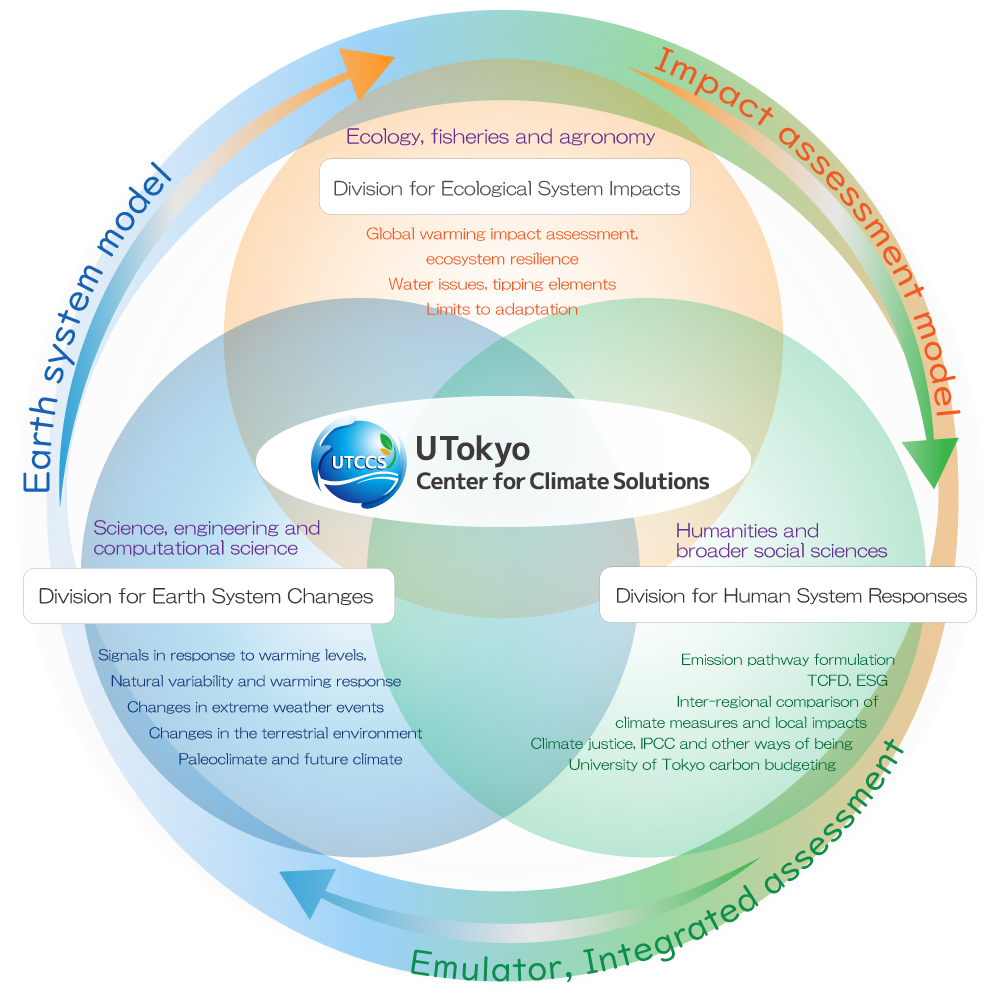 The research center aims to solve climate issues through interdepartmental collaboration and repeated feedback among its three research divisions. The UTokyo executives' willingness for the university to join a global competition to build a research and educational hub on Governors Island in New York, called the Center for Climate Solutions, also gave a timely boost for launching UTCCS that initially started with the researchers' passion. UTCCS will be responsible for the academic aspects of this project.
"This year, Stanford University and Columbia University in the U.S. drew attention when they launched new schools — for the first time in many years — housing undergraduate and graduate departments offering programs on climate change. UTokyo must also respond to such a major global trend. Although our scope may not yet be on a par with the two universities, I believe UTCCS is one of our tangible efforts," he said.
In addition to research activities of the UTCCS's three divisions that correspond to the sectional structure of the Intergovernmental Panel on Climate Change (IPCC), the leading international body for scientific assessments on climate change, Oki hopes to pour efforts especially into educational activities. The future of humanity and the Earth is in the hands of young people, who are able to translate and think about climate science as it applies to society. It is a major mission of universities as educational institutions to nurture experts equipped with such capabilities.
"Those who graduated from the university enter all sorts of areas in society and transform their domain. UTokyo's GX (green transformation) is not only about achieving carbon neutrality on campus, but also helping society at large to reach that goal. In this sense, I believe that GX education is important, especially at the undergraduate level," Oki said.
As a first step, UTCCS started to offer an academic frontier lecture series on climate and society in the second semester of the current academic year. The omnibus lecture series, coordinated by Professor Hiroshi Segawa, is for the College of Arts and Sciences' first- and second-year undergraduate students. From natural sciences to social sciences and the humanities, the series introduces the impact of climate change on society from the perspective of the researchers' respective fields of expertise.
Grasping the big picture of climate change
In his inaugural lecture to kick off the series, Oki's subject was an "overview of the science of climate change and the interaction cycle." Why do we need to study climate and society? Why haven't we solved the issue of climate change? What's the scientific knowledge on the mechanism of climate change? Why are we talking about green finance now? These and other topics Oki prepared for his lecture show the expectations he has of the students.
"I want students to gain systematic, not fragmented, knowledge," Oki said. "We live in an age where a web search will turn up some answer to anything. But that doesn't provide you with information about how things came to be the way they are or what the answers you found are connected to. We want students to acquire a coherent body of knowledge systematically through lectures and other means, so that they can grasp the big picture of the problems."
While continuing to polish up the contents of his class, Oki is also working on systematically compiling the basic knowledge of climate and society that undergraduates need to know, and turning it into a textbook, which would surely serve as a guide not only for UTokyo students but also for the people living in the Anthropocene, a new era where human activities are reshaping the Earth. The completion of the textbook will be anticipated as the culmination of UTCCS's efforts.
On the other hand, there have been reports recently about people who are so frustrated with the slow progress in reducing greenhouse gas emissions that they are resorting to extreme forms of protest. Then there are others who believe it is fundamentally impossible to reduce greenhouse gas emissions while maintaining the current social system. Can we really continue to develop in a sustainable way?
"If you really want to push forward the measures to combat climate change, I believe instigating a sense of crisis is not the way to do it. Threatening people will only create unnecessary division. What is important is empathy. I am confident that we can change our society to make it a place where people can live happily without putting a burden on the environment or without forcing ourselves to endure something. While there are many ways to do this, we would like to explore a just transition, a fair transitional path — with as few distortions as possible — that is in line with climate justice," Oki said.