FEATURES

Farm work as rehabilitation for the elderly
Together with Tanashi Hospital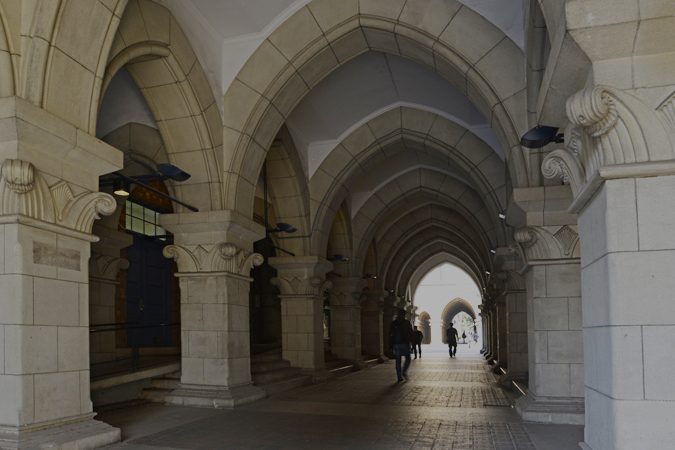 Local UTokyo Project 25 @ Tokyo

Eriko Yasunaga
Associate Professor
Institute for Sustainable Agro-ecosystem Services (ISAS), Graduate School of Agricultural and Life Sciences
Every Tuesday morning, a group of elderly people makes its unsteady way to the farm run by the Institute for Sustainable Agro-ecosystem Services. Some of these visitors are inpatients at the local Tanashi Hospital, while others are staying at local geriatric health services facilities to receive medical treatment.
"We cooperate with the local hospital and facilities to provide elderly people with an opportunity to experience farming as part of their rehabilitation process," explains Professor Yasunaga, whose rubber boots seem to suit her well. "Those whose cognitive function appears to be declining are the target of this initiative, but their symptoms vary. Some may be in wheelchairs, while others may have difficulties moving their hands." Professor Yasunaga actually specializes in research on how to distribute agricultural products without compromising their quality. However, she began the farm work initiative when she became involved in an educational program for graduate students that was launched in 2014 in anticipation of the coming super-aging society.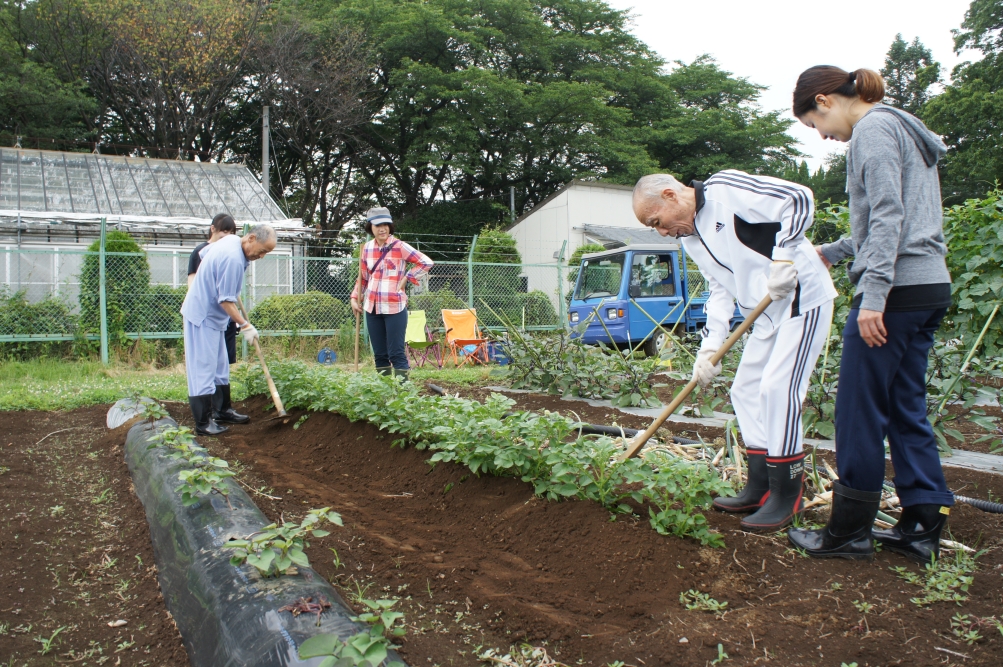 "In the first year, we planted seedlings of Edo Tokyo vegetables (vegetables indigenous to the Tokyo area) in a small flowerbed located within the premises of the hospital. The participating patients harvested the vegetables, cooked them based on the plan they themselves had made, and we all ate them together. This helped improve the patients' conditions more than we expected."
For instance, a patient who could not usually move their right hand managed to do so naturally when harvesting eggplants with scissors. An old man whose face had never held a smile finally beamed with delight. Some participants stopped talking to themselves or experiencing delusions at night. Others started calling staff members by their names. Harvesting and eating the vegetables that they themselves had raised from seedlings undoubtedly provided the participants with a special kind of joy. Encouraged by the results, Professor Yasunaga extended the realm of the initiative to the Institute's farm from its second year.
"It isn't easy to keep your balance on the farm's soft ground, which seems to give participants good physical training. Also, the strong aroma of the herbs growing at the farm is stimulating. But we must be very careful to prevent participants from falling or injuring themselves, ensure that they drink enough water, and protect them from the sun and rain."
One participant, who was soon to be discharged from the hospital, had a complaint: "It's such a shame that however much I do this, I won't be here during the harvest season." The rehabilitation program appears to be so enjoyable that participants wouldn't mind staying in the hospital a bit longer. Such is the power of agriculture!
32 Local UTokyo Projects
Held across Japan, from Kanto, Chubu and Western Tokyo to Itabashi and Hongo
Numerous projects are being held across Japan by the University of Tokyo, and we introduce 32 of them in this edition of Tansei. On themes as varied as teacher training, farming, production of local goods and association football, these projects are just some examples of those now under way. UTokyo was, is, and will be engaging in projects with partners all across the country.
Note: This article was originally printed in Tansei 35 (Japanese language only). All information in this article is as of September 2017.