One student's first steps to the stars | Discover Our People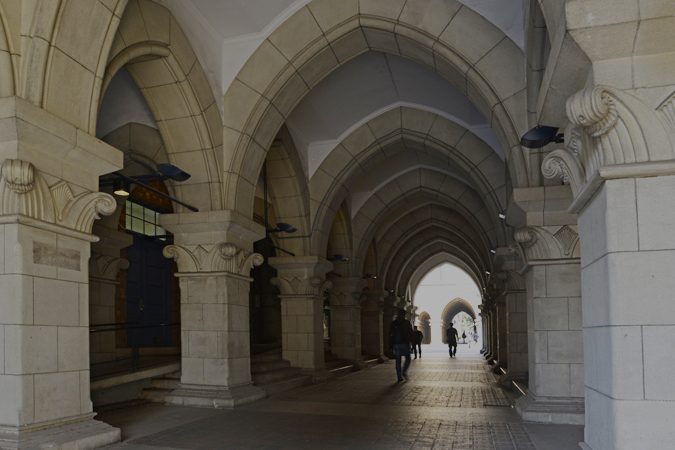 Kana Ishimaru

4th year undergraduate student in the Department of Earth and Planetary Environmental Science
Area of research: Evolution of the solar system
Country/Region of origin: Japan

Kana Ishimaru is a fourth year undergraduate student in the Department of Earth and Planetary Environmental Science specializing in the evolution of the solar system, and president of SEDS Japan and SEDS UTokyo. She shares with us her experiences as a student at UTokyo and how the university has served as a launch pad for her to embark upon her career as a planetary scientist.
Sparking an interest in space science
Ishimaru was always fascinated by science since a young age, but her interest in space was sparked when she watched the film "Prometheus" for the first time during high school. This is the story of a team of scientists in search of the origins of mankind, who experience a horrific turn of events when they arrive in outer space. She became hooked on planetary science thereafter, and dreamt of becoming a scientist herself to examine celestial bodies firsthand.
She joined the University of Tokyo in 2015 as a student of Natural Sciences I, the College of Arts and Sciences on Komaba Campus. At UTokyo, undergraduate students spend the first two years studying a broad spectrum of liberal arts courses, where they can select several subjects of their choice, then they proceed to a specific department in their third and fourth years. During her first year, she sat her first ever class on earth science. "This reaffirmed my interest in Earth and space, and when I heard of my current department, the Department of Earth and Planetary Environmental Science, I knew it was a perfect match for me."
Life at UTokyo
"Due to the nature of the subjects taught at my department, including geology and mineralogy, we go on a lot of field trips," says Ishimaru. "It's physically exhausting but it's a lot of fun, and a great opportunity to bond with classmates and professors." The department is relatively small with only 18 students, which she describes as a blessing since everyone is so close. There is a room in the department dedicated to third and fourth year students, where they get together and talk about classes, do homework, or even throw yakiniku parties every now and then. "I spend the majority of my time in the room – it's my second home!"
Ishimaru is currently working on her graduation project, researching the evolution of asteroids and small celestial bodies. Her aim is to find out what happened on asteroids in the early solar system a few billion years ago before the planets and moons were formed. Experiments involve heating up minerals for a certain time at a certain temperature, and analyzing the effect. This, in theory, is what happens on asteroids too.
She will then compare the data set acquired from these experiments to the samples brought back from asteroid Ryugu by Hayabusa2, a Japan Aerospace Exploration Agency (JAXA) mission. Her professor, Shogo Tachibana, is in charge of the sampler team and the sample analysis team of the mission, which is expected to return in 2020. She is therefore planning on continuing this research as a graduate student.
Outside the classroom
Outside the classroom, Ishimaru enjoys running and working out, as well as listening to music and podcasts. She is also focused on her activities with Students for the Exploration and Development of Space (SEDS), which is a non-profit, student-led organization that originated in the US, aiming to help young people get involved in space science and space exploration. Ishimaru is the president of SEDS UTokyo and SEDS Japan, the latter consisting of SEDS UTokyo and SEDS Waseda. It is still very new in Japan, with SEDS UTokyo now consisting of just five members, and she herself only joined last year. "It is still in the start-up phase so there are many challenges, but I am grateful to be in the position to pave the way for the future of SEDS in Japan," says Ishimaru.
Her main role as president is to cooperate with other national SEDS divisions, and organize events to attract people to get involved. She says she takes on most of the workload herself, from creating event flyers to updating the website. "My goal right now is to find more people to share some of the work," says Ishimaru. "My mission is to continue building SEDS in Japan, and hopefully collaborate with institutions like UTokyo or JAXA."
Ishimaru describes SEDS UTokyo as a great environment for domestic and international students who share an interest in space to come together. "This is what inspired me to join in the first place, as I have always enjoyed being in an international environment," she says. They usually meet once or twice a month for"space lightning" talks,where theyhave informal conversations about anything space related. Activities extend to film screenings and board games – the most recent film they watched was "Hidden Figures," which is about NASA's African-American female researchers. "Anything goes here, as long as it has something to do with space," says Ishimaru. "We have a lot of fun!"
Seeking meteorites in Arizona
In summer 2018, Ishimaru took a trip to Arizona for two and a half months on the Study and Visit Abroad Program (SVAP), which is a program in the School of Science that provides funding for students to take on academic internships or attend short-term courses abroad. Motivated to spend her summer overseas, she asked a professor at JAXA, where she had previously worked as an intern, whether they knew anyone she could contact. She was recommended Professor Dante Lauretta, who specializes in planetary science and cosmochemistry at the University of Arizona, and is the leader of NASA's OSIRIS-REx, an asteroid sample return mission, much like Hayabusa2.
With the help from her professors, she drafted an email to Professor Lauretta and awaiteda reply. "I was doubtful he would respond because he is very busy with the mission," says Ishimaru. "So when he wrote back to me and agreed to take me on, I was over the moon." The next step was to get accepted into SVAP, where she had to present the agenda for her trip in front of a panel ofprofessors. She describes this particular event as a daunting one, but it all paid off when she got into the program and off she went to Arizona.
In Arizona, Ishimaru was given a project that contributed to NASA's OSIRIS-REx mission. She spent much of her time analyzing grains of a mineral called olivine in meteorites. "However small the part,it was exciting to be involved in such a monumental project," says Ishimaru. She was one of a few intern students, albeit the only international student, and worked alongside other researchers and faculty members of the University of Arizona, analyzing samples from meteorites.
She was not only restricted to the lab, however, and managed to get around and experience Arizona properly. "It was very hot there, but unlike Japan very dry at the same time, which I absolutely loved," says Ishimaru. "I went to the Grand Canyon and the crater, ate a lot of Mexican food, exercised… I even managed to take a trip to Colorado to get infrared spectra of meteorites. It was definitely the best trip of my life so far!"

Future goals
Ishimaru is set on becoming a researcher in planetary science on the early evolution of the solar system, and has recently been accepted to doa Ph.D. degree at the University of Arizona's Department of Planetary Sciences, Lunar and Planetary Laboratory. She plans on relocating there in August this year, but in the meantime, she will be continuing her research as a graduate student at UTokyo. "I love it in Tokyo and feel that there are a lot of opportunities here, but I've always aspired to study abroad so this is a huge achievement for me," says Ishimaru. "I don't know what the future holds for me, but I definitely feel like I've taken a huge step towards my dreams."
Her ultimate goal? "I want to discover something and name that after myself, leaving a mark in this world," she says. "Whether that be an equation, a mineral or a celestial body, I don't really mind," she laughs.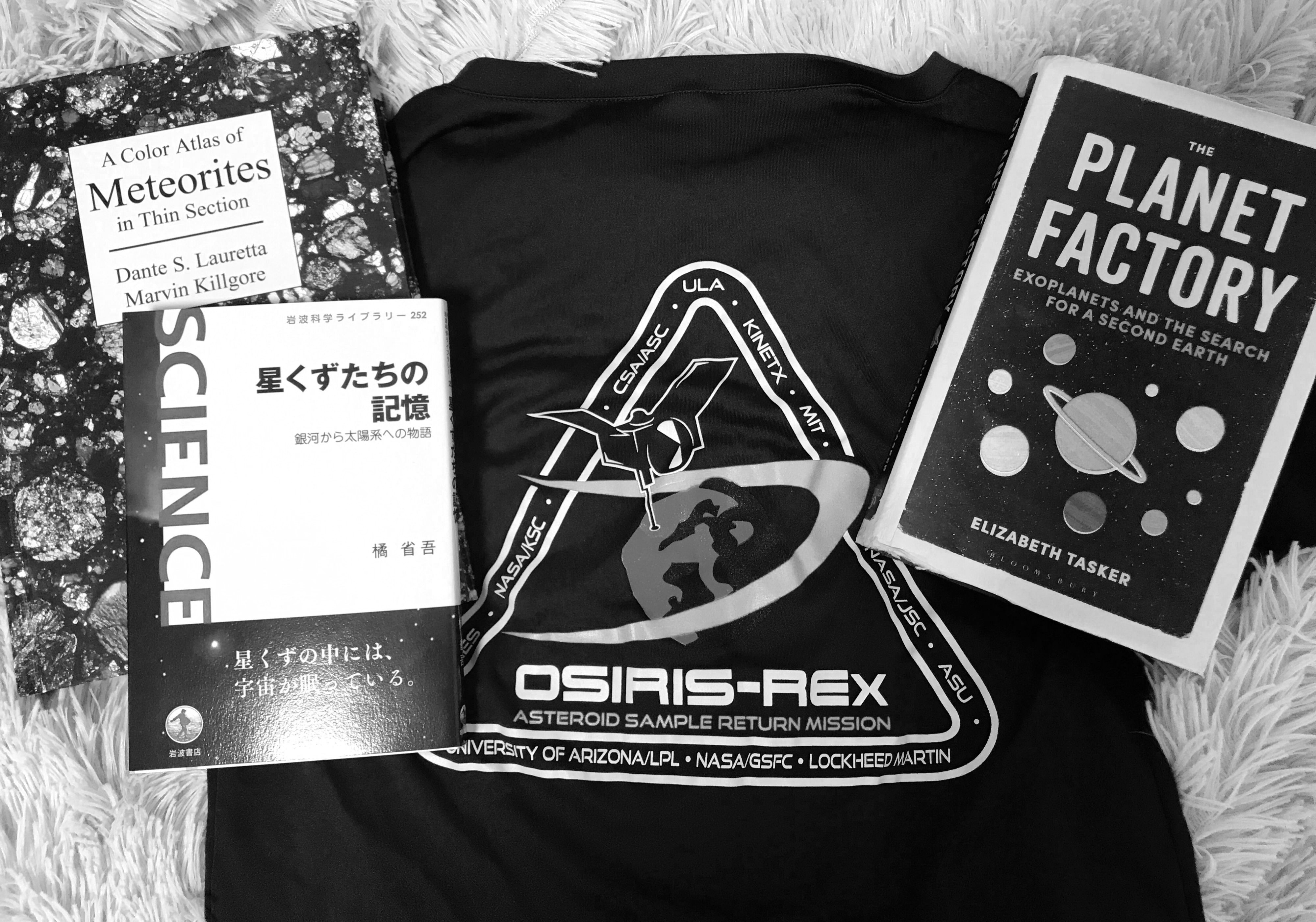 Memento
"The book on the very left is written by Dante. It's like a bible to me – it contains everything, with pictures of all the groups of meteorites and their features, as well as pictures of minerals. The second book from the left is written by Professor Tachibana, my supervisor at UTokyo, and the one on the right is by Professor Elizabeth Tasker of JAXA who was my supervisor and the one who put me in contact with Dante. All of these books are by my mentors so they are very important to me. They may seem like books only for scientists but they're actually not so difficult to understand – I recommend them if you're into the same stuff as I am! In the middle is an OSIRIS-REx T-shirt Dante gave me. It reminds me of my experiences there, which I hold very dear. I wear it very often to remind myself of the wonderful experiences I had in Arizona. I can't wait to go back!"