Ruling in UTokyo's favor | Discover Our People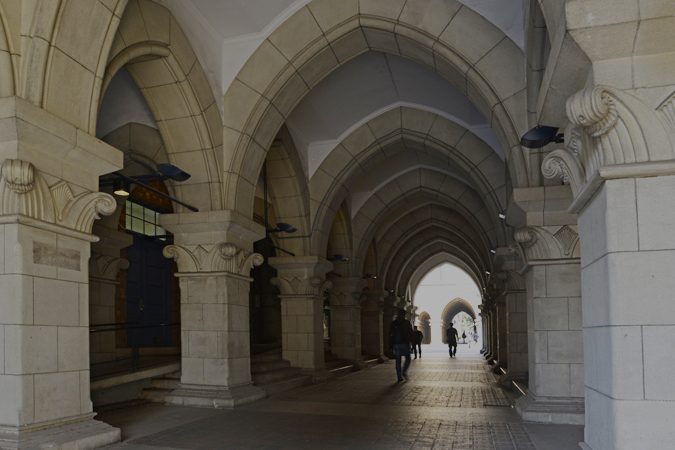 Combining my passion for law with my interest in Japan
Eduardo is a Ph.D. student in the Graduate Schools for Law and Politics. His research interests span from the legal framework behind state-owned enterprises in various countries to organized crime in Japan. A licensed attorney in his home country of Brazil, Eduardo had studied all kinds of law and interned at firms as an undergraduate. What brought him to Japan?
When I went to university in 2006, I decided to go into law due to my passion for reading and interest in how institutions work. During my five years studying law as an undergraduate in Brazil, I learned a little bit of everything from the history of law and Roman law to civil law, commercial law and criminal law. I also did internships at law firms from my first year, which helped me decide in which areas I wanted to specialize.
I also thought that being in university would give me a good opportunity to learn another language in addition to English — one that people in the field of law don't often study, which would give me an edge in future job prospects. Considering everything, Japanese became the obvious choice. In Brazil, we have a large population of Japanese descendants. My hometown, Curitiba, in particular, has a very strong Japanese-Brazilian community. We have festivals, the central market sells products from Japan, and there are Japanese TV programs and other media readily available. Japan is all around us there.
As I began studying law, I realized that despite the strong connection between Brazil and Japan, there was not much research in law relating to the two countries. There was almost nothing published about Japanese law in Brazil, let alone studies comparing Japanese and Brazilian law. I knew that I could combine my interests in law and Japan to help contribute to these areas.
Studying abroad and transitioning to working life
After my fourth year in 2010, I put law school on hold to study abroad at one of my school's partner universities, Soka University in western Tokyo, where I received a scholarship. I took language lessons and a variety of law-related classes there. Then, after returning to Brazil for my last year of law school and passing the bar exam, I started practicing law right away.
There was no intermission. I was already doing an internship at a small firm from my third year and had been essentially working as an attorney, so as soon as I graduated and got my license, I just kept doing what I had already been doing. I converted my internship to full time, and became a junior partner at the firm.
My work mostly dealt with small and medium-sized enterprises (SMEs), and their compliance in different areas, like administrative law and labor law. During my two years there, I learned a lot about handling clients, managing the firm, litigation, research and consulting. The work was interesting, but I still longed to do something related to Japan.
I had spent one year in Japan, built up knowledge of the language and even published a paper about Japanese constitutional law as an undergraduate. I therefore felt that I needed to maintain this connection with Japan, and I knew I wouldn't be able to do that while working in my own practice. That's why I decided to apply for the Japanese Ministry of Education, Culture, Sports, Science and Technology (MEXT) scholarship to further my education in Japan.
Ups and downs
Completing the MEXT scholarship application is a long process that starts in May, with results coming out in March the following year. There are numerous steps, including various required documents, a language test and interview. When applying for the scholarship, Eduardo received an unexpected response from a UTokyo professor ...
As part of the application process, I sent emails to professors at various Japanese universities who specialized in financial law, my research interest at the time. Most of them either didn't get back to me, or just said to contact them again for consideration if I received the scholarship. But there was one professor who gave me a very kind reply, saying that he thought my research plans sounded interesting and to feel free to mention his name on my MEXT application. This man was none other than UTokyo Professor Hideki Kanda, one of the biggest names in corporate law in Japan! I was surprised to receive a response from someone so famous; I don't even know why he read my email (laughs). Although he was set to retire soon at the time (he retired in 2016 and is currently an emeritus professor), I included a copy of his email with my application. Having such a renowned professor say positive things about my research helped, I think. In the end, I got into two universities; UTokyo was my first choice, so that's where I went!
With my application accepted, I came to UTokyo in 2014 – but I was still not a full-fledged student. An exam was necessary to enter the master's degree program at the Graduate Schools for Law and Politics, so I had a year to prepare for that while actively auditing classes to hone in on my research interests and sharpen my Japanese legal language skills. For the written part of the exam, I wrote an essay in Japanese detailing my research proposal. Then, I had to pass an interview with three professors asking me in Japanese about my research. The professors were nice, but I don't remember too many details about the interview because I was so nervous (laughs). After that, I had to wait a couple of months for the results.
In the meantime, I continued to audit classes to get a more definite idea of what I wanted to study. I also attended seminars held by my supervisor, Professor Takahito Kato, as well as a special class called Shoji Hanrei Kenkyu ("research on commercial law precedents"), or "Shohan" for short.
From "What am I doing here?" to surviving a "boxing match"
Shohan was the first class I went to when coming to UTokyo, and it was a little bit traumatic for me (laughs). Around 10 professors sit and listen to a student present and give their own opinions about a particular legal case for about 30-40 minutes, after which the professors ask the student questions and offer comments. Because I had just arrived in Japan, the discussions were difficult for me to understand. I understood Japanese well at the time, but the Japanese used in this class, with all the specialized terminology, was like a completely different language. At first the class even had me thinking, "What am I doing here? Why did I come to Japan?" But at the same time, it made me realize that I needed to improve my Japanese, which I did by continuing to attend Shohan and other law classes.
One time, as I was leaving my dorm (Komaba International Lodge) to go out for the day, I thought I should check my mail before I left, and I happened to see a big UTokyo envelope in my mailbox. It looked important, so I opened it and saw that there was an acceptance letter inside! That's how I found out I had officially gotten accepted into the master's degree program. Needless to say, that day was a good day.
After starting my degree in 2015, not a whole lot changed – I was still taking classes, the seminar and Shohan, but this time I was earning credits. In Shohan, the main difference was that, as a student, I was now required to start giving presentations myself. Master's degree students must present once a year, while Ph.D. students present twice. To find a case, I often go to the library to look at new cases that had arrived. After choosing a case, I have to understand it perfectly, and then be able to make critical comments on it. Finishing the half-hour presentation and discussion feels like surviving a boxing match, because the professors take metaphorical jabs at you from all sides until you're mentally worn down. But later, looking back on their comments, you realize that everything they said will help you improve what you wrote for your presentation. Also, their comments provide you with good insight for revising your presentation if you intend to publish it afterwards as hyoshaku (legal commentary). So while it's challenging to get through a presentation, you gain a lot from it.
One of the classes I audited as a research student was about stewardship and corporate governance, taught by Professor Hiroyuki Kansaku. I thought the topic was interesting, so I researched case studies on corporate governance of Brazilian state-owned enterprises for my master's thesis, and later delved into a more theoretical side of this research for my Ph.D., which I started in 2017 and am currently writing.
Government influence on Japanese SOEs
Eduardo's doctoral research is about the theory of corporate governance and state-owned enterprises (SOEs), in which he compares the legal frameworks for such entities in Brazil, France and Japan. Corporate governance essentially refers to the rules controlling the operations of corporations, and SOEs are corporations owned wholly or partially by the government.
My main focus is on Japan, as there isn't much existing research on Japanese SOEs. Most of these companies were said to have been privatized in the 1980s. However, what actually happened is that while the Japanese government sold part of the companies, it still owns a significant stake in many of them. For example, the telecommunications company that provides my internet access is 30 percent owned by the government. Same with the train line I take to get to campus – it's partially owned by both the Tokyo government and the national government. Since the government is a major shareholder in such companies, it has the potential to wield significant influence in the companies' policies.
Japan does not have special rules regulating this influence, unlike countries such as Brazil and France, which both have good examples of SOEs and extensive research on the legal frameworks surrounding them. To understand how governments should behave when it comes to influencing SOEs, I will bring in theories from Brazil and France on state ownership, and discuss whether such theories could potentially be applied in Japan.
Side research and a supportive supervisor
In addition to working on my thesis, I have published multiple papers on case studies of Japanese companies related to other aspects of corporate governance, such as liability systems and M&A (mergers and acquisitions) contracts. One topic in which I am particularly interested is the complicated relationship between corporations and Japanese criminal organizations. Doing business with such organizations is illegal, and companies put in a lot of effort to cut relations with them. However, sometimes business transactions with these organizations occur anyway, which means something went wrong in the system that should prevent that from happening. Such cases are fascinating to analyze through the aspect of private law.
Professor Kato is very supportive of both my main research and my side interests. He helps me and other students with not only the research itself, but also all of the processes related to it, including writing. Some professors only debate ideas and that's it, while others only look at formalities, like the format of your papers. But Professor Kato helps with everything I need as a researcher, and I'm glad to have him as my supervisor.
There's no going back
At this point, I have spent more time at UTokyo than at law school back in Brazil (laughs). I would like to graduate as early as next April, but that is all dependent on when I can finish writing my thesis. I have 200 pages written so far, but there is still a lot more to go. And rather than just rushing to finish it, I think it's best to take the time to write something good.
After graduating, I plan to stay in Japan and teach law at a university. I just bought a house last year in Yokohama with my wife, so I have debts and a mortgage keeping me here – there's no going back (laughs).
Always on the move
It takes about an hour to get to UTokyo from my house, so I've taken up reading as a "train hobby" to pass the time. I can read one or two books a week just on my commute! Another hobby I've picked up since coming to Japan is cooking. I bought a basic cookbook, and tried a different recipe from it every day until I had made almost every Japanese dish in the book. My cooking has definitely improved.
Just before we got married, my wife, who is Japanese, gave me a kitchen knife. She asked her grandfather, who practices traditional Japanese calligraphy, to write my name in kanji (Chinese characters) on it. The character they chose for the "E" in "Eduardo" (慧) is uncommon and looks quite nice. The meaning behind it, "wisdom," was also very thoughtful. It has since become one of my favorite kanji.
I keep pretty active outside of home and school, too. I do a lot of freelance Japanese, English and Portuguese translation, and I also work part time for NHK doing their radio news in Portuguese. These jobs are exciting because they take me to different places every day – many of them places I wouldn't normally be able to go inside, like government ministries.
I also enjoy cycling in my free time. I have cycled to all of the stations on my train line, and my wife and I like going out and discovering new places in the Tokyo area by bicycle. We'll look for a station on a map that meets the three simple criteria of having a nice-looking restaurant, bakery and park nearby, and then plan an outing to it. That's a nice thing about Japan – there's always something interesting close by.
Bringing people who research Brazilian law together
One of my passions is organizing and attending events for a special interest group called the Brazil-ho no Kai ("Brazilian Law Group"), of which I am one of the founders. Although we have only a handful of members, we're actively working on expanding. Our goal is to bring together people from throughout Japan who do research related to Brazilian law, as we believe sharing knowledge with each other and making it easy to access are beneficial for everyone specializing in this field.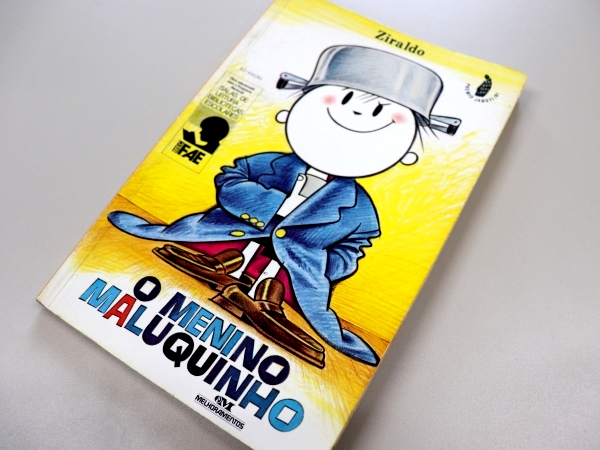 The Nutty Boy
Eduardo's first book-turned-Portuguese teaching material
Written and drawn by the acclaimed Brazilian author Ziraldo, O Menino Maluquinho (The Nutty Boy) was the first book Eduardo ever read, and remains one of his nostalgic favorites. Detailing the creative adventures and everyday life of a rambunctious young boy and his friends, The Nutty Boy is simple, yet complex. The prose is well-written, but at the same time easy for children to understand. The drawings are cute, but the characters face difficult situations that children actually encounter in real life. This book was published in the early 1980s, and since then, a whole franchise has built up around the characters, complete with movies and comic books. Eduardo didn't bring this book to Japan initially, but asked his family to bring it later on so he could use it to teach his wife Portuguese. He created teaching materials based on the book, and says that his wife enjoys learning Portuguese from it.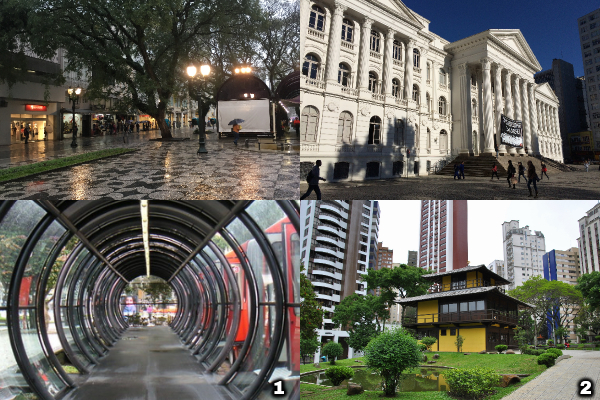 Curitiba, Brazil
Eduardo's cold and rainy hometown
Eduardo was born and raised in Curitiba, the capital of the Brazilian state of Paraná. Contrary to the usual image of a warm and sunny Brazil, he says that Curitiba is known for being cold and rainy. His alma mater, the Federal University of Paraná, is also located in the city and is one of the oldest universities in the country. The city's futuristic bus system, notable for its cylindrical elevated bus stops, has been studied by transportation experts from all over the world. Often referred to as a "green city," Curitiba has many parks, one of which is a Japanese garden with a pavilion resembling the famous temple Kinkakuji in Kyoto. Intriguingly, there is a model of a Japanese castle, Himeji Castle, inside the pavilion; the reason why, Eduardo explains, is because Curitiba is sister cities with Himeji, Hyogo Prefecture, in west central Japan.
1.
"Bus stop waiting tube, Curitiba"
by
Thomas Hobbs
is licensed under
CC BY-SA 4.0
2.
Leandro Neumann Ciuffo
,
Praça do Japão (5094694677)
,
CC BY 2.0