Using film as a visual bridge between Nepal and Japan | Discover Our People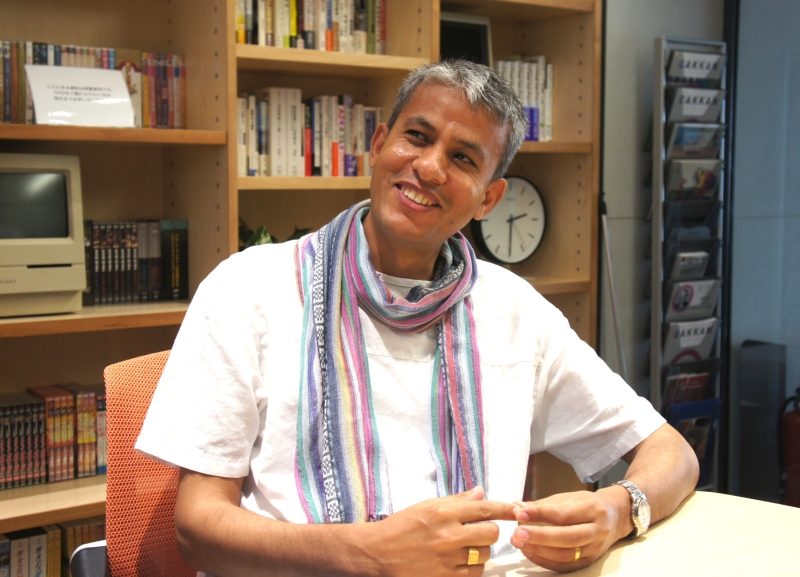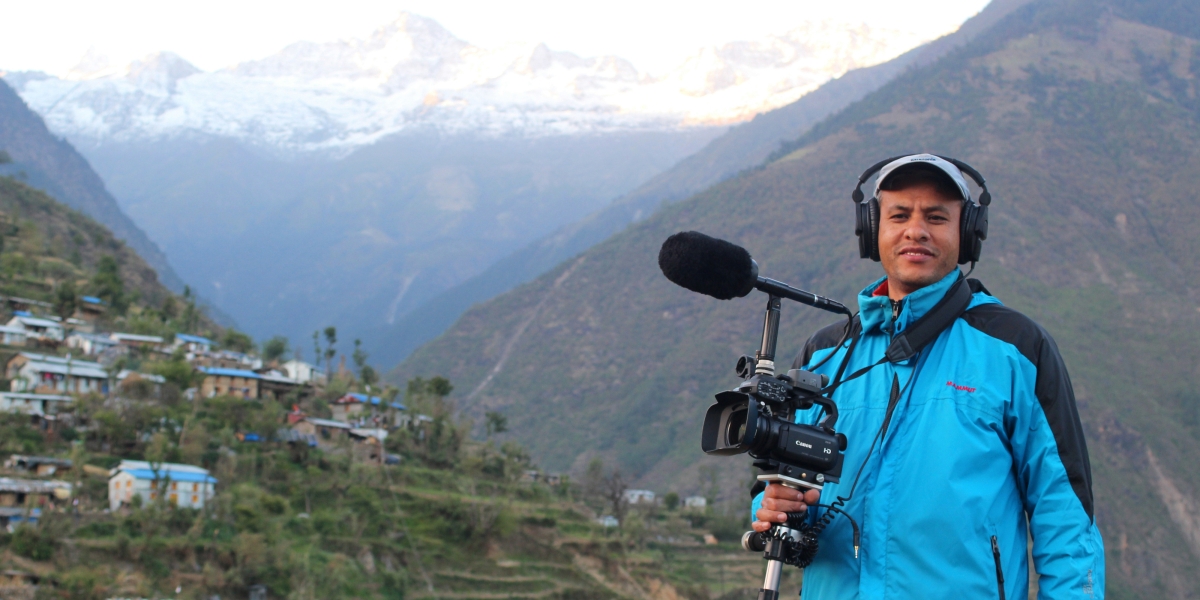 Dipesh Kharel

Visiting Researcher, Interfaculty Initiative in Information Studies / Graduate School of Interdisciplinary Information Studies
Area of research: Visual anthropology
Country/Region of origin: Nepal

Visual anthropology is the study of people and society using visual research methods, most commonly through ethnographic film and photography. Dipesh Kharel, a visual anthropologist, is a visiting researcher at the Interfaculty Initiative in Information Studies and the Graduate School of Interdisciplinary Information Studies (III/GSII). He won the University of Tokyo President's Award for his PhD on Nepali immigration in Japan, which he completed in 2017. With his deep interest in society and together with his passion for filmmaking, he seeks to uncover the social consequences of immigration and spread public awareness through his documentaries.
From a small village in Nepal...
Kharel is from Sunkhani, a remote village in rural northeast Nepal, where the settlers belong to different castes and ethnic groups. He grew up with no electricity, transportation, or any modern facilities; not until he was 16 years old did he even see the gadgets that we take for granted every day. He walked for two hours every day to get to school – a school without a building. A keen student from a young age, he used to read late into the night with a kerosene lamp. "I'd often fall asleep without turning the light off and my mother would come in and tell me off," he laughs. Kharel explains that his interest in people stems from the close-knit village community he was raised in, always surrounded by people and nature.
He then went on to high school in Kathmandu and subsequently studied environmental science and engineering at Tribhuvan University. It was a documentary project on the environment he worked on during his time there that awakened his passion for filmmaking. "My degree consisted heavily of lab work, but I wanted to work with people and learn more about society," says Kharel. "Combined with my newfound passion for video making, I now knew what my true calling was." Having searched far and wide for a course, he came across the University of Tromsø in Norway, the northernmost university in the world. He set off in 2004, and went on to receive an MPhil degree in visual cultural study.
Kharel returned to Nepal in 2007 and began lecturing at Tribhuvan University, teaching qualitative and quantitative research methods, while at the same time serving as a media and research consultant to the government to promote sanitation in Nepal. Open defecation was then a serious issue, affecting half of the population nationwide, killing 13,000 children every year. "This was my first real contribution to society," says Kharel. "I knew I wanted to do more, but this time through visual anthropology."
...to UTokyo
With his deep interest in the Asia-Pacific region, Kharel moved to Japan in 2009 for a research project on visual ethnography (anthropological study of people and culture observed through the subject's perspective, using visual media as a research tool) of Nepali immigrants at Ritsumeikan Asia Pacific University in Beppu, Ōita Prefecture, and stayed on to do another master's degree. He then decided to continue on his research on Nepali immigrants in Japan as a PhD student; thus his UTokyo journey commenced in 2012.
Nepali immigration in Japan has increased rapidly in recent years, from 5,314 registered migrants in 2005 to over 80,380 in 2018. The growth is most prominent in the restaurant business, with over 3,000 Nepali-owned curry restaurants nationwide, including 500 in Tokyo alone. The workers typically pay 1.5 million Nepali rupees (15,000 USD) to restaurant owners for working visa sponsorship despite the exorbitant cost.
Kharel explains that once migrants repay their debts, they start sending money home. They are able to send their children to school, and many of them eventually bring their families over. As a result, there is now an increasing number of Nepali women and children migrating to Japan. "This is changing the gender dynamic among Nepali communities. Women who come over are able to earn 100 times more than they could back in Nepal, making them feel empowered."
"This wave of immigration is having a vast socio-economic impact in Nepal. From one small village called Malma in a rural part of Nepal, more than 40% migrated to Japan, and the community receives one of the largest amounts of remittances from Japan. The village is referred to as 'Little Japan' nowadays."
Kharel's film Playing with Nan is a compilation of the research data he acquired for his PhD, whereby he recorded people's everyday lives on camera. His aim was to get a comprehensive picture from both ends of the migration chain, finding out the reality and social consequences of this in both Nepal and Japan. He worked closely with over 100 Nepali immigrants over an eight-year time period, tracing their entire migration process; the film depicts the lives of the migrants as well as their families back home, and the interactions between them.
"This is an ethnographic film, an audio-visual representation of the everyday life of people and their culture, so it is very different to TV documentaries," says Kharel. "With the latter, the producer usually has a particular story in mind and the director goes out to capture it. As a researcher, you do the exact opposite – you go to communities to find a story. My film may not be dramatized, but I feel that it is thought-provoking because of the raw reality it portrays."
Since its release, the film has been screened in more than 60 international film festivals, universities, as well as 50 local communities in Japan. It has received several awards, including the Best Ethnographic Research Film Prize from the Royal Anthropological Institute in 2013 and the David Plath Media Award from the American Anthropological Association in 2014.
He stresses the importance of circulating information; he believes that by sharing people's stories, it helps close the gap between people regardless of race or nationality thus breaking cultural barriers. Indeed, in the context of globalization and the rapid increase in immigration worldwide, this seems more important than ever. "We now live in a world that is more connected than ever; even an isolated place like my hometown can access the world through social media. I therefore wanted to connect these places through my research."
The President's Award
Kharel received the UTokyo President's Award in 2018 for using his anthropological training and visual research tools to bring a new approach to immigration studies. He managed to build a bridge between Nepal and Japan through his research, and present his findings to a wide audience throughout the world.
"This award represents happiness to me," says Kharel. "I feel that my PhD was a collective effort, with the unconditional support I received from all the people in my life, starting with my wife to my professors and everyone at the III/GSII. I was filming in Nepal during the 2015 earthquake – my hometown was completely destroyed and I almost died. I was in a bad place, and even thought about giving up my PhD. Without the people around me, I would not be here."


Current work, future vision
Kharel is continuing his work at the University of Tokyo as a visiting researcher at the III/GSII. "The school has excellent facilities, and I've met some of the best scholars here. The students and scholars are from diverse backgrounds, so it is an international environment and a great platform to share knowledge. I can barely speak Japanese but that has never been a problem here." There are currently six postgraduate courses offered at the III/GSII, of which the ITASIA program is taught in English, and the number of international students is on the rise.
Currently, he is working on three joint research projects with researchers from various parts of the world. The first project is on student immigration from Vietnam and Nepal in Japan – the former is the fastest growing student group in Japan in relative terms. The second is a research project on Kanpur, a city in the north Indian state of Uttar Pradesh which is inhabited by people of various religious faiths. He co-directed A Kali Temple Inside Out, which explores how these people coexist in this city. The third is on the socio-economic impact of the 2015 earthquake in Nepal; he co-directed a documentary film A Seed of Hope, which shows how people were affected by the earthquake and charts their road to recovery.
Kharel has recently been selected for a JSPS (Japan Society for the Promotion of Science) post-doctoral fellowship at Sophia University. He hopes to carry on his research on immigration in Japan, to better understand the changing ethnoscape as well as to grasp future trends in immigration in Japan, and in turn, contribute to policy making. "I argue that even though Marxist dependency theory highlights negative impacts of immigration that clearly exist, it cannot explain the various other aspects. I think immigration can be a positive force for socio-economic development – it can change people's lives for the better, and diversify society." He hopes to use his research to aid the creation of peaceful immigration policies and in turn, a peaceful world.
And of course, he wants to continue his work as a filmmaker and an educator. "I feel that researchers and filmmakers have a responsibility to provide information and spread awareness. Films are a great way to do that given how accessible they are for the general public," says Kharel. "We live in an advantageous time with an abundance of resources. We can record everything, or even go around collecting materials now that everyone has access to phones and cameras. Visual research methods can therefore be applied to any field of study – it's all about using the resources available to us." He hopes to promote the use of this research method in academia, and spread visual anthropology as a subject across the world.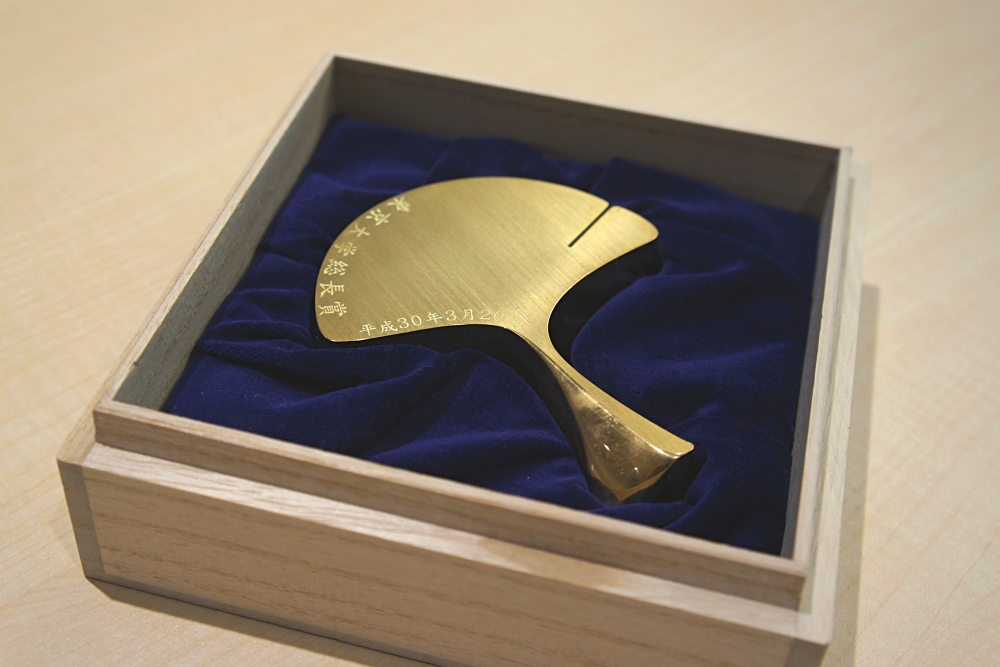 His emblem of success
"This is the President's Award – it's a ginkgo leaf, the UTokyo icon. I still remember when I enrolled here, there was a carpet of gingko leaves that spread before me. This award itself symbolizes one of the best memories of my life. I got to talk with the president and meet some wonderful scholars, sharing my research and experiences. I would never have imagined getting this far in my academic career – coming from an isolated village in the middle of the mountains in Nepal, the University of Tokyo seemed like a distant dream. Whenever I look at this award, I think of all the people who helped me get this far. I would have loved to give this to my mother who passed away just a few months after I started at UTokyo. She was the one who always pushed me with my education, and I would not be here without her."