FEATURES

From the familiar world to something new and unknown
Through dialog with the "other" inside himself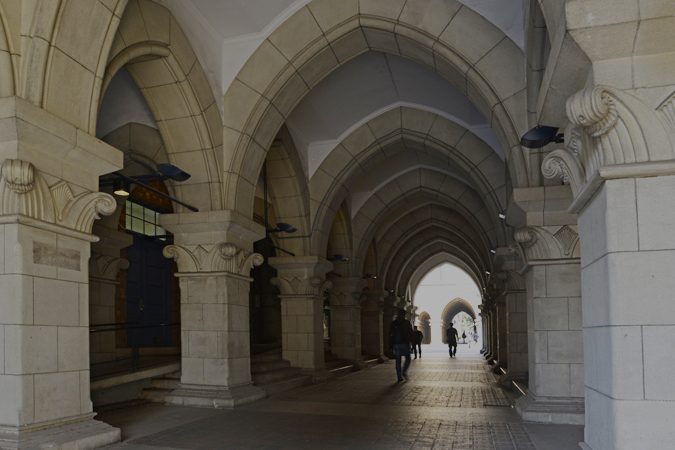 UTokyo artists in the spotlight
A research associate, a graduate student, a former company employee and a graduate...
Among the many people deeply involved with the University of Tokyo, we introduce four artists who are carrying on creative activities worthy of notice.
From the familiar world to something new and unknown
Through dialog with the "other" inside himself

Aerial Being (1), a transparent sculpture in the form of a man floating through the unseen air; Zip-Fastener Ship (2), a zipper-shaped boat appearing to unzip the water surface; Apple Kendama (3), with a red apple in place of the usual ball for a greater feeling of the Earth's gravity; Bucket Stump (4), a bucket in the form of a tree stump, with water ripples representing the tree rings; Pencil to Draw Boundaries, with colored pencil lead combining blue and light blue; Present/Past, a seal with the inscription "Present" changing to "Past" when pressed…
Suzuki has brought forth numerous works that transform the world we have long known to a new, unknown world, thanks to the power of the visual going beyond mere words. How did this energetic artist, with his deep appreciation for kendama and stripes, come to a UTokyo research center?

"When I had graduated from Tokyo Zokei University and was doing odd jobs, the video work I entered for an NHK art contest program, Perspective of the Globe Jungle (5), was selected for the year's top prize. Then after Toshio Iwai, the curator for that program, landed at RCAST, he contacted me, and I also joined as a project research associate."
Later he became a project research associate in the lab of leading virtual reality researcher Michitaka Hirose, and took part in a digital public art project. In 2009 he wowed the public by floating a huge Aerial Being at Tokyo's Haneda Airport. Today, besides instructing students as an associate professor at Musashino Art University, he continues his creative work, while also being involved in Professor Kenryu Nakamura's ROCKET project for helping gifted children to shine. Among his works are some inspired by the RCAST environment.
"When I saw an experiment at the old wind tunnel facility of Building No. 1 for observing the motion of tree seeds, I was awestruck by the beauty of the scene. Even though the experiment did not appear to produce any concrete results, the eye-opening experience of the beauty of nature influenced me greatly."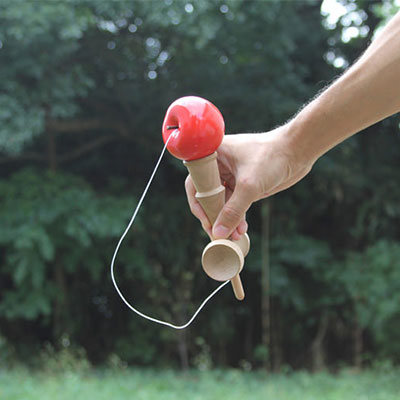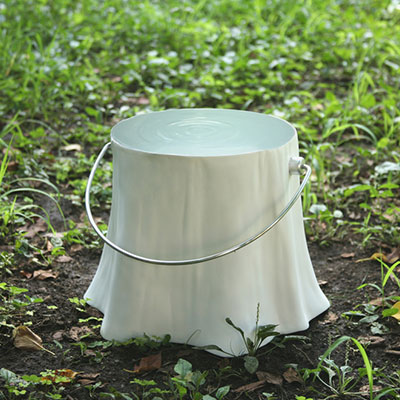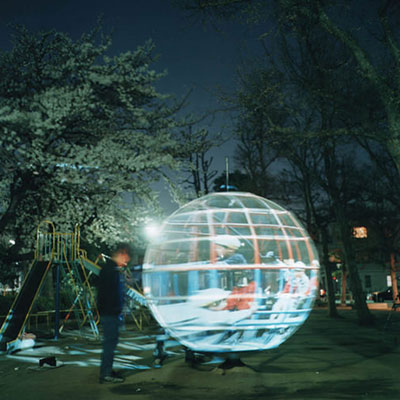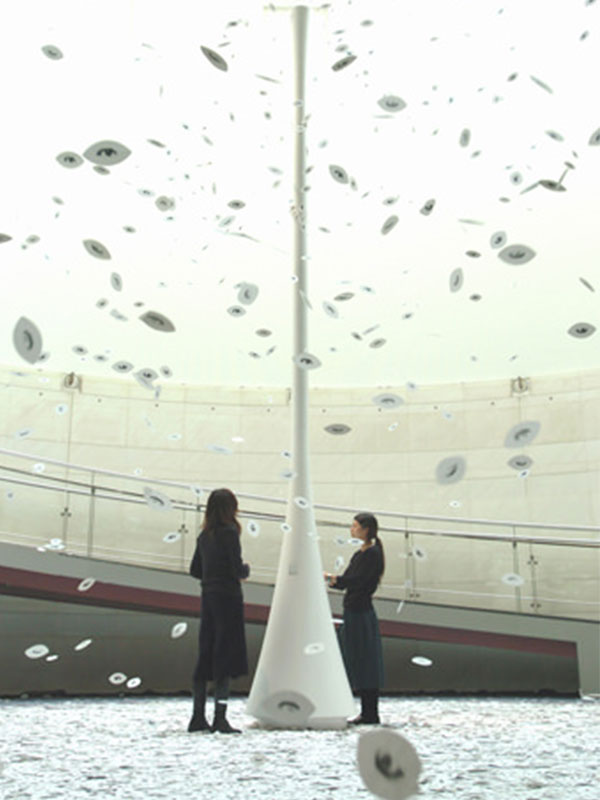 In the work Blinking Leaves (6), sheets of paper with open and shut eyes printed on the front and back sides are blown out of a device and spin around as they drop, making it look like they are blinking in the air. This became one of his leading works, shown at numerous exhibits, and "blinking" thereafter became an important motif for him as an artist.
His career in art has already lasted 18 years. Asked if he worries about running out of ideas, he looks bemused. The reason is the countless notebooks lined up on tables in the atelier.
"For a long time, I have been leaving sketches around me of things I've thought of. I keep the margins wide so that I can add ideas that come up when I view the sketches later. It's like new ideas come out as the past ideas are massaged. There's zero searchability, since I haven't written in dates or titles. That's not a problem, though, as the pages I happen to look at randomly each time provide me with inspiration. The real problem is I have too many things to do." (laughs)
Since he was a child, Suzuki has felt the presence of another person inside himself, and he often talked to things around him. While carrying on frequent dialog with his past self in the pages of his notebooks, he continues refreshing his way of seeing the world.
Suzuki's works are frequently shown in public places. In May 2018, a huge Aerial Being was accompanied by a crowd of people lying on the grass of Roppongi's Tokyo Midtown. In December 2018, Zip-Fastener Ship opened up the surface of the Sumida River. Will your city be next to be opened?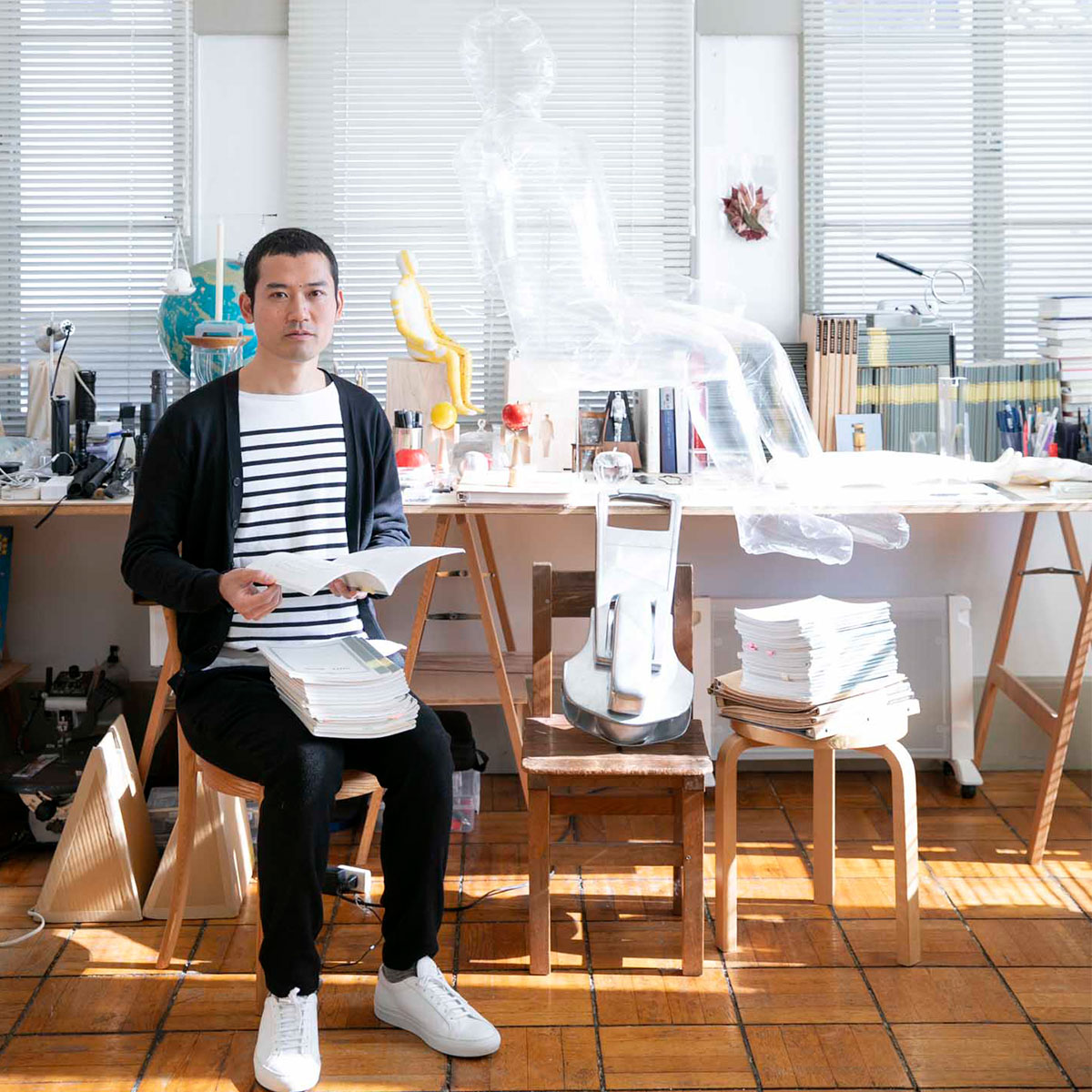 * This article was originally printed in Tansei 38 (Japanese language only). All information in this article is as of March 2019.