FEATURES

From UTokyo librarian to papercut artist skilled in AR technology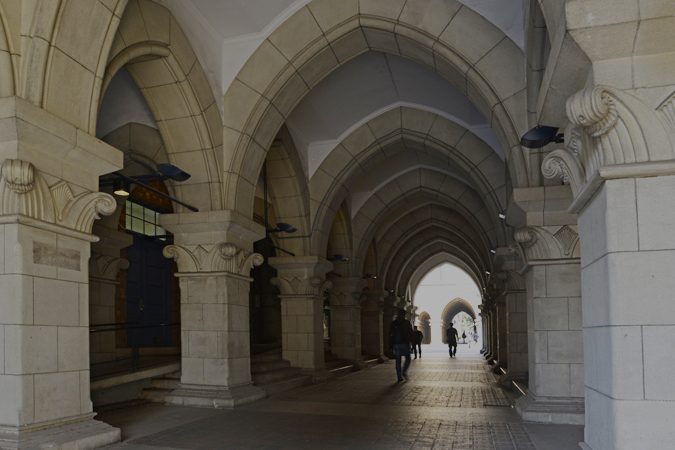 UTokyo artists in the spotlight
A research associate, a graduate student, a former company employee and a graduate...
Among the many people deeply involved with the University of Tokyo, we introduce four artists who are carrying on creative activities worthy of notice.
From UTokyo librarian to papercut artist skilled in AR technology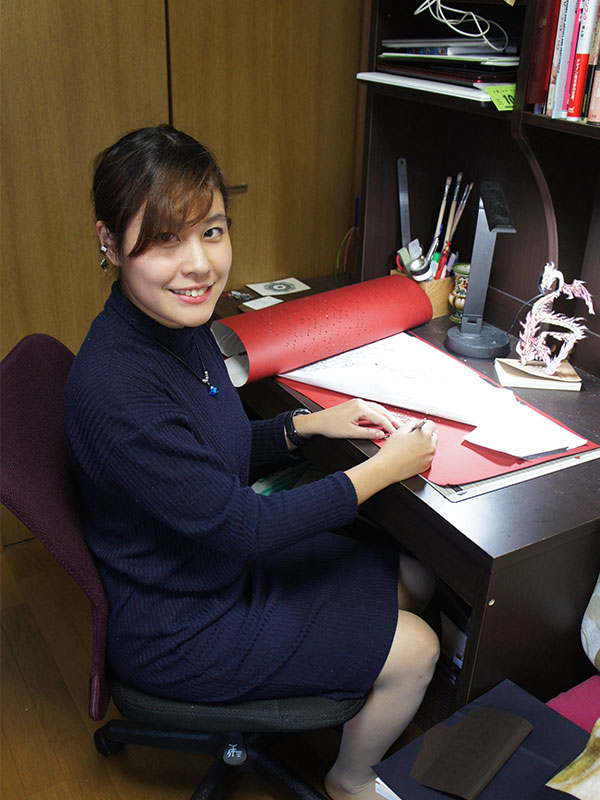 Once upon a time, there was a young girl who loved handicraft and fairy tales. The girl, who gazed at the Wayang Kulit, an Indonesian form of shadow puppetry, in the room of her grandfather, who had returned from the war front, grew up quickly and entered the University of Tokyo. While devoting herself to traditional martial arts in her club activities, she worked as a volunteer in the university library. Deciding that she wanted to do work connecting people and information, she got a job at her alma mater, at long last becoming a librarian.
"In the medical library where I was assigned, along with reception desk duties, I held mini-lectures for students, and managed somehow, through great effort, to realize other new events. One of them was an escape game in which students discovered new library functions as they gathered keys hidden throughout the building. All in all, I spent many fulfilling days there."
As someone who had always enjoyed thinking up fantasy stories, however, deep inside she still had a desire to make things, and the feeling that some new calling might be awaiting her grew larger, little by little. Seeking to broaden her horizons, she learned computer programming and took on a new job with a software company. While working as an engineer, the papercut craft she had learned on her own, on the occasion of wanting to send a card to a friend studying abroad, turned into a major passion.
She developed her own original "Kageori style." Based on sketches, she makes papercuttings by carefully slicing into paper with a design cutter, in a way that leaves no portions that are not connected. These are then worked into a set with whimsical fairy tales she creates. Her pen name Kageori came about because papercut design is a light and shadow craft, and many of the stories have shadow (kage) portions woven into (ori) them. Yet the color black is not to be found in any of her pieces.
"Rather than black, I choose to use dark brown or dark blue paper. That's because black paper gives a somewhat overly strong impression."
Today, Washizu's activities as a papercut artist, including putting on exhibits of her pieces, providing pieces for magazines, distributing booklets and postcards, and even submitting pieces for international children's book fairs, call to mind the activities of Leonardo da Vinci, who left enormous accomplishments as both an engineer and an artist. What she has been absorbed in lately is creating new pieces combining the analog papercut craft with the digital skills she learned through work. After completing an augmented reality (AR) piece, in which papercuttings move freely against a real-life background, the story she is spinning has gone on to the next chapter, weaving in a greater variety of colors.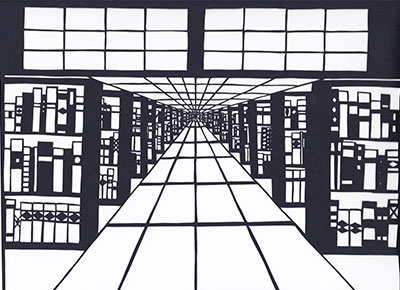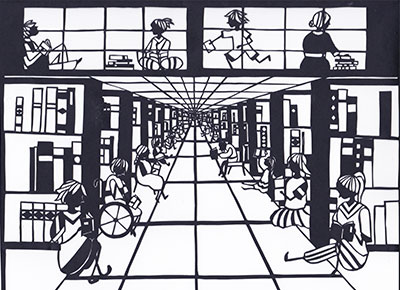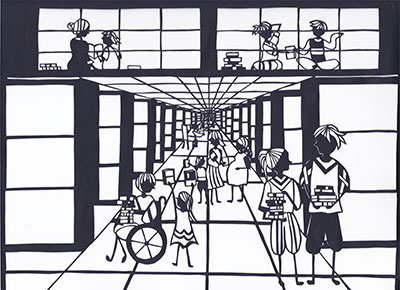 In a three-part piece entitled, "A circular journey between solitude and solidarity," appearing in the December 2018 special issue of Gendai Shisou (Contemporary Philosophy) on the future of libraries, Kageori Washizu expressed her feelings about libraries connecting people and information.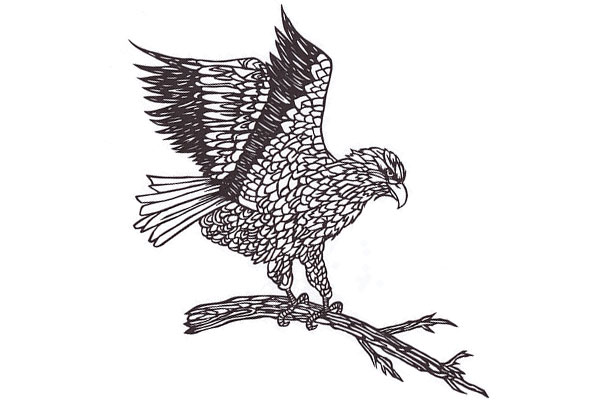 * Kageori Washizu currently goes by the artist name Kageori Kiyoshige.
* This article was originally printed in Tansei 38 (Japanese language only). All information in this article is as of March 2019.