FEATURES

Measuring physical movements more readily and swiftly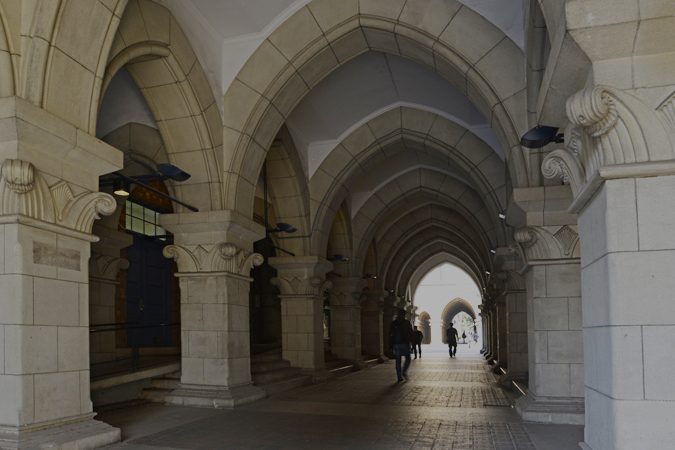 Olympics, Paralympics and UTokyo
Research, education and legacies related to the sporting event
The Olympic and Paralympic Games will be held in Tokyo for the first time in more than half a century. The University of Tokyo, which is also located in the metropolis, has a long history of involvement with the Games. As you learn about UTokyo's contributions to this global sporting event, the blue used in the Olympic and Paralympic emblem may very well start to take on the light blue hue of the University's school color.
Measuring physical movements more readily and swiftly
With the use of a simpler video motion capture method that doesn't require special devices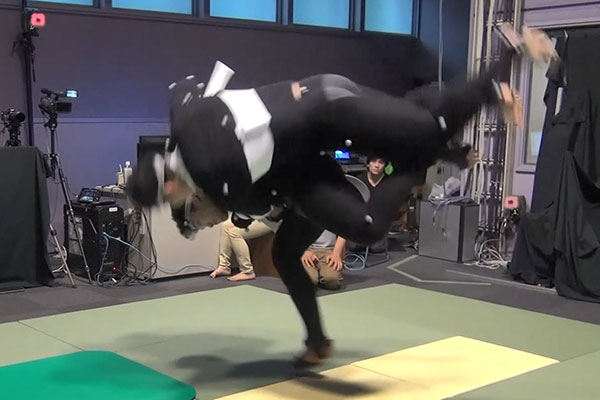 Motion capture technology, which can visualize and analyze physical movements on a computer, is an important tool for top athletes looking to improve their performance in competition. Professor Yoshihiko Nakamura has been working in the field for more than 20 years. In 2018, he made a major technological breakthrough.
Until then, motion capture had been a laborious process that required a few hours of preparation time. It normally involves attaching around 40 optically-reflexive spherical markers to the subject's body and then using at least 10 special cameras with infrared illumination to take their images.
The motion capture technology developed by Nakamura and his colleagues does not use any markers. Instead, a computer uses deep learning to estimate the central position of the joints through the subject's clothes on two-dimensional images taken using four or more video cameras. Nakamura inputted data and used a specially developed algorithm to reconstruct three-dimensional physical movements based on the human anatomy and temporal smoothness, allowing the technology to successfully replicate movements in a similar manner to conventional motion capture technology.
The technology, VMocap, can be used in many ways. For instance, motion capture is already utilized to create natural movements in animated cartoon characters. This new technology can save on production costs by capturing data directly from multiple cameras. Analysis of muscle activity and strength can also be useful for identifying and preventing sports injuries, Nakamura says.
For example, Nakamura is currently working on a joint project with Shuji Taketomi, lecturer at the Department of Orthopedic Surgery, the University of Tokyo Hospital. This research project looks at injuries of the anterior cruciate ligament of the knee, common among athletes in many sports, including soccer. The project attempts to elucidate how physical movements involving the knees are related to such injuries, hopefully leading to ways to help prevent them from occurring. A group led by Taketomi has worked with more than 600 student athletes, using a variety of devices to take measurements and record data for more than 100 items, including muscle mass, joint range of motion and standing balance. Together with his team member Assistant Professor Yosuke Ikegami and others, Nakamura has then measured the same athletes' movements using the video motion capture technology.
"We will have complete records of the athletes' development over the four years of their university careers, including how they've trained and developed physically, and whether their movements have changed. In the unfortunate case that they suffered an injury, the records for that also would be included."
Nakamura has analyzed the movements of many top athletes, including several who will appear at the Tokyo Olympic Games: Mima Ito, the table tennis player who extends her wrist rather than flexing it when executing her famous punches; the gymnast brothers Wataru and Kakeru Tanigawa; judoist Ryunosuke Haga and golfer Sakura Yokomine. Video motion capture allows researchers to collect data on the movements of numerous people at the same time, indoors or outdoors, and regardless of what clothing they might be wearing. There are hopes that the technology will thus prove useful for team sports as well as individual events. Last year, Nakamura was asked by the Japan Volleyball Association to take footage of an international friendship match of the Japanese women's team. The plan is to use the images to analyze the different ways in which the players use their bodies when jumping during a game.
"It's still some way ahead, but in the future, I hope we will be able to perform real-time monitoring of player fatigue, and that this will help coaches and players plan their strategy."
In a joint project with the J.League (the Japan Professional Football League), Nakamura is working with the soccer team Kashiwa Reysol, which shares a hometown with the UTokyo's Kashiwa Campus, to use movement analysis to help develop the skills of junior players. The technology is likely to prove even more useful in the future, if cameras can be permanently set up inside playing fields to gather data from regular training sessions. There are also hopes for its use in baseball and other sports.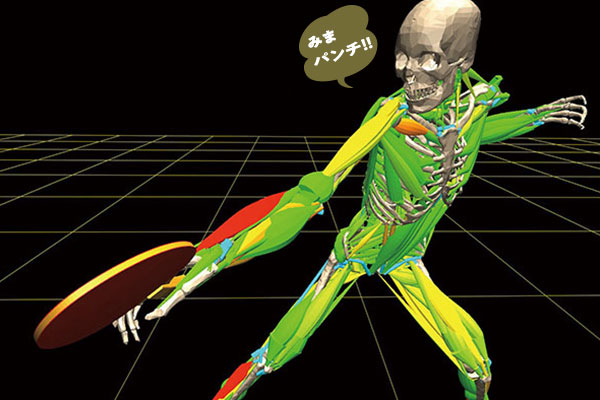 * This article was originally printed in Tansei 40 (Japanese language only). All information in this article is as of March 2020.