FEATURES

UTokyo Film Fest 2022
Opening dialogue: an alumnus film director and a film studies researcher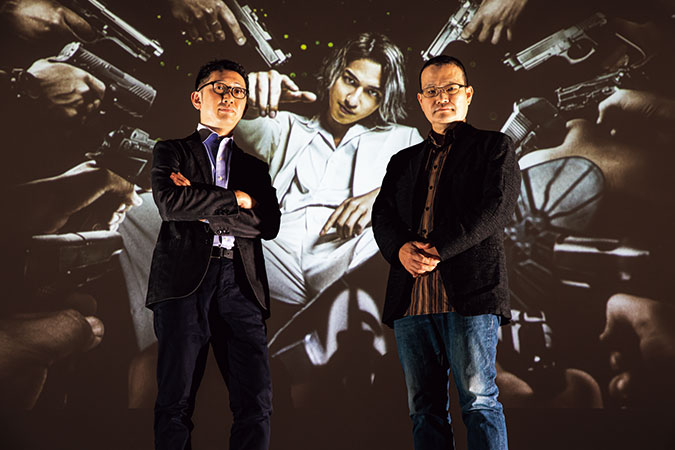 We present a uniquely university-flavored film festival, distinct from those that take place in Cannes or Berlin. We have put together four programs – a dialogue between a movie director and a film studies researcher, a presentation of research by four film studies researchers, profiles of alumni working in the film industry and a collection of films recommended by a dozen UTokyo researchers. Let's watch what happens when crossing UTokyo with cinema – 3, 2, 1, Action!
Opening dialogue
An alumnus film director and a film studies researcher
How UTokyo's specialization selection system led to the birth of a master of Japanese horror cinema
Film director Hideo Nakata, one of the foremost talents of Japanese horror cinema, is a University of Tokyo alumnus. Originally specializing in the sciences, he switched to liberal arts and has gone on to pursue a career in film thanks to his encounter with a professor at Komaba Campus. In this dialogue with Professor Yoshikazu Takemine, who studies visual culture in the laboratory established by that same professor, Nakata talks about the inspiration he found as an undergraduate, the experiences that led to his signature films, the significance of going abroad and highlights from his latest work. Sadako might never have been born were it not for the University of Tokyo's specialization selection system!
Applying to UTokyo from Okayama out of a yearning for the capital's rich cinematic environment
Takemine 

You started your undergraduate career in the Natural Sciences I area of specialization in 1980, but what sort of kid were you prior to that?

Nakata 

In rural Okayama, I used to go to the movies with friends who liked Western films. I was also influenced by Bruce Lee and attended a karate dojo in the next town over. In high school, I initially wanted to go to Kyoto University. But after reading in a film magazine about repertory cinemas and learning about the abundance of movies that were screening in Tokyo, I decided that I if was going to go to university, it would have to be in Tokyo.

Takemine 

So, it was Tokyo's cinematic environment that prompted you to apply to UTokyo. After you matriculated, I understand that you took a class in film theory taught by Professor Shigehiko Hasumi.

Nakata 

I found a film class on the syllabus and along with two other film buffs, I went to the old No. 2 building to take the seminar entrance exam. We were shown twenty proper nouns relating to various Japanese and Western movies and asked to write what we knew about them. I was only able to answer two of the questions. We had been told that we wouldn't be able to keep up in class unless we could answer half of the questions, and I also harbored some antagonisms toward Professor Hasumi's dilettanteish talk, so I dropped the class halfway through.

Takemine 

Do you have any other lasting impressions of your classes?

Nakata 

Many of the other students in my year were extremely talented, some later going on to be Nobel Prize candidates or Fields Medal nominees, and I soon realized the gap between them and myself. The professors who come to mind now are Professor Tamiaki Yoneya in physics and Professor Masahiko Fujiwara in linear algebra. My German professor, Tatsuki Shigi, was strict, but he was delighted when I presented him with the gift of a sweatshirt that I made at the Komaba Festival. He could be a daunting person, but I remember that he had a kind smile. I liked both German and English, and I got good grades in my language studies.
Watching 300 movies at repertory cinemas in a competition with friends from the zine scene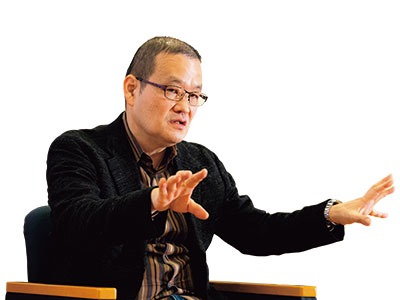 Takemine 

Were you involved in any extracurricular activities?

Nakata 

Natural Sciences I was all men, which was not good for me, so I joined a badminton club that looked like it would have female members. However, I quit after a month once I found out what a tough sport it was. After that, I joined an international exchange association and tutored foreign students in mathematics. I also spent three months in the Wandervogel outdoors club and was involved in publishing a movie fanzine titled Eiga Biyori [Movie Days] that was an offshoot of the Hasumi Seminar. The core members of the group were the translator Toshiya Echizen, philosopher Izumi Suzuki and film director Kenji Nakanishi. We became good friends after meeting each other in the Hasumi Seminar, then again at the Kyobashi Film Center (now the National Film Archive of Japan ), and again at the Bungeiza Theater. I was inspired by the fact that some of my senior peers were putting out a fanzine.

Takemine 

You switched your area of specialization from Natural Sciences I to study in the Department of Asian Studies in the College of Arts and Sciences, is that right?

Nakata 

At first, I wanted to advance into the Department of Physics, but my grades were close to failing. I briefly settled on the Department of Applied Physics, but after a few things happened, I got sick of math and physics and grew frustrated with science, so I decided to change my study area to liberal arts and repeat the year. I had about two days of classes each week, so I started watching movies at the rate of one a day. Nakanishi, one of my friends with Eiga Biyori, boasted that he saw seven hundred movies a year, but I only watched about three hundred. We went to the repertory cinemas and watched all the old films that Professor Hasumi had talked about. Meanwhile, I was developing a journalistic interest through the influence of Katsuichi Honda and became interested in the things that the Japanese army had done in China and Southeast Asia. So, I decided on the Department of Asian Studies.

Takemine 

And after that, you re-enrolled in Professor Hasumi's seminar. Is there anything else the professor said that you remember?

Nakata 

That's right. First, I went to Manila to watch about twenty films by famous Filipino directors. The Philippines has a unique cinematic culture that flourished in the 1950s and blended indigenous, Spanish and American traditions. I wrote about seventy percent of my thesis on what was happening around then and the rest on the current state of Filipino cinema.

Takemine 

That shows great initiative. There are few students who go abroad to conduct research for their undergraduate thesis, I imagine.

Nakata 

I just could not have written it without going there. I visited the Philippines as a backpacker during my repeated year of study. This was around the time of the large demonstrations organized to mark the first anniversary of the assassination of Benigno [Aquino, Jr.], and I had the sense that there was a breath of change in the air. My decision to go there could also have been influenced by my experiences on Luzon and Samar, where the old-timers who spoke to me about the war were generally friendly toward Japan.

Takemine 

What film did you see as a student that you found particularly memorable?

Nakata 

That would be Letter from an Unknown Woman, directed by Max Ophüls, which I saw in my graduating year. I saw it during the Golden Week holiday, and thought it was a perfect film. I wanted to memorize every detail and went to see it on seven days of its ten-day run. And although I should not have, I even recorded the audio on a tape recorder. It was only after seeing this film that I developed the desire to go to the other side of the screen. Another time, when I went to see a feature on John Ford movies at the Film Center, I also had the pleasure of meeting the film critic Nagaharu Yodogawa, who remarked that it was great that a young person like me was enthusiastic about coming to see Ford's silent films.

Takemine 

After that, you joined Nikkatsu Studios. I guess you were part of the final generation to experience the atmosphere of the film studios' golden age.

Nakata 

I was in the generation that heard the stories of that final generation. I started working for Hiroyuki Nasu on Be-Bop-Highschool, and I learned by working as an assistant director on films by directors such as Masaru Konuma, Shinichiro Sawai, Tatsumi Kumashiro, Yasuo Furuhata and Eiichi Kudo. On a few occasions I got indignant on set after being told that it was not good that I was a UTokyo graduate. Perhaps because we were both UTokyo alumni, Furuhata looked out for me. When he heard that I would be filming on location in Aomori, he gave me a set of cowhide undergarments that he had used in the Abashiri Bangaichi series. Indoors it was much warmer than a HEATTECH base layer, but since it was a gift from Director Furuhata, I would not take it off, and I ended up filming in a daze.
Working part-time at a studio while studying and finding inspiration from actress' lingering emotions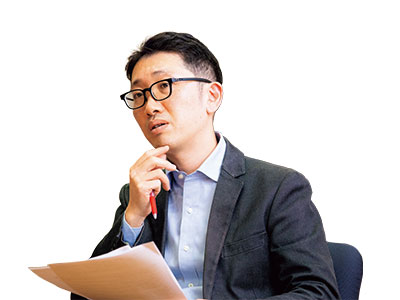 Takemine 

So, in 1992, you went to the UK in the Overseas Study Program for Artists sponsored by the Ministry of Education, Science and Culture.

Nakata 

In my sixth year as an assistant director, the studio had already wrapped up the Roman Porno series, and my older colleagues had started working in television. I wanted to keep working in film, but I was beginning to wonder if I should stay in the same position as I was. That was when I learned about the study abroad program and decided that I would like to go abroad to cool my jets and think things over. The film critic Yukichi Shinada was at my interview, and when I honestly told him that I wanted to go to a foreign country to calmly rethink where I was at, he gave me the OK. He suggested that I take advantage of the opportunity to do something while I was there, and I started working on a documentary about director Joseph Losey. However, it was going to take me a lot of time to money to finish, so I went back to Japan temporarily and worked desperately to come up with a project to raise the money. One of these projects finally came through, and I was able to go back to England to finish the documentary.

Takemine 

That project was Joyu-rei [Don't Look Up] which is widely regarded as the starting point of Japanese horror cinema – what some people call "J-horror."

Nakata 

At the time, I had investigated the ultimate fate of movie film, and found that it is just tossed into a furnace, the same as with cremation. I had the idea that if the films of actresses who faded from the film industry into obscurity or people who never made it as directors were burned, their collective grudges might accumulate. Also, when I worked part-time at Daiei in Kyoto during my fifth year of university, there were occasions when, stepping on to the filming stage, I looked up and thought I could hear the breathing of countless film industry workers. I loved the sense that everyone who had ever gathered on stage for a shoot left something behind when it was over. When I would go into the stage area late at night to retrieve something I had forgotten, there would still be ambient heat from the lights, and I would get the sense that the feelings of the actresses who had been yelled at by the director during the day still lingered. These experiences were what led me to Joyu-rei.

Takemine 

Three years ago, I gave a public lecture entitled "Why is Sadako so scary?" Normally, the audience sees the screen in a unidirectional fashion, but in Ringu, it is the audience that is seen by Sadako – they become her object. Sadako has an inhuman gaze, and technological media such as photography, VHS tapes and television play a decisive role. Sadako creates images through psychokinetic exposure, and when she finally emerges from the TV and shows her eyes for a moment, as though releasing a camera shutter, her subject is inverted and fixed in place. I talked about how Sadako can be seen as a kind of killer camera. What do you think of that interpretation?

Nakata 

That's an interesting take. I was not consciously aware of the sensation of being seen by Sadako, but I was constantly thinking about how to surprise the audience. Before Ringu was made, I gave the script to critics to get their opinion, and the part where Sadako crawls out of the television elicited a blank response. Some people even laughed. But even if they expected her to approach, they did not expect her to crawl out of the screen. They thought they were watching her on the television, but she was actually coming for them. I felt this was a key point, and I had to fight with the special effects people to get the scene included.

Takemine 

You made your Hollywood debut in 2005 with The Ring 2 and subsequently directed Chatroom in the UK. You have been using these experiences in your films. Did you feel any differences between how things are done in Japan and overseas?

Nakata 

One cinematographer told me that "Hollywood does not have a film culture – it has a film industry." In other countries, I would say that there is no film industry, but there is a film culture. In Japan, I think we have both – barely. For example, in other countries, they repeatedly hold previews and quantify the reactions on a 5-point scale. Films are completed by incorporating the general public's evaluation. It is a similar sensation to how things are done with industrial products such as automobiles. I thought that suited my personality rather well.

Takemine 

Now, I understand that your new film Usogui [The Lie Eater] is based on a popular manga and takes up the theme of gambling.

Nakata 

It depicts an extreme world where if your opponent sees through your lies and you lose, then you die. Centered around a unique view of history, the film portrays a protagonist who is in a sense pure, but whose goal in life is to make it to the top of the underworld. I shot the film while thinking about how to entertain fans of Ryusei Yokohama and fans of the original story. It is meant to be entertaining, so I hope people will be able to sit back and enjoy the film.

Takemine 

Finally, is there a message that you could give those who would like to follow in your footsteps?

Nakata 

Going overseas to broaden your knowledge usually proves useful in the long run. I have loved languages since I was an undergraduate, but the first time I worked in English was in Hollywood. I was asked if I wanted an interpreter, but I said no, just follow my English. Language is the baseline for going overseas. I would like young people to gain a good command of languages so they can flourish in their ventures overseas.
(This talk took place on November 29, 2021, in the Hall of Building 18, Komaba Campus)
Usogui [The Lie Eater]
Based on a manga by Toshio Sako serialized in Weekly Young Jump, the film depicts an ultimate game of deception in which players face certain death unless they can see through the lies of their opponents. The featured games include old maid, roulette, escape rooms and poker. Ryusei Yokohama plays the main character, a genius gambler who can spot any kind of trickery. https://wwws.warnerbros.co.jp/usogui-movie/
Photos: Junichi Kaizuka
* This article was originally printed in Tansei 44 (Japanese language only). All information in this article is as of March 2022.