FEATURES

UTokyo Compass opens up a new world for the University
A roundtable discussion featuring Teruo Fujii, Miki Iwamura, Jugo Imaizumi and Kenji Sato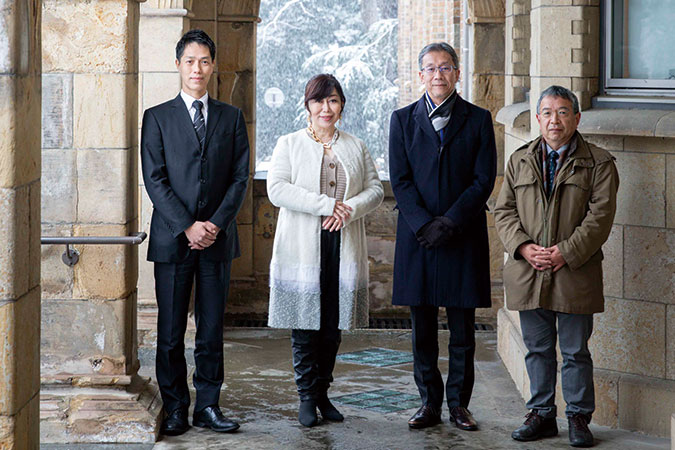 A roundtable discussion featuring Teruo Fujii, Miki Iwamura, Jugo Imaizumi and Kenji Sato
UTokyo Compass opens up a new world for the University
UTokyo Compass is a set of action guidelines announced by UTokyo President Teruo Fujii in the autumn of 2021.
These guidelines are characterized by key words and phrases including "diversity and inclusion," "dialogue" and "a university that anyone would want to join." Four people involved in drafting the guidelines came together at the General Library on the Hongo Campus to discuss the concept behind the guidelines, their desired emphasis and the vision to be aimed for, as well as the current state of UTokyo reforms and their prospects.
This roundtable discussion, held during a rare heavy snow day in Tokyo, offers a glimpse of the future of the University.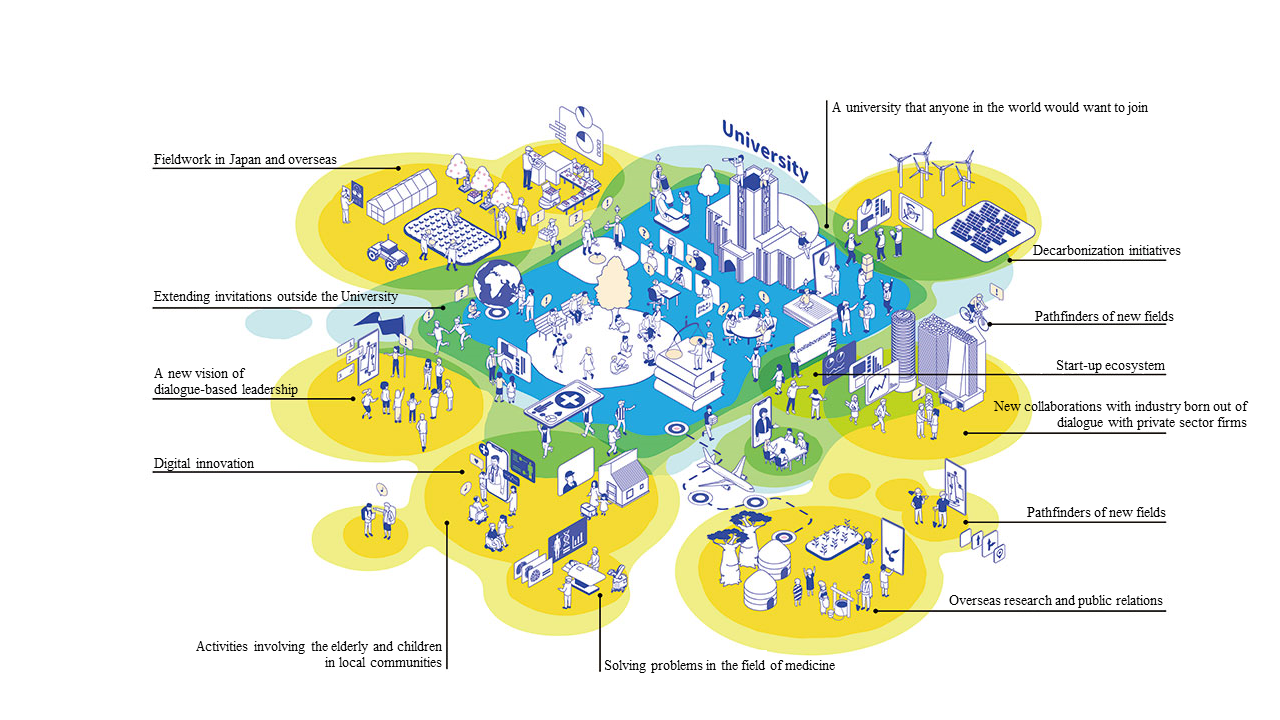 Read the UTokyo Compass announcement in full here.


A university that thinks and works with the world beyond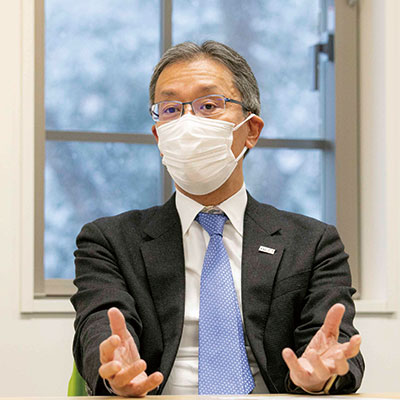 Sato 

To begin, President Fujii, would you be kind enough to tell us about the background to the development of UTokyo Compass?

Fujii 

When I was first appointed as president, I thought about what UTokyo should be in the future, in light of the current state of the world, which is confronted by various issues on a global scale. In doing so, I came to realize that it is important for UTokyo to work not only on its own, but also together with the world outside the University. Research to build academic knowledge, education to nurture people and activities for collaboration with society and the private sector should not be separated into that which takes place inside the University and that which takes place beyond it. For this reason, we need to promote dialogue as well as diversity and inclusion (D&I) inside and outside the University, as these are important for making UTokyo a place that anyone in the world would want to come. Based on this broad orientation, people across the entire University have been working to formulate a vision for UTokyo as a whole, which we announced in September of last year as UTokyo Compass.

Sato 

Executive Vice President Iwamura, you joined the Board of Directors from outside UTokyo. Please tell us about what you had in mind when you took up your appointment.

Iwamura 

I had the opportunity to speak with Professor Fujii before he was appointed president. Hearing him talk about the keywords of "dialogue," "empathy" and "a university that anyone in the world would want to join," I felt that these were in line with values that I had always cherished, and that here was the possibility of applying my own experience to them. The basic concept of marketing, which is my own background, is "to connect users with the magic." It is about fostering understanding and empathy through dialogue with users and building a connection with a brand, which is similar to what the president wants for the University – that is, to connect with society through dialogue. Also, an organization that "anyone would want to join" fits in the context of D&I. Having worked for global companies, I have always recognized that D&I are precisely the qualities that beget innovation, and so I empathized with the desire to promote this at the University of Tokyo. At the time of my appointment to the Board, I heard from those around me that "to change UTokyo is to change Japan." Being in a global environment as I have been, I am driven by a sense of crisis that Japan is in danger of being left behind by the rest of the world. I resonated with the idea that UTokyo could be a starting point for change in Japan, and that Japan and UTokyo would contribute to the rest of the world, and so I felt that I would like to join the president in taking on this responsibility.

Sato 

Executive Vice President Imaizumi, you joined the Board from the Ministry of Education, Culture, Sports, Science and Technology (MEXT). I understand that you were involved in the formulation of UTokyo Compass from the standpoint of overseeing the administrative process as a whole.

Imaizumi 

When I was appointed to the Board in July 2021, the guidelines were already in the final stages of development. I have held positions of responsibility in higher education administration for a long time, and my first surprise was to see how far UTokyo had come. The public's image of UTokyo is that of an imposingly prestigious institution, but the aim of UTokyo Compass is to increase diversity and inclusion through dialogue, thereby making UTokyo a university that is open to all. I saw great potential in the message that the University should open its own doors and do what it can for society, rather than remain a closed place solely for elites. I'm responsible for administrative organization, personnel and labor affairs, legal affairs and risk management. The task that I've been assigned is finding ways to improve the structure that supports teaching and research, which are the University's core activities, as well as how the administration can respond to expanding fields by taking on new roles in addition to its existing duties. Whenever a university endeavors to expand its role, risks are bound to arise. Thus it is important to anticipate these risks early on in order to keep them to a minimum. To use the metaphor of offense and defense, I consider it my job to be in charge of UTokyo's defense as it pivots toward offense. Thus, in doing so, what I want to keep in mind is not "defense for defense's sake," but rather "defense for offense's sake." It is important to strike a balance between the part of the University that is firmly defensive and the part that is flexible. My name Jugo is written with kanji meaning "soft" and "sturdy," and I would like to proceed in a way that blends these two characteristics well.

Sato 

My own relationship with Professor Fujii dates from around the time of the formulation of President Junichi Hamada's "Action Scenario," and we also served together in the creation of President Makoto Gonokami's action plan, "The University of Tokyo: Vision 2020." Perhaps because of this relationship, I was appointed to the task force that reviewed UTokyo Compass. In our repeated discussions together, I feel that the emphasis on "dialogue" and "anyone" became President Fujii's rallying cry. Academia consists of questions and answers, and I think a key point is his proposal that we should be asking and answering questions not individually, but together. The question now is how to communicate this to people inside the University and beyond. Executive Vice President Iwamura mentioned earlier that UTokyo is seen by the public as the ultimate goal of taking a university entrance exam. What do we need to do to change that image?
A desire to change UTokyo's image as the ultimate university entrance examination goal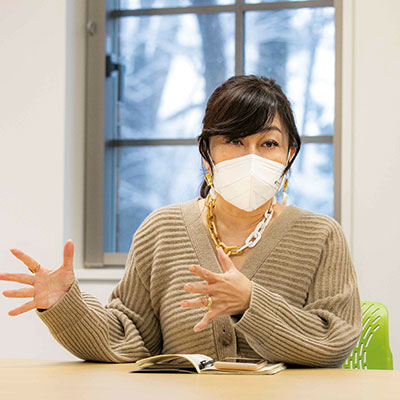 Iwamura 

UTokyo's profile inside Japan is not a problem, as I am sure that everyone is familiar with the name. However, perhaps the image that UTokyo is associated with is mostly that of being the final goal for university entrance exam takers. But if you actually come to UTokyo, you will find that it nurtures an extremely rich and diverse array of knowledge and people. By clearly communicating this to the public, we can change the image of UTokyo from that of an endpoint for an exam to a starting point for creating the future – a place of co-creation where people from outside the University are also invited to come to take part in producing something new. By bringing diverse people together, new questions and answers will be generated. The University is an extraordinary place where new things are piled atop accumulated knowledge. It is important that we craft our own image of an open community that generates new things based on such accumulated knowledge.

Sato 

To be honest, UTokyo has never really promoted itself, neither through exams nor otherwise.

Iwamura 

Yes, UTokyo has been talked about only in a one-sided manner from the outside. What we would like to do is to enhance our brand by communicating what we are thinking, responding to questions from the public and increasing the volume of proactive communication through dialogue. We would like to add something new to our traditional image. To this end, we are currently in the process of setting up a cross-departmental communications team in the University and building a system to consolidate information and disseminate it in line with societal interests. We are also considering the creation of a sort of studio-like facility that would involve students in a campaign to enhance the UTokyo's brand and reputation.

Fujii 

One of my aspirations in connection with the phrase "a university that anyone in the world would want to join" is for UTokyo to be a place where outstanding researchers from around the world come together to create new things based on their accumulated academic knowledge, but of course this is not the only goal. I envision the University as a place where researchers, students, staff, people from overseas, people from the Tokyo metropolitan area and people from rural areas, the young and the old, and all kinds of people are invited to come and act freely. At the same time, we will enhance our organizational capacity and create an environment in which anyone will be able to come and work or study with confidence. In this way, we want to make UTokyo a place that anyone would want to be a part of. This was precisely why we invited Executive Vice Presidents Iwamura and Imaizumi to join the Board of Directors from outside the University.

Sato 

The meaning of place, what we call "ba" in Japanese, is crucial here. Ba is more than just a space; the idea is that the people involved in it as subjects and the resources that are brought together there also constitute important elements in the establishment of "place," inclusive of the knowledge and wisdom that they have accumulated there. UTokyo Compass also emphasizes this power of the university as a place.
Towards a culture more favorable to asking slightly unconventional "What if?" questions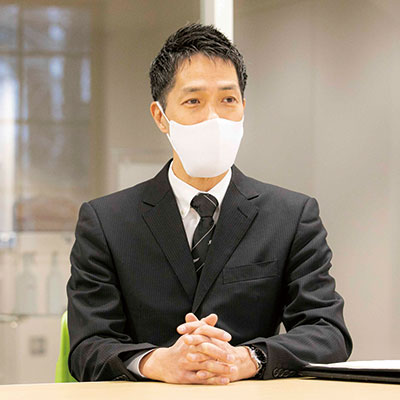 Iwamura 

In terms of place, I feel that culture is another important factor. We can ask various types of questions, such as "what," "how" and "why," but within a culture of diversity and inclusiveness and psychological safety, the slightly unconventional question of "What if?" becomes easier to ask. This is where new value is born. I would like for UTokyo to be such a place.

Sato 

I said earlier that questions are important, but there are some questions that should not be answered directly. These are questions that, if answered during a discussion, will lead to a dead end. Rather than answering such questions, we should endure them and think them through, or else perhaps change the way we formulate the questions themselves. This, I believe, is the power of the university as a place. But then in an exam, not to answer the question directly means you won't get a grade.

Fujii 

The attitude of "questioning the question itself" is unthinkable when taking an exam.

Iwamura 

And precisely because this gap exists, it is that much more important to convey to students from the examination stage that the world "inside" UTokyo encourages such questioning, and that such an exhilarating world exists.

Sato 

This is a complex issue with many parts. We will continue to ensure that the examination system is properly maintained. And it is also a fact that in doing so, UTokyo has come to have a certain social influence. However, we must also convey the message that the importance of studying at a university is not something that can be measured by that metric alone.

Fujii 

I would like to create an environment where people will be able to examine the way they formulate questions based on the concept of "What if?" and not hesitate to ask different questions. Creating a place that respects the free and open activities of people involved with the University begets psychological safety. Without this, I don't believe that new things can be created. Diverse people have to pose various questions to each other.

Imaizumi 

I do like environments where it is acceptable for people to try a variety of things and fail. On that note, examinations represent a struggle in which failure is not tolerated, and UTokyo is at the pinnacle of this mindset. In reality, however, amidst many failures, you only need to hit the mark on a few things. And it may be that researchers are trained in such an environment on a daily basis. But this is not the case for administrative staff, who work in an environment where failure is not tolerated. Our challenge is how to change that mindset. Without the sense of psychological safety that Executive Vice President Iwamura mentioned, and without a culture that tolerates failure and recognizes that failure is actually an opportunity for learning and growth, administrative staff are unlikely to produce new things. If this is so, then new things will appear only from the faculty members who have been trained in this way, and we will not be able to break away from the conventional pattern in which it is faculty who take the initiative and the administrative staff that supports them. This would preclude any true collaboration between faculty and the administration, making it difficult to make the most of UTokyo's resources in a fundamental way. I feel that we might be able to do something about this through dialogue.

Sato 

It is also suitable for a university to have the latitude to consider that many things can be revisited and reworked, without excessive fear of failure in work operations.

Fujii 

We have to overcome the review process prior to implementation, but I would like for us to at least be able to have a mindset that allows us to propose a wealth of suggestions.
OKRs to help organizations achieve higher objectives without fear of failure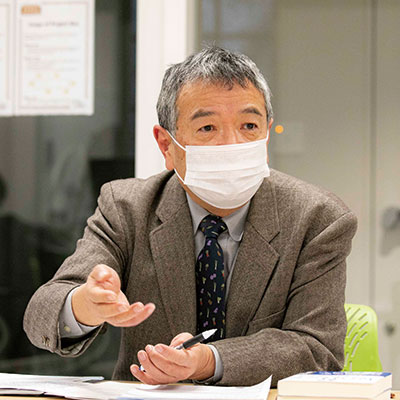 Iwamura 

One of the mechanisms we incorporated into our UTokyo Compass discussions was that of OKRs, or Objectives and Key Results. This is exactly what we have been talking about, namely setting goals to challenge ourselves, including failures. Another term for this is the "moonshot." Setting ambitious goals that seem out of reach, like landing on the moon, fosters motivations and ways of thinking that are unlike those of the past. The OKR mindset is that if you fail, you can learn from that failure. Unlike MBO (Management by Objectives), in which the failure to achieve a goal results in a lower evaluation, OKR pushes an organization to rally the strengths of its individual members to work toward a higher goal. Athletes, for example, fail every day. We might even say that they fail all the way until they win a championship or set a new record. I believe that the realization that you have to fail in order to achieve challenging new targets is an important mindset.

Sato 

The importance of coming up with different ways of measuring and conceptualizing is emphasized in academia, but the same could actually be said of office work. The University is not a place where it is externally determined that, whatever else, monetary results must be achieved, and I feel that this leaves some room for ingenuity.

Fujii 

At present, UTokyo is pursuing an extremely wide range of initiatives. In addition to our traditional firm commitment to teaching and research, we are engaged in a broad spectrum of other activities such as offering continuing education courses for working adults and collaborating with private industry on a variety of projects. I am confident that there will be many opportunities to take advantage of ideas that emerge from different perspectives than those of researchers.

Sato 

When the University of Tokyo was founded in 1877, no one knew what kind of place a university should be. The University was itself formed through a process of trial and error, a search for solutions and the fusion of various organizations. And now, we may have arrived in an era in which it is once again unclear what role the university as an institution should play in society.

Fujii 

That in itself is a major question, is it not?

Sato 

That is precisely why we must think freely and resolutely. This is something I would also like to ask Executive Vice President Imaizumi, who came to us from MEXT.

Imaizumi 

Firstly, the role of universities is codified in the School Education Act, and the position of national universities in the National University Corporation Act. National universities, which exist within this legal framework, are about to be transformed into entities that cover a wider range of areas than just teaching and research. As Japan's leading university, UTokyo is a university with a symbolic presence. Once it expands its functions and becomes a university that anyone will be able to join, and a driver of change in society, its potential impact could trigger a rethinking the significance of the existence of universities in general, as well as an amendment to the provisions of the School Education Act itself. Examinations are an important part of Japan's education system, and the number of graduates from each high school admitted to UTokyo is an important indicator of the schools' educational achievements. Nevertheless, UTokyo is now lowering its own threshold for entry, not in the sense of lowering the quality of its programs, but rather in terms of broadening the scope of its activities, something which has the potential to be revolutionary for both the school education system and the national university corporation system.

Fujii 

We need to build a new university model.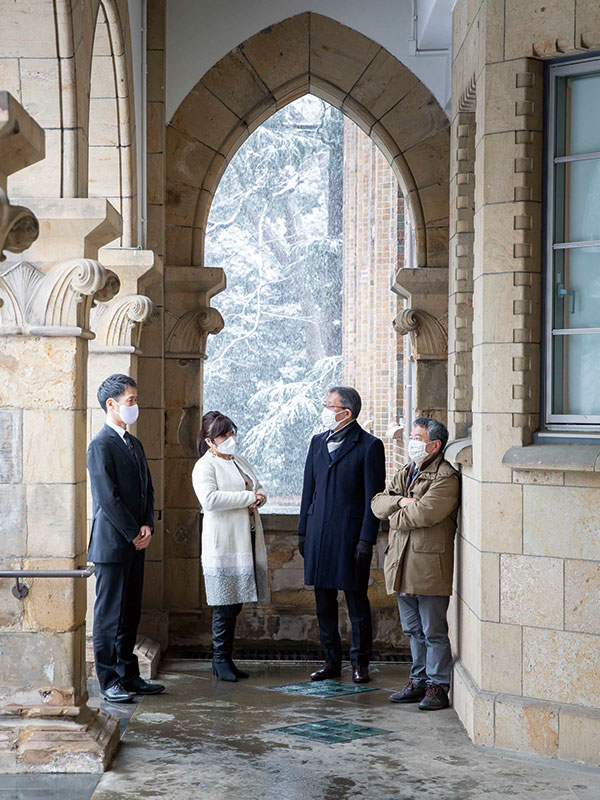 Sato 

So this is not just about UTokyo, and it is no longer just about education.

Iwamura 

If we move this discussion forward, I feel that it will broach the topic of increasing UTokyo's global presence. For example, Harvard, Stanford and other prestigious foreign universities are far more exclusive than UTokyo in terms of tuition fees. And seen from a global perspective, UTokyo is home to a wide range of knowledge and research. As the positioning of universities is being redefined in terms of education, what form should universities take as open places that are not simply the domain of the elite? What is a university in the eyes of society? UTokyo is positioned to be able to take the lead in such discussions. The impression I've taken away from talking with many professors over the past year is that UTokyo has many assets with which it could increase its global presence.

Fujii 

I would like to make UTokyo a place where such assets can be utilized to their fullest extent.

Iwamura 

It appears that many students and alumni are hesitant about identifying themselves as being UTokyo students or UTokyo graduates. They will say "Well, I guess I should say that I'm from UTokyo" or else not answer that they are from UTokyo until they have been asked several times. I would like to encourage them to want to claim their association willingly, to feel a desire to play an active role themselves as advocates and ambassadors for the University of Tokyo. I believe that our alumni are the key to connecting UTokyo to society and to strengthening our brand reputation. As we set our sights on the upcoming 150th anniversary of the University's founding, I would like to convey UTokyo's diverse appeal to researchers, students and alumni alike.

Sato 

The attitude of our audience also has an impact. That is why it is important to have dialogue and communication, as well as the ability to listen and to speak about what you are aiming for in words that resonate in the heart.
(January 6, 2022, at the General Library, Hongo Campus)

Photography assistance: General Library
Photos: Junichi Kaizuka



Continuous presidential dialogues with members of the University

An important part of putting together UTokyo Compass was the "President's Dialogue" series between the president and members of the UTokyo community. From May to September 2021, the president made time on 18 occasions to speak online, sometimes in English, with members of faculty and staff from each organization and students from each academic year, and the results of these talks provided feedback for the drafting process. In the future, President Fujii hopes to increase the number of opportunities for dialogue with people outside UTokyo as well.
Help to promote UTokyo Compass!
Click here to donate to the University of Tokyo Foundation (Discretionary)


Donate by bank transfer or one of a variety of payment methods (credit card / Internet banking / Pay-easy / convenience store payment / Amazon Pay)
・Your donation may be eligible for tax benefits (deduction for charitable contribution)
・For more information, please contact the University of Tokyo Foundation Office (Tel: +81-03-5841-1217)
* This article was originally printed in Tansei 44 (Japanese language only). All information in this article is as of March 2022.