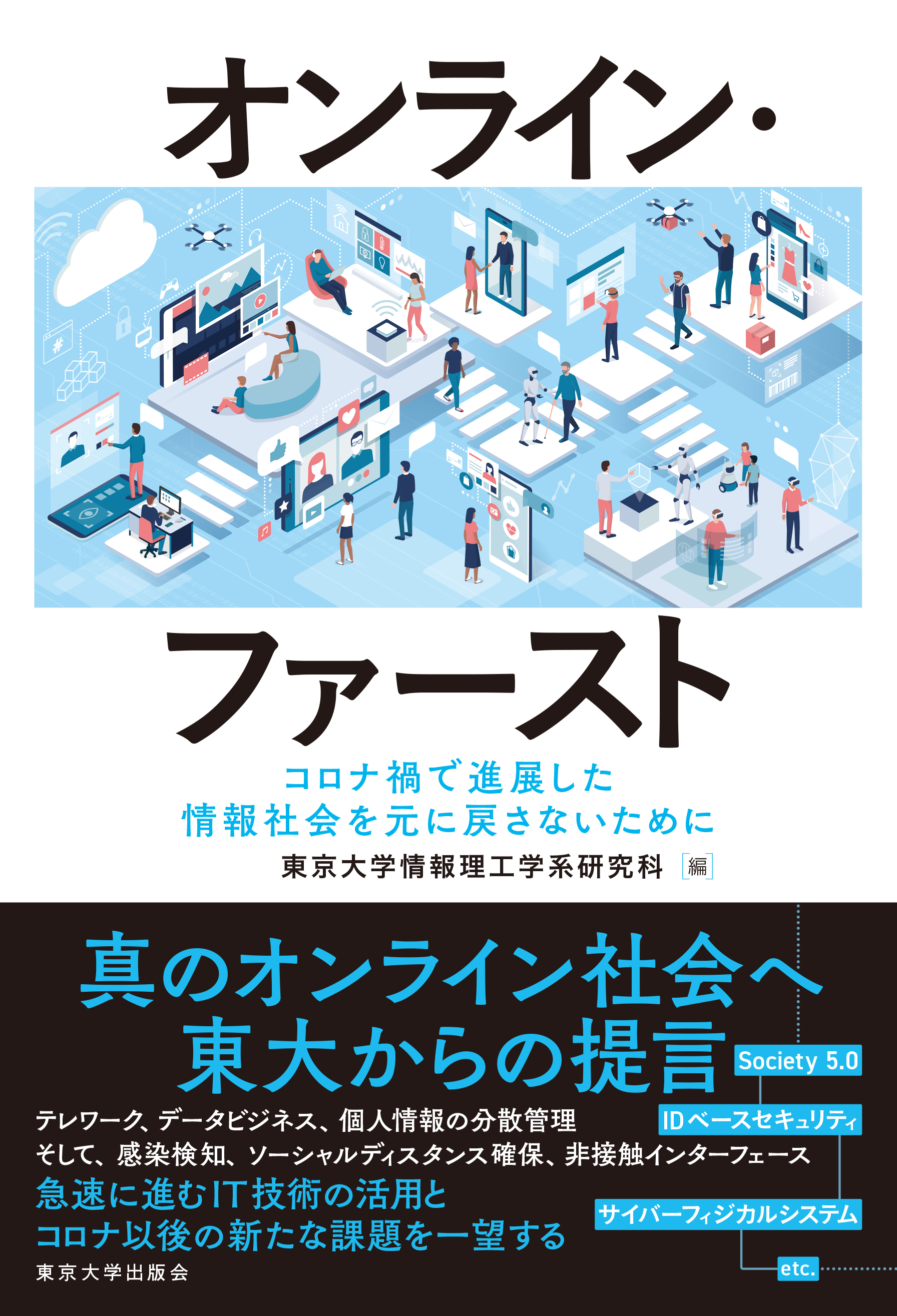 On-Line First
(Toward an Information Society by Design After COVID-19)
University of Tokyo Press
COVID-19 has imposed severe limitations on the physical interactions of people. Information and Communications Technology (ICT) has barely supported social activities amid the spread of COVID-19. Many people, including those who had never considered the use of ICT for various communication activities, tried to utilize ICT, using facilities at their disposal. Much of education was conducted online and working from home was recommended. Companies invested resources in Digital Transformation (DX), and the Japanese government established the Digital Agency.

Digitalization has swept across the business landscape, and has been an effective workaround to cope with the (hopefully) temporary surge of COVID-19. We should take digitalization further into various services and creation of new industries. Digitalization can make people's lives more convenient and enjoyable, reducing disparities between the city and countryside, and maximizing the unique values of every region. We should resolve anxiety about ICT privacy and security, support the lives and activities of the population which is diverse in nature, and includes the handicapped and aged, and build a new society which can stand up to the emergence of new diseases.

Such a significant objective can only be achieved by garnering the efforts of all people, beyond those of ICT specialists. Everybody, from an ordinary citizen to the government, has a role to play and a voice to raise, since this is not merely a change of technology, but a change of society.

It is not enough to just have basic knowledge of ICT, but one must be alert to the developments of ICT. This book provides a glimpse of the various possibilities of post-COVID society through ICT innovations. It illustrates Society 5.0, the future of ICT education, the secret behind the success of the Internet, and the newest developments of artificial intelligence (AI), virtual reality (VR), robotics, privacy, and security.

Although it is inevitable for this book to contain many technical terms in the ICT domain, the book is not exclusively meant for ICT specialists. It will also immensely benefit those in decision-making positions in society and those responsible for digitalization. The book contains profound sayings of specialists working in education and research on ICT. Some of these might appear to be slightly difficult to fully understand, but by chewing them well as you would find a fine beef jerky that you will savor.

(Written by SUDA Reiji, Dean, Graduate School of Information Science and Technology / 2021)
Try these read-alike books: