UTokyo professor joins Royal Netherlands Academy of Arts and Sciences
Takuzo Aida of the Department of Chemistry and Biotechnology was elected as ​an international member of the Dutch academy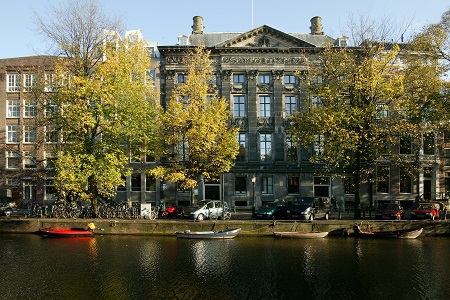 The Royal Netherlands Academy of Arts and Sciences is an advisory body to the Dutch government, with a 200-year history. Every year it elects new members, each at the forefront of their respective field of scientific study. In April 2020, the academy elected Professor Takuzo Aida of the Department of Chemistry and Biotechnology for his innovative work on adaptive materials based on supramolecular polymerization, chemical structures that can perform functions such as movement, self-healing or even power generation.
Aida has been with the University of Tokyo for almost 40 years, where he gained his master's in 1981 and doctorate in 1984. In 1996, Aida became a professor and established the Aida Laboratory. There, he and a team of enthusiastic researchers explore the field of supramolecular chemistry featuring his supramolecular polymerization, and materials science. Their cutting-edge research may almost sound like science fiction to some given the potential it has to change the world.
In a nutshell, supramolecular chemistry is all about configuring chemical structures such that they perform functions autonomously. It is analogous to programming a computer, and there is even some overlap with the field of computer science. Some applications of the Aida Laboratory's research include chemical-driven optical logic gates; water-rich composite hydrogels called aquamaterials; self-healing glassy polymers that repair fractured surfaces upon compression at ambient temperatures; and supramolecular polymers of biomolecular machines that deliver targeted drugs in response to adenosine triphosphate (ATP), a molecule that carries energy in the cells of living things.
The aim of the Royal Netherlands Academy of Arts and Sciences is to promote high-quality scientific research in the Netherlands in order to further cultural, social and economic progress. Aida hopes to contribute towards this endeavor and sees potential benefits for the University of Tokyo as well.
"The historic relationship between the Netherlands and Japan is very special, because Dr. Koenraad W. Gratama visited Japan in 1866 to promote scientific education," said Aida, referring to the Dutch scientist who established a chemistry school in Osaka and is considered the founding father of modern Japanese chemistry. "Even now, it is important to keep tight connections between the scientific institutions of the two countries. I hope to contribute to this relationship and bring to it various collaborative research projects."