ARTICLES

Possible target for future cancer treatment
Deregulation of system to move molecules in the cell may promote tumor growth, metastasis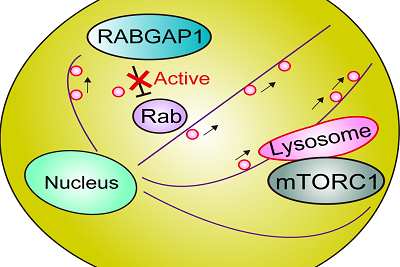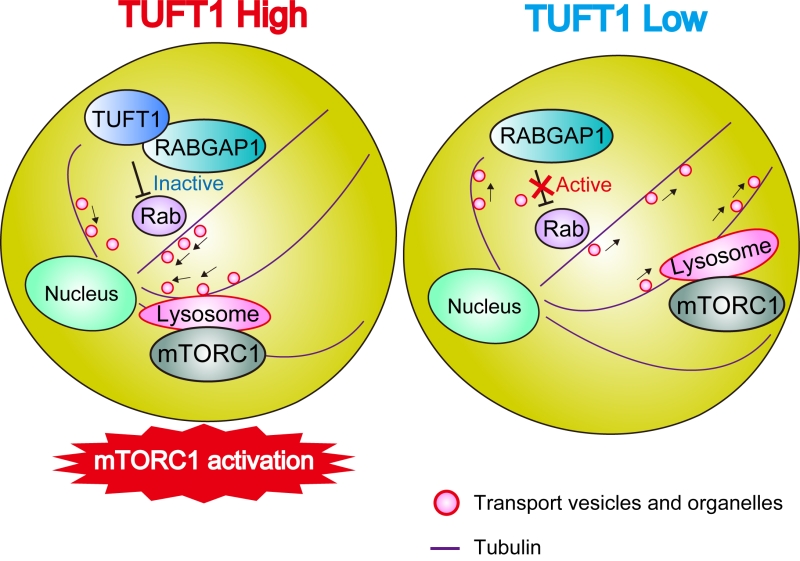 A University of Tokyo research group has identified a promising molecular target for cancer therapy using a combination of in vitro human cell experiments and studies with mice.
Signaling by the mTORC1 protein controls cell growth and survival in mammals. Deregulation of mTORC1 is frequently observed in human cancer and activation of mTOR promotes resistance to conventional chemotherapies. Controlling mTORC1 has thus attracted great attention as a promising target for cancer therapy.
Controlling the movement of vesicles, or packets of molecules, in the cell is essential for many basic biological processes. Rab GTPases enzymes are master regulators, controlling vesicular trafficking inside the cell. Many Rab proteins have previously been implicated in cancer progression.
Earlier studies have shown that cycling and cellular trafficking of Rab GTPases were required for mTORC1 activation. However, the regulatory proteins that mediate vesicule trafficking in the context of mTORC1 have not been characterized.
In the present study, the research group led by Professor Kohei Miyazono at the University of Tokyo Graduate School of Medicine aimed to uncover the connection between Rab GTPases and mTORC1 activation.
Miyazono's team discovered that the TUFT1 protein acts as a regulator of the mTORC1 signaling and tumor growth and metastasis in human lung adenocarcinoma, glandular malignant tumor, cells grown in a dish. The research group, including graduate student Natsumi Kawasaki and Associate Professor Daizo Koinuma, discovered that high TUFT1 gene expression was correlated with poor prognosis in several types of cancers. The researchers demonstrated that TUFT1 mediated mTORC1 signaling by binding to and modulating the activity of RABGAP1, a GTPase-activating protein for certain Rab GTPases. In addition, the researchers found that expression of TUFT1 predicted sensitivity to an anti-cancer drug candidate and AKT enzyme inhibitor, perifosine. Perifosine treatment altered the positioning and trafficking of cellular compartments to inhibit mTORC1.
These findings give insight into the complex regulatory mechanism of mTORC1 signaling orchestrated by vesicular trafficking in cancer cells, which could be a promising molecular target for future cancer therapies.
"The identified regulatory mechanism mediating vesicular trafficking and mTORC1 signaling may be a biologically and clinically important molecular process," said Miyazono. He continued, "I hope that these findings help to develop a novel therapeutic strategy or a biomarker for tumor progression."
Papers
Natsumi Kawasaki, Kazunobu Isogaya, Shingo Dan, Takao Yamori, Hiroshi Takano, Ryoji Yao, Yasuyuki Morishita, Luna Taguchi, Masato Morikawa, Carl-Henrik Heldin, Tetsuo Noda, Shogo Ehata, Kohei Miyazono, and Daizo Koinuma, "TUFT1 interacts with RABGAP1 and regulates mTORC1 signaling," Cell Discovery: January 9, 2018, doi:10.1038/s41421-017-0001-2.
Link (Publication

, UTokyo Repository

)
Related links