EVENTS

What does modernization in government mean?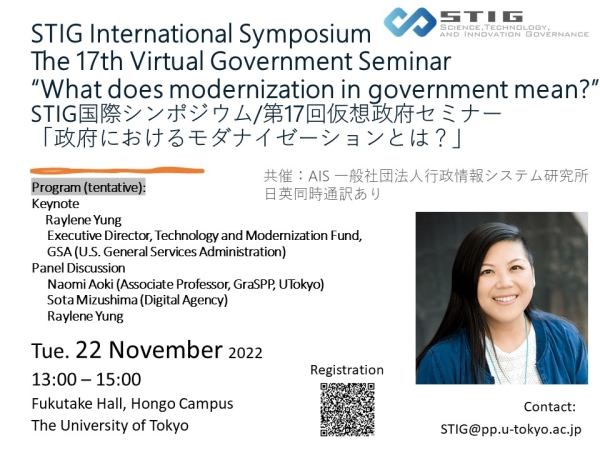 Details
Type
Symposium
Intended for
General public / Enrolled students / Applying students / International students / Alumni / Companies / High school students / University students / Academic and Administrative Staff
Date(s)
November 22, 2022 13:00 — 15:00
Location
Hongo Area Campus
Venue
Fukutake Hall, Hongo Campus (Map)
Entrance Fee
No charge
Registration Method
Advance registration required
Please register from the link below.
https://docs.google.com/forms/d/e/1FAIpQLSeGsARIwPPDOAnHMPTwpR2ALbhnc8YW__AQ-36nMZLt3RQZ6g/viewform
Registration Period
November 1, 2022 — November 22, 2022
Contact
STIG OFFICE (Science, Technology, and Innovation Governance)
Graduate School of Public Policy (GraSPP), The University of Tokyo
STIG@pp.u-tokyo.ac.jp
STIG International Symposium/The 17th Virtual Government Seminar
"What does modernization in government mean?"

Date: 13:00-15:00, Tuesday 22 November
Venue: Fukutake Hall, Hongo Campus, UTokyo
Co-host: AIS-Administrative Information Systems
Language: Japanese-English simultaneous interpretation

Program (tentative)
1. Keynote
Raylene Yung (Executive Director, Technology and Modernization Fund, GSA (U.S. General Services Administration))
2. Panel Discussion
Naomi Aoki (Associate Professor, GraSPP, UTokyo), Sota Mizushima (Digital Agency), Raylene Yung