Studying at UTokyo translates into time well spent | Discover Our People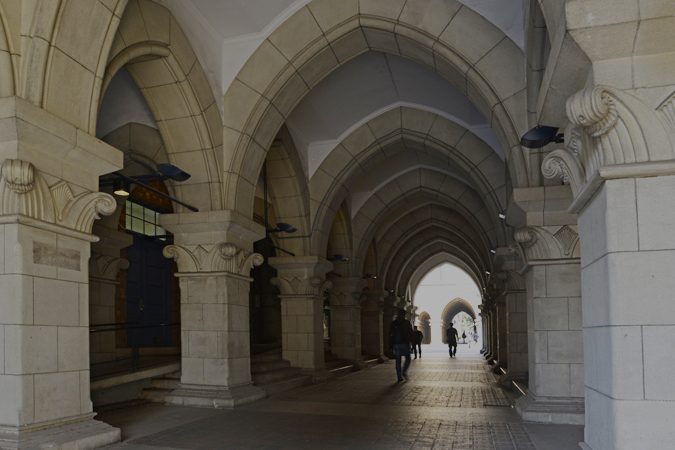 Into the world of translation
With a Master's degree in translation, work experience at a Japanese company and several published translations under her belt, Hui Piao knows a lot about the field of translation. She came to UTokyo with the intention of helping more people become proficient in this field by making improvements in translator training. But how did she get into translating Japanese in the first place?
Japanese: a straightforward choice
As a high school student, math and physics were two of my least favorite subjects. I would always get better grades in my language classes, Chinese and English. So, when the time came to apply for university, I wanted to major in something where I wouldn't have to take any math classes. The only major in my university of choice, Jilin University, that didn't require math was foreign language, so I chose that without hesitation! (laughs)
The course offered Japanese as well as a few other languages, including English, Korean, Russian and Spanish. Having been born and raised in China, and being ethnically Korean, I opted for Japanese because Japan is the only East Asian country with which I was not too familiar.
I studied Japanese starting from hiragana and katakana – the very basics. Kanji was also an important part of the curriculum; while Japanese kanji are similar to Chinese characters, some have divergent meanings or are written differently.
One of the first Japanese characters I learned was 愛 (ai; love), and it has become my favorite. We have a similar character in simplified Chinese, but it is written without the 心 (kokoro; heart) element. My professor once told the class, "Kokoro ga aru kara koso, ai ga aru" ("The character 'love' exists precisely because it has 'heart'").
For my second year, I studied abroad at Doshisha University in Kyoto. While there, I traveled to Tokyo, and happened to visit UTokyo's Hongo Campus. From the moment I passed through the Akamon Gate, I was impressed with the historic buildings throughout the campus, and the mixture of Eastern and Western architectural styles. The forested area and the pond were beautiful, too. I dreamed of studying at UTokyo someday – little did I know that just a few years later, my dream would come true!
Sharing the joy of translation
After graduating, I decided to specialize in Chinese-Japanese translation, so I went to Peking University to get my Master's degree. While studying there, I became interested in the process of learning how to translate. How do people learn translation, and what are the most effective methods of training future translators? I wanted to find the answers to these questions so that I could share the joy of translation with others. This would require further study, so I applied for and received a scholarship from MEXT to study in Japan.
The scholarship normally requires recipients to undergo a year of Japanese language instruction prior to their stay in Japan, but since I had already studied Japanese, I was able to waive that requirement. Instead, I spent a year working at a Chinese branch of a major Japanese company, in their marketing and supply chain management departments. It was a fun experience that gave me the opportunity to experience Japanese culture firsthand.
A surprising phone call at the office
During my year at the company, I was also working on my application to UTokyo. I had decided on UTokyo in part because it's the best university in Japan, and also due to my fond memories of visiting the Hongo Campus as an undergraduate.
UTokyo's Graduate School of Education has a laboratory that runs a translation-aid system and a translation teaching/learning platform. It sounded like a great fit for what I wanted to research. Keeping this laboratory in mind, I contacted the Graduate School directly to ask about admission requirements and procedures. Due to circumstances concerning the admission period stipulated by my scholarship, they advised me to first apply as a research student. I would then spend a year and a half as a research student before applying and officially being accepted to my doctoral degree program.
One day at work, my phone rang unexpectedly. The call was from Professor Kageura, the head of the laboratory in which I was interested. He told me that he wanted to interview me as one of the final steps of the admissions process. I was so excited! We had the interview that very night via video chat. A couple of months later, I found out that I had been accepted! Now it was time to get ready for Japan.
Soon after I left my company, I took a one-month orientation course on Japanese universities before coming to Japan, as required by my scholarship. I arrived in Japan on October 2nd, 2016, and I started classes just two days later.
A research-focused student life with strong staff support
Hui was able to settle seamlessly into life in Tokyo, thanks in part to the attentive staff at the Graduate School of Education. While she spends her days primarily on research, she also finds time to enjoy some of the simple and often overlooked aspects of everyday life in Japan.
Different campuses, different environments
As a research student, I spent my first year at UTokyo living in the Komaba International Lodge on the Komaba Campus. Even though my classes were about an hour away by train in Hongo, I loved living on that campus because of all the young and lively students there. Seeing students practicing for their club activities made Komaba feel like an ideal university campus.
From my second year, I moved to a private dormitory within walking distance of the Hongo Campus. The quieter atmosphere was completely different from that of Komaba, but I like it since it's so convenient to campus. Also, the environment on the Hongo Campus helps me to focus more on my research.
Thanks to the staff of the Graduate School of Education, I have had no problems at all getting used to Japan and taking care of all the documentation needed to live here. The International Student Support Room, in particular, is good at making us students from overseas feel at home. They organize get-togethers for international students in our Graduate School, where we can talk with professors and staff over food, and they also arrange trips for students. One year, we went on a day trip to Gunma Prefecture, and last year, we went to Ome in western Tokyo. The staff helps us with our research, too; they offer a service for proofreading English papers, which is useful for when you are going to present at international conferences. They also offer financial support for when you want to attend such conferences.
Appreciating everyday Japanese life
I love the traditional shitamachi areas of Tokyo, especially Monzen-nakacho. There is a great temple there called Fukagawa Fudou-dou which I take friends to when they're visiting. In my free time, I like going out to watch Japanese movies. These movies are particularly interesting to me because they offer a peek into the daily lives of Japanese people.
I also like how things in Japan are so detail-oriented. For example, the receipts at the UTokyo cafeterias list the calories of the foods you bought. When you're watching your diet, that's useful information to have!
I have gotten used to living in Tokyo, and I love it here. In fact, as of this year, Tokyo has become the second longest place I've ever lived, next to my hometown. So, every time I arrive at Haneda Airport, it almost feels like coming home!
Facilitating communication in translator training
Hui studies in the Laboratory of Library and Information Science at the Graduate School of Education under Professor Kyo Kageura. Her doctoral thesis is about creating a translation course curriculum for Master's degree students, and she is currently conducting experiments on "meta-language."
Making learning more efficient
Students in Professor Kageura's lab research a variety of topics, but we all share the common theme of exploring conditions, especially symbolic, upon which people can "think" in the first place. In my case, I want to see how people learn translation, and how this learning process can be improved by facilitating communication between the different parties involved in translation, such as teacher and student, student and student, and translator and client.
I am trying to construct a series of "meta-languages" for translation through which the process of translation can be explained and shared. My current experiment entails getting volunteers to translate English passages into Japanese, and then check their own translations using a categorized list of possible translation issues. The next phase of my experiment will be to have participants check each other's work using the predefined issue categories in order to gauge their effectiveness. The goal is to refine the "meta-language" such as these issue categories to the point where it can be used in a teaching translation curriculum to make learning more efficient.
Through my research and experience as a translator, I have realized that being able to just translate is not enough. Communication and cooperation skills are indispensable, and you also need to be able to explain your work to others.
I'm inspired by my lab-mates
Our lab meets about once every two weeks, and we also have small special interest groups that meet around once a month. Since there is such a wide variety of themes being researched in our lab, I find it mentally stimulating to hear about what my lab-mates are researching. They inspire me to not only work harder on my own research, but to also study topics I hadn't previously considered. I feel like the breadth of research themes makes this lab unique, and I am grateful to be a part of it.
Supporting the next generation of translators
After I graduate, I plan to return to China and become a translation professor at a Chinese university, implementing the curriculum I've been working on here at UTokyo. Many people in China want to take translation courses these days, so there is a high demand for professors specializing in the field. Learning how to translate can be a challenging process, and I want to help future students so they don't have to struggle as much as I did when studying translation.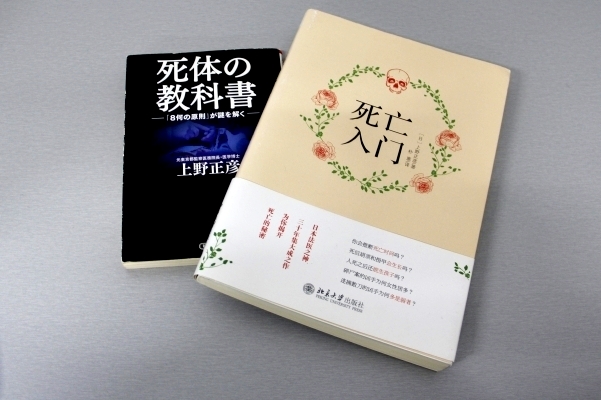 "A Textbook on Corpses"
Hui's first foray into the world of published literary translation
When Hui was a Master's degree student at Peking University, she translated Shitai no Kyokasho ("A Textbook on Corpses"), the Japanese book on the left, into Chinese (right). The book contains anecdotes from the life of author Masahiko Ueno, a former forensic scientist and medical examiner. While she has translated many other books since this one, she credits Shitai no Kyokasho with helping her discover the joy of translation and encouraging her to carry out research in the field of translation education.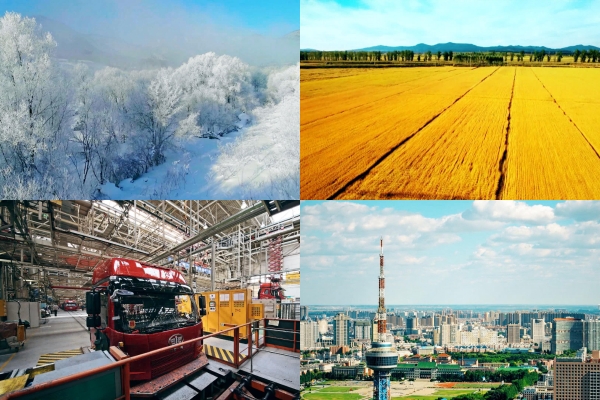 Jilin, China
A province known for its agriculture, industry and kind people
Hui's hometown is Changchun, the capital of Jilin Province. Jilin is in the northeast of China, bordering North Korea and Russia, so it's very cold – colder than Hokkaido, she says! It's famous throughout China for its high-quality, delicious corn and rice as well as domestic automobile production. Hui says that Jilin is also known for its people, who are very nice and down-to-earth.