FEATURES

Dipping chocolate in hot springs to soak up skills
UTokyo students become deeper thinkers via plant-based activities in subtropical Izu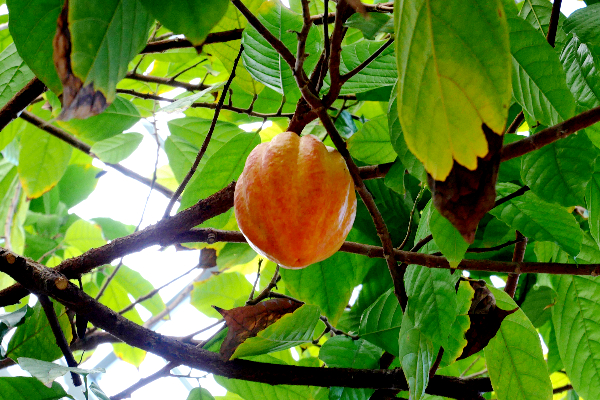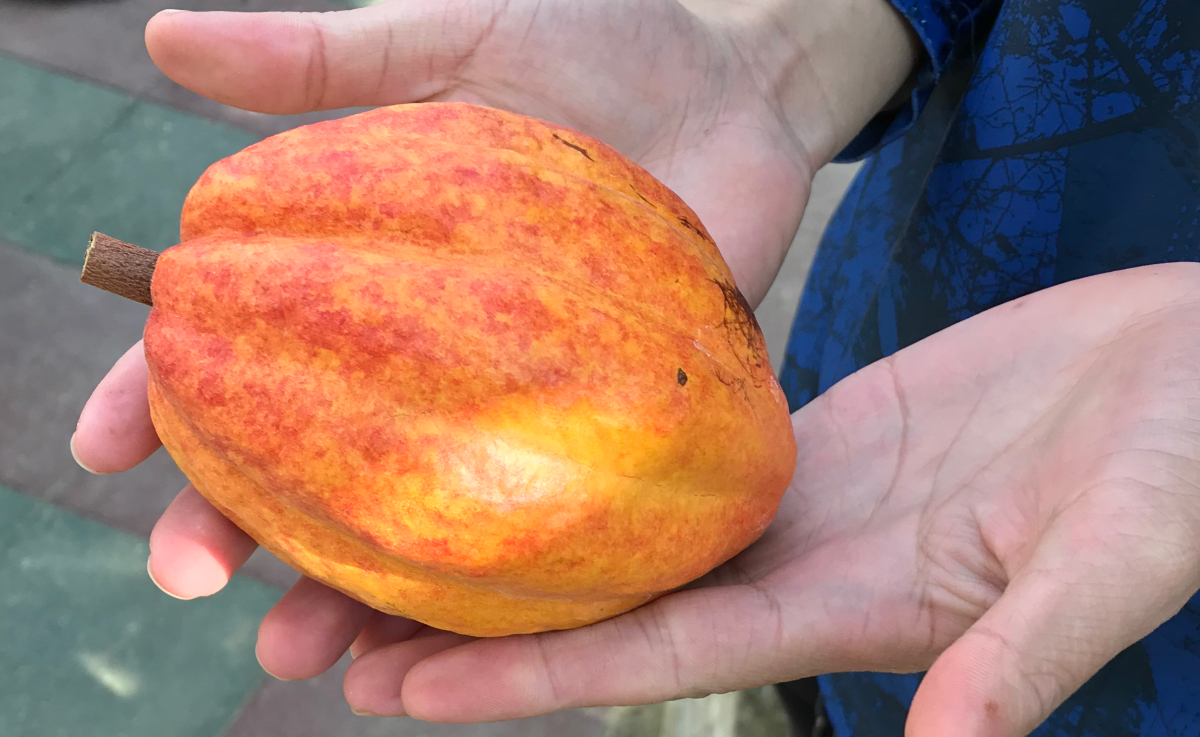 A cacao pod
What better way to spend a day than make chocolate with the power of hot springs?
Thirteen University of Tokyo students did just that as part of a program held at the Arboricultural Research Institute (ARI), a UTokyo organization affiliated with the Graduate School of Agricultural and Life Sciences and the Faculty of Agriculture.
Located in the hot-spring town of Minamiizu nestled between mountains and the sea on the southern tip of Shizuoka Prefecture's Izu Peninsula, the ARI was established in 1943 to study nonwood uses for trees growing in tropical and subtropical forests. A few years later, the ARI branched out into research on tropical plant cultivation with its first greenhouse, which operated on heat generated from the hot springs running below the town. Researchers grow several plant species in the current greenhouse, including cinnamon, vanilla and cacao. Today, the ARI has shifted half of its focus to education, 40 percent to research and the remaining 10 percent to community outreach.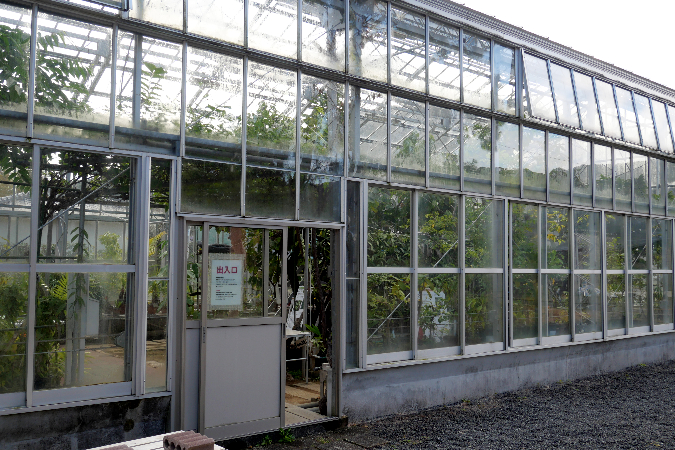 The budding chocolatiers were participating in the winter installment of the "Izu Seminar – Tropical Plant Program," a fieldwork seminar for first- and second-year UTokyo undergraduates that takes place at the ARI in winter and summer every year. In addition to chocolate-making, the five-day program saw the students experience a variety of tasks, from chopping wood and making bamboo charcoal to crafting kites and test-tasting miracle fruit.
The goal was for them to consider issues underlying ordinary activities and exchange opinions, which would in turn improve their critical thinking skills. "With this seminar, I want to give students opportunities to re-approach things they normally take for granted or otherwise don't think about," explained Associate Professor Shigehiro Kamoda, director of the ARI. Chocolate is an ideal medium for providing this opportunity: it's something familiar to us in everyday life, yet we generally give little thought to its background, such as how it's made or even where it comes from.
From bean to bar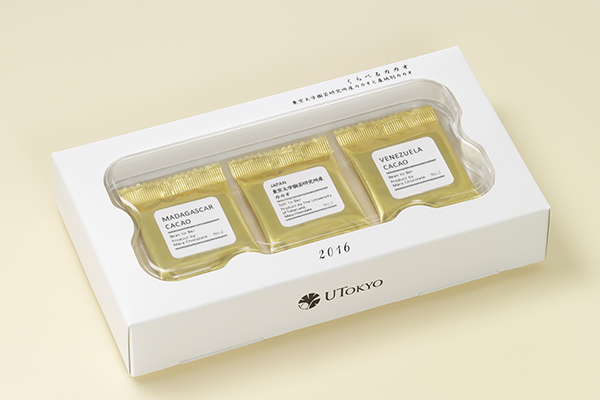 Gathered in the greenhouse on a cool February morning, the students listened as Minami Sasase, a representative from confectionery company Mary Chocolate, explained the chocolate-making process they would soon undertake. Mary Chocolate is an established partner with the ARI, having entered into a collaboration agreement in 2015. Since then, the company has sent employees down to the ARI multiple times a year to advise in chocolate-making activities for both UTokyo students and the local community. They have also conducted research using the cacao grown at the ARI's greenhouse, and even jointly created a limited-edition chocolate product, "Kuraberu Cacao" (Comparative Cacao), featuring chocolate from different parts of the world, with the University.
Sitting atop each of the students' tables was a bag of cacao beans along with various implements, including a gas burner, a skillet, a large grinding bowl (suribachi) and wooden grinding sticks (surikogi). The first step was to roast the beans in the skillet to bring out their flavor, and then peel off their hard shells. Once the beans had been shelled, students put them in the bowls and used the sticks to grind the beans into a paste known as cacao mass. Next, they put the cacao mass into small pans with some cacao butter and began the tempering process.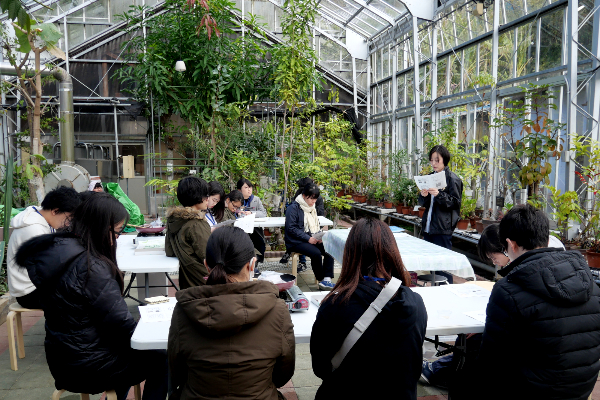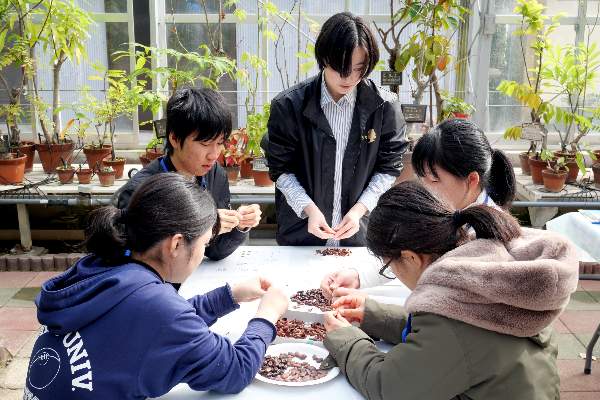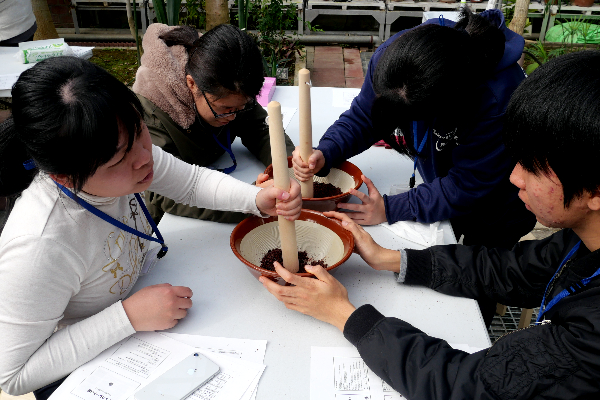 Tempering is the procedure through which the mixture is heated and cooled to crystallize the cacao butter, giving the resulting chocolate a smooth, uniform appearance and firm texture. In commercial chocolate production, this procedure is usually handled by a tempering machine; at the ARI, however, students heated the mixture with the hot springs powering the greenhouse.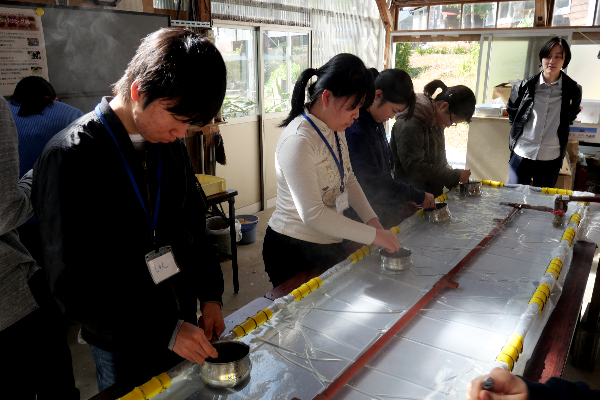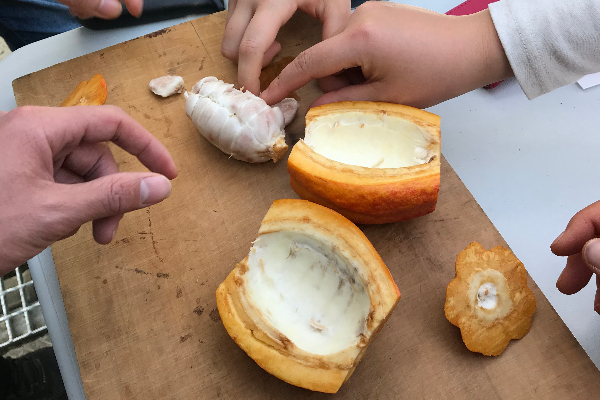 Hot-spring water was piped into a shallow plastic trough on a long table; students surrounded the table with their pans slightly submerged in the water, stirring their mixtures. Once the mixtures had blended, the students added powdered sugar and then powdered milk, repeating the process for five minutes. Next, to cool the mixtures, they sat the pans in a tray of ice water and stirred for 30 seconds. Finally, they gave their concoctions one more quick dip in the hot springs, stirring for five seconds to finish the process. The students poured the molten chocolate into their choice of colorful foil molds, and then it was off to the freezer for the chocolates to harden.
"I first learned about tempering at this seminar," said Riku Fujimoto, a first-year Natural Sciences II student. "It made me think of how when people 'make' chocolate for Valentine's Day, they often buy chocolate just to melt it down and reshape it, destroying all the work that went into tempering it in the first place. To me, it seems like a waste. It's important to understand what work goes into creating chocolate and not just consume it unaware."
Experiences to chew on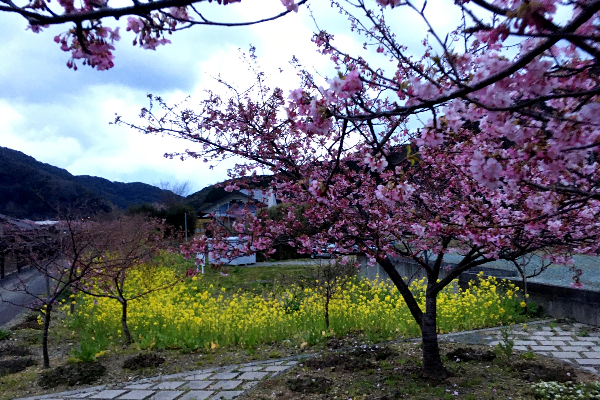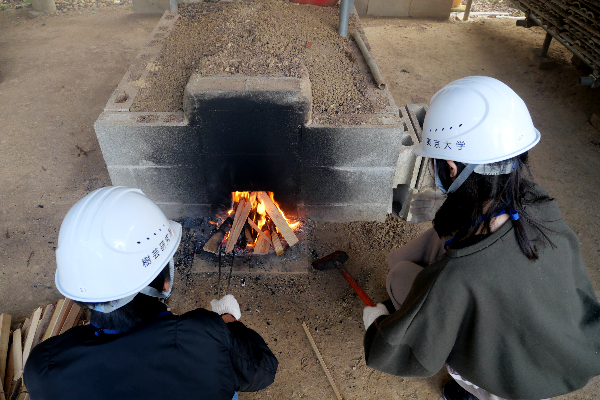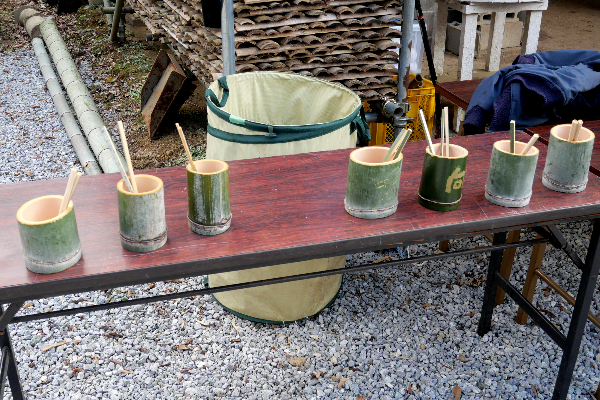 This was Day Three of the five-day program. ARI staff gave the students a tour of the local area on their first day, taking them to a field of the town's famed yellow nanohana (rapeseed) flowers, and to the Aono River to see the deep pink hues of the early-blooming Kawazu-zakura cherry blossom trees. Students dug up cassava plants grown in the ARI's greenhouse to make tapioca powder, which they would later use to make the traditional Japanese dessert sakura-mochi. On Day Two, the students went to the ARI's mountain workshop to see a bamboo forest, make bamboo charcoal, and carve chopsticks and cups out of bamboo stalks. Afterwards, they visited a local greenhouse where they tried miracle fruit, a kind of berry that makes sour foods taste sweet. Returning to the ARI to make bamboo kites, they later went on a night walk in the forest. While waiting for their chocolate to finish hardening on Day Three, the students went to nearby Yumigahama Beach to fly their kites, after which they made sakura-mochi, and roasted and ground coffee beans back at the greenhouse. In the following two days, they would chop firewood, prepare a barbecue using the charcoal they made, and brainstorm their own ideas for potential seminar activities, which they would present to all participants. Every night, they gathered in groups in the common area of their dormitory to discuss their thoughts on the day's events.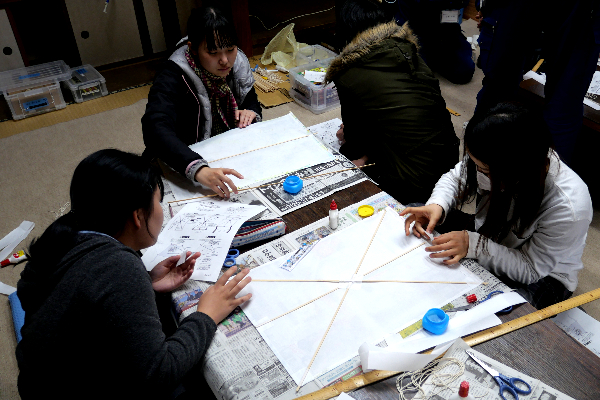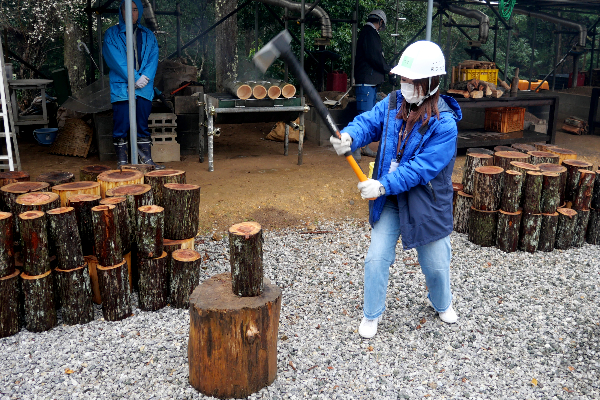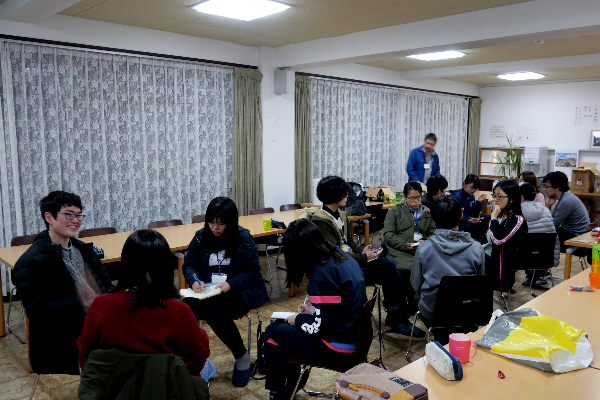 These activities all had a common purpose – providing students the opportunity to get up close and personal with plants that are taken for granted in everyday life or are otherwise unnoticed. Through making charcoal, kites and tableware, the students learned to appreciate different aspects of bamboo, a plant ubiquitous in Japanese cuisine and a familiar sight throughout Japan. They also experienced firsthand a taste of the manual labor that goes into making chocolate, tapioca and coffee. "In developed countries, we consume these things without a second thought, but this seminar makes us consider the work in developing countries that goes into making them," noted first-year Humanities and Social Sciences III student Haruha Takase.
As the chocolates came out of the freezer, some students bagged them up to gift to friends back home, while others tasted their creations. "Chocolate is usually smooth, but the chocolate I made had a gritty texture to it because the cacao hadn't completely melted," observed Mai Tsumune, a first-year Natural Sciences II student. Reflecting on experiences like this is a key aspect of the program; some students enjoy sharing their thoughts with others so much that they participate a second time. Fujimoto was one such student: "I came to this seminar last summer and enjoyed it, so I decided to come again," he said. "Meeting students from different backgrounds and hearing their experiences helps me to realize my own opinions and values as well. Basically, the students make this seminar."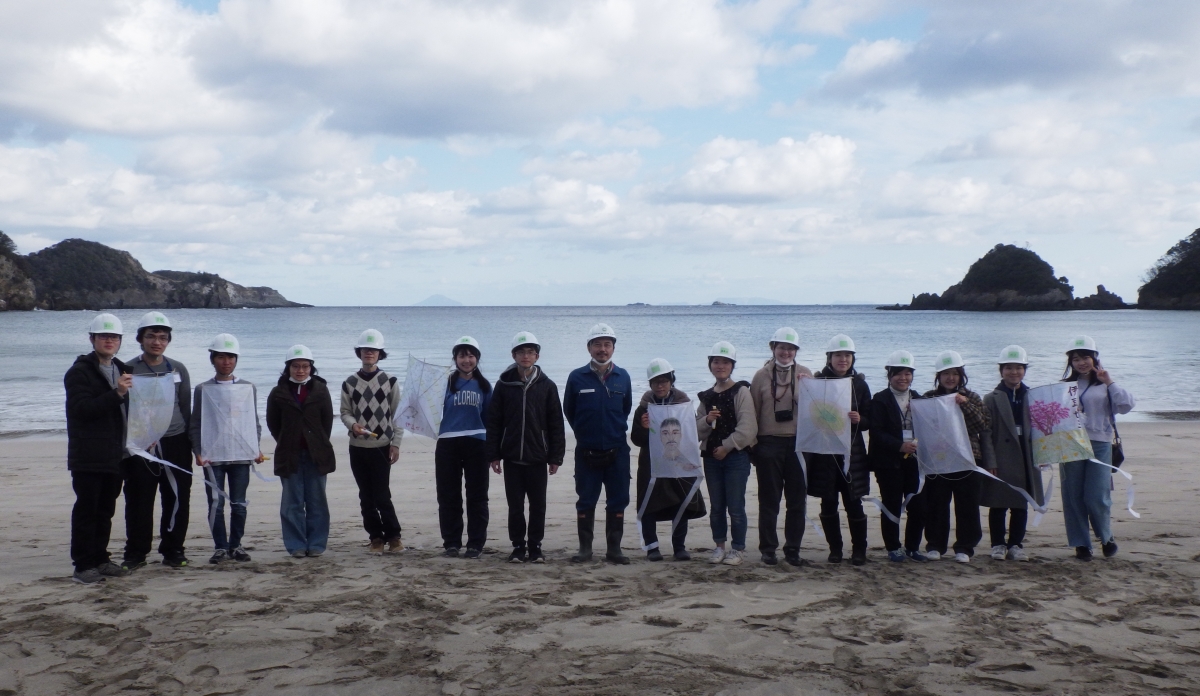 Participating students — and the two writers — hold kites and stand with Associate Professor Kamoda (center) at Yumigahama Beach.
Photo courtesy of the Arboricultural Research Institute
Gaining fresh perspectives through new experiences with fellow students – what a sweet and satisfying way to spend a week of university break.
Interview/text: Whitney Matthews, Yuko Ohkuma