FEATURES

Recognizing unconscious bias
| Diversity and UTokyo 03 | Professor Naoko Yoshie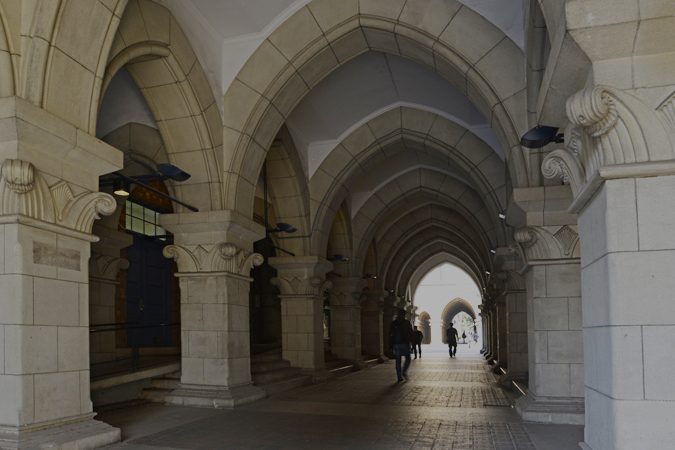 This series looks into diversity-related issues and initiatives at UTokyo, through interviews with faculty members. The university strives to create a place where people with diverse backgrounds can thrive.

When Professor Naoko Yoshie entered the Tokyo Institute of Technology in 1984, she was one of just 31 female students among the roughly 800 freshmen in her class . Even though the number of women was very small, she still remembers how the faculty back then touted having that many female students as an accomplishment. And looking back at the time when she was a young researcher building a career in the engineering field, where the share of women is especially small, Yoshie said the working environment for women has improved greatly since then.
The proportion of female researchers in Japan, however, is still very small, lagging behind the U.S. and European countries, said Yoshie, who has been serving as the director of the University of Tokyo's Office for Gender Equality since April 2020.
According to the Japanese government's White Paper on Gender Equality, as of March 31, 2020, the proportion of female researchers stood at 16.9%. Although the percentage has increased over the past decade, it is still low compared to that of Western countries, such as Spain's 40.8%, Britain's 38.6% and the United States' 33.7%, according to the comparative data used in the report. The situation is the same at UTokyo where increasing the number of female students and researchers, and achieving greater diversity on campus has been a big challenge.
As one of the reasons behind the underrepresentation of female researchers, Yoshie pointed out unconscious bias, which people form subconsciously over time. For example, Yoshie said some people may develop the notion that men are better at science than women if their junior high and high school science teachers were predominantly men. She also posed the question that if an opportunity arose to send a young researcher overseas, would people balk at dispatching a female candidate if she has a child, based on certain preconceptions about women in Japan? What if a male candidate also has a child, she asked.
There are many scientific reports on unconscious bias. Citing a study on an American orchestra whose percentage of female members rose significantly after adopting blind auditions to hire its members, Yoshie stressed the importance of recognizing bias that people don't realize they have, even her own.
"Although I'm speaking about this issue right now, it's important for me as well to doubt such bias within myself," she said.

Encouraging women
To promote gender equality and to encourage women to play active roles, UTokyo launched the Office for Gender Equality in April 2006. From encouraging female high school students to come to UTokyo and providing career support for young female researchers, to running programs to increase the number of female faculty, the office has engaged in various efforts to change the status quo on campus where women are a minority.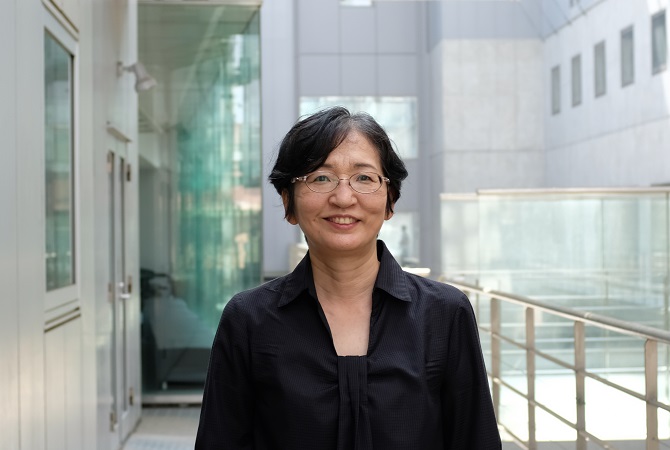 Among its initiatives is an admissions guidance fair for female high school students, which the office has been holding annually since 2006. The event held on the Hongo Campus has been very popular, with several hundred high school students attending each year. The turnout was even bigger in 2020, when the fair was held online due to the coronavirus pandemic, and more people could attend. Another activity is an annual networking event for female researchers, where this year's participants created a mailing list, providing an outlet for them to share their thoughts and concerns, Yoshie explained.
The gender equality office has also dealt with the shortage of nursery schools. When Yoshie joined UTokyo about 20 years ago, there were very few child care facilities around the university's campuses. It was extremely difficult to secure a slot in the facilities and some of her colleagues were in despair unable to find a place to enroll their children, she recalled. But the situation has improved considerably with the creation of child care facilities on the campuses, including four day care centers open to children of all UTokyo faculty, staff and students, and one run by a private company on the Hongo Campus.
While different departments have held social gatherings for female students, the office is planning to set up a unit devoted to nurturing the next generation of students, within the current academic year ending in March 2022. And through the unit, it is considering to provide support to build a network of female students and also hold events to raise awareness about the importance of diversity to students of all genders.
"The ultimate role of the Office for Gender Equality is to create an environment where everyone is respected, treated fairly and given opportunities. As part of this process, I believe it is important now to support and encourage women," Yoshie said. "Aside from providing direct support for women, we must work to create a supportive atmosphere to achieve that. "
Signs of change
Yoshie has also noticed the changing attitudes among students toward a gender-based division of labor, such as that founded on a "men-at-work, women-at-home" mindset. When she assigned second-year undergraduates to prepare a meal in lieu of running an experiment in the lab — which they couldn't do amid the pandemic — to learn about the importance of planning in an experiment, she was pleasantly surprised by the results. Her students prepared decent meals, like well-balanced meal sets, chanpon noodles packed with various ingredients and autumn dish kuri-gohan (chestnut rice) that involves the difficult task of peeling chestnuts, exceeding her expectations. She also found out that some of the male students regularly took turns cooking at home for their family.
Yoshie's son, who is now a university student, also belongs to the changing young generation. For roughly five years, from the time he entered junior high school up until he got busy preparing for university entrance exams in high school, he made and packed the lunch boxes for himself and his parents. Noting that some student clubs in UTokyo are working on issues like gender and sexual minorities, Yoshie said she would like to encourage such activities.
Diversity is crucial for research, Yoshie said. Explaining that there are many engineering professors in the building where her lab is located at the Institute of Industrial Science, she has opportunities to talk with experts from different research areas. "When I talk with various people, new ideas pop into my head. Although this refers to diversity in academic fields, it is also important for a person to be among people with different backgrounds," she said.
"The university is a place of learning, and the University of Tokyo in particular is a place of research. And when it comes to research, originality is the most important element," she explained. "Originality is created through the constructive clash of people with different views and backgrounds. In that sense, I believe having diversity is crucial."