Facing a Record Losing Streak, the Indomitable Spirit of the 67th Cheer Squad Leader Never Wavers
Takahiro Esaki
Fourth-year undergraduate student, Faculty of Letters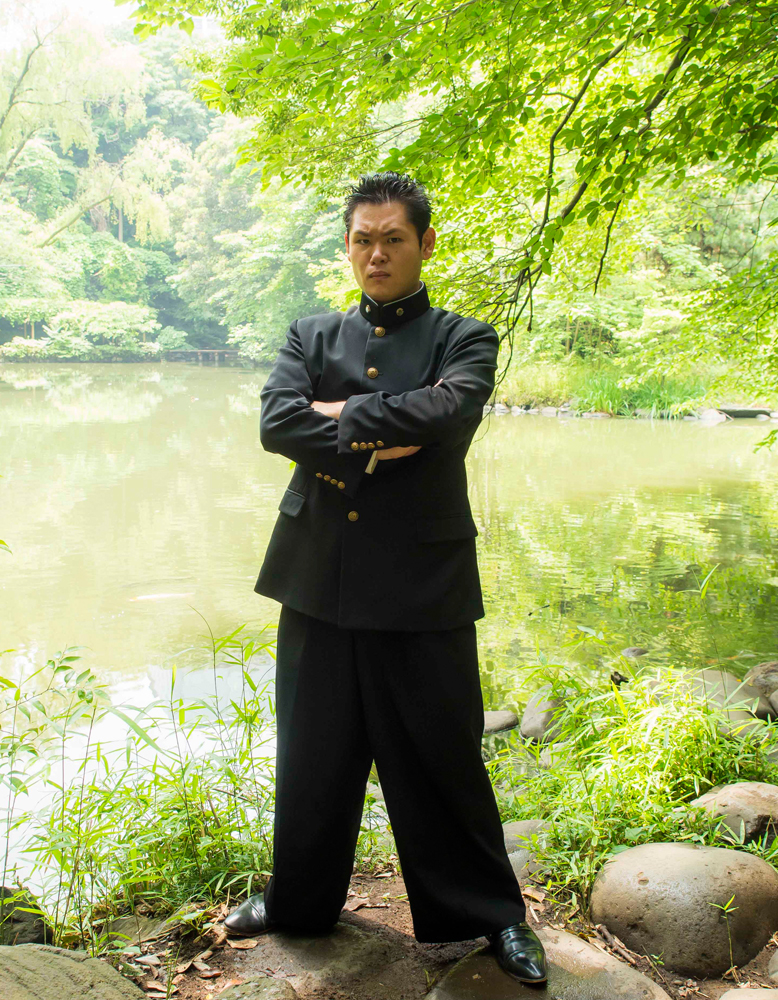 "I usually wear a formal Japanese school uniform whenever I'm out in public. Going by tradition, UTokyo Cheer Squad members don't wear informal uniforms like choran (long-version school uniforms)."
In June 2014, one of the University of Tokyo Athletic Foundation's sports clubs was featured prominently in The New York Times. The article of approximately 1,777 words and 8,529 letters is about the Baseball Club, which continues to update its losing streak record, and about the Cheer Squad that continues to root for the team regardless of its severe lack of wins. Titled The Ultimate Underdog, the article features Takahiro Esaki, who is the 67th leader of this Cheer Squad.
"Naturally, we do tend to feel down when we keep losing, but we never express this feeling openly. The ones who are suffering the most are the members of the baseball team, after all. Our duty is to change everyone's mood by shouting at the top of our lungs while suppressing our frustration."
When he was a high school student, Takahiro did not participate in any club activities. (In Japan, such people are said to be members of kitaku-bu, or "the going home club.") Therefore, when he entered the University, he was determined to join an athletic club. First, in addition to the Cheer Squad, he also participated in some practices of the Rowing Club. In the Rowing Club's practices, he felt that he gained solid results since he was training his body for clearly defined goals. In contrast, with the Cheer Squad, he says that he could not quite understand the meaning of what he was having to do during practice. However, participating in the spring round of the Tokyo Big6 Baseball League's games to cheer on the University's baseball team made him resolve to devote himself solely to the Cheer Squad.
"It made me feel good when the audience responded to my cues. The more this kept happening, the more my adrenaline got flowing. After the game, I was physically and mentally drained, but at the same time had a solid sense that I had exceeded the limits of my former self."
Takahiro and his fellow squad members would sometimes collapse from the hard training they had to endure. As he had problems with his lower back, he was often troubled with pain and a sense of powerlessness. To overcome his inferiority complex about the low volume of his voice, Takahiro shouted so hard that he injured his throat, causing it to bleed. Sometimes his classmates would jokingly say to him, "You sure practice hard." He carried on, though, because he thought he would be a loser if he quit.
"We strive for victory above everything else. The Cheer Squad exists solely to achieve victories. This aspiration is represented by the Cheer Squad's 67th slogan, "Victories Ahead." The lyrics to Oh, Jade Cup, the dormitory song of the First Higher School of Japan, were the inspiration for this slogan."
Those who keep their heads up and continue to fight even when they lose may be underdogs, but they are by no means failures. Nevertheless, this leader hangs his tail between his legs in shame because he has not yet succeeded at bringing about any wins. In the Cheer Squad's long history, there have been no leaders who retired without experiencing at least a single win during their four-year term. The Tokyo Big6 Baseball League's autumn season started on September 13th, and these underdogs have resumed their quest for victory. As the abovementioned dormitory song goes: "Why don't you take down the enemy that's in your way?"
Q&A Extras
What kind of leader do you aspire to be?
"I want to be a leader whom all members can rely on."
---
What is an exercise particular to the Cheer Squad?
"The clapping exercise we do (for arm muscle strengthening), I guess."
---
How have you changed since you came to UTokyo?
"I lost 15 kilograms."
---
What is one thing you always keep on your mind?
"The awareness that I represent UTokyo students as the leader of the Cheer Squad."
---
What does being "tough" mean to you?
"It means facing difficulties and overcoming them while interacting with others."

Takahiro

before UTokyo

Picture of Takahiro when he was a high school student (a copy of the original photo, taken using his smartphone)