Leaving Her Country's Prestigious University to Come to UTokyo from Poland
Anna Woźny
Second-year undergraduate student, International Program on Japan in East Asia, PEAK (Programs in English at Komaba)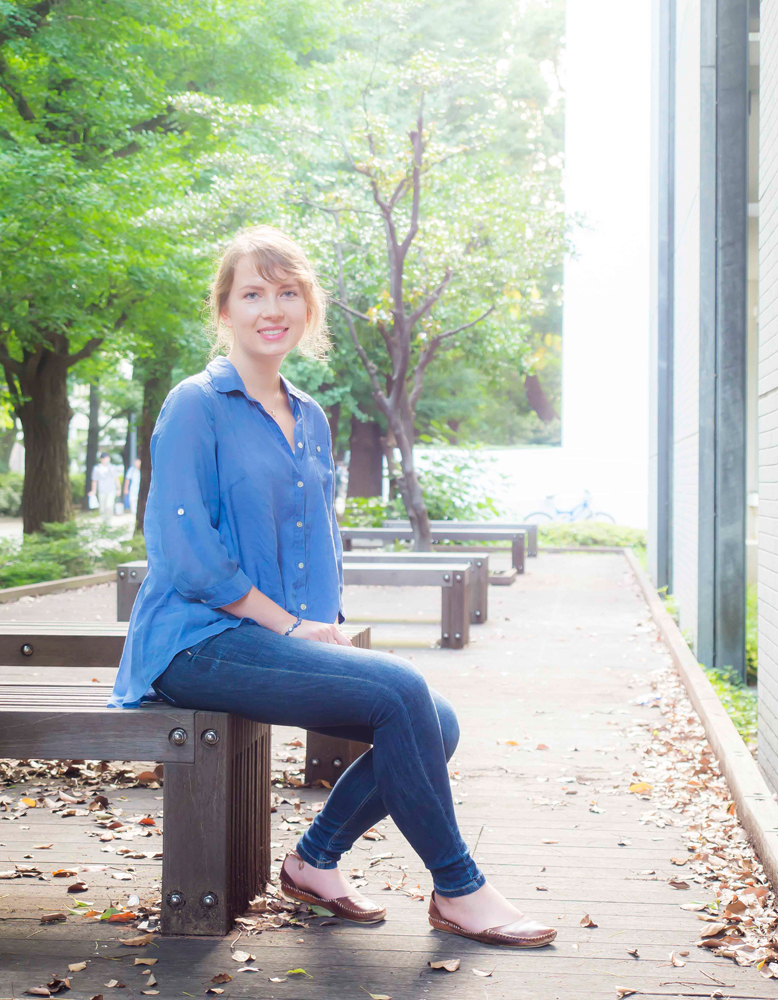 In the ancient capital of Krakow situated in southern Poland, there is a cultural facility called the Manggha Museum of Japanese Art and Technology, which is also known simply as the "Manggha Museum." This Museum introduces and promotes elements of Japanese culture to people in Poland, and boasts an impressive collection of ukiyo-e woodblock prints and paintings. Anna, who is currently studying at PEAK, has long been interested in ukiyo-e and other Japanese traditions, including tea ceremonies, kimono dressing techniques, and calligraphy. She has also grown up reading Japanese literature by such authors as Soseki Natsume, Yukio Mishima and Haruki Murakami. Her journey to becoming a UTokyo student began when she volunteered at an international conference about Asian cultures, which was held at the Manggha Museum..
"I first heard about a seminar on PEAK from a UTokyo professor who was one of the conference organizers. He gave a speech introducing the program. I was convinced to apply for PEAK when I went to the seminar a few days later and heard about the program at the conference, which convinced me to apply for it. I was a second-year student at my university in Poland at the time, but I decided to leave and start all over again at UTokyo. "
Until that point, Anna had been studying Japanese language and culture at Jagiellonian University, one of Poland's top universities. Founded in 1364, it counts the famous Nicolaus Copernicus among its alumni. Its traditions and long history easily surpass the University of Tokyo's. So wasn't leaving such a storied institution a little bit of a waste?
"I didn't hesitate at all when leaving, because I knew that coming to Japan would be the best way for me to learn more about the country, its language and culture. Besides, since I had already studied about Japan before when I was in Poland, I was able to get by without experiencing much culture shock. "
Nevertheless, once she actually came to the University, Anna was somewhat surprised by the large amounts of homework and small numbers of fellow female students. However, by taking classes in fields that had been unfamiliar to her in her home country, she soon discovered that she had an interest in sociology.
"I am particularly interested in how the structures of families are changing with globalization. I want to go to graduate school in the future and continue to study sociology, and I am thinking of becoming a researcher in an English-speaking country."
Anna has enjoyed international experiences to the fullest here at UTokyo. She went to Venice, Italy through the Hands-on Activity Programs*, participated in a joint program with professors from MIT (Massachusetts Institute of Technology; United States), and will go to the University of Michigan (United States) through the AIKOM (Abroad in Komaba) program next semester. I won't go as far as asking her to make a Copernican Revolution, but instead of changing trajectory, orbiting around the Land of Manga as a researcher wouldn't be such a bad idea!
*Refer to the article "Student Discussion with One of UTokyo's Vice Presidents" for more information.
Q&A Extras
What are classes at PEAK like?
"A lot of them are interactive."
---
What's your favorite "Haruki" (Haruki Murakami) work?
"Norwegian Wood. I read it in Polish."
---
What kinds of extracurricular activities have you tried out?
"Flamenco dancing, horseback riding, and SCUBA diving, to name a few."
---
What's your impression of Japanese UTokyo students?
"They're shy at first, but reliable once you get to know them."
---
What does it mean to be "tough"?
"I think just passing the entrance examination and getting into UTokyo means that you're tough."

Anna

before UTokyo

Taken during a trip to Portugal with her friend when she was a student at Jagiellonian University.