Former Company Worker, Editor and Mother: a Cultural Anthropologist Who Wears Many Hats
Tomoko Niwa
Fourth-year Doctoral degree student, Graduate School of Arts and Sciences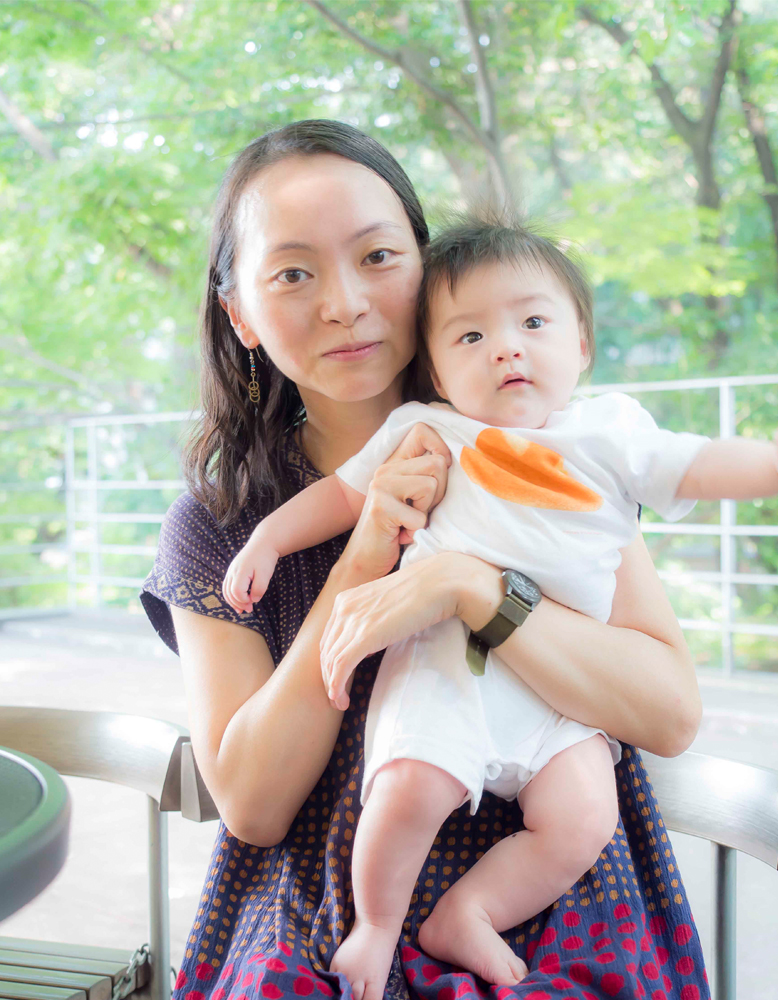 "After beginning my research in cultural anthropology, I gained the ability to view things through the eyes of an observer, and for that I am grateful," she says.
Nestled in China's Loess Plateau are people who reside in earth dwellings known as yaodong. During the Chinese New Year's holidays, they decorate their shoji screen-covered windows with paper cutouts called chuāng huā. Chuāng huā (literally meaning "window flower") is a form of folk art that is deeply rooted in agricultural village life, and which Tomoko has spent many years researching.
"Women use scissors to cut out paper shapes that represent their wishes for bountiful harvests, peace within one's family, and other such requests. Chuāng huā shaped like tigers are believed to ward off evil for children, while pomegranates symbolize one's wish to have many children. Some of them also function as picture diaries which depict daily happenings in the women's lives. For women who aren't literate, scissors are a more familiar tool for expressing one's feelings than writing brushes. "
Tomoko graduated from Keio University, after which she started working at an interior design company. Her days there were spent in charge of purchasing Chinese antique furniture and as a store manager, and the work was fulfilling to her. However, once she was transferred to her company's management department, she decided to leave for a different kind of department—UTokyo's Department of Cultural Anthropology.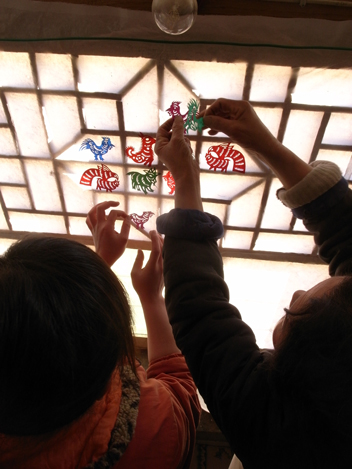 Chuāng huā are delicate, yet tenacious paper "flowers" that "bloom" on windows.
"By conducting fieldwork directly on the cultures and lifestyles that produce folk art in China, I wanted to experience the work I had done in my former profession from a different point of view. I chose to study kirigami (cut-paper) art for my research theme. Unlike the products I dealt with at my company, the kirigami art that women in China's agricultural villages create have no significant monetary value. However, they are the source of what is considered folk art today."
This February, Tomoko welcomed the long-awaited birth of their first child, a boy. With her new child came the birth of a new world of research opportunities for Tomoko.
"Children's lives are fragile. Having a child of my own made me understand how much heartfelt emotion the mothers put into their chuāng huā in Chinese agricultural villages without proper medical facilities. So, after giving birth, I decided to participate in relief efforts for mothers with small children who live in Fukushima."
People receive inspiration precisely because they test the waters of many new frontiers, and Tomoko's activities are truly exemplary of this concept. To expand her field of possible sources for inspiration and to share the joy of research in cultural anthropology with a wider group of people, she collaborated with a craftsperson to hold an exhibition of her fieldwork on chuāng huā, and she planned and edited a book that was jointly published in both Japanese and Chinese. Currently, she is taking part in preparations to establish FENICS, an interdisciplinary NPO network for researchers and fieldworkers. Tomoko dove headfirst into the fascinating world of academics. Watched intently by the innocent eyes of her son beside her, this mother darts around from project to project in her quest to link these academics with the outside world.
Q&A Extras
What is one aspect of your research that you focus on in particular?
"Sharing the results of my research with the people who I research."
---
What makes you glad you decided to go into cultural anthropology?
"The fact that I can observe issues I am experiencing personally through a universal lens."
---
Who influenced you?
"Professor Tadashi Yanai, who encouraged me to create videos, displays and other media for my cultural anthropology research."
---
What do you want to tell UTokyo?
"Make it easier for people in sole proprietorships to use University nurseries!"
---
What does being "tough" mean to you?
"Possessing the core flexibility to draw people towards you with whom you want to be involved."

Tomoko

before UTokyo

Picture taken at her farewell party when she left her company.