Mastering the "Double Dutch" Ropes of a Childhood Game to Jump to the World's "#1" Position
Seiji Fujimoto
First-year Master's degree student, Graduate School of Science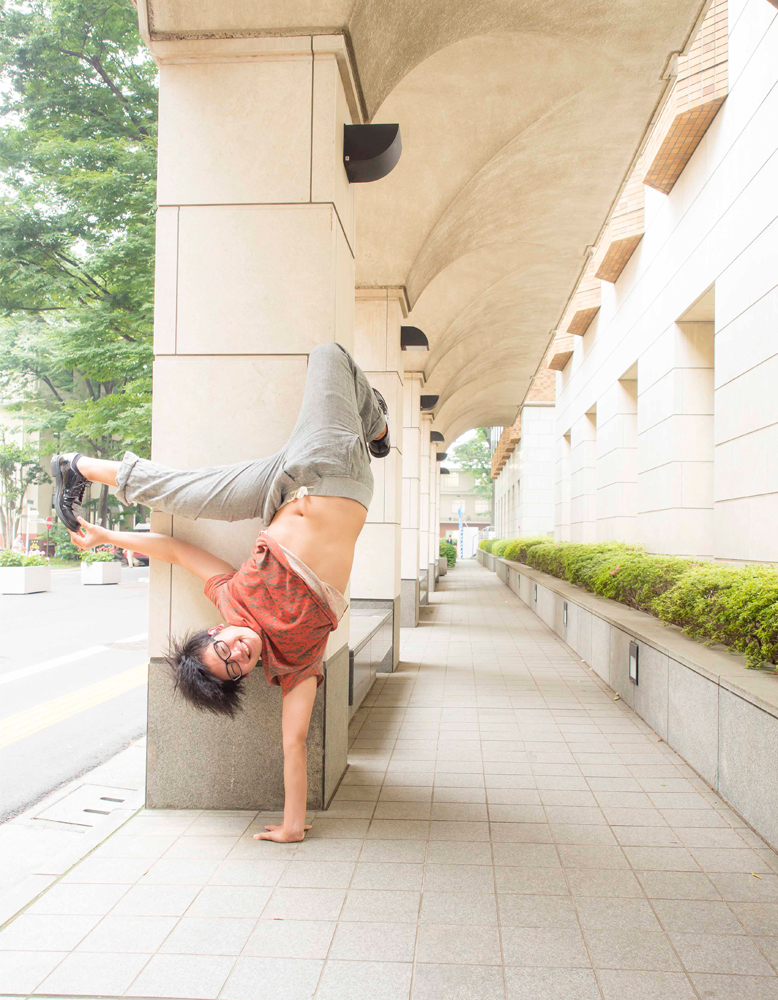 Seiji shows off his one-handed handstand technique that he perfected while practicing double Dutch. "Sorry, it's been a while since the contest so my body is a bit out of shape," he says.
In the world of the rope-skipping sport called "double Dutch," there are two major international tournaments held every year. At one of these, Double Dutch Contest World 2014, Age-Sage (pronounced ah-geh-sah-geh), the all-UTokyo student team led by Seiji, were crowned the world's "best." Although they were defeated by professional teams in the championship rounds, which were done in a battle format, Age-Sage received the highest score from the judges for their performance, earning them the BEST OF SHOW title. Amidst the many teams focusing chiefly on perfecting their skills, Age-Sage won over all of the spectators with their performance program brimming with pure entertainment.
"Our performance theme was 'youth,' so we all wore student uniforms. For our opening act, we gave the oath of fair play that athletes state before games. We based our performance on Field Day events held at elementary and junior high schools, while also incorporating elements from the Olympics. Our '#1 Team in the World' title really should have an asterisk attached to it since we didn't win the championship, but the wonderful truth of the matter is that we received the most support out of all the teams, so we're #1 in the eyes of the public!"
Against the backdrop of the colorful satin outfits worn by many of the other teams, the blackness of Age-Sage's school uniforms was profoundly striking. To spice up their act, they added material from the Olympics since the contest was held in Tokyo. Their performance seemed to emanate pure energy, as they had especially designed their program to captivate the hearts of their audience. For Seiji, double Dutch is a form of communication, and his team's performance is a conversation with the audience. To liven up this conversation, a sense of playfulness is key.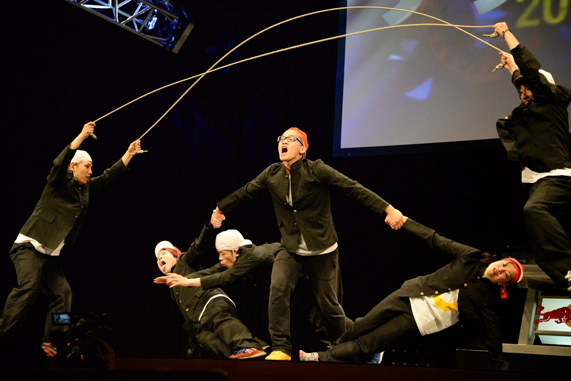 Age-Sage's performance at the contest. Seiji's (center) expression shows nothing but pure determination.
"There's nothing bad about stoically training to improve your skills, but I decided that I wanted to become the best at having fun. This may be the wrong way to go about things, but if I master this 'wrong way,' I'll be able to make something original. Besides, playfulness often widens one's scope of creativity!"
Looking back, Seiji notes that the things he experienced outside of practicing double Dutch are precisely what helped him learn more about double Dutch. He wants to bring that same sensation of learning into his beginning graduate school life. Seiji's major is Astronomy. Chasing after the mysteries of outer space has been his desire ever since he peered through a telescope while a member of his high school's Natural Science Club.
"I think I can use what I learned from practicing double Dutch in my research. I'm at the point now where I'm still trying to fortify my understanding of the fundamentals of my field, but I'll learn conventional methods used in astronomy and set out to find my own approaches without limiting myself, just as I did with double Dutch. When you get down to it, jumping rope and researching are essentially the same."
Seiji created a unique double Dutch program that only he and his teammates can perform. Perhaps for his next project, he will combine his hobby and field of study to nimbly leap through the depths of space in an "Entertainment Astronomy" performance!
Q&A Extras
What does "Age-Sage" mean?
"It's the name of a certain video website."
---
Besides double Dutch, what other activities have you done that have left a major impression on you?
"Things like backpacking, work camp, and interning, I guess."
---
Favorite manga?
"Twin Spica, Space Brothers and Yotsuba&!."
---
What's the name of the Master's thesis you're currently writing?
"'Discovering Statistical Properties of Dark SMGs via Supersensitive ALMA Observation'."
---
What does being "tough" mean to you?
"Having the ability to perceive a wide range of human values."

Seiji

before UTokyo

"I was skinny back then," he laughs as he shares this picture of when he was a third-year high school student.