Once in a blue muon
The NEWCUT lab near Tokyo opens, housing the world's largest directional muon instrument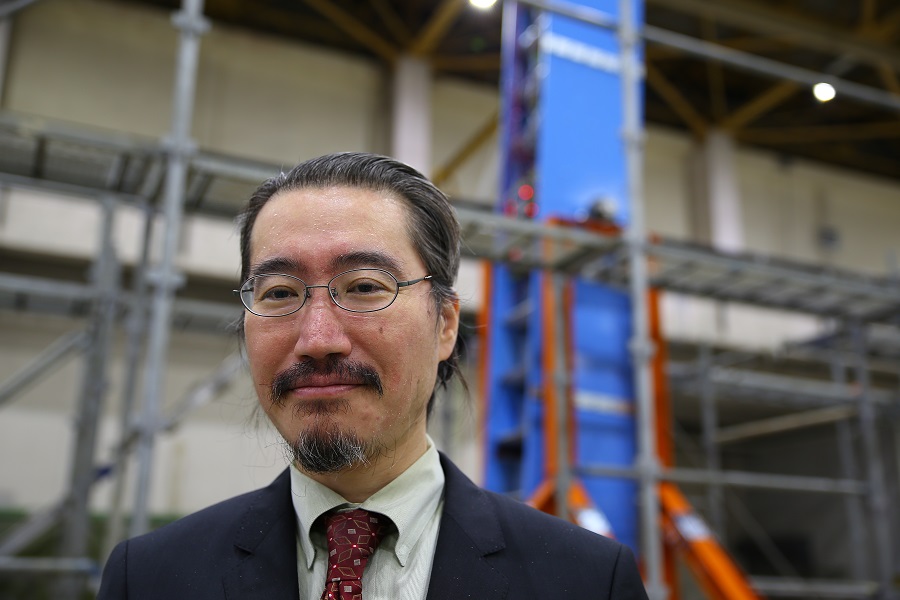 A new research center will investigate the emerging field of muography – a way to see inside large dense structures like volcanoes with highly energetic short-lived cosmic particles called muons. The NEWCUT laboratory officially opened on November 29, 2018, with a ribbon cutting and the first public view of the largest vertically rotatable directional muon spectrometer, in Abiko, Chiba Prefecture, about 35 kilometers northeast of Tokyo.
NEWCUT is a continuing collaboration between MUOGRAPHIX at the University of Tokyo, information and communication technology giant NEC Corp., the Central Research Institute of Electric Power Industry (CRIEPI) and the Wigner Research Centre for Physics at the Hungarian Academy of Sciences. The aim of the lab is to create world-standard data for muographers around the globe to aid them in a range of muography applications.
The opening formed part of the MUOGRAPHERS 2018 conference. UTokyo Professor Hiroyuki Tanaka formally introduced the laboratory, and the Hungarian ambassador to Japan, Norbert Palanovics, cut the ribbon. Dezso Varga from the Wigner Research Centre, Hiroshi Suenaga from CRIEPI and Shin-ichi Miyamoto from NEC also gave opening remarks.
"This laboratory represents a number of world firsts. This is the first dedicated muography lab, housing the first large-scale directional muon spectrometer," remarked Tanaka. "And it marks the first joint scientific effort between Hungary and Japan. Hungary has a rich scientific history, which makes this venture both significant and exciting."
Muography is a relatively new field. Like X-ray imaging, it is a process to create projection images revealing the insides of things. X-ray imaging uses radiation to form an image on a sensor or film. Muographic images are made with muons, energetic subatomic particles created by cosmic rays in the atmosphere, which pass easily through the Earth. But in both cases the rays or particles are impeded more by denser material and pass more easily through less dense material. In this way spatial information about a sample can be visualized.
"X-rays revolutionized medicine and are useful in other areas. Muography will revolutionize geological research, archaeology and structural engineering," continued Tanaka. "Muography will enhance our understanding of volcanoes and could even be used to weigh the pyramids."
Another interesting application of muography is how it could reveal details of massive underground cave structures. This is one reason why it's of interest to Hungarian researchers as there are vast cave networks, many uncharted, beneath the landscape there.
Related links
Related Faculty Members