Response
Medical Support for Affected Areas: Over the months since the March 11 earthquake, the University of Tokyo Hospital has been giving medical support to affected areas.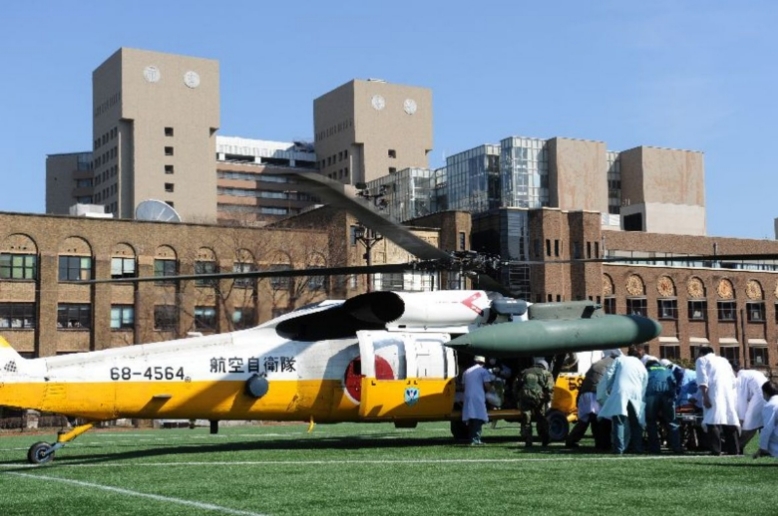 Patients being transferred to the hospital by helicopter (Gotenshita Ground, Hongo Campus on March 18)
On the day of the earthquake, the University dispatched a disaster medical assistance team (DMAT) to Miyagi Prefecture to provide medical services at locations including the Sendai Medical Center and at the Kasuminome base of the Japan Ground Self-Defense Force.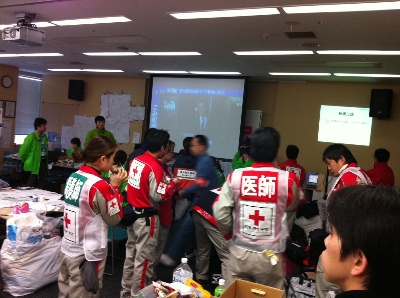 Dispatch of a medical support team.
On Thursday, March 17, upon a request from Tohoku University, the hospital also began dispatching medical support teams composed of doctors, nurses, pharmacists and clerks. The initial destination of the teams was the Japanese Red Cross Ishinomaki Hospital in Miyagi Prefecture, but they were subsequently sent also to the Shizugawa district of the town of Minamisanriku in response to increasing medical needs at the first-aid center. On Wednesday, March 30, because it was clear the center would need to offer medical support services for a long period, a relay system was adopted among three medical support teams, one each from the University of Tokyo, Chiba University, and Nagoya University. Subsequently on Wednesday, May 14, five medical support teams, one each from the University of Tokyo, Tokyo Medical and Dental University, Chiba University, Yamanashi University, and Gunma University were dispatched to Kesennuma City, Miyagi Prefecture.
In addition to these activities, the Departments of Neuropsychiatry, Pediatrics, and Obstetrics and Gynecology also provided medical services in the affected areas until Wednesday, June 15, dispatching a total of 138 departmental members, including 79 doctors, 20 nurses, nine pharmacists and 30 clerks. (The Department of Neuropsychiatry is still providing support.)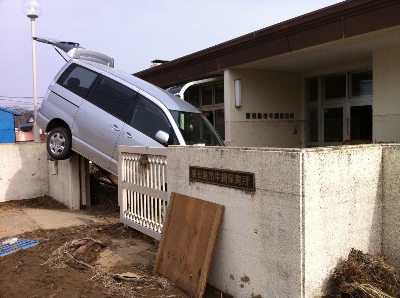 The aftermath of the disaster in Higashimatsushima City
On Wednesday, March 16, the hospital accepted 12 dialysis patients from Fukushima Medical University and on Friday, March 18 took in another four patients on artificial respiration from Miyagi National Hospital and Fukushima Medical University. The hospital thus accepted a total of 16 patients from the affected areas, who were transferred in by microbus or Self-Defense Force helicopter.
We would like to thank everyone who helped us send the medical teams to the affected areas and express our heartfelt sympathies to all the victims of the disaster.
(Labor Safety and Health Management Office, University of Tokyo Hospital)