Recovery
Creating Earthquake-Resistant Buildings
When we examine how the academic world can contribute to preventing disasters, we first of all think about seismic engineering for buildings. We are continuing to make progress in this field to help protect people's lives.
Mikio Koshihara
Associate Professor, Institute of Industrial Science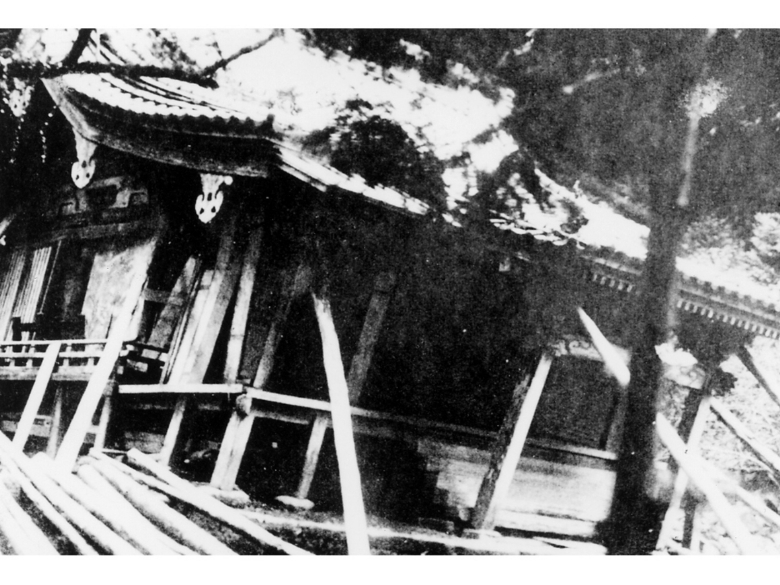 Traditional wooden buildings are constructed based to some extent on seismic engineering ideas, but some of the designs that are believed to be earthquake-resistant are not actually so.
Whenever a large earthquake occurs, causing great damage to buildings, people begin to pay more attention to the seismic resistance of buildings. At present, however, there are a variety of buildings that have different problems related to seismic resistance.
Seismic resistance of wooden buildings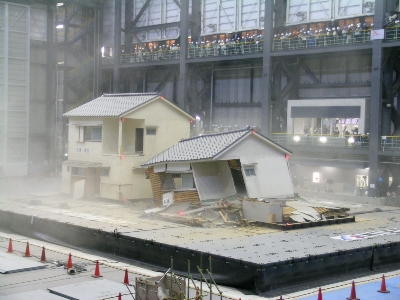 A wooden house on which seismic reinforcement work was done (left) and a wooden house without any reinforcement (right) photographed after being shaken violently in a large earthquake. The reinforced house did not collapse, and will protect the lives of its occupants.
In Japan, wooden buildings have been used for many years, and people often say, "Traditional wooden structures, such as temples, are very resistant to earthquakes. They bend like willow to avoid building up stress." We have actually seen wooden buildings swaying a lot in large earthquakes. They are flexible like willow, and are in fact resistant to earthquakes to some extent. Unfortunately, however, in huge earthquakes such as the Great Kanto Earthquake and the Great Hanshin-Awaji Earthquake, wooden buildings designed and constructed using traditional Japanese construction methods also collapsed. Traditional wooden buildings have been evaluated based on seismic engineering, and this revealed that although traditional construction methods are in part based on seismic engineering, many aspects are not.
Detached wooden houses in Japan have also been constructed based on the same traditional construction methods. Since the Edo period, many houses have been constructed with the focus on construction efficiency. These houses are resistant to earthquakes because they have earthquake-resistant walls designed based on structural engineering. The seismic resistance of these houses is ensured by meeting the requirement for their "wall quantity," which is calculated based on the specifications and length of the walls. The required wall quantity has been recalculated and increased after the occurrence of each large earthquake. The seismic resistance of older wooden houses is therefore lower, not only because they are aging, but also largely because they were built according to older criteria for the wall quantity. The current requirements for wall quantity proved to be enough in the Great Hanshin-Awaji Earthquake in 1995 and so wooden houses that meet the current criteria have high seismic performance. For existing wooden houses built in line with the old criteria, we carry out a diagnosis to check their seismic performance and perform reinforcement work if the performance is diagnosed as low. Seismic reinforcement methods have already been established for these existing wooden houses and reinforcement work has proven effective in shaking table tests conducted using full-scale models. The seismic resistance of wooden houses can be enhanced simply but sufficiently by increasing the wall quantity or strength without adopting any special engineering methods: the performance can be improved through reinforcing them using braces and nailed plywood or by reinforcing joints with metal components.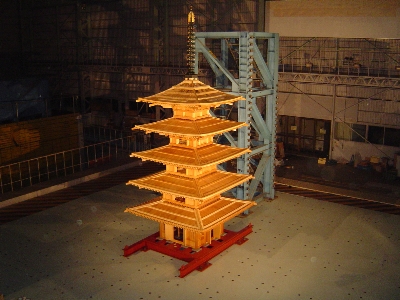 Simulation experiment to clarify the damping mechanism used in a five-story pagoda.
Reinforced concrete (RC) and steel-frame buildings
Unlike wooden houses, the office buildings, commercial buildings, and condominiums you see on the street are reinforced concrete or steel-frame buildings designed and constructed right from the outset to be seismically resistant based on structural engineering principles. For these buildings, the required seismic performance has been increased through the experience of large earthquakes and based on the results of new research. In particular, due to the revision of the building standards in 1981, a new seismically-resistant design was adopted, and design methods developed based on this concept are now widely adopted. Buildings constructed before 1981 do not meet the present criteria for seismic performance, and therefore need to undergo a seismic resistance diagnosis or seismic reinforcement work as necessary.
Buildings designed based on seismic engineering are resistant to earthquakes and are classified into (a) structures with antiseismic systems, (b) structures with damping systems, and (c) seismically isolated structures. Antiseismic systems have a lot of elements that provide strength against earthquakes. For these structures, careful consideration is now given also to increasing their deformation capacity to avoid fatal destruction. Structures with damping systems are designed to absorb seismic energy through substantial deformation, and efficient absorption is ensured by the use of viscoelastic materials that have high energy absorption characteristics. Mass dampers are also used in some structures, and because the damper sways with a different rhythm from the swing of the structure itself, it suppresses the deformation of the structure. In seismically isolated structures, an isolation layer is inserted between the ground and the structure to reduce the effect of ground motion on the structure.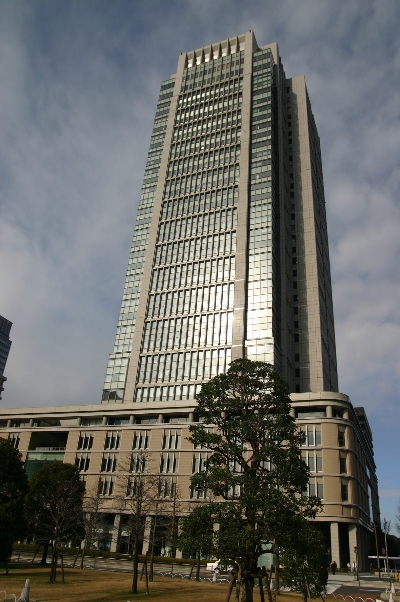 Marunouchi Building constructed using the damping mechanism used in a five-story pagoda.
Some argue that these highly earthquake-resistant mechanisms developed for modern buildings already existed in different forms in traditional wooden structures, including the damping system achieved through timberwork, the central column of a five-story pagoda that plays the role of a mass damper, and seismic isolation through the column base installation method called "ishibadate." Traditional wooden structures are now being studied and are inspiring new creativity.
Buildings that are highly resistant to earthquakes
A range of technologies have been developed to construct buildings that are highly resistant to earthquakes. Buildings should at least have enough seismic performance to protect the people inside from damage in a large earthquake. New technological options are now provided to further increase their performance, for example to make buildings resistant to earthquakes beyond the level set by the building standards, to protect fixtures and fittings inside buildings from earthquake damage, or to protect the building as a whole.