Response
Student Column: Building Community Bonds
Naoko Horikoshi
Master's Program, Department of Health Sciences and Nursing, Graduate School of Medicine
Perhaps you are aware of the role of public health nurses. There are about 45,000 in Japan (as of the end of 2010), 70% employed by local governments. Public health nurses are experts in public health and trained in nursing science, who help people stay healthy and avoid illness by providing health education and guidance. Their responsibilities include home visits to talk face-to-face with members of local communities, which means that they are engaged in a wide range of activities from the individual to the regional level, including making policy recommendations. The volunteer project in which I participated in the town of Otsuchi in Iwate Prefecture, a community-wide home-visit health survey, involved all of these occupational elements.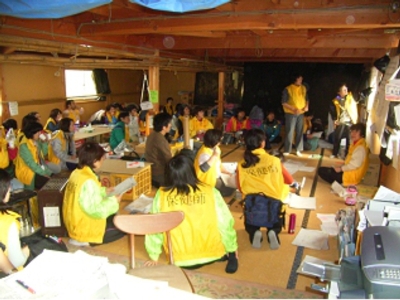 Morning meeting.
As part of the volunteer activity, public health nurses visited all the households in the town to interview citizens about their health in response to a request from the local government. Lasting two weeks from April 23 to May 8, 141 health nurses from across the country participated in the program. We visited every household in the town to check the health of citizens and through the visits we identified those people who had health problems and needed support. They were then referred to local public health nurses or to medical teams as necessary. The town's records of residents were swept away in the tsunami so we created a new ledger with the data obtained from household visits. We were able to able to create a new record of about 70% of the pre-earthquake population. Moreover, we provided the town's deputy mayor with a written recommendation on the measures to be implemented to solve the problems identified in the course of the volunteer activity.
The tremendous damage done by the tsunami following the Great East Japan Earthquake was greater than the damage from the earthquake itself. In the same area, a one-meter difference in the house elevation led to different outcomes: some houses were totally destroyed, while others were damaged or flooded, and some were not damaged at all. Residents of undamaged houses felt guilty after seeing the damage caused to their neighbors' houses and invited many relatives and acquaintances whose houses were completely or partly destroyed to stay with them. Nonetheless, they still felt very sorry for neighbors who had lost their houses and even refrained from airing out their futons outside. I encountered such people in the affected town, though this situation was largely unknown to the public.
You're lucky to have survived. You shouldn't throw your life away now
Through the visits made by public health nurses to each household, it was also revealed that individuals had various medical and health problems. For example, a man in his fifties had been going to hospital three times a week for dialysis but the disaster reduced the town to rubble and the road from his house to the hospital was cut off. The huge amount of damage to his neighborhood left him depressed. "I lost the energy to go outside and seek help," he said. "I just wanted to die at my own house." Indeed, he would have died if he had stopped receiving dialysis. Fortunately, however, a passing neighbor told him, "A lot of people were killed by the tsunami. You're lucky to have survived. You shouldn't throw your life away now." Persuaded by the neighbor, several days after the earthquake, he finally left his home and went to an evacuation center to ask for help. He was immediately taken to hospital by helicopter. The man's life was therefore saved by the words of his neighbor. This story has really highlighted for me the importance of fostering a spirit of mutual aid in the community, and that it is necessary for local governments and medical and welfare organizations to collect and keep information about citizens who will need special support in the event of a disaster. It is particularly important to prevent the loss of medical records or health information of people suffering from chronic diseases who need to receive treatment on a continual basis. The relevant organizations must enhance the security of such information and establish a more robust backup system as a basis for building more disaster-resistant communities.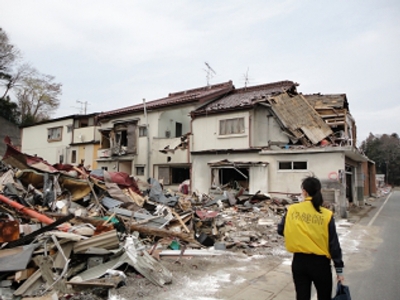 Public health nurse making a visit to a household.
Finally, I would like to write about a local man who began participating in the search for missing people on the day following the earthquake. He said to me, "I found the body of a girl who was about four years old. I lifted her in my arms and took her to a nearby morgue. When I found the first body, I felt scared. But after I saw lots of them, I lost the fear, which makes me feel more scared." I will never forget his words. When will he recover from the trauma? It is necessary for public health nurses to cooperate with the local government of Otsuchi to provide ongoing support to citizens who were hurt by the disaster in the decades to come. I hope that the necessary support system will be established, and I myself will continue to support the citizens of Otsuchi.