Gotenshita Memorial Arena
Collapse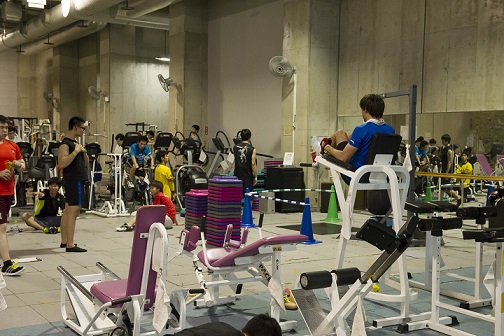 The Gotenshita Memorial Arena is a comprehensive sports facility established on the Hongo Campus. The Arena was constructed as a part of the University of Tokyo 100th Anniversary Project for the purpose of promoting the health of students and faculty members.

This Arena is equipped with a number of athletic facilities, including an all-weather artificial sports field that is lit up at night, a training room with a full-time trainer on-site, a warm-water swimming pool filled with water made exceptionally clear due to the use of an advanced antibacterial system and a multipurpose gymnasium for a large variety of sports. In addition, the Arena holds a wide array of athletic programs, such as classes for aerobics, tai chi chuan, yoga, Pilates, savate and bouldering. Many students, faculty members, staff and others use these facilities and participate in these programs.

Admission is ¥400 per visit. Students need to reserve and rent the facilities (not free) in order to play table tennis, badminton, futsal, volleyball and basketball. Students also must go through an orientation program before they are allowed to use the exercise machines.



Kemigawa Athletic Grounds and Kemigawa Seminar House
Collapse
The Kemigawa Athletic Grounds are located in Chiba City, Chiba Prefecture. Within its expansive grounds, this facility features fields for soccer, American football, rugby, baseball and hockey. Other facilities here include tennis courts, a cross-country course and gymnasiums. The site also is home to the Kemigawa Seminar House which offers seminar rooms equipped with audio-visual equipment, overnight accommodations for up to 178 people, as well as a cafeteria. The wide area that contains the Grounds and Seminar House provides a perfect environment for holding events such as sports camps, training camps and seminar trips.

Admission to the Athletic Grounds is ¥400 per day. Students can stay in one of the large rooms at the Seminar House for ¥1,400 per night (excluding meals).

Health and Athletic Accommodations (Sportia)
Collapse
The University of Tokyo's health and athletic accommodations, known collectively as "Sportia," are facilities situated in lush natural environments which can be used for class and club camps, training and other events. There are a total of four accommodation facilities; two in Shizuoka Prefecture (Heda and Shimokamo), one in Yamanashi Prefecture (Yamanaka) and one in Nagano Prefecture (Norikura). Sportia Heda is on a beachfront property with pleasant sea breezes. Sportia Shimokamo is located on the southern part of the Izu Peninsula, giving it a sunny, tropical feel. The Yamanaka Dormitory–Naito Seminar House is at the foot of Mt. Fuji and surrounded by forests and lakes. Finally, nestled into the side of Mt. Norikura in the Japan Alps sits the picturesque mountain hut Sportia Norikura. All of these facilities are perfect locations at which to relax your mind and body.

Students, faculty members, staff and alumni may stay at these accommodations at very reasonable rates that start at ¥1,500 per night. To use these facilities, at least one person in your group must be a member of the Athletic Foundation of the University of Tokyo (with the exception of the Yamanaka Dormitory–Naito Seminar House).