(October 5) Chicago Akamon-kai holds Newcomer Welcome Lunch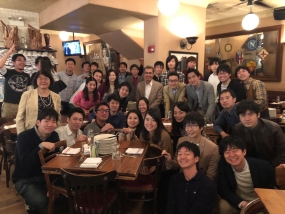 The Chicago Akamon-kai held a newcomer welcome lunch on Saturday, October 5, 2019 in downtown Chicago to welcome UTokyo alumni who arrived in the city this summer. Far exceeding our initial expectation of about 15 attendees (based on attendance at our previous meetings), a total of 33 alumni and 2 young children joined the gathering at an Italian restaurant. Participants' backgrounds were diverse ranging from graduate students at the University of Chicago and Northwestern University to professionals such as lawyers and corporate employees working in the city.

Because many participants were aged around 30 years old, they could share not only their common experiences at UTokyo, but also current life concerns regarding work and family. As a result, the conversation was lively and involved. (I myself thoroughly enjoyed listening to fellow alumni's exciting experiences about life and work in Chicago of which I was not aware.)

Because we had a sit-down lunch format, each of us could talk to only a limited number of people. In retrospect, to accommodate for the large size, perhaps we could have had a cocktail party type arrangement where people can freely move around. Going forward, we hope to be flexible so that participants can fully enjoy each other.

Those of us in charge of events at the Chicago Akamon-kai are planning to hold more gatherings for alumni. We look forward to continuing our enjoyable and stimulating discussions! (Author, Hiroshi Nishimoto, Member of Event Planning)

(October 1) Greater Boston UTokyo Alumni Club Hosts a Get-together Meeting to Coincide with the Visit of Professor Teruo Fujii, Executive Vice President of the University of Tokyo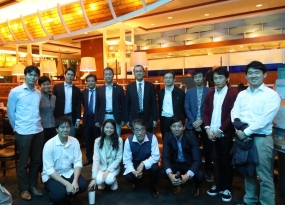 Since registering with the UTokyo Alumni Associaion this April, the Greater Boston UTokyo Alumni Club has hosted guests from UTokyo including Professor Teruo Fujii, Executive Vice President of the University of Tokyo, for the first time. Fourteen participants, including alumni living there as well as three guests from UTokyo: Professor Fujii, Mr. Masami Shimokawa, Senior Director of the Office for External Relations and Mr. Kiyokazu Tomoyoshi, Director of the Office for Alumni Affairs.

All the participants enjoyed having conversations over a nice dinner and seemed especially happy to receive updates on the latest news of UTokyo.

After the dinner was over, Professor Kaneki, Professor Yoshida, and Ph. D. candidate Mr. Yoshinaga talked about what the future of Greater Boston UTokyo Alumni Club should be like.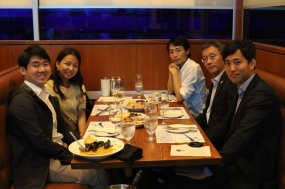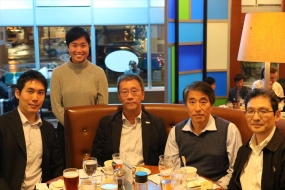 (September 17) Peru Akamon-Kai Hosts UTokyo Professors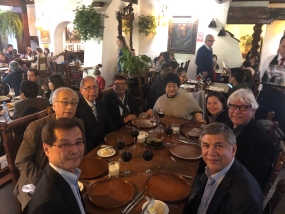 On August 22, members of the Peru Akamon-Kai had a meeting with the president of UNI, Dr Jorge Alva. Participants included Dr. Victor Konno, president of the Peru Akamon-kai, Dr. Koichi Kusunoki, professor of the Earthquake Research Institute, the University of Tokyo, MSc. Fernando Lazares, Academic Director of the Japan-Peru Center for Earthquake Engineering and Disaster Mitigation, and Dr. Carlos Zavala of CISMID. They talked about the possibility of an exchange MOU between UTokyo and the National University of Engineering.

After visiting the Faculty of Civil Engineering, they showed an isolated building, which was designed and constructed by professors of UNI and CISMID, where Dr. Hiroshi Aihara, professor of the Department of Physics, Graduate School of Science, the University of Tokyo, attended the International Symposium on Earthquake Engineering.

On August 25, Peru Akamon-kai members had lunch with Dr. Aihara at Jose Antonio Restaurant where good Peruvian cuisine was served. All the members including Dr. Konno and Dr. Miguel Estrada, Ministry of Housing, Construction and Sanitation of Peru, enjoyed the lunch. Members of Akamon-kai warmly welcomed UTokyo professors and they hope they can strengthen their relations with the UTokyo Alumni Association in Japan.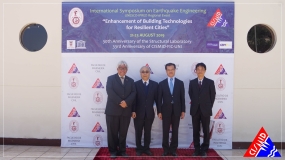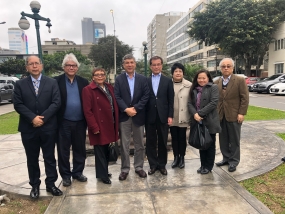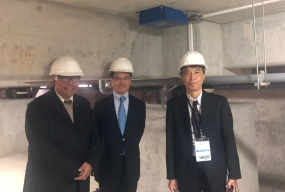 (September 17) Mexico Akamon-kai Hosts a Get-together Meeting with Professor Hiroyuki Ukeda

On Wednesday, September 11, 2019, the Mexico Akamon-kai hosted a get-together meeting with Professor Hiroyuki Ukeda, Graduate School of Arts and Sciences, in Mexico City. Professor Ukeda was visiting several areas of Mexico for research purposes. About 15 participants enjoyed the dinner and exchanged views on many subjects.

Since its establishment in 2014, Mexico Akamon-kai holds several events a year and has about 50 members, of which 29 members are international students who have gone back to their countries after obtaining a degree at UTokyo.
(September 9) Three Activities Hosted by UTokyo Alumni Association of India (UTAAI) in Japan in August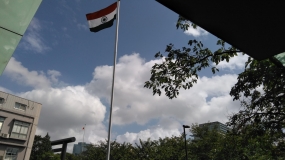 On August 15, 2019, UTAAI in Tokyo and the UTokyo Indian Students' Association (UTISA) representatives joined the celebration ceremony of the 73rd Independence Day of India that was held at the Embassy of India in Tokyo.

On August 18, 2019, UTAAI took eight Indian students (four boys and four girls) who were visiting Tokyo from West Bengal State, India for the 23rd Japan India Students' Conference program, to a memorial event at Renkoji Temple in Tokyo on the 75th anniversary of the death of Mr. Subas Chandra Bose, India Freedom Fighter Neta-ji.

Also, UTAAI and UTISA welcomed them to the Hongo Campus on August 21, 2019. They enjoyed seeing the Sir Tagore portrait in General Library, which was given as a gift by H.E. Mr. Nehru, the first Prime Minister of India, during his memorial visit to our University in 1952. Before Nehru's visit, Sir Tagore presented his memorial lecture on the Hongo Campus under the title of "Message of India to Japan" in 1916 as the first Nobel Prize winner in Asia, Literature 1913. We shared with them experiences of campus life, information on GSCC, PEAK and the Graduate School of Public Policy, and exchanged views about international relations, particularly about how India is so important for Japan. We recommended that they study at graduate schools in Japan and also to get jobs in Japan.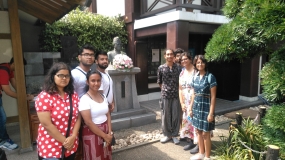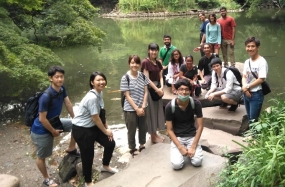 (August 21) Seattle Tansei-kai Holds a Get-together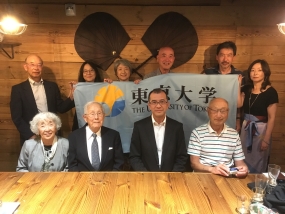 The Seattle Tansei-kai held a get-together meeting on Sunday, August 18, 2019 in Seattle. This is the first gathering since the former secretariat went back to Japan. Ten participants such as alumni, including Kiyokazu Tomoyoshi, Director of the Office for Alumni Affairs, the University of Tokyo, and their spouses attended the meeting.

Director Tomoyoshi explained the role of alumni in supporting current students as UTokyo Association supporters, hosts of Hands-on Activitiy Programs, etc. in addition to further expanding alumni networking through the UTokyo Online Community (TFT) and alumni associations. The amicable atmosphere continued throughout the whole meeting.

Now that the new secretariat has been selected, we hope that the Seattle Tansei-kai will take this opportunity to promote events in the future.
(August 19) UTokyo Alumni Association of Canada-West Chapter Just Established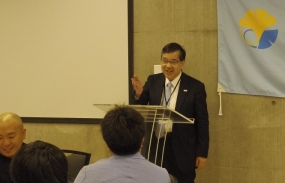 We are pleased to inform you that the UTokyo Alumni Association of Canada-West Chapter has just been established and the inaugural meeting was held in Vancouver, Canada on Saturday, August 17, 2019 to coincide with President Gonokami's visit there.

The 18 participants who attended the event included alumni and guests such as Dr. Makoto Gonokami, President of UTokyo and Mr. Kiyokazu Tomoyoshi, Director of the UTokyo Office for Alumni Affairs. After opening remarks, seven new board members of the new association were selected, and objectives and planned activities of the new assocation were explained by Dr. Henry Tsang, president of the association, followed by President Gonokami's congratulatory speech. In his speech, President Gonokami explained the role of academia in driving transformation for a better society and various measures the University is promoting to achieve above goals.

During the networking dinner, attendees took part in a lively discussion on various matters both in English and Japanese.

In his closing remarks, Mr. Kiyokazu Tomoyoshi briefly introduced the main activities of Office for Alumni Affairs, including further expanding and fulfilling alumni networks through the UTokyo Online Community (TFT) and increasing UTokyo Supporters who play an important role in supporting students.