(January 23, 2020) UTokyo Sri Lanka Office Just Launched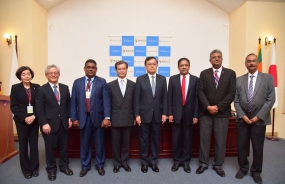 We are pleased to inform you that UTokyo has just launched the UTokyo Sri Lanka Office and that its opening ceremony was held at the Auditorium of Lakshman Kadimar Institute in Colombo, Sri Lanka on January 16, 2020. Since UTokyo was commissioned as the head of the "Study in Japan Global Network Project-Southwest Asia" by the Ministry of Education, Culture, Sports, Science and Technology, UTokyo has been engaged in increasing the number of excellent international students from that region as the representative of Japanese universities. The project's activity base was first established in Delhi, India, and then now in Colombo, Sri Lanka.
The 150 participants who attended the ceremony include H.E. Akira Sugiyama, Ambassador of Japan to Sri Lanka, representatives of the Sri Lanka government such as the Ministry of Higher Education, H.D. Karunaratne, Director of the University of Tokyo Sri Lanka Office (Senior Prof. University of Colombo), representatives from major universities and high schools in Sri Lanka, Japanese language institutes, The Japanese Graduate's Alumni Association of Sri Lanka (JAGAAS), Prof. Hiroaki Aihara, Executive Director and Vice President, the University of Tokyo, Prof. Naoto Sekimura, Vice President of the University of Tokyo, and staff of the International Strategy Group also joined from UTokyo.
During the panel discussion of the opening ceremony, Dr. Indika Palihakkara, Ruhuna University, made a speech on the merits of studying in Japan as a panelist while current UTokyo students who are studying in Sri Lanka also participated. It brings us great pleasure that student and research exchange is developing based on the network of the UTokyo Alumni Association of Sri Lanka which was established in 2017.
(January 10, 2020) Dr. Masato Ninomiya, President of Brazil Akamon-kai, Awarded the 2019 Order of the Sacred Treasure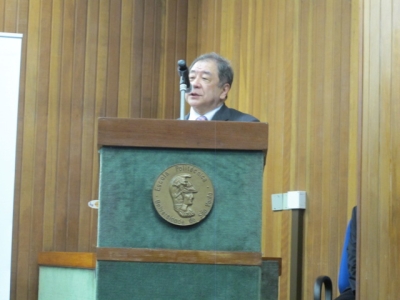 Dr. Masato Ninomiya, President of Brazil Akamon-kai and Professor of San Paulo University, was awarded the 2019 Order of the Sacred Treasure (瑞宝中綬章).
The reason for the award was his contribution to the friendly relations between Japan and Brazil as well as to improving welfare of Japanese living in Brazil.

He usually attends royal family members who visit Brazil as an interpreter.
He also translated many Japanese books, including "Hashi wo Kakeru (Laying a Bridge Over)" authored by Empress Emerita Michiko, into Portuguese.

Dr. Ninomiya played a central role in organizing Brazilians and Japanese living in Brazil to launch Brazil Akamon-kai in 2013 when UTokyo Forum was held there.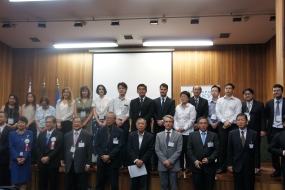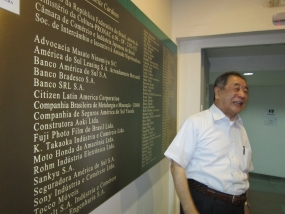 (December 17) UTokyo & IIS Alumni Parties Held in Myanmar and Thailand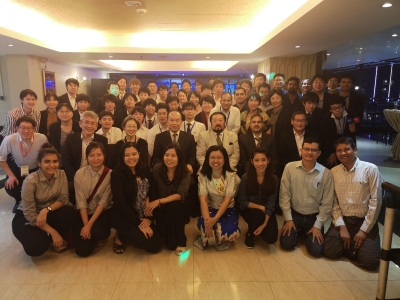 On Tuesday, December 10, 2019, the University of Tokyo and IIS alumni party was held at the Esperade Lakeview Hotel in Yangon, Myanmar to concide with a farewell party for the USMCA 2019 International Conference that was hosted by International Center for Urban Safety Engineering (ICUS) and Institute of Industrial Sceince, UTokyo (IIS). A total of 62 people participated and spent a relaxing time listening to the stories of Myanmar graduates.
On Friday the 13th, an alumni seminar and party were held at VIE Hotel in Bangkok, Thailand. At the seminar, Prof. Hong Huang from Tsinghua University gave a lecture on "Improvement of haze in China and research progress in China", Prof. Wataru Takeuchi of IIS gave a lecture on "Assessing people's perception of air pollution in Thailand with Google Trends and remote sensing ", and Prof. Pennung Warnitchai of Asian Institute of Technology gave a lecture on "Major challenges in earthquake risk reduction in Asia". 32 graduates gathered and reported on each other's recent situations. We closed the party looking forward to meeting again next year at the alumni association.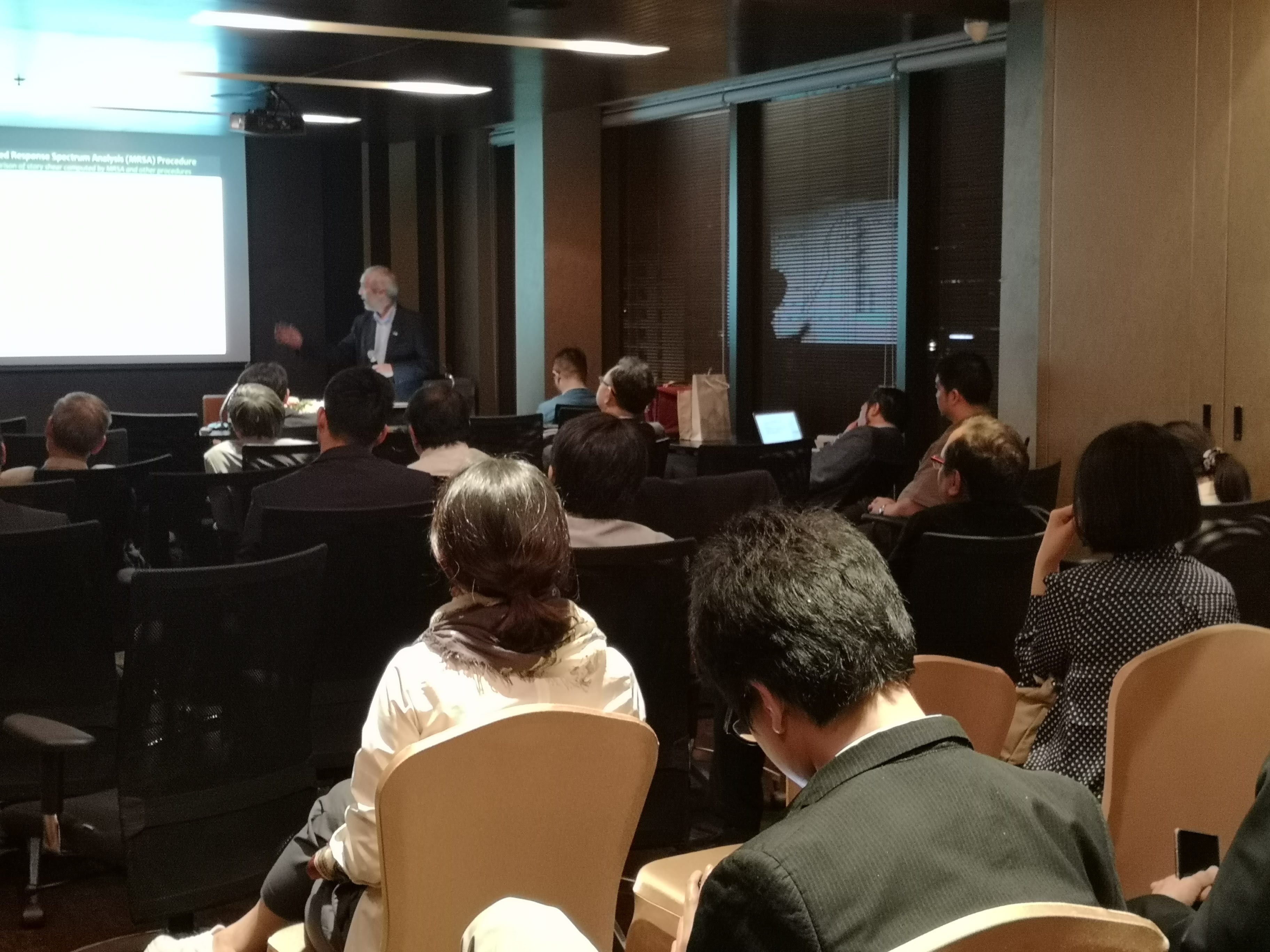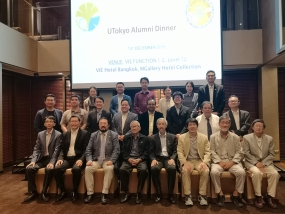 (December 16) Annual Meeting and Benkyokai of UTokyo Alumni Association of Nepal (UTAAN) Held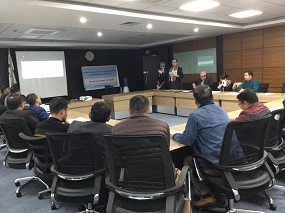 The 2019 Annual Meeting and Benkyokai event of the University of Tokyo Alumni Association Nepal (UTAAN) was organized on November 23, 2019. The Annual Meeting was attended by 20 alumni, whereas Dr. Yuriko Akiyama, the First Secretary (Information and Cultural) of the Embassy of Japan in Nepal, and Mr. Kiyokazu Tomoyoshi and Ms. Masako Sano from the University of Tokyo, joined the Benkyokai Program. At the Annual Meeting, progress achieved during the last year and the way forward were discussed. Two presentations were made on contemporary topics by alumni members at the Benkyokai Program. Mr. Prakash Shakya presented on the topic "Migrant Health in Japan," and Mr. Deepak K.C. presented on the topic "Climate Change Scenario and Its Impact in Nepal: GLOF Risk Reduction Practice." Both sessions were chaired by Mr. Ram Prasad Bhandari, President of UTAAN. Speaking at the Benkyokai, Dr. Akiyama underlined the importance of alumni activities and said that the Embassy will always be ready for any support. Mr. Tomoyoshi updated attendees on current activities at UTokyo and thanked UTAAN for their cooperation in carrying out seminars on higher education opportunities in Japan. During the Benkyokai, a new initiative of UTAAN, a web-based networking platform, was jointly launched by Dr. Akiyama, Mr. Tomoyoshi and Mr. Bhandari. The platform was designed and developed by UTAAN Executive Member Dr. Dipendra Gautam. At the end of the Program, Mr. Bhandari informed attendees that, in total, 88 UTokyo graduates from Nepal have been counted so far, and over 50 of them are already in contact with UTAAN. He thanked UTokyo delegates, Dr. Akiyama and all the alumni present at the Program for their active participation.
Additionally, UTAAN also extended its full support to organize the "Seminar on Higher Education Opportunities in Japan" at four academic Institutions, namely: (i) St. Xaviers' College, (ii) Institute of Engineering of Tribhuwan University, (iii) Deer Walk Institute of Technology, and (iv) Kathmandu University. All together, around 500 students and some faculty members attended those seminars.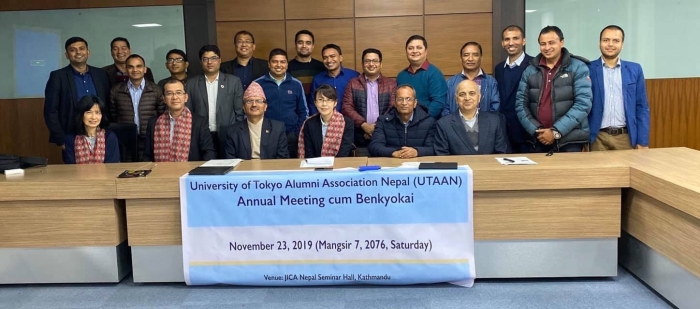 (December 2) Four Representatives of Tsinghua Alumni Association, Tsinghua University Visit the University of Tokyo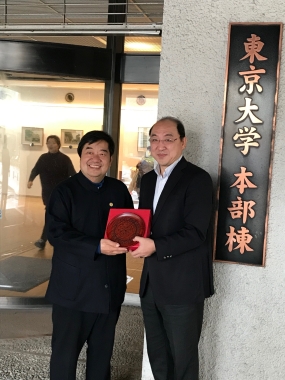 On December 2, 2019, 4 representatives of Tsinghua Alumni Association, Tsinghua University, namely, Professor Mei Xiaopength; Ms. Zhang Yueyue, Director of Executive Office; Ms. Zeng Zhuokun, Editor, Shui Mu Tsinghua Magazine; and Mr. Sun Yao, Research Department; visited the Office for Alumni Affairs, the University of Tokyo accompanied by a Chinese student of the Graduate School of Information Science and Technology, the University of Tokyo as an interpreter.

The purpose of their visit was to understand how our alumni office is organized, and what our activities are like, etc. and also to exchange opinions.

What impressed us most is that all the alumni of Tsinghua have love towards the university, and therefore they would like to contribute to the university in some way or other through efforts, time and/or money. Moreover, Tsinghua Alumni Association has access to 80% of their alumni through e-mail or WeChat compared to 25% of ours.

At the same time, we found some common issues including, for example, how to organize the alumni of graduate schools who seem to have less affinity towards the university than bachelor alumni.

After visiting the University of Tokyo, they will visit Kanazawa University before returning to China.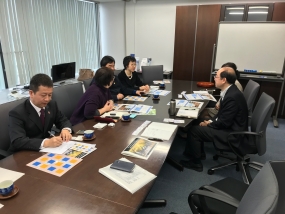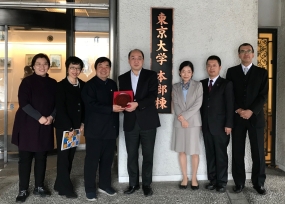 (November 8) The Europe Akamonkai in France Holds a Get-together Meeting to Coincide with the Visit of Professor Teruo Fujii, Executive Vice President of the University of Tokyo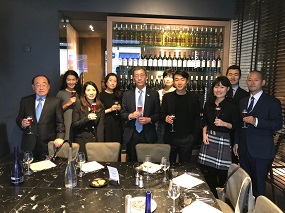 The Europe Akamonkai in France held a get-together meeting on Wednesday, October 23, 2019 in Paris, to welcome Professor Teruo Fujii, Executive Vice President of the University of Tokyo.
11 participants enjoyed a conversation while having a delicious wine and roast chicken lunch.
All members were updated by Professor Fujii on the latest news of UTokyo, social cooperation activities and the professor's research themes, and they all discussed how to revitalize alumni association activities in France.
Since its establishment in 2011, the Europe Akamonkai in France has held several events a year.
(October 5) Chicago Akamon-kai holds Newcomer Welcome Lunch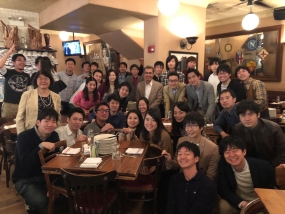 The Chicago Akamon-kai held a newcomer welcome lunch on Saturday, October 5, 2019 in downtown Chicago to welcome UTokyo alumni who arrived in the city this summer. Far exceeding our initial expectation of about 15 attendees (based on attendance at our previous meetings), a total of 33 alumni and 2 young children joined the gathering at an Italian restaurant. Participants' backgrounds were diverse ranging from graduate students at the University of Chicago and Northwestern University to professionals such as lawyers and corporate employees working in the city.

Because many participants were aged around 30 years old, they could share not only their common experiences at UTokyo, but also current life concerns regarding work and family. As a result, the conversation was lively and involved. (I myself thoroughly enjoyed listening to fellow alumni's exciting experiences about life and work in Chicago of which I was not aware.)

Because we had a sit-down lunch format, each of us could talk to only a limited number of people. In retrospect, to accommodate for the large size, perhaps we could have had a cocktail party type arrangement where people can freely move around. Going forward, we hope to be flexible so that participants can fully enjoy each other.

Those of us in charge of events at the Chicago Akamon-kai are planning to hold more gatherings for alumni. We look forward to continuing our enjoyable and stimulating discussions! (Author, Hiroshi Nishimoto, Member of Event Planning)