(November 8, 2022) The 20th General Meeting of NY Icho-kai held on Friday, October 28, 2022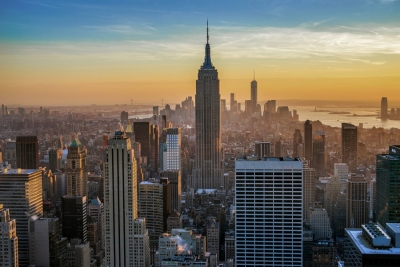 The 20th General Meeting of NY Icho-kai was held at Nippon Club in New York City. About 120 participants attended the event. UN Ambassador Kimihiro Ishikane (who graduated from the Faculty of Law in 1981) presented an opening remark followed by greetings from NY Ambassador Consul-General Mikio Mori (who graduated from the Faculty of Law in 1985). President of UTokyo NY Office Masaharu Masuyama (who graduated from the Faculty of Engineering in 1968) gave a toast. President of Friends of UTokyo Iwao Ojima (who graduated from the Faculty of Science in 1968) and Co-leaders of ICHI-O-Kai Koyo Tamaki (who graduated from the Faculty of Engineering 1991) and Yulong Yang (who graduated from the Faculty of Medicine in 2013) made reports on their recent activities. Executive Director and VP of UTokyo Atsushi Tsuda, joined by VP Takeshi Tange and Head of Alumni Affairs Office Hiroshi Miyazaki, participated from Tokyo online and gave a speech and presentation on current situations surrounding UTokyo. Participants sang "TADA HITOTSU" in chorus. The event ended with closing remarks from President of NY Icho-Kai Katsuyuki Yamaguchi (who graduated from the Faculty of Law in 1989). All participants enjoyed the first-time face-to-face event after a long activity break due to COVID-19. Besides holding a general meeting once a year, local alumni get together to exchange information with each other on a regular basis as the ICHI-O-Kai.
(November 7, 2022) Six networking events hosted online by overseas alumni associations on Homecoming Day 2022
On Homecoming Day 2022, which was held on October 15, 2022, six networking events were hosted by overseas alumni associations across regions and time zones. It was the second time for overseas alumni associations to hold events on Homecoming Day. The time zones and the names of alumni associations, etc. are as follows:

Time zone
Name of alumni
association
Number of
participants
Participants from UTokyo
1. Early morning
UTokyo Alumni Association of Canada-East Chapter/West Chapter
6
Executive Director and Vice President Tsuda; Vice President Tange
2. Afternoon
San Francisco Akamon-kai
14
Executive Vice President Okubo; Executive Director and Vice President Tsuda
Todai Beijing Friendship Association
21
Executive Director and Vice President Osawa; Vice President Tange
Stanford, Silicon Valley Akamon-kai
13
Executive Vice President Okubo; Vice President Tange
3. Evening
United Kingdom Akamon-gakuyu-kai
26
Executive Director and Vice President Tsuda; Executive Director and Vice President Osawa
Europe Akamon-kai, Paris
17
Executive Director and Vice President Osawa and Vice President Tange
Four staff members from the UTokyo Office for Alumni Affairs also participated in these events.
In total, about 100 alumni members enjoyed the networking events such as general meetings, networking sessions, exchanging opinions, performance of chamber music, etc.
(September 15, 2022) Social Event Hosted by Thai Todai Alumni and Todai Women's Network-Community Satsuki-kai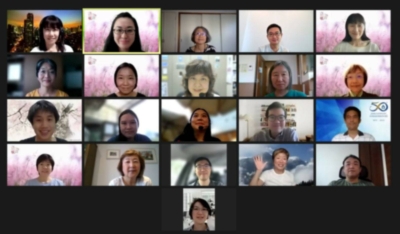 For the first time, Thai Todai Alumni and Todai Women's Network-Community Satsuki-kai held an online social event on Saturday, September 10. On the day of the event, a total of 23 people (including staff), 9 Thai and 14 Japanese, participated in the event, and it was a very productive exchange.

On the Japanese side, Mr. Ryoichi Ieda, who has stayed in Thailand three times and has a wealth of knowledge about Thailand, including working as the president of a local corporation, gave a presentation entitled "What I have learned from working in Thailand"; from Thailand, Ms. Parinda, who is currently an assistant professor in the Department of Biology, Faculty of Science, Mahidol University, gave a presentation entitled "My experience studying in Japan and my adaptation to Thai"; Ms. Ruttiya, Vice Dean of the Faculty of Population Studies at Chulalongkorn University, gave a 10-minute presentation on "My life between Tokyo and Bangkok: Why I entered the University of Tokyo, my change of perspective, my work at a Thai university and gender perspective."

After each presentation, the students were divided into groups of 4-7 and had a discussion on the theme of what they felt after listening to the presentations.

On the Japanese side, they learned many things that they did not know before, such as the fact that when Thai people are angry with their bosses, their first priority is to appease their bosses before apologizing, that Thai people like Japan much more than Japanese people think, and that about 80% of faculty members at Thai universities are women. They realized how little we knew about Thailand and learned a lot from this event. The Thai members were very pleased that they had not had this kind of exchange since they returned to Thailand, and they expressed their desire to continue the relationship in the future.

The following are examples of participants' comments:

It was good to exchange various opinions with Japanese people.
I was happy to be able to speak Japanese for the first time in a while.
I was happy to be able to interact with foreign students since I didn't have a chance to do so when I was a student.

Both Thai Todai Alumni and Todai Women's Network-Community Satsuki-kai would like to expand this kind of "exchange event with alumni overseas" to other areas in the world.
(August 24, 2022) Prof. Ko-Yung Tung Discusses "The Supreme Court: Why it matters so much in the US, and so little in Japan?"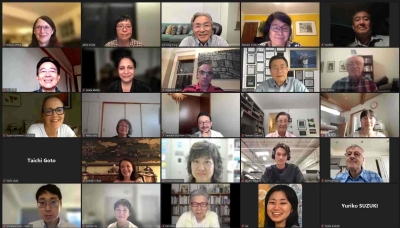 For the inaugural Fireside Chat, Prof. Ko-Yung Tung discussed the topic of "The Supreme Court: Why it matters so much in the U.S. and so little in Japan" on July 30 (US) and July 31 (Japan) via Zoom. The Chat was sponsored by Friends of UTokyo (FUTI), Satsuki America and FUTI Alumni Association.
Prof. Tung, a lecturer on law at Harvard Law School, was a Foreign Fellow at the University of Tokyo, Faculty of Law, and General Counsel of the World Bank. The moderator was Dr. Geeta Mehta, professor of architecture at Columbia University, who earned her Ph.D. in architecture from UTokyo.
Dr. Mehta started by asking Prof. Tung why the roles of the Supreme Courts of the U.S. and Japan differed so much when the Japanese Constitution of 1947 was essentially written by Americans under the Occupation. Prof. Tung briefly recounted the drafting of the U.S. Constitution by noting that it was a compromise document between the Federalists who favored a stronger national government against the anti-Federalists who were concerned with protecting the rights of States, including slavery. This tension and compromise produced many provisions of the U.S. Constitution that still divide U.S. politics and jurisprudence. On the other hand, the Japanese Constitution was drafted essentially by three young and idealistic Americans without real opposition from the Japanese Government (which was under SCAP control) and people (who were not invited to participate in the drafting). The American drafters were primarily interested in "demilitarizing and democratizing" Japan in accordance with the Potsdam Declaration of 1945 with the so-called "Peace Provision" in Article 9 and with extensive civil rights to the Japanese people.
Prof. Tung also noted a significant difference in how Supreme Court Justices are nominated and appointed. In the U.S., a Supreme Court Justice is first nominated by the President of the U.S., then subject to the "advice and consent" of the Senate, which makes it very political. However, U.S. Supreme Court Justices are appointed for life in order to make them immune from political or popular influence. On the other hand, Japanese Supreme Court Justices are appointed by the Cabinet (except the Chief Justice is appointment by the Prime Minister), in each case upon the recommendation of the Supreme Court and the Ministry of Justice. Each Justice is subject to a national approval at the first general election following their appointment and again every 10 years thereafter. Furthermore, Japanese Supreme Court Justices are subject to a mandatory retirement age of 70, and with the average appointment age being around 65, the average tenure of a Justice is about 5 years.
Most of the questions from the participants focused on the Japanese Supreme Court and its decisions. One questioned the "independence" of the Japanese Supreme Court as it has overturned so few legislations as unconstitutional (only 8 during 1950-2010; as compared with over 900 in the U.S., over 600 in Germany, and over 1/3 in France). Prof. Tung noted the uniformity of the background and the closeness between the judicial and the executive branches of government making orthodoxy quite an expected result.
Another question asked about "controversial" judicial cases in Japan. Prof. Tung mentioned that currently the same-sex marriage issue is very controversial. Art. 24 of the Japanese Constitution provides that "marriage shall be based only on the mutual consent of both sexes...". Last year the Sapporo district court interpreted that Article to allow same-sex marriage based on the sexual equality provision in Article 14 of the Constitution. However, this year the Osaka district court ruled that same-sex marriage was barred by Art. 14. Both cases are up on appeal at the High Courts, and most likely will go to the Supreme Court. It will be interesting to see how the Japanese Supreme Court will rule on this issue.
Given the time limitation, there was not enough time, unfortunately, to deal with many other interesting questions.
The online format allowed more than 35 members to join this event from the U.S., U.K. and Japan. Participants' backgrounds were diverse, ranging from graduate students to corporate executives, scientists and legal professionals. The session ended with a huge applause, with many participants asking Prof. Tung to come back and give a continuation of the talk.
(June 21, 2022) Japanese x Indian Ideathon calls for applicants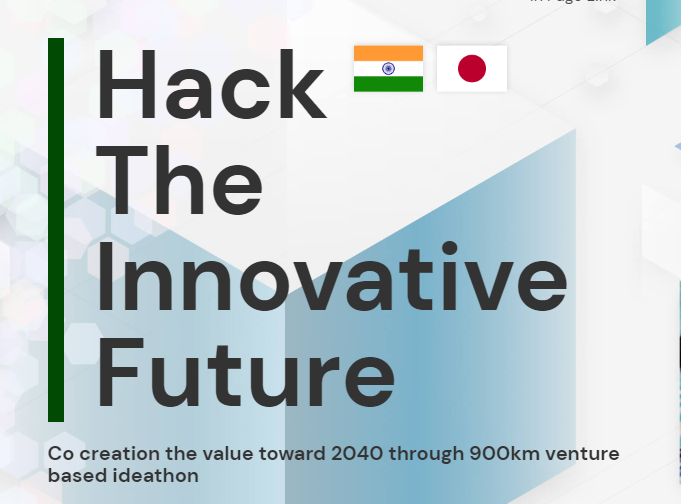 The year 2022 marks the 70th Anniversary of the Establishment of the Diplomatic Relations between Japan and India. To commemorate this, an Ideathon is being organized for next generation leaders so they can get a first-hand feel of Indian society and its challenges. Members of the Steering Committee include Nao Shigeta, CEO, Infobridge India and member of the Board of Directors of Indo-Akamonkai (UTokyo Alumni Association of India).

Providing an opportunity for Japanese and Indian youth from different backgrounds will serve as the link between the two countries to help shape the future by achieving mutual understanding and personal growth through travel and teamwork.

*Eligibility: Students age 18-25 only
*Free of charge
*Period: September 16 to September 25, 2022
*Application deadline: July 17, 2022

Home | Hack The Innovative Future (hif.asia)
(June 16, 2022) FUTI to launch Fireside Chats for UTokyo's International Alumni and Friends: You are invited to fill out the Alumni Survey!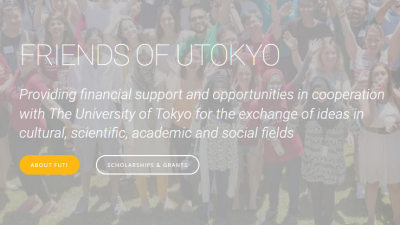 Dr. Geeta Mehta, the board member of Friends of UTokyo (FUTI) in charge of international alumni networking, has announced the launch of a Fireside Chat series for UTokyo's international alumni and friends, which will begin in mid-July in New York City. Please fill out the online survey which Dr. Mehta and her team are conducting in order to identify alumni's interests/preferences. [The online survey form can be obtained by contacting info@friendsofutokyo.org.]

The purpose of the series is to encourage spirited dialogues among UTokyo international alumni and friends and develop a supportive network among them. The Fireside Chats are designed to provide a platform for alumni to discuss the topics of their mutual interest in an informal setting.

Dr. Mehta and her team's message about FUTI's launch of the Fireside Chats series for UTokyo's International Alumni and Friends:

"We are so excited to be creating, with your help, our in-person (and/or online) Fireside Chat series in New York, starting in summer of 2022. This will be an opportunity for all our alumni, including international alumni, to connect, learn about each other, and celebrate the ongoing achievements of UTokyo. As the first step in this planning, we request you to fill in the survey.

We want YOU to help design the Fireside Chats the way you want! These could include a brief presentation/dialogue on topics of interest to you such as your favorite books, research, projects, current affairs and more. These could be followed by socializing and networking over some food and drinks.

We expect the Chats to take place several times throughout the year, welcoming UTokyo's international and other alumni.

Looking forward to receiving your completed survey by June 30, 2022 and seeing you in the near future."

Geeta Mehta, Ph.D.
Adjunct Professor of Urban Design, Columbia University
Founder and President, Asia Initiatives
Board Member, Friends of UTokyo (International Alumni Networking)

Cc: Masako Osako, Ph.D.
Executive Director, International Longevity Global Alliance, Ltd.
Board Member, Friends of UTokyo (Public Relations)
(June 7, 2022) UTokyo Alumni Association Membership Fees Introduced

On July 2, 2021, the Constitution of UTokyo Alumni Association ("UTAA") was amended to clearly state "to support the University of Tokyo" in the purpose and the business of UTAA and to create an article on Membership Fees (one-time payment of 10,000 yen by each Member) for the financial independence of UTAA.
https://www.u-tokyo.ac.jp/en/alumni/utaa.html