(July 3, 2023)
Satsuki-kai and
Satsuki-kai
US
A Co-host Joint Event "Insights into Mental Health Care in Japan and the United States: Perspectives from the Field"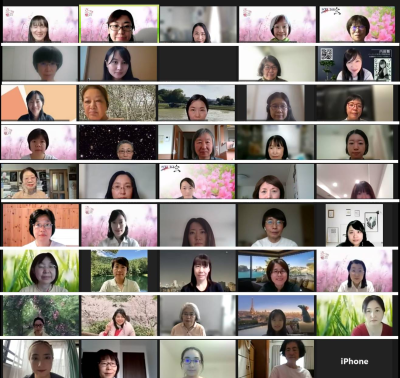 Satsuki-kai and Satsuki-kai USA successfully organized a joint event, "Insights into Mental Health Care in Japan and the United States: Perspectives from the Field,"on June 9, 2023.
The event focused on mental health care and featured three experts who actively work in the field from both Japan and the United States.
The presenters shared valuable insights into the current state of mental health care in both Japan and the United States. Following their presentations, engaging discussions and Q&A sessions took place, creating an interactive dialogue within the Satsuki-kai community. The event attracted a total of 56 participants, including current students from the University of Tokyo and attendees from overseas.
Event Details: Date: June 9, 2023 (Friday)
Time: 9:00 pm - 11:00 pm (Eastern Standard Time)
Format: Online
Overview: Each of the three presenters delivered a 15-minute presentation, which was followed by an exchange of ideas and responses to pre-submitted questions. Additionally, the event included breakout sessions where participants were divided into four groups for 20-minute discussions. The presenters actively participated in these breakout sessions as well.
Presenters:
• Yasuko Tanaka: Graduated from the Faculty of Economics in 2006, graduated from law school, and passed the bar examination in 2009. In 2021, she launched the AADA helpline for Japanese residents in the United States in partnership with the Consulate-General of Japan in Houston.
• Mai Uchida: Graduated from Hokkaido University School of Medicine in 2007, completed psychiatry training at Yale University in 2011, and child psychiatry training at Massachusetts General Hospital, Harvard University, in 2013. She is an Associate Professor at Harvard Medical School and co-author of "The Future Predictions of Geniuses". On April 20th, 2023, she published a new book on "Social Justice Pediatric Psychiatrist Examining Society". She is also a mother of 3 children.
• Chiyoko Uchida: Graduated from the Faculty of Agriculture, University of Tokyo, majoring in Agricultural and Horticultural Chemistry, in 1977. After completing undergraduate studies at the Faculty of Education, graduated from the Faculty of Medicine, Tokyo Medical and Dental University in 1985. She practiced psychiatry in the United States and Switzerland. She has worked as a professor at Ibaraki University Health Management Center, Fukushima University (Special Needs), and a graduate school for working adults. She is planning to open the Uchida Mental Clinic in Yokohama in July this year.
The presenters discussed the situation, characteristics, and disparities in mental health care between Japan and the United States. They also highlighted specific examples of the significance of mental health care for children. Emphasizing that seeking mental health care should not be stigmatized, the presenters stressed the importance of raising awareness and working collaboratively as a society, including healthcare professionals, to address mental health issues. The presenters also explained the differences in insurance and healthcare systems related to mental health care between Japan and the United States. They further delved into how the United States responded to children's mental health care during the COVID-19 pandemic.
During the breakout sessions, participants actively shared insights on maintaining a neutral position as counselors and the importance of counselors and therapists seeking their own counseling due to the nature of mental health consultations. The event provided a valuable opportunity for individuals of various age groups to deepen their understanding through active discussions, encompassing both medical care and counseling support for those seeking help.
The event received positive comments from the participants, with nearly 90% of survey respondents expressing high satisfaction with the event.
(May 29, 2023) Student group GERNE and UTokyo Office for Alumni Affairs hold an online networking event for current students in cooperation with alumni associations in East and Southeast Asia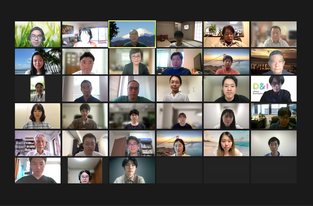 On May 27, 2023, student group GERNE and the UTokyo Office for Alumni Affairs held an online networking event for current students in cooperation with Todai Beijin Friendship Association, Shanghai Icho-kai, Tansei-kai (Singapore) and alumni from UTokyo Alumni Association of Phillipines and UTokyo Alumni Association of Indonesia.
Alumni with various backgrounds gathered from China, Singapore, the Phillipines and Indonesia. Students who are interested in studying at Asian graduate schools as well as working in Asia signed up for the event. In total, 12 alumni and 19 current students participated. Group and university staff members included Mr. Koichi Sato from the San Francisco Akamon-kai, who held the same kind of event in the U.S. last May; Mr. Junichiro Ui and Mr. Akitaka Moriyama from GERNE; and Mr. Kiyokazu Tomoyoshi and Ms. Kazuko Fukumi from the UTokyo Office for Alumni Affairs.
Three 30-minute breakout room sessions were held, and each breakout room, with titles such as Startup, Research, Trading Company, Bank, Government, Women, etc., was hosted by related alumni.
Many students gave favorable comments, including:
・Had an opportunity to listen to rare and valuable information from people on the ground and career experiences that cannot be obtained through the internet, and started to build a network with alumni, which likely will last long.
・Had an opportunity to listen directly to alumni who play active roles in various areas in Asia.
・Since the number of people in the breakout room was small, it was easy for me to ask what I wanted to know.
Steering members plan to hold a similar event inviting UTokyo alumni working in the US, maybe in the fall.
(May 10, 2023) Greater Boston UTokyo Alumni Club Hosts a Get-together Meeting to Coincide with the Visit of Professor Teruo Fujii, President of the University of Tokyo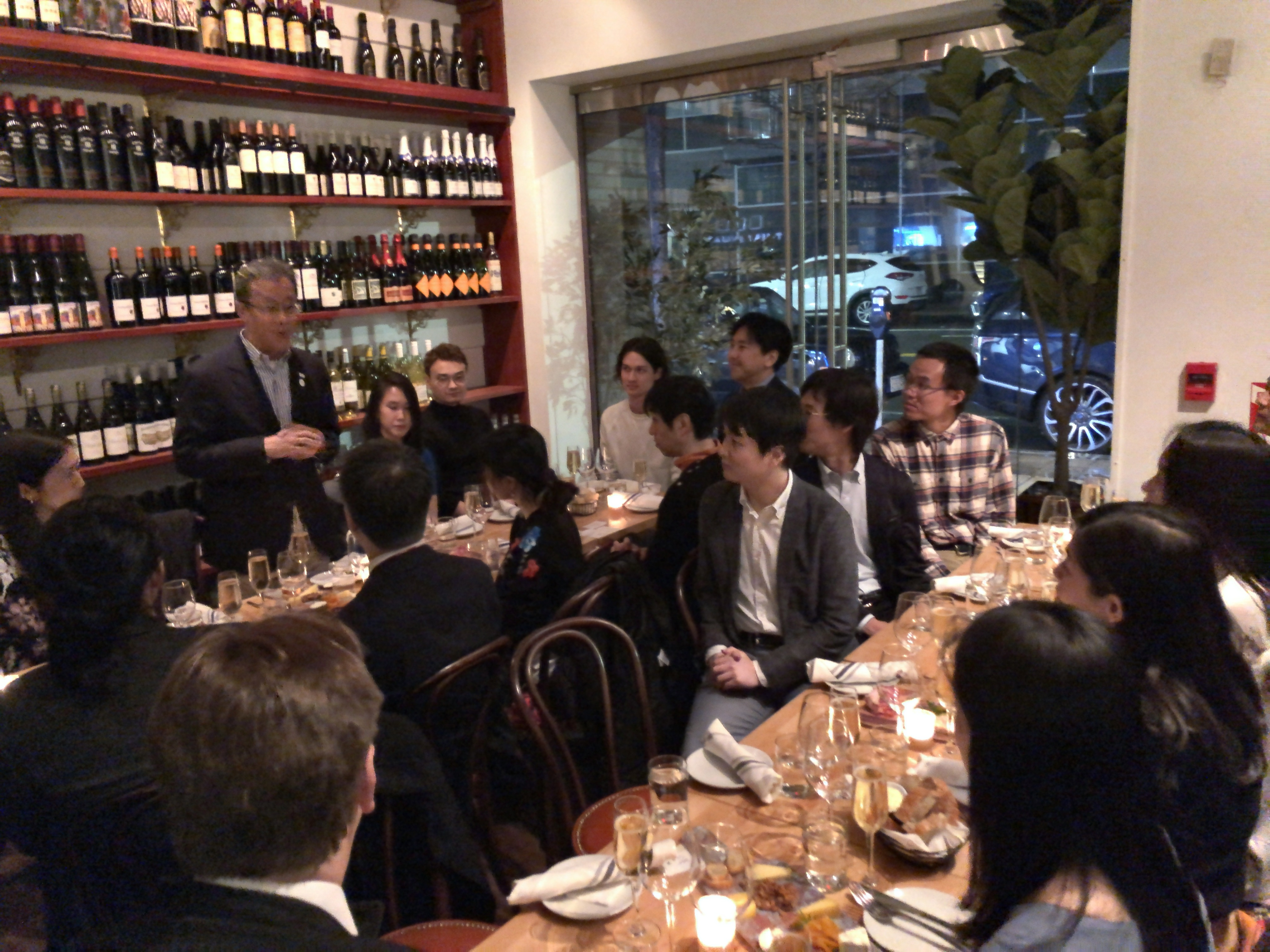 On April 30, 2023, the Greater Boston UTokyo Alumni Club hosted a get-together meeting to coincide with the visit of Professor Teruo Fujii, President of the University of Tokyo. President Fujii along with Professor Takao Someya, Executive Director and Vice President, Professor Toshiya Watanabe, Executive Director and Vice President, and Masaki Kato, Secretary to the President, visited Boston to attend and present a speech at a workshop which was hosted by Greater Tokyo Biocommunity and held inBoston.

Nineteen alumni who are currently living in Boston attended the above meeting and shared their experiences of living and working in the United States.
It was the first time for the Greater Boston UTokyo Alumni Club to host an event since the pandemic. All the participants enjoyed having conversations over a nice dinner and seemed especially happy to receive updates on the latest news of UTokyo.

One of the issues the Greater Boston UTokyo Alumni Club faces is that members come and go so fast that building a middle and long term relashionship is difficult.
(February 27, 2023) First on-site Annual General Meeting of Eikoku Akamon Gakuyu-kai in London since the outbreak of COVID-19 pandemic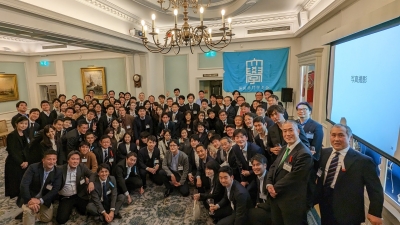 Eikoku Akamon Gakuyu-kai, the UTokyo alumni association in the UK, held its first on-site Annual General Meeting (AGM) since the outbreak of the COVID-19 pandemic on the 22nd of February, 2023. The AGM had been conducted online during the pandemic since 2020. Nearly 100 attendees, including students who were visiting London from Tokyo under the University's "Hands-on Activity (Taiken Katsudou) Program," gathered at the Watermen's Hall in the City of London.
Mr. Hiroyuki Uehara, President of the Eikoku Akamonkai, made an opening remark, followed by a toast.
A message from Professor Teruo Fujii, the President of UTokyo, to celebrate the first on-site AGM since 2020 was also presented.
All the participants enjoyed the opportunity to catch up and network face-to-face at the event which was far larger than the casual pub gatherings and golf events which are also arranged by Eikoku Akamon Gakuyu-kai.
(February 21, 2023) A new alumni network has been launched in Washington, D.C.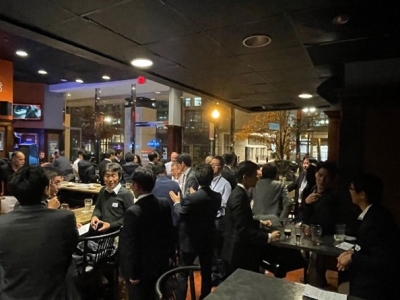 Despite the large number of UTokyo alumni in the district, Washington, D.C., the national capital of the United States, has long suffered from the lack of a UTokyo alumni network, although some alumni in the area have continued to host a study tour group of current students under the UTokyo Hands-on Activity Programs every summer.
However, the study tour in summer 2022, which was organized in an in-person format for the first time since the pandemic, reminded the hosting alumni of the joy of getting together with other alumni. With this inspiration in mind, they quickly launched a listserve as a communication platform among the alumni, and then organized the first get-together event (a happy hour) in November at a pub in D.C.

The listserve attracted as many as 100 alumni in the area in a few months, of which over 40 joined the in-person happy hour where the participants enjoyed discovering new people as well as reuniting with old friends.

They recently launched a bilingual website so that those who are moving to the D.C. area can join the network and benefit from their great alumni. The next happy hour is slated to be held in spring 2023.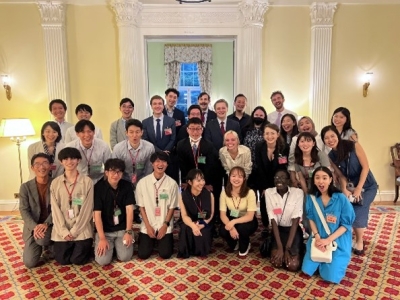 The participants and hosts of 2022 UTokyo study tour program together with the graduate students of Reischauer Center for East Asian Studies, Johns Hopkins University
Contact: ut.alumni.dc[at]gmail.com (Please replace [at] with @.)
(February 15, 2023) UTokyo Vice President Atsushi Tsuda gives talk titled "University of Tokyo and athletics: How can sports 'improve' the entire University?"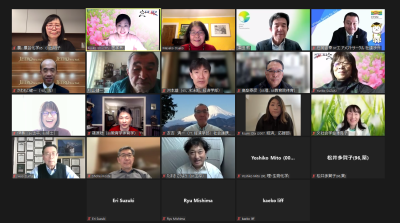 On January 27, 2023, Prof. Atsushi Tsuda, Executive Director and Vice President of the University of Tokyo, gave a talk titled, "University of Tokyo and athletics: How can sports 'improve' the entire University?". The event was co-sponsored by Satsuki-kai America and Friends of UTokyo. A total of 30 participants from the U.S. and Japan attended the event, including many alumni who were members of sports teams/clubs ("Undo-bu"and "Doko-kai") during their undergraduate years. The gathering was hugely successful with a lively discussion.

First, Mr. Kenichi Kawamoto, President of JETRO New York, who was a member of the track and field team at UTokyo and remains an avid marathon runner to this day, made opening remarks. He was followed by Prof. Tsuda who spoke for about 40 minutes after which he fielded questions and comments from the panel and audience.

Arguing that athletics have great potential for multifaceted growth at the University of Tokyo, Prof. Tsuda focused mainly on five points: 1) The current state of athletics at UTokyo; 2) The University's relationships with sports team/club alumni; 3) Promoting the development of athletics at UTokyo; 4) Presenting the research findings of the UTokyo Sports Science Initiative (UTSSI), including the "FUSION" concept and cooperation with local communities; and 5) The improvement and outreach activities of sports at UTokyo.

Following Vice President Tsuda's presentation1, panelists including UTokyo swim team alumnus, Takeshi Komoto (Google Japan G.K.), and UTokyo volleyball team alumnus, Yasuhiko Takanashi (Kyoto Sangyo University), spoke about their personal experiences with UTokyo athletics and addressed the following topics:

Komoto: 1) My motives for joining the team; 2) The benefits of joining a sports team/club; and 3) What should be done to invigorate athletics at UTokyo.
Takanashi: 1) The importance of setting a goal to strengthen sports at UTokyo; 2) The need to publicize/share UTSSI findings with the outside world; 3) Future topics such as bringing sports science researchers in contact with athletes on the field.

In the Q&A session that followed the presentation and panel discussion, interesting questions were raised and a lively exchange ensued as many of the participants had played an active part in sports while at UTokyo. Below are excerpts from the discussion.

Q: What is your thought about setting a concrete goal for strengthening athletics at UTokyo?

Tsuda: Setting a goal to promote sports at UTokyo is a frequent topic of discussion for the University, and continues to be so as it is a highly complex issue. Some reasons for its complexity include the fact that there are many stakeholders in the University, and there is no department that coordinates sports at the University. However, this is an issue that needs solving, and the fact that discussion has commenced over the need for a "UTokyo Sports Charter" is already a huge step. With the "UTokyo Sports Charter," it is our expectation that setting a goal for promoting and supporting sports at UTokyo will be possible.

Q: Do you have any thoughts on training elite athletes at UTokyo?

Tsuda: When considering the brand/mission of UTokyo, training elite athletes should NOT be the priority. However, since contributions to society by UTokyo alumni are of the utmost importance and given that the social influence of UTokyo is significant, the University plans to give wide and balanced support for sports activities on campus.

Q: Please tell us about sports science at UTokyo and its contribution to society.

Tsuda: UTSSI was established to be the internationally preeminent center for sports science research. Providing support for competitions and strengthening teams are not the only purpose of this research facility. Through sports science research and development, the center aims to explore a wide variety of ways to contribute to society such as through improving public health on a community level and promoting the well-being of the elderly and/or disabled.

Lastly, Mr. Kenichi Sugiyama (former general manager of the External Relations Division of the University of Tokyo), who was a member of the University's American football team and the General Section for Athletic Affairs during his undergraduate years at UTokyo, gave the following closing remarks:
Until this discussion, I was largely unaware of Prof. Tsuda's commitment to athletic matters. However, I now see that his enthusiasm for the development of athletics at the University is clearly demonstrated by his proposal to create a "Charter on University of Tokyo Athletics." His discussion today clearly explained the University's policies and stance in this area. As an alumnus, I appreciate the contribution of the University to wider society as well as the latter's support for the former. Reflecting on FUTI's accomplishments/activities, I realize the enormous impact of the contribution of its benefactor, Mr. Chihiro Kanagawa, (formerly Chairman of Shin-etsu Chemistry, Ltd.) who passed away in January 2023 2. Just as he did, we must also endeavor to support the development of our alma mater.
After the lecture and dialogue, many of the participants remained to continue the stimulating discussion. The hosts of the event commented, "On top of thanking all the participants, it would bring us great joy if this event, with the support of UTokyo alumni, becomes an impetus for societal progress through sports and further invigorates UTokyo."

Friends of UTokyo/Satsuki-kai America Event Team

1 A presentation by one of the panelists, Masako Osako, was not given due to time running out. For those interested in seeing the slide presentation, "What does it take to rally a university through sports? A venture by the Harvard Alumni Association (HAA) University-wide 5K," please contact satsukiamerika@gmail.com.
2 See Dr. Chihiro Kanagawa's obituary (FUTI link here).
https://www.friendsofutokyo.org/dr-chihiro-kanagawa-important-supporter-and-benefactor-of-futi-passes-away/

Endnote: Translated by the Event Team. For the original article approved by the lecturer, please refer to the Japanese version.

(December 7, 2022) Lecture by Mr. Hayato Kume, First Secretary of the Embassy of Japan in the USA, Entitled "Japan's Coronavirus Policies as Seen from My Perspective Gained in the United States" Held, hosted by Satsukikai America of D.C. and New York and co-hosted by Friends of UTokyo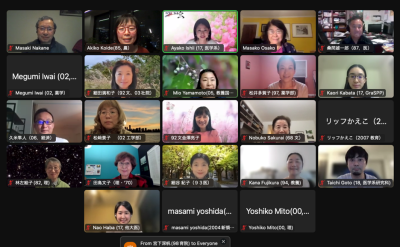 On November 4, 2022, Mr. Hayato Kume (UTokyo alumnus), First Secretary of the Embassy of Japan in the USA, gave a talk titled "Japan's Coronavirus Policies as Seen from My Perspective Gained in the United States." This event was hosted by Satsukikai America of D.C. and New York and co-hosted by Friends of UTokyo. The lecture was lively and attended by 26 participants from the US and Japan representing various backgrounds.

In 2006, Mr. Kume joined the Ministry of Health, Labor, and Welfare in Japan. During his tenure at the Ministry, he worked in a wide range of areas, including healthcare policies, policies for disabled people and reforms in employment regulations. After serving as Deputy Director of the Ministry's Headquarters for COVID-19 Response, in September 2020, he was placed in charge of the department overseeing COVID-19 and global health as the First Secretary of the Embassy of Japan in the USA. In this lecture, he shared his own experience serving in the Headquarters for the COVID-19 Response in Japan and his reflections on Japan's coronavirus policies after observing the US coronavirus policies on a first-hand basis. Using a slide presentation, he covered the following five main topics: 1) a statistical comparison of Japan with other G7 countries regarding coronavirus infection numbers and rates of vaccination, 2) the circumstances surrounding the Japanese government's initial response to the pandemic, 3) the conflict in prioritizing the economy or medical resources, 4) the Japanese government's progress from vaccine procurement to inoculation of the population, and 5) discoveries made in dealing with the coronavirus pandemic.

Many participants shared their thoughts on the lecture including: I was glad to learn the carefully planned strategies of the Japanese government's coronavirus response," "[Mr. Kume] shed light on why the positive developments in Japan were not publicized abroad and how the situation can be improved," and "I was truly glad to hear the stories of those who worked so hard on the frontlines during the coronavirus pandemic."

Many of the participants, which included FUTI Vice-President Dr. Yuichiro Kuwama, were experts in medical fields, public health or pharmaceutical studies. This mix in the audience resulted in a Q&A session with thought-provoking discussions and lively exchange of opinions.

(Participant) I would like to ask your views on policies/perspectives or methods on the pandemic response that the US, Japan and other countries would benefit from utilizing.
(Kume) Early on in Japan's response to the new corona-virus, fortunately or unfortunately, a team of specialists was placed on the Diamond Princess cruise ship to manage the situation and studied the characteristics of the coronavirus (including asymptomatic infections and aerosol transmission). Their discoveries that were made early on in the pandemic helped Japan to form policies later on. Moreover, drawing on their prior experience of the "novel" influenza and SARS virus, the Japanese government was able to quickly institute the system of retrospective tracing firmly in place in respect to infection recognition, testing, and isolation. Also, Japan can take pride in its ability to plan countermeasures that are sensitive to regional characteristics because of the unique public health centers in each region. On the other hand, the US had an advantage in that the government and private sector have been investing in and working on a vaccine even before the coronavirus pandemic, so that the quick development and implementation of a highly effective vaccine was possible. Compared to other countries, vaccine development was delayed in Japan due to a higher level of vaccine hesitancy and past experience of lawsuits that caused many pharmaceutical companies to withdraw from vaccine development. I believe that this issue will be a topic for discussion in Japan going forward.
(Participant) In the early days of the coronavirus pandemic, restaurants in the US ceased operation, but in Japan restaurants only shortened the business hours. Please share with us your thoughts on this matter.
(Kume) In Japan, measures such as the closing of restaurants were not imposed. However, I believe that the measures taken by Japan, including the establishment of giving detailed guidelines to help mitigate the spread of infections such as shortening business hours, limiting the number of customers allowed to enter the facility, and limiting the alcohol supply had a solid effect. As I discussed in my presentation, finding a balance between economic and public health needs was essential, and these are difficult decisions.
(Participant) Early on in Japan, the HPV vaccine (cervical cancer vaccine) inoculation rate was low, but I have heard that because of the widespread practice/implementation of COVID vaccination, the resistance to vaccines more generally has been reduced and the HPV vaccine inoculation rate has gone up. What do you think?
(Kume) As the COVID wave peaked, the public's scientific literacy about vaccines in general has gone up, and I think it shows great progress that the HPV vaccine inoculation rate has accelerated. However, I should caution that vaccines have to contend with efficacy and safety since vaccines can have widely different effects on individuals. Therefore, the decision to be vaccinated rests on each individual and must be made after weighing the risks and benefits. From now on, it is important for the government to disseminate information regarding vaccines by working closely with specialists and the public.
(Participant) I believe that a topic of this kind of lecture also could include the current state of mass media.
(Kume) Absolutely. However, understandably the mass media needs to consider viewership numbers and there is a risk that viewership preference influences broadcast news contents. In order to mitigate the effect of such a possibility, it is critical to further improve the scientific literacy of the public.

Mr. Kume further commented, "It has been my pleasure to have the opportunity to present to everybody the effort by the Japanese government to counter coronavirus infections, and to have stimulating discussions with many of you."