(Dec 4, 2016) The 1st Seminar of the UTokyo Alumni Association of Nepal Held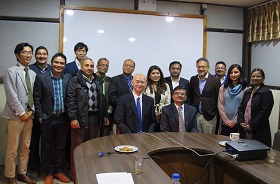 The UTokyo Alumni Association of Nepal held its first seminar, with Prof. Jimba as its special guest.
On 29th November 2016, to coincide with the visit of Prof. Masamine Jimba, Graduate School of Medicine, to Kathmandu, the UTokyo Alumni Association of Nepal (UTAAN) convened its first event since its launch in July 2016. Fifteen Nepalese and two Japanese alumni gathered in Patan Engineering College, which Prof. Tek Raj Gyawali, one of the alumni, kindly arranged as the venue. The scope of the presentation by Prof. Jimba was not limited to his field of expertise, public health; he cast a profound question: "Ke Bikas ho?" ("What is development?"), citing his broad experiences in and knowledge on Nepal and other parts of the world. The participants were all highly motivated and encouraged to apply Prof. Jimba's message to the challenges they currently face. The seminar was followed by a heartwarming dinner. UTAAN is a relatively new overseas association, but the number of alumni listed already exceeds 40, showing the strong initiative of Nepalese alumni. UTAAN plans to hold ad-hoc seminars as well as regular general meetings.