The merging of Tokyo Kaisei School and Tokyo Medical School created the four Faculties of Law, Science, Letters and Medicine, which came together with a university preparatory school (yobimon; the First Higher School of Japan's predecessor) to form the University of Tokyo. At first, the three Faculties of Law, Science and Letters were located in the Kanda area, while the Faculty of Medicine was established in the Hongo area.
The University Library's Reading Room, 1900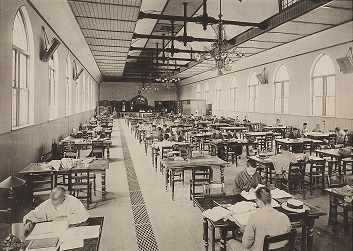 From these beginnings, the University of Tokyo continued to merge with many different schools specializing in various fields, such as the Imperial College of Engineering and Tokyo School of Agriculture and Forestry, thereby growing into a comprehensive research university. The University also has experienced a number of name changes over the years. Due to the incorporation of all national universities in 2004, the University's full name is now National University Corporation, the University of Tokyo.
Currently, the University of Tokyo is comprised of 10 Faculties, 15 Graduate Schools, 11 affiliated research institutes (including the Research Center for Advanced Science and Technology), four University Joint Education and Research Institutes, three Institutes for Advanced Study, four Interdisciplinary Research Institutes, three National Joint-Use Institutes and over 40 Collaborative Research Organizations. Furthermore, the Faculties, Graduate Schools and research institutes have facilities associated with them; for instance, the University of Tokyo Hospital is one such facility.
In addition to the three main campuses in Hongo, Komaba and Kashiwa, facilities affiliated with the University of Tokyo are spread all throughout Japan.
For more detailed information on the University's history, please visit the pages below.