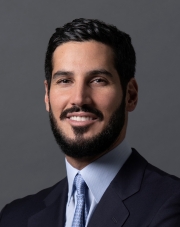 Mr. Hassan Jameel
Deputy President & Vice Chairman,
Abdul Latif Jameel Company Ltd.
Hassan Jameel
is Deputy President and Vice Chairman, Saudi Arabia of Abdul Latif Jameel, a familyowned, globally diversified business and investor with a start-up culture. Abdul Latif Jameel was founded in 1945, in Jeddah, Saudi Arabia and, through its ventures, is actively progressing the future of its core sectors, mobility and energy worldwide.
In his current role, Hassan Jameel oversees domestic operations in Saudi Arabia, the company's largest market, leading the automotive, land and real estate, finance and machinery sectors. Within the automotive sector, Mr. Jameel works closely with Toyota Motor Corporation as one of the largest Toyota distributors in the world.
Hassan Jameel has been working across the Saudi-Japanese business landscape for more than a decade. He has served as a member of the UTokyo Global Advisory Board at the University of Tokyo since 2016, bringing his combined experience in international business leadership and strong and long-standing Japanese network.
Fundamental to his career in the mobility sector, Hassan Jameel worked early on at the Japanese multinational automotive manufacturer, Toyota Motor Corporation. Toyota's Kaizen principles of continuous improvement significantly influence Mr. Jameel's business operations today.
Hassan Jameel sits on a number of professional boards including Abdul Latif Jameel, Rivian, the US electric vehicle manufacturer, and is a member of the MIT School of Engineering Dean's Advisory Council. Hassan Jameel is also an advisor to CoMotion, a strategic consultancy that builds customer-led businesses, and a founding member of the Family Business Council – Gulf, which supports the growth and development on family businesses in the region.
Hassan Jameel is also Vice Chairman of Community Jameel, an international organisation tackling some of the world's most urgent issues and challenges by using a pioneering approach grounded in evidence, science, data and technology. Community Jameel employs a new approach to creating impact, by driving new scientific and technological breakthroughs and innovations in the fields of education, health and climate.
Hassan Jameel was heavily involved in Community Jameel's road safety initiative in Saudi Arabia, which was launched in collaboration with Abdul Latif Jameel and Toyota and aimed at promoting safe driving through education and awareness campaigns. The initiative paid particular attention to equipping children, as future road users, with the necessary skills and knowledge to keep them safe. Hassan is also involved in a number of humanitarian programs with the United Nations High Commissioner for Refugees.
Hassan Jameel holds a Bachelor of Arts in International Economics from the Sophia University of Tokyo and an MBA from the London Business School.
Hassan Jameel speaks English, Arabic and Japanese.