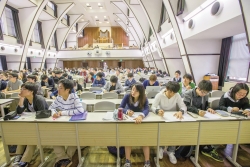 In addition to being the school in charge of the Junior Division education for all the University's first- and second-year undergraduate students, the College of Arts and Sciences provides a unique specialized education in its Senior Division, which is known as the Faculty of Arts and Sciences. Focusing on the keywords "interdisciplinarity," "internationalization" and "innovativeness," the Faculty of Arts and Sciences has aspired to foster "cross-border knowledge" within students. In other words, the Faculty encourages students to have interests in many fields, actively involve themselves in culturally and linguistically different environments, and take the initiative to explore new areas of learning.

Since the foundation of the College of Arts and Sciences in 1951, the Faculty of Arts and Sciences at Komaba has been quick to introduce courses transcending traditional disciplines, such as international relations. Recognizing current societal demands, as well as a response to the changing times, the Faculty implemented an extensive reshuffling of its departments in 2011. Since then, the Faculty of Arts and Sciences is comprised of three departments: Department of Humanities and Social Sciences, Department of Interdisciplinary Sciences, and Department of Integrated Sciences.

The Department of Humanities and Social Sciences, which focuses on the areas of humanities, is made up of three Sub-Departments, differing in their focus and approach: Interdisciplinary Cultural Studies, Area Studies and Social and International Relations. The Sub-Department of Interdisciplinary Cultural Studies consists of seven courses: Cultural Anthropology, Culture and Representation, Comparative Literature and Arts, Contemporary Thought and Philosophy, Interdisciplinary Japanese Cultural Studies, Interdisciplinary Language Sciences, and Studies on Language, Text and Culture. The Sub-Department of Area Studies has nine courses: British Studies, French Studies, German Studies, Russian and East European Studies, Italian / Mediterranean Studies, North American Studies, Latin American Studies, Asian and Japanese Studies, and Korean Studies. The Sub-Department of Social and International Relations contains two courses: Interdisciplinary Social Sciences, and International Relations.

The Department of Interdisciplinary Sciences, which covers fields that integrate arts and sciences, comprises four courses: Science and Technology Studies, Geography and Spatial Design, Informatics, and General System. Also, the Department offers six sub-programs: Science and Technology Studies, Geography and Spatial Design, Informatics, General System, Environmental Sciences, and Evolutionary Biology.

The Department of Integrated Sciences, which centers on the sciences, consists of five courses: Mathematical Sciences, Matter and Materials Science, Integrated Life Sciences, Cognitive and Behavioral Sciences, and Sports Sciences. Each department provides a unique and distinctive education.

Also, in October 2012, the College of Arts and Sciences started an all-English degree program called PEAK (Programs in English at Komaba). Students from all over the world enter the program as first-year students through an admissions process resembling that of western countries. They are enrolled in the International General Education Program during their two years in the Junior Division, after which they choose to go on to either the International Program on Japan in East Asia or the International Program on Environmental Sciences for their Senior Division course. Students who entered the University through the traditional examination method may also advance to a Senior Division PEAK program as long as they meet certain requirements.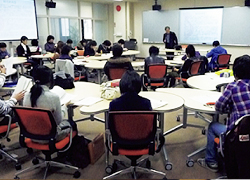 Because the College of Arts and Sciences features a large number of academic staff members who carry out research in a variety of fields, many of the Faculty's classes are provided under ideal low student-to-teacher ratios. The humanities-related courses offer classes that cover many foreign languages, enabling students to acquire a global perspective that does not bias them toward a particular region. For languages that are regarded as being of particular importance, the department provides advanced classes which help students to obtain a high level of language ability. The goal of this department is to cultivate talented individuals who can communicate effectively in the international community and come up with flexible ideas that go beyond the boundaries of academic disciplines.

The sciences-related courses offer unique educational programs not limited to one specific discipline. Students can learn technical knowledge and insight that extends across more than one area. They can then use what they learned as a foundation for endeavoring into more advanced disciplines.

The interdisciplinary courses intend to foster talented people who can handle new challenges from comprehensive viewpoints. These people will be able to utilize appropriate methodologies and flexible ways of thinking that are not strictly limited to either the humanities or the sciences.

In addition, the Faculty offers cross-disciplinary programs that do not fit into any of the fields covered by the abovementioned departments, including the Global Ethics, Evolutionary Cognitive Brain Science, Science Interpreter, Global Studies and Trilingual East Asian Studies.

As can be seen, the defining characteristics of the Senior Division of the College of Arts and Sciences lie in the variety of programs and learning methods the College offers to encourage students to go beyond disciplinary borders.
Departments of the Senior Division
Collapse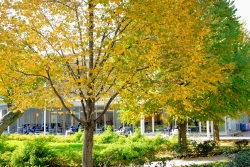 Department of Humanities and Social Sciences
Interdisciplinary Cultural Studies
Area Studies
Social and International Relations
Japan in East Asia (PEAK): International program offered in English
Department of Interdisciplinary Sciences
Science and Technology Studies
Geography and Spatial Design
Informatics
General System
Evolutionary Biology
Environmental Sciences (PEAK): International program offered in English
Department of Integrated Sciences
Mathematical Sciences
Matter and Materials Science
Integrated Life Sciences
Cognitive and Behavioral Sciences
Sports Sciences
Cross-disciplinary Programs
Global Ethics
Evolutionary Cognitive Brain Science
Science Interpreter
Global Studies
Trilingual East Asian Studies
Type of Degree
Bachelor of Liberal Arts
Senior Division Section: kouki.c AT @gs.mail.u-tokyo.ac.jp


Website