One-hour mock interviews designed to be like the final interviews for students' preferred companies are conducted, followed by specific advice from the interviewers.

Most of the participant students gave positive comments about these activities.



Reports on past events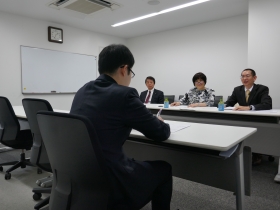 Date: February 15, 2019
Mock job interviews were held five times in January / February 2019. A total of 79 students including both graduates and undergraduates participated in the events. Interviewers included 14
UTokyo Alumni Association Supporters
who are volunteers registered to the UTokyo Alumni Association as well as staff members of the Office for Alumni Affairs.
In a questionnaire about the lecture and mock job interviews, all the participants answered that the interviews were quite helpful or helpful.
Examples of specific feedback from the participants are as follows:
"The tension felt as if I were being interviewed by real interviewers from a company I would like to work for."
"Interviewers seem to have abundant social experiences and their cutting questions were really stimulating."
"Questions from the interviewers made me think deeply and provided me an opportunity to answer questions with my own words."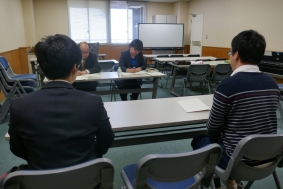 Dates: January, February 2018


Currently, around 30 alumni are registered to the UTokyo Alumni Association as its supporters, thus playing an active role by making use of their own careers.

On January 16, 2018, a lecture titled "These human resources are highly evaluated by corporations - basic points their interviewers focus on" was presented by one of the supporters, a present CEO of a foreign-capital company, while mock job interviews were held four times in February 2018. Sixty-one graduates and undergraduates attended the lecture, while a total of 95 students including both graduates and undergraduates participated in the events. Interviewers included staff members of the UTokyo Alumni Office as well as UTokyo supporters who are volunteers registered to the UTokyo Alumni Association.

In a questionnaire about the lecture and mock job interviews, almost all the participants answered that the interviews were quite helpful.

Examples of specific feedback from the participants are as follows:

"Specific advice such as 'this episode will work as a strong card for you.' or 'that company thinks highly of its brand image, so it would be better for you to show interest in that.' was quite helpful."
"I got feedback on whom corporations want to hire from an interviewer's perspective, which made me more confident."
"It was the first time for me to be interviewed by such senior interviewers, which gave me quite a useful experience."
"Appropriate advice on my advantages, disadvantages and impressions made me realize things I had never noticed before."
"It gave me quite a useful opportunity to be interviewed in such an atmosphere as real as that of an actual interview."
Dates: May 10 and 13, 2016

A total of 55 students including both graduates and undergraduates participated in the events. Interviewers included four staff members of the UTokyo Alumni Office as well as a Senior Adviser, Office of the President and some alumni volunteers.

In a questionnaire about the event, 42 out of 55 participants answered that the interviews were very helpful while the remaining 13 answered that they were helpful.

Specific feedback from the participants was as follows:

"A lot of appropriate advice that will be useful for actual interviews was given."
"I got feedback on whom corporations want to hire from an interviewer's perspective, which made me more confident."
"It was encouraging for me, since I had lost confidence in job-hunting."
"Appropriate advice on my advantages, disadvantages and impressions made me realize things I had never noticed before."
"I would also like to experience a stressful interview."