Project Purpose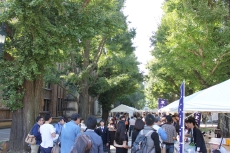 As noted above, the UTokyo Alumni Association is developing various programs and activities for alumni and current students. In specific terms, activities are implemented through close cooperation between the University itself and the Secretariat of the UTokyo Alumni Association which is located on campus, as well as member volunteers. Our single most important day is Homecoming Day, which is held in autumn each year and attracts many attendees. We are working to further enhance the contents of Homecoming Day so that it becomes an even more a large-scale and lively reunion party for all participants. Also, in terms of basic infrastructure required to expand programs and activities, urgent challenges we face are to improve our contact lists for alumni (as of the end of March 2014, we held information on just over 30% of all alumni) and improve our online directory.
The
Support Fund for the UTokyo Alumni Association
will provide broad support for the activities of the UTokyo Alumni Association and will drive forward further vitalization of the Greater UTokyo Community. Since our establishment in 2004, the expenses for the association, including publication costs for the association journal, secretariat costs, and system development costs have been funded for the most part from the University's budget. If we could receive generous support of many donors both inside and outside the University, including association members, it would enable us to further develop our activities even in the stringent budget situation that is being faced by university corporations. We ask for your warm support and cooperation.