Location and Hours
Collapse
Location
Hongo Campus, across from Tatsuoka Gate
Days Open
Mondays - Fridays (excluding holidays)

(temporarily closed)

Times Open
10:00 - 16:30

(temporarily closed)

Closest Train Stations
Marunouchi Line, Hongo San-chome Station: 8 minutes' walk
Chiyoda Line, Yushima Station: 8 minutes' walk
Oedo Line, Hongo San-chome Station: 5 minutes' walk
Buses
From Ueno Station (Asakusa Exit):
Take the bus headed for "Tokyo Univ." (東大構内; Todai-Konai)
From Ocha-no-Mizu Station (Hijiribashi Exit):
Get off at the Tatsuoka Gate (竜岡門) bus stop
Guide Maps
Hongo Campus Access Map
Hongo Campus Map
[First Floor]
Watching Videos
- Watch videos promoting the University of Tokyo and introducing research done at the University. Some videos are available in English.
Pamphlets, Guides and Magazines
- Copies of the monthly University magazine Gakunai Kouhou, the external public relations magazine Tansei, the University of Tokyo Guidebook and other documents are available to pick up and take with you.
- Other Books published by the University of Tokyo Press are on display.
The Center also distributes Center Examination Guides and Admission Applications. (Note: These are distributed during certain periods only.)
Pictures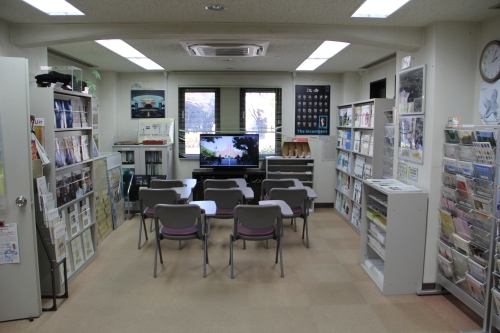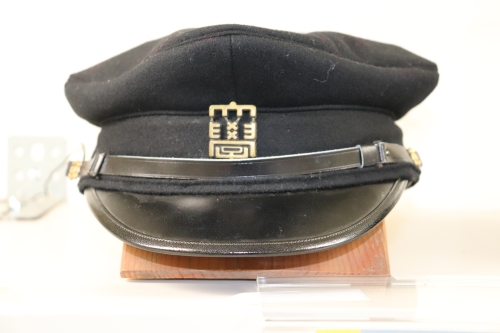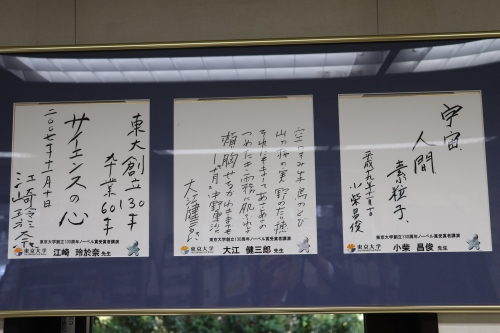 Recently, the Center has also been showcasing the activities of some student clubs. Pieces created by the origami club Orist (left) are on display, as are implements used in scientific experiments from the science communication club CAST (right).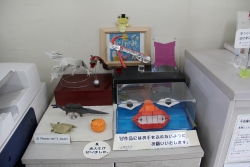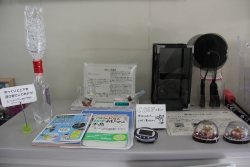 [Second Floor]
Material Reading Room
- Research Information
Learn about research conducted at the University of Tokyo.
- Guides and quick summaries about the University's research institutes, joint educational and research facilities within the University, etc.
- Reports on research results, including those from Faculties and Graduate Schools (bulletins and annual reports)
- University Information
Receive an overview of University of Tokyo and learn about the University's educational activities.
- The University of Tokyo Guidebook
- Guides and summaries for Faculties, Graduate Schools, Centers and other affiliated institutions
You can also learn about the University of Tokyo's past, present and future.
- One Hundred-year History of the University of Tokyo and history of each Faculty/Graduate School
- Illustrated books and history of the University's 120th anniversary commemorative University of Tokyo Exhibition
- Issues of Gakunai Kouhou, Tansei and other public relations magazines/booklets from Faculties/Graduate Schools
- External Evaluation Reports
- The University of Tokyo: Current State of Affairs and Challenges (white paper)
Pictures