The hub of Japan's capital fits right into an area within a 10-kilometer radius from the center of Tokyo. Both the University of Tokyo's Hongo and Komaba campuses are located within this area. Taking the convenient and comfortable Tokyo railway system, what kind of activities can be found within 30 minutes' travel from Tokyo Station? Here's a sampling of the culture, wonder and excitement you'll encounter.

Tokyo 10 km radius
A Multitude of Cultural Experiences
Collapse
Tokyo boasts a concentration of cultural facilities representing the best of modern Japan. Music, theater, opera, traditional arts, as well as sound and stage performances of many other genres are endlessly on offer. With world-renowned orchestras and soloists, along with countless operas and musicals continuously on tour, halls with state of the art technology and acoustic design deliver unsurpassed sound fields for the enjoyment of a broad repertoire of performances.

The pleasures of traditional performance arts such as Kabuki and Noh also include experiencing their impressive theaters and unique stage designs. At Kabukiza, a well-known Kabuki theater, karahafu (Chinese cusped gables) and other exterior architectural aspects built in centuries-old tradition, along with interior galleries, can be enjoyed before a performance even starts.

For those wanting to see a movie, an exciting selection of projection systems, special seating and film choices await you. Each October, the Tokyo International Film Festival, one of the competitive feature film festivals sanctioned by the FIAPF (International Federation of Film Producers Associations), is held in Tokyo, with Toho Cinemas, located within the Roppongi Hills complex, as its main venue and film viewings spread across Metropolitan Tokyo.

Many of the over 400 museums and galleries said to be in Tokyo alone stand within this 10 km radius.

For art enthusiasts, there are many other places to enjoy besides the museums in Ueno we previously introduced in "Within a 1 km Radius of Our Campuses." Public art museums include the National Art Center, Tokyo and the Museum of Contemporary Art, Tokyo. For natural science fans, there's the National Museum of Emerging Science and Innovation (Miraikan), and if you're interested in the humanities and history, we recommend the Edo-Tokyo Museum, to name a few. There are also many more with outstanding collections operated by the private sector and corporations. Far-ranging collections of modern art, Oriental antiques, ceramics, tea ceremony instruments, ukiyo-e, Buddhist statues and many other types of art can be found to satisfy every taste.
INTERMEDIATHEQUE: Cabinets of Wonder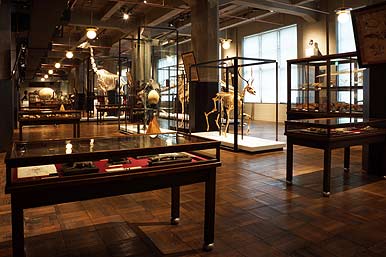 JP Tower Museum INTERMEDIATHEQUE
The JP Tower Museum INTERMEDIATHEQUE opened in 2013 across from Tokyo Station, in what was formerly the Tokyo Central Post Office, renowned for its modernist architecture.
Operated jointly by UTokyo and the Japan Post Co., Ltd, the museum uses original fixtures and cabinets from UTokyo's labs to display the evolution of the University over the three centuries it has spanned since its founding in 1877. The museum collection includes something for every taste and curiosity: specimens, taxidermy samples, human anatomical models, mineralogical collections, ancient Persian necklaces, old globes and armillary spheres, astronomical telescopes, geometric models, and avant-garde artist Genpei Akasegawa's "The Great Japanese Zero Yen Note."

What kind of experience will you have when looking through this wunderkammer (cabinet of curiosities) in 21st century Tokyo?

It's one minute by foot from JR Tokyo Station Marunouchi South Exit or directly linked to Tokyo Metro Marunouchi Line Tokyo Station. Admission free.
Introducing the Area Neighborhood 1: Tokyo Station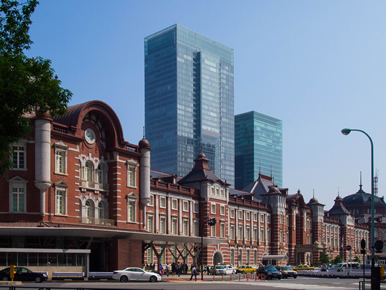 Tokyo Station exterior
INTERMEDIATHEQUE stands in an area which has long been the heart of Japan's economy, lined with impressive buildings of megabanks, government financial institutions, and alongside head offices of trading companies and mass media. Extensive redevelopment in recent years has not only enhanced the appearance of the neighborhood, but also strengthened safety and earthquake-resistant features in new high-rise structures, putting polish to the area's growing image as an elegant town offering quality shopping and dining.

In 2014, Tokyo Station celebrated 100 years since its opening. In that same year, the station emerged from extensive restoration and preservation work, highlighted by the reconstruction of its magnificent red brick exterior crowned by a dome-shaped roof. This renovation work transformed the station's structure into one befitting the home of the world-renowned high-speed Shinkansen and other Japanese trains boasting unparalleled safety and precision.

The area around the station is connected underground for added convenience, but we suggest a look at the station's exterior from street level.
A Panoramic View of Tokyo, Old and New
Collapse
The easiest way to enjoy the views of Tokyo is to visit an observatory. The view from the two observatory levels at Tokyo Tower (located at 150m and 250m above ground), along with the impressive structure itself, has made it a beloved symbol of Tokyo for Japanese and overseas visitors alike.

In terms of breathtaking views, the Sky Deck (238m), the rooftop observatory in the Roppongi Hills Mori Tower's Tokyo City View, is outstanding. Enjoy the panorama on the roof, with no glass between you and a 360-degree view, which is particularly impressive at night.
Tokyo Skytree: the world's highest tower rises above the traditions of the old town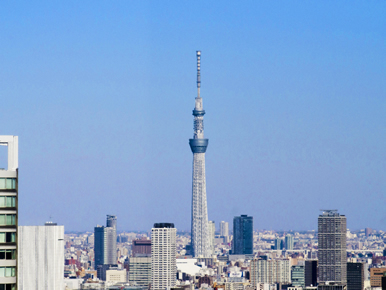 Tokyo Skytree
The No. 1 spot in popularity today goes to Tokyo Skytree, a broadcast tower which opened in May 2012 in Tokyo's famed shitamachi (old town) district, an area retaining the charm of the Edo period. With a full height of 634 meters, it became the highest freestanding structure in the world at its completion, with the observatories also the highest in Japan at 350m and 450m. Catch a sweeping view starting with the shitamachi at its foot, to the bay area, packed with high-rise condominiums, the city center, with its commercial and government offices, the lush green of the Imperial Palace, then on to Tokyo Tower and more clusters of skyscrapers, against the backdrop of the distant mountain ranges where you may catch Mount Fuji on a clear day. Let your eyes feast on the city's diversity by following the threads of rivers, railroads and highways and the changing landscape around them.

You can also enjoy the 312 stores and restaurants of Tokyo Solamachi, a planetarium, and an aquarium, which, as part of the Tokyo Skytree Town, has become a new landmark.

Just one minute from either the Tokyo Skytree Station on the Tobu Isesaki Line (also known as Tobu Skytree Line) or Oshiage Station on the Keisei Oshiage, Toei Asakusa and Tokyo Metro Hanzomon lines.
Area Introduction 2: Asakusa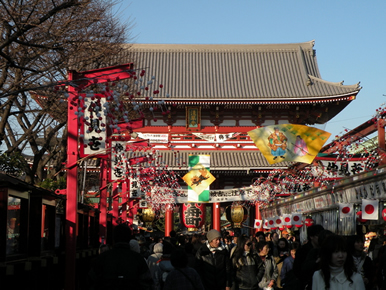 A view of Asakusa from Nakamise-dori Street
Just one stop (3 minutes) on the Tobu Isesaki Line, or a pleasant 30-minute walk along the fascinating collection of uniquely-styled bridges crossing Sumida River, is Asakusa, a popular tourist area in the shitamachi, where old Edo-era scenery and history can still be enjoyed. Kaminarimon, the main gate of its oldest temple, 1400-year-old Senso-ji, is always crowded with tourists eager to take its photos. Enter the gate, and Japan's oldest shopping street, Nakamise-dori Street, unfolds before you, a sacred promenade lined on both sides with 90 stores, leading 250m to the Hozo-mon Gate. Many souvenirs with traditional motifs can be purchased here, along with popular sweets unique to Asakusa.

To know what it's like to walk along the shopping street, check out photo sharing services like Instagram and search for the hashtag #asakusa.
Streets Filled with the Latest Fashion
Collapse
Large-scale shopping and commercial streets are everywhere, many home to "fast fashion" stores. These "fast fashion" stores can also be found inside train stations, making convenient shopping available even on weekday evenings after work or class.
The city's charms are many. Tokyo has an energy which engenders fashion and exudes creativity and imagination, not just practicality. For international high-end brands, go to Ginza and Omotesando to find the top boutiques. For Tokyo originals, as well as good selections from across Japan, or new international and start-up brands, try Harajuku, Shibuya, Daikanyama and Nakameguro.
Area Introduction 3: Omotesando - Meiji Jingu-mae - Harajuku - Shibuya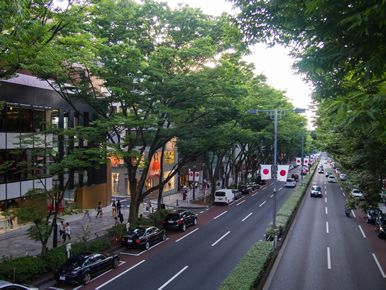 Omotesando Street
This area is highly recommended.
Just by walking along the streets in this area, you can experience the full scope of international high fashion alongside the Tokyo fashions the world is clamoring for.

A wide promenade running north to south 1.3 km with Tokyo Metro Omotesando Station in its center is a luxury brand street. Starting at the south end, there's Nezu Museum, with Meiji Jingu-mae Station on the north end, and a beautiful tree-lined avenue flanked by Cartier, PRADA, COMME des GARÇONS, TOD'S, Louis Vuitton, Dior, HUGO BOSS and more, each elegant boutique created by renowned architects.

Step into the alleys, and there's another world of fashion brands weaving original ambiance, delightful concept shops, vividly displayed western book and art book shops, quaint galleries, atmospheric cafes and up-and-coming coffee shops.

Omotesando's northeast side overlaps with what's known as the Harajuku and Ura-Harajuku area, the origin of Japan's "kawaii" fashions, and intersects with popular Harajuku Cat Street where there's a concentration of small shops. On weekends and holidays, you'll find a wonderful mish-mash of pedestrians in Girly, Lolita, Gothic, Punk, and Fairy outfits, showing the full spectrum of Harajuku fashion.

Along the west side of Omotesando is Harajuku Cat Street with Meiji Dori running parallel to it, and a lot of outdoor brand stores, general merchandise stores and restaurants can be found lining the street all the way to the entrance of Shibuya Station. It's worth checking out the long history of this fashion area linked intricately with the Japanese music scene at major music stores like Tower Records, which host mini-live events and talk shows in-store.
Entertainment Unique to the Area
Collapse
When talking about entertainment, don't miss out the unique worlds created by fans of some of Japan's most recognizable cultural exports, anime and manga.

Of course, anime and manga entertainment facilities can be found anywhere in the country, but the ultimate spot is the sacred land of "otaku": Akihabara. Long known as the "electric town," it's now lined with anime, manga, J-pop and game shops, and live events are held, making the whole town a pop culture playground. When you've had your fill of Akihabara, how about checking out the sub-culture at the shops on Nakano Broadway? You can enjoy a gallery and café produced by world famous contemporary artist Takashi Murakami there.
Gundam Front Tokyo: A World Seen Through a Life-size 'Mecha' Star
Amongst anime and manga goods, plastic models and figurines of fictional mecha are particularly popular with fans.

Just like scale models of planes and ships from past and present, typically models have been recreated at scales of 1/144 or 1/100, but recently the trend has escalated to where they're made 1/1. That's life-size, and not something which can fit in your home.

One that has drawn lot of buzz is a life-size model of TV anime Mobile Suit Gundam's main mecha Gundam RX-78-2, which was put on a limited-run display in 2009 standing 18 meters high. Details were subsequently added, and can now be seen at the Festival Plaza of popular entertainment and retail complex DiverCity Tokyo Plaza free of admission. Now there's a project to add movement to the life-size model, and the technical challenges involved are stirring great interest.

At the same facility, experience the world of Gundam through videos and informational materials at Gundam Front Tokyo (admission charged), as well as the Gundam Café in a theme park atmosphere.

The location is a 5 minute walk from Daiba Station on the New Transit Yurikamome (Line) or 3 minutes from the Tokyo Teleport Station on the Tokyo Waterfront Area Rapid Transit Rinkai Line.
Area Introduction 4: Odaiba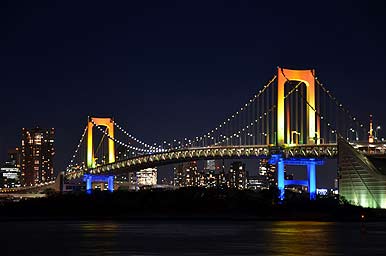 The view of Rainbow Bridge from Odaiba.
Odaiba, home to the life-size Gundam, is an artificial island in Tokyo Bay. There are numerous shopping complexes there alongside DiverCity Tokyo Plaza, with some choice restaurants from where spectacular nightscapes with a view of Rainbow Bridge and Tokyo Tower can be enjoyed.

Rainbow Bridge can be crossed by Yurikamome, bus, car or by foot. The scenery at sunset is breathtaking.
A wide variety of other things to do and see are on offer within this 10 km radius in Tokyo. What makes it all so special is that they can be accessed through a world-class railway system renowned for its safety and punctuality. Furthermore, there aren't any areas which would be unsafe to walk in. Areas in front of stations will often have kaiten (conveyor belt) and take-out sushi shops, ramen noodle shops and, if you're of drinking age, nice izakaya casual eating and drinking establishments.

The best sushi in the world can be found in Tokyo. Tokyo has twelve Michelin three-star restaurants in the 2015 Michelin Guide, the most that can be found in any one city in the world. Other than Japanese food, popular eateries serve Chinese, curry, Korean barbecue, fast food, French, Italian and others, representing foods from nearly 80 countries and regions. There are a wide variety of shops selling food ingredients from all over the world.

The Tokyo 2020 Olympic and Paralympic Games will be held here in 2021. Most of the sports competitions, apart from the football (soccer) preliminaries and the cycling road races, will be held within the Tokyo 10 km radius. Repair and maintenance of venues are busily underway. The environment to not only "spectate," but also to "participate" in sports, will surely be enhanced.

Upgrading services and transportation infrastructure is a top priority right now, and open debates and free exchanges continue as plans take shape. Perhaps there is a possibility that you yourself will be involved directly when you come to Tokyo.