UTokyo's Kashiwa Campus is situated about 30 km away from central Tokyo.
This area, some 40-60 minutes away by train, is just convenient enough for you to be a part of the city's excitement and far enough to feel a safe distance from the fray. The comfortable urban-rural balance of the town has made it a popular choice for many who seek the new and original blend of "work," "live" and "learn."
Three city developments were also planned about the same distance from Tokyo.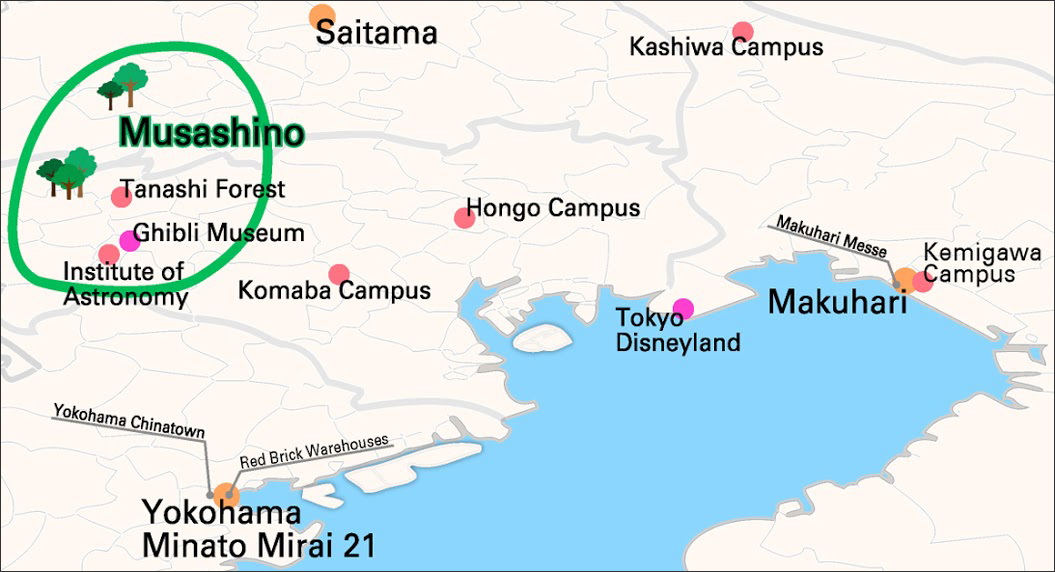 Tokyo 30 km radius
Nature in Simulation: the Charms of Musashino
Collapse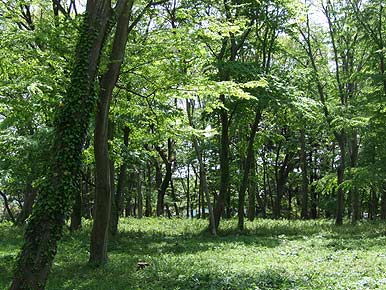 The Woods of Musashino
A stretch of greenery left on the outskirts of Tokyo.
Much of the growth of trees surrounding the city is actually part of the urban planning left over from the Edo period, when a buffer was cultivated and trees were planted to protect the city's fields, shrines, temples, residences and highways as well as secure the necessary firewood. This is a patch of simulated nature, designed by human hands.
We turn first to the area west of Tokyo known through the ages as "Musashino."
The place name "Musashino" first appears in history some 1,200 years ago in the Manyoshu, Japan's oldest collection of waka poetry. At the time, it is believed to still have been an endless stretch of wilderness, untouched by human hands. The locale was often used in old works to set a beautiful moonlit scene and remains a popular choice in many literary pieces today to depict backgrounds of nature merging with the city.
The "Musashi" part of the name Musashino is derived from Musashikoku, a local administrative division, which existed until the end of the Edo period. "Musashi" and "Musashino" continue to be used in many place names in the area such as train stations, a local train line and other proper names.

With the expansion of Tokyo, Musashino continues to shrink in size, but some of the landscape has been preserved as park and farmland to show the unique charms of city life blending with nature.
Tokyo's Tanashi Forest
Staunchly protecting the flora of Musashino to pass on to generations of the future is Tanashi Forest, property of the Graduate School of Agricultural and Life Sciences at UTokyo.
Japanese Red Pines and different species of the Quercus (oak) genus make up the bulk of the trees, and many shrubs, vines and herbs add volume to the forested preservation area, which is open to public on weekdays, providing a valuable chance to see some of Tokyo's "urban forest."
Three New Urban Centers of Tokyo
Collapse
In order to reduce the density of offices in Tokyo, a plan was devised to develop three new urban centers within 30 kilometers of the city.
These new developments are Saitama New Urban Center (in Saitama City) to the north, Makuhari New City (in Chiba City) to the west and Yokohama Minato Mirai 21 (in Yokohama City) just to the south.
We introduce two of those here: Makuhari and Yokohama.
Makuhari New Town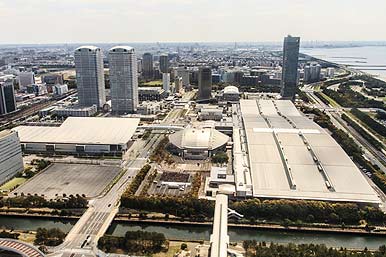 Makuhari New Town
Delivering a magic blend of "work," "life," "education" and "entertainment" from its seat on reclaimed land in Tokyo Bay, Makuhari New Town was developed with visions of a future cosmopolis.

Many of Japan's industry-leading companies have their business and R&D units here and a number of educational facilities of colleges, high schools and middle schools also compete for space with shops, cinemas, outlet malls, several hotels, residential apartments and Chiba Marine Stadium. Kaihin Park, on the sea front, is within easy reach.

The core facility in this new development is Makuhari Messe, preferred by many major trade fairs, exhibitions and music events as one of just two options for a large-scale venue in or around Tokyo, the other being Tokyo International Exhibition Center, also known as Tokyo Big Sight. If you are living in Tokyo, you are bound to visit these.

Makuhari New Town is located a few minutes from JR Kaihin Makuhari Station on the Keiyo Line.
An International Port City, Rich in History and Culture
Collapse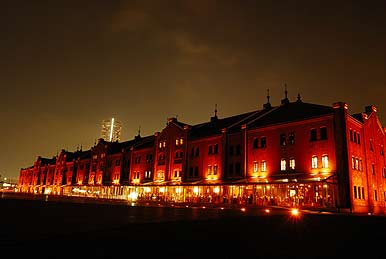 Red Brick Warehouses No. 1 & 2
While Makuhari New Town carved out a new life from a very humble start, Yokohama Minato Mirai 21 continues to develop as a busy port city side by side with a celebrated historic neighborhood, full of international influences. Among Japanese cities, its urbane, east-meets-west mix of charms is unmatched.
Two of the historic attractions remaining as part of the new development are the Red Brick Warehouses No. 1 and 2, built in 1911 and 1913. Now a popular commercial complex, the buildings rent space on three floors to antique and souvenir shops, restaurants, a live music house and art exhibition rooms. Much attention has been paid to preserve the façade of the structures as well as the interior atmosphere.
More recent additions drawing visitors to the neighborhood also include the Cup Noodle Museum, stocking archives of and showing the historic development of the world-famous instant noodle creation as well as providing an interactive entertainment space stimulating the most creative energies of visitors.
The nearest station, Nihon Odori exits onto Nihon Odori Street, Japan's first western-style broad avenue built 140 years ago, and is surrounded by numerous historic landmarks, tracing the dynamic history of the city through the years.
Yokohama Chinatown
Outside of China, Yokohama's Chinatown is arguably one of the largest collection of Chinese establishments in Asia. Founded over 150 years ago, as Yokohama opened its doors to foreign trade, colorful Chinese shops and restaurants quickly sprang up on the narrow streets of the district to become a popular tourist destination, to this day drawing travelers from throughout Japan to dine as well as shop in the atmospheric town.
Built to city plans based on Feng Shui, this gated area offers diners a choice of China's delectable cuisine from the most famous gourmet capitals and provinces on the continent including Canton, Shanghai, the Sichuan and Fujian provinces and Beijing. Restaurants and shops offering Taiwanese Chinese food and products can also be found. Shoppers can wind their way through the crowded maze of Chinatown's over 600 stores to purchase Chinese tea and other imported Chinese and Asian foods.
Chinatown is located one minute on foot from Motomachi-Chukagai Station on the Minato Mirai Line or five minutes from either Kannai or Ishikawa-cho Station on the JR line.
The World of Manga and Anime Characters
Collapse
The most popular entertainment spot within 30 km of Tokyo is Tokyo Disneyland in Urayasu, Chiba Prefecture. Since its opening in 1983, Disneyland has been Japan's busiest theme park, as evidenced by the number of visitors every year. Together with DisneySea next door, which launched in 2001, Disney's reign is uncontested!
But when in Japan, Japan's native entertainment beckons. We invite you to explore the world of popular anime and other characters through stores and museums in and around Tokyo. You can experience Japan's most popular anime studio creations with a stop at the Ghibli Museum (Mitaka City) or the Fujiko F. Fujio Museum (Kawasaki City). Just past the 30 km limit of this article is Sanrio Puroland (Tama City), a character theme park for Hello Kitty fans.
Mitaka Forest Ghibli Museum
It was an extraordinary moment for the annals of anime history when Ghibli's Spirited Away won the Golden Bear Award in Berlin in 2002. In 2003, the same film took home the title Best Animated Feature Picture at the Academy Awards. Works of the now-retired animator and cartoonist Hayao Miyazaki, who is also known for other international hits such as Ponyo and Princess Mononoke, are featured at the Ghibli Museum (Mitaka City).

The museum building, said to be designed based on Miyazaki's personal sketches, replicates scenes from his most popular anime, so that you can "feel" the presence of his characters in each room. But there is more. Here, the exhibit shows the technical details and artwork that give shape and life to an inspiration within the human drama unfolding in real life. Fans from around the world are known to make the pilgrimage to this enchanting space.
Entrance is by scheduled reservations only. The museum is about a 15-minute walk from either Mitaka Station on the JR Chuo Line or Kichijoji Station on the JR Chuo or Keio Inokashira Lines.
UTokyo Facilities within 30 km of Tokyo
Collapse
Here are some of the other UTokyo facilities—apart from Kashiwa Campus and the protected woods described in these pages—within 30 km of downtown Tokyo:
Experimental Station for Landscape Plants (Graduate School of Agricultural and Life Sciences)
Experimental Station for Medicinal Plant Studies (Graduate School of Pharmaceutical Sciences)
Kemigawa Athletics and Sports Ground
In the Kemigawa River area of Chiba stand the three UTokyo facilities above that make up the Kemigawa Campus.
The Kemigawa Athletics and Sports Ground casually invites you to enjoy your choice of field sports on a vast 260,000 square meters of open space. Five fields (three of which are natural grass) have been set up for soccer and one each for American football, hockey, rugby and baseball. There are also tennis courts, a cross-country course and gymnasium, as well as seminar rooms and overnight accommodations. Many sports teams, clubs and other groups take advantage of these facilities.
Chiba Experiment Station (Institute of Industrial Science)
Yayoi-cho, Inage-ku, Chiba City, is the birthplace of the Institute of Industrial Science at UTokyo. It housed facilities for large equipment and research laboratories otherwise requiring more space than available at the Komaba II Campus until 2017, when these facilities were moved to the Kashiwa Campus.
Institute of Astronomy, Graduate School of Science, University of Tokyo
Located on the Mitaka Campus of the National Astronomical Observatory of Japan in Mitaka City, Tokyo, the Institute of Astronomy is a center for observation and research in astronomy.