Specialized Programs offered by GSALS
Alongside the courses offered by the 12 departments, the Graduate School of Agricultural and Life Sciences (GSALS) provides students with unique learning and networking opportunities through the interdepartmental bioinformatics program and the multidisciplinary program designed in collaboration with the public and the private sector (AGRI-COCOON). We also offer an all- English International Program in Agricultural and Development Studies (IPADS).
Agricultural Bioinformatics Research Unit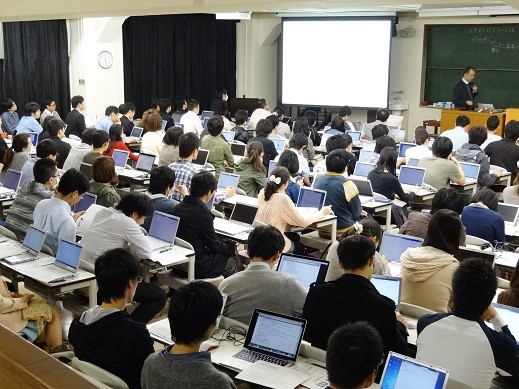 The Agricultural Bioinformatics Research Unit was established in 2004 with support from MEXT (Ministry of Education, Culture, Sports, Science and Technology) to conduct education and research on bioinformatics for graduate students who are studying agricultural and life sciences. The Unit's educational program includes lectures, practical education, and seminars in advanced topics of bioinformatics and their agricultural applications. It also supports the research of master's and doctoral students and presents practical education linked directly to each research topic. The Unit aims to become a base of cooperation for experimental and computational studies as well as industry-university cooperation. The Agricultural Bioinformatics Research Unit was renewed in 2009 in order to enhance its activities and to promote university-industry cooperation and international cooperation.
AGRI-COCOON
AGRI-COCOON (AGricultural Research Incubator COmmunity for COOperative Network of Public, Administrative, Business, and Academic Sectors) is a research and educational community established in 2005 at GSALS. The primary mission of AGRI-COCOON is to develop and implement multidisciplinary programs for graduate students. The programs are designed to enable graduate students to conduct original, highly creative, and self-directed research projects by enhancing their skills in terms of information collection, problem assessment, academic communication, knowledge building, and knowledge integration. AGRI-COCOON also contributes to the further advancement and enrichment of GSALS through collaborative interactions among academia, business, government, and private institutions. Graduate students of all majors and departments are welcome at AGRI-COCOON's unique multidisciplinary workshops and seminars.

By building agro-science knowledge and developing a new agricultural research and education protocol, AGRI-COCOON aims to systemize mutual understanding among various stakeholders related to agricultural sciences. Throughout the academic year, AGRI-COCOON hosts many international symposiums and seminars that are open to all students and the general public.
International Program in Agricultural Development Studies (IPADS)
Inaugurated in the academic year 2010/2011, the International Program in Agricultural Development Studies (IPADS) is an English-language MSc and PhD program at GSALS. Issue-oriented rather than methodology-oriented, this exciting international program offers its candidates the opportunity to develop the requisite expertise across discipline and country boundaries to tackle agricultural and environmental problems in developing countries around the world. Graduates will be well-equipped to make a difference in the modern globalized industry of agriculture.