What it Means to Study Japanese Law
Modern Japanese law consists of a legal system created through Japan's independent introduction and development of Western laws, representing the first modern legal system in East Asia that was implemented in such a manner. In this sense, modern Japanese law is a prime example of the legal transplantation that has spread with the progression of globalization since the 19th century. When you go beyond your field of specialty to gain a wide breadth of knowledge on Japanese law, therefore, you can deepen your insight on fundamental factors underlying the entire social institution of law.
For this purpose, the School of Legal and Political Studies offers a wide variety of courses related to historical, philosophical, sociological and other aspects of law, as well as classes useful for specialized research in every field of law. Moreover, with its thoroughly-implemented low student-faculty ratios, the School allows students to pursue learning tailored to their individual research themes and intellectual interests. Take the study of commercial law, for example. If you want to consider the significance of the globalization of commercial law, you can attend relevant classes, such as those about the history of Japanese modern law or Islamic law, in addition to those specifically concerning commercial law. Also, you can attend classes taught by the School's lecturers who have a long history of involvement in corporate legal affairs, as well as by people actually working in legal fields who teach at the School of Law, a school jointly established alongside the School of Legal and Political Studies. This unique lineup of academic staff members enables you to directly approach and consider issues that are currently taking place at the forefront of actual legal circles. In this manner, students of the School of Legal and Political Studies at the Graduate Schools for Law and Politics can pursue a wide variety of research activities based on their individual interests.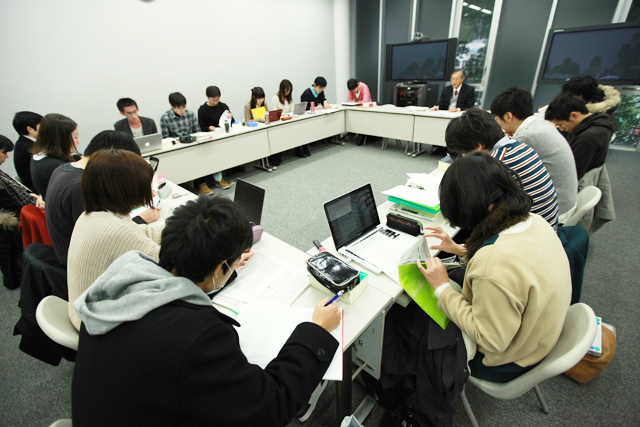 Learning Political Science at UTokyo
Currently, the world is undergoing dramatic changes, especially in East Asia. The University of Tokyo is the first modern university established in that very same East Asia. Learning political science at the Graduate Schools for Law and Politics of a university with that kind of history gives students major advantages that are difficult to obtain from other universities. For instance, you can study every aspect of political phenomena, including political theory, political history and political philosophy, with a large number of overseas students, particularly those from East Asian countries. While doing so, you can effectively utilize the Graduate Schools' academic network which is spread throughout the world, as well as connections within Japan's academic, political and governmental circles, as well as immerse yourself in the deep tradition of political research in Japan and Asia. There are most likely no schools that offer a more balanced research environment for politics and political science related to both Western and Asian countries than the University of Tokyo's Graduate Schools for Law and Politics. The Graduate Schools' students can carry out research in line with their own interests due to small classes and education focusing on personal instruction.
Another characteristic of the Graduate Schools for Law and Politics is that students have opportunities to constantly study not only politics but also its inseparable partner discipline of law, as researchers in both political and legal fields work together in the same graduate school. This combination of law and political science in one program is a characteristic unique to many Japanese universities, including the University of Tokyo. As is obvious, this characteristic presents an extraordinary advantage to students who want to, for instance, study international politics or public administration.