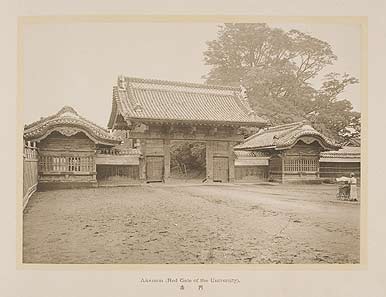 Most of what now constitutes the Hongo Section of the Hongo Campus was the site of the Kaga Domain's official residence during the Edo period. Also at that time, the area where the Hospital now stands was owned by the Toyama Domain and the Daishoji Domain, while the Yayoi and Asano Sections were held by the Mito Domain.
A number of structures and places of historical interest can still be found here. For instance, two of the most well-known historical spots on this campus are the former Kaga Domain residence gate known as
Akamon
(Red Gate; official name:
Goshudenmon
) and Sanshiro Pond (official name:
Ikutoku-en Shinji-ike
).
Unfortunately, most of the Meiji-era buildings constructed on the Hongo Section were destroyed by the Great Kanto Earthquake that occurred on September 1, 1923 (Taisho 12).
Plans to reconstruct the buildings, however, were set into motion in the year following the earthquake. Due to these efforts, which were led by Yoshikazu Uchida (professor in the Faculty of Engineering, and later the University's 14th president), the current look of the Hongo Section was largely completed by the mid-1940s (Showa 10s). Also, since the Hongo Section suffered little damage from World War II, the buildings constructed in the so-called "Uchida Gothic" architectural style remain standing today.
Hongo Campus

Library